Last updated on December 7, 2023 8:13 pm
Of the three (so far) NVIDIA GTX 1600 series video cards the 'first' is easily the most intriguing. Not only because it was the introduction of an entirely new GTX series built on 12nm fab process, but because it is the most powerful of the GTX 1600 series. Not only does it come with more CUDA Cores (1536 in total vs. 1408 for the 1660, and 896 for the 1650), but also comes with much more potent RAM: GDDR6 with an effective frequency if 12000MHz vs GDDR5 8000MHz used on the 'other two' models. This combination of raw horsepower with increased bandwidth make them tailor made for overclocking enthusiasts not interested in Ray Tracing. With this in mind what better way to start our investigation of the NVIDIA GTX 1660Ti series than with a factory overclocked model designed with the overclocking enthusiast mind. To be precise the ASUS Republic of Gamers STRIX GTX 1660Ti Overclocked Edition (aka 'RoG STRIX 1660Ti 06G') will be put to the test today.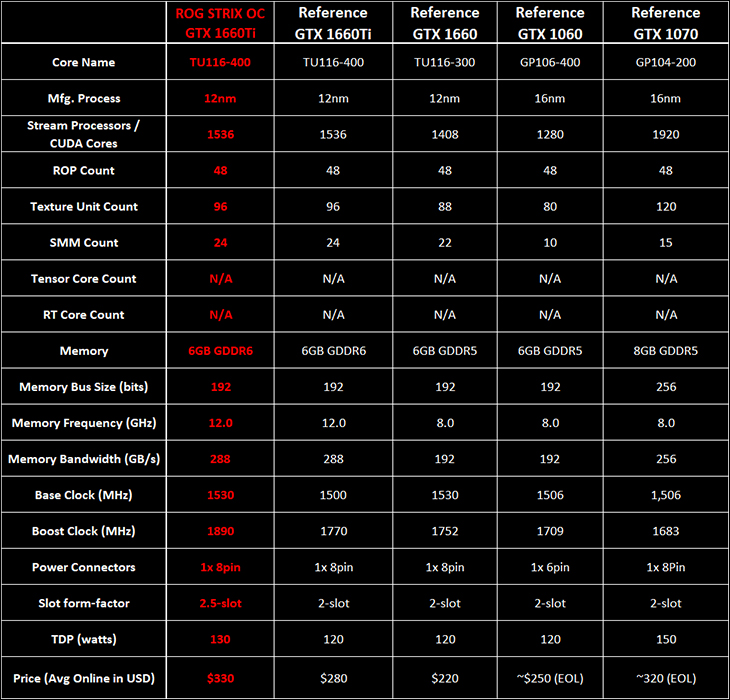 This particular video card really has been built from the ground up with performance in mind. First and foremost is unlike typical 1660Ti cards ASUS has bestowed upon their STRIX 1660Ti model a cooling solution that is not just overbuilt, but turns the feature dial all the way eleven. Three extremely advanced fans instead of one or two typical fans, a massive (this card is 2.5 slot wide by 301mm long by 132mm tall) custom heatsink with extra special attention paid to heat transfer efficiency. A secondary metal frame for increased rigidity and (some) additional heat transfer, dual BIOS with manual dip switch, a premium power subsystem that cries out for overclocking adventures, AURA sync enabled LED lighting (with a 'stealth mode' switch to turn all the LEDs off), even the ability to manually control the fans via your motherboard. Put simply this card is choke full of features. Features which offer a ton of overclocking room while also allowing the card to be barely audible under load, and dead silent (0Dba silent) when idle.
Equally impressive is the unique cooling combination feature set allows the NVIDIA TU116-400-A1 core to run even cooler than usual, which in turn means it will run faster than usual. Of course, as it is an overclocking enthusiast card ASUS has started the ball rolling with factory suggested frequencies of 1530Mhz (base) and 1890MHz (boost) instead of the NVIDIA reference of 1500 and 1770Mhz. Needless to say, the TU116-400's used in this series are highly factory binned and only the best of the best are used. So, these 'factory' frequencies are merely suggestions. Buyers can expect to see much higher numbers – even before embarking on their overclocking adventure.
The other side of the coin to all these special features is the upfront cost. The STRIX GTX 1660Ti 06G's has an average online asking price of $330 which is on the moderately high, but not highest, end for the GTX 1660Ti class. For example, a decently designed NIVIDIA GTX 1660Ti will typically set buys back $300, and a 'barebones' with barebones cooling (and performance) will set buyers back about $285. That is a touch high. Though, helping to put this $330 in proper perspective, MSI's flagship GTX 1660Ti's command a lot more than $330. So yes, buyers of this card will be paying a slight premium to gain access to all its oh so special abilities, but not the absolute highest premium by any stretch of the imagination.
To us the big question is simple: does the RoG STRIX GTX 1660Ti O6G justify its asking price? On paper, flagship performance without the typical 'flagship asking price' seems to tick all the right boxes, but paper spec's have lied before. Equally important does it not only justify its asking price but make a good argument for it being a better value than the typical GTX 1660Ti card? Those are the burning questions we, like we assume many people, have about the STRIX 1660Ti 06G and we intend to find out.