Last updated on September 29, 2023 10:53 am
In the past we have made mention of the manufacture formerly known as 'Arctic Cooling' many times in various review. (Now known just as) Arctic is one of the companies we do reach for when building various systems. Whether it be their excellent fans, Thermal Interface Material, or low-profile cooling solutions a lot of our builds feature Arctic branded products as their overall value is rather hard to beat. Due to extensive reader feedback we recently reached out to Arctic so that we could not just say 'take our word for it' and rather highlight why experienced builders always have Arctic on their 'short list' when doing up their build of materials for a custom build. To start things off we are going to take a close look at their $38 Freezer 34 eSports DUO CPU cooling solution.
When one reads the specifications and features the Freezer 34 eSports DUO offers, it does become rather apparent that it has a lot going for; however, in this corner of the market in needs every advantage it can get. This corner of the marker is easily one of the most hotly contested sectors with a lot of competition from basically every CPU cooling solution company going. For example, the Freezer 34 eSports DUO has to go head to head with Scythe and their $45 Mugen series, Cooler Master and their 30-35 dollar Hyper 212 series, various DeepCool models, Reeven E12 RGB… even Arctic's own lower tier models to just name a few. This is because $30 to $40, moderate sized 'tower' style cooling solutions are easily the number one choice of the average buyer. In other words, with such great demand comes great competition for your hard-earned dollar.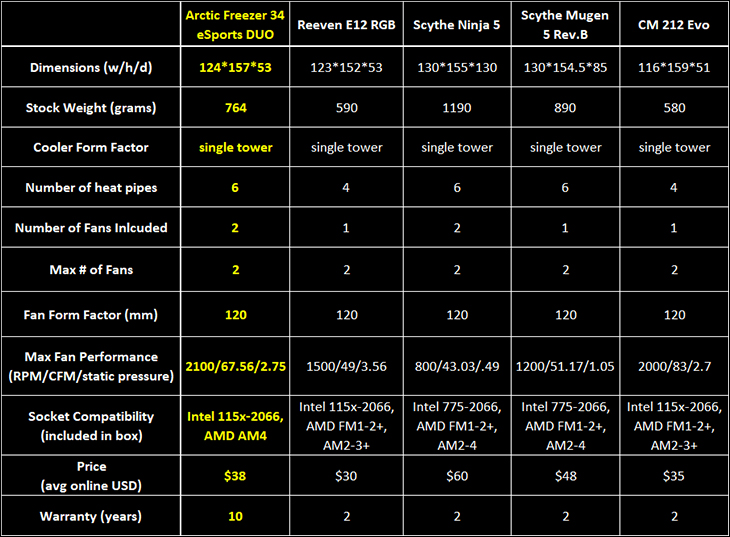 Arctic may not be a household name in air cooling solutions (even if they are the 800lb gorilla in the TIM market) but that does not mean they are inexperienced. They understand the market better than most, as this Swiss based company has been creating coolers for many, many years now. That is why they have given the Freezer 34 eSports DUO their own unique spin on the typical mid-sized tower formula and why they believe it can take on all comers.
First and foremost of these improvements is the Freezer 34 eSports DUO does not just ship with one high static pressure fan but, just as the name suggests, two fans for stock push/pull cooling goodness. Furthermore, it is not just your typical fan. Instead the Freezer 34 eSports DUO comes equipped with two Arctic BioniX P120 fans. These five bladed fans each boasts static pressure ratings of 2.75mm and are capable of spinning up to a brisk 2100rpm or all the way down to 200RPM. Add in color accents and it is no surprise they retail for about $15(USD) each.
Next, the Freezer 34 eSports DUO's heatsink itself is not 'naked' silver, and rather comes with a thick black paintjob that is more than just a pretty face. Instead the 'paint' has special additives which give the fin array a 'bumpy' feel that not only increases surface area, but creates more turbulence in the air flow… which in turn increases the fin array's ability to transfer heat to the air. Even excluding this advanced coating, the fact of the matter is not many not many companies bother with the aesthetics of their $38 cooling solutions to this extent. Rather such features are usually reserved for more expensive $50 plus models.
Mix in four 6mm heatpipes with a Heatpip Direct Touch base (that has one of the best finishes we have seen on any HDT cooler to date) and it is obvious that Arctic is as serious about the performance of their cooling solutions as they are about the performance of their TIM. So, let's dive in and see if the Freezer 34 eSports DUO has the performance chops to backstop its colorful appearance.