$659.90
$749.99
in stock
3 new from $659.90
8 used from $377.19
as of December 5, 2023 6:53 pm
$629.90
in stock
2 new from $593.00
2 used from $440.00
as of December 5, 2023 6:53 pm
$329.99
in stock
10 new from $329.99
9 used from $260.69
as of December 5, 2023 6:53 pm
Last updated on December 5, 2023 6:53 pm
Recently we took a close look at the MSI GeForce RTX 3060 Ti Gaming X Trio and walked away impressed with what this new generation of RTX'ers can do – especially when dealing with after market designs. One thing we kept harping on though was the cost of uber-performance 3060 Ti's come awfully darn close to the asking price of what RTX 3070's cost. Needless to say we did receive a lot of reader requests on showing exactly how much performance difference there is between the 3060 Ti and 3070 class of cards. With the help of Zotac we can now show you what stepping up to either a Founder Edition or high performance RTX 3070 will net you. To be precise we will be taking a long, hard look at Zotac's latest and greatest take on what a RTX 3070 should be: the Zotac RTX 3070 AMP Holoblack edition.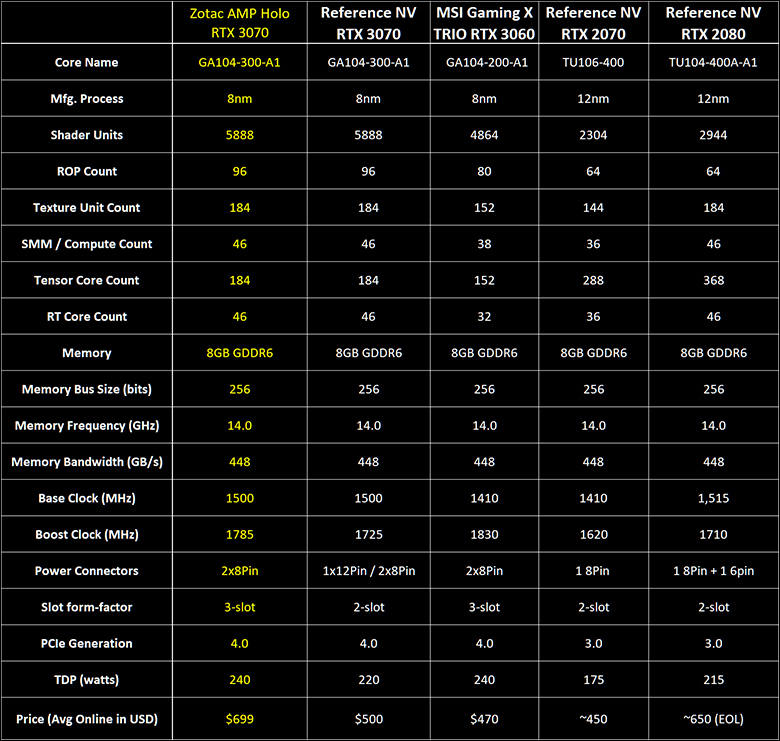 In many ways the Zotac RTX 3070 AMP HoloBlack is going to be an extremely controversial model. One that is in no shape nor form the fault of the design team or Zotac. Instead, and sadly like much of life, politics has intruded into PC gaming enthusiasts market niche. Specifically, Hong Kong tariffs. This additional money grab by Uncle Sam means a normal MSRP in the rest of the world suddenly becomes $699 (USD)and that is… rather extreme to say the least. This is not a card designed, or marketed, let alone intended to crank the factory overclocking dial to 11. Instead, this card is supposed to be all about beauty and grace, or elegance and performance.
This design intension is reflected is the extremely, arguably breath taking, beauty of the custom Ice Storm 2.0 dual fan cooling solution this big 2.5-slot card boasts. It is further reflected by the reasonable GPU core overclock of 1785MHz and a TDP of a moderate 240 watts vs. 1725MHz / 220 watts for NVIDIA stock specifications. Make no mistake, this card is fast. As we will go over in this review it is meant to be pushed hard. Pushed hard and be the center piece of high-end custom systems. It just is not intended to compete against say the insanely overclocked Palit JetStream OC's of the marketplace… let alone RTX 3080 cards.
Intentions or not, we will have to take the asking price in to account and by the end of this review we will be able to provide you with our hot take on things and provide you with as much information as possible so that you can make you own choices. Just understand that this is not really a card, or review, with the US buyer in mind. Rather it is a card, and review, with the rest of the world in mind.