$501.99
$639.99
in stock
3 used from $299.99
as of September 22, 2023 10:12 am
$1,099.98
in stock
2 used from $1,099.98
as of September 22, 2023 10:12 am
$798.86
in stock
1 used from $798.86
as of September 22, 2023 10:12 am
Last updated on September 22, 2023 10:12 am
After the positive feedback we received from the ZOTAC AMP! GTX 1070 card we felt it would be fitting to put the Extreme version under the microscope next. After all, many did ask about this particular card and how it stacked up against not only its more value orientated AMP! brethren but other 'monster' GTX 1070's like the Gigabyte AORUS. This does bring up an interesting question on what exactly makes a card a 'good value'.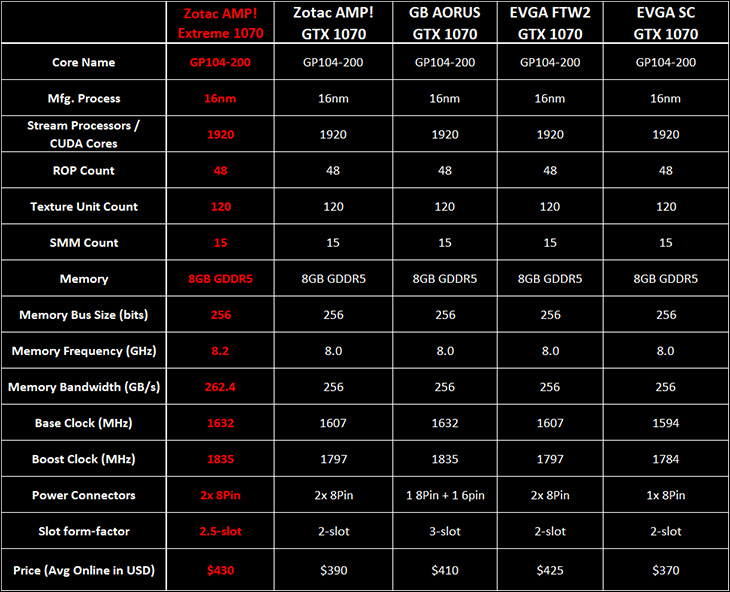 On the one hand the Zotac AMP! Extreme GTX 1070 does come with a noticeably thicker custom cooling solution – 2.5 slot vs 2, uses 3 slightly smaller fans instead of two larger ones, comes with a veritable ton of LEDs, comes with a factory overclock that few can match (1632 base, 1835 boost), even comes with the GDDR5 overclocked (8.2GHz instead of 8.0GHz), and generally is the best that Zotac has to offer. On the other, this card is more expensive. When purchased at retailers it is not cheap by any of the stretch of the imagination. It is not FTW or STRIX expensive, but it is the most expensive GTX 1070 we have looked at in our series on value.
This certainly does seem counter-intuitive that we would be holding up a 430 USD priced card as a potentially great value option. The reality though as we will show you in this review is the 40 USD extra over the AMP! GTX 1070 can sometimes be rather easy to justify… and sometimes not. In this article we will go over the person the AMP! Extreme is tailor made for, and when it can be considered a veritable no-brainer. Conversely, we will go over customers who really should be looking at other options – overclocking siren song or not.