$9.99
in stock
as of December 1, 2023 2:22 pm
$11.45
$19.99
in stock
36 used from $11.45
as of December 1, 2023 2:22 pm
$14.99
in stock
5 new from $9.10
9 used from $6.25
as of December 1, 2023 2:22 pm
Last updated on December 1, 2023 2:22 pm
The Witcher 2 – Intro
Prologue
We're back, this time we have made our way onto the second of the Witcher trilogy, with aforementioned Witcher 2: Assassin of Kings. Seeing as we previously mentioned we were playing the game as a trilogy we imported our information from the first game into this one. It is as easy as starting a new game and pointing it to where the save of the Witcher 1. As we assume you read the prior review, we'll be discussing some of our decisions that we made in it as they affect the story in this game.
Witcher 1 Spoiler:
In the prologue we decided to help defeat the frightener rather than go to save the lab, as Triss was quite insistent that she would be able to stop the mage on her own as magic users tend to be over confident of their own abilities. This choice was a minor one as Triss will fail with or without your assistance as it is the keep driving point of the story.
Whenever there was anything to deal with the Scoia'tael (we'll just call them Squirrels again like in the first review), we tended to side against them. Our reasoning is that they are terrorists who do not target just human military with their ambushes, raids etc. They openly and admittedly will kill innocent humans and non-humans in order to send messages or accomplish their end goals. In our view as Geralt, this makes them monsters, not only to humans but to all those who they hurt. In Chapter 1, we chose not to arm them. As mentioned in the previous review, we sided with Abigail the witch, over the townsfolk who blamed her for all sorts of wrong doings they committed using her as a convenient excuse. This made it so that we had to fight the Hellhound with just Abigail occasionally healing us. If we had chosen the townsfolk, then we would have had more NPCs aiding us with a generic healer instead.
Moving onto Chapter 2. In the sewers we decided to accept Siegfried's aid as we figured he was done there to accomplish the same goal, while having two swords are a lot better than one. This made killing the cockatrice slightly easier as it wasn't always focused on just us. When it came to siding with the Squirrels, the Order of the Flaming Rose, or remaining neutral, we went with the Order. The Order is sworn to protect humans from all sorts of threats, including the Squirrels. As we've previously deemed the Squirrels threats to all innocents, including humans, it only made sense to ally with them.
Within Chapter 3 we brought Alvin, the child with magical 'abilities' with Triss rather than Shani. While we enjoyed Shani's company earlier, Triss happens to be a mage who can help teach Alvin how to control his abilities whereas Shani is just a medic, no magical training whatsoever. Sure that pissed her off, but really, the logic of taking Alvin to Shani would have been like taking your car to the doctors to get the engine looked at. Another thing we outlined vaguely in the first review was about saving and curing the individual who was cursed to be a werewolf. This happens to be Vincent, the captain of the guard. We saved him on the merit that he was only going after criminals, as well as his love, Carmen, wanted him cured so they could live a normal life. The fact he was willing to give up being a werewolf due to how strong he cared about Carmen ultimately broke his curse too. The Squirrel bank robbery saw us siding once again with the Order, the Squirrels were using terrorist tactics on people who had not wronged them.
Chapter 4 we reached a compromise with the Vodyanoi and the village as we saw no reason why they could not get along together. When it came to dealing with the traitorous Berengar, we slew him as he betrayed the Witcher order from which he came from (the same Geralt is from) when he helped Salamander.
As like in the intro video before the Witcher 1 game which dealt with saving Princess Adda, we went about curing her a second time, we did not see her being cursed a second time as her own fault. Lastly we did not give the King of the Wild Hunt Jacques de Aldersberg, the ultimate villain of the first game as the events of the game made it quite personal…and knowing some of the Witcher lore, we know the Wild Hunt is the worse of the two evils.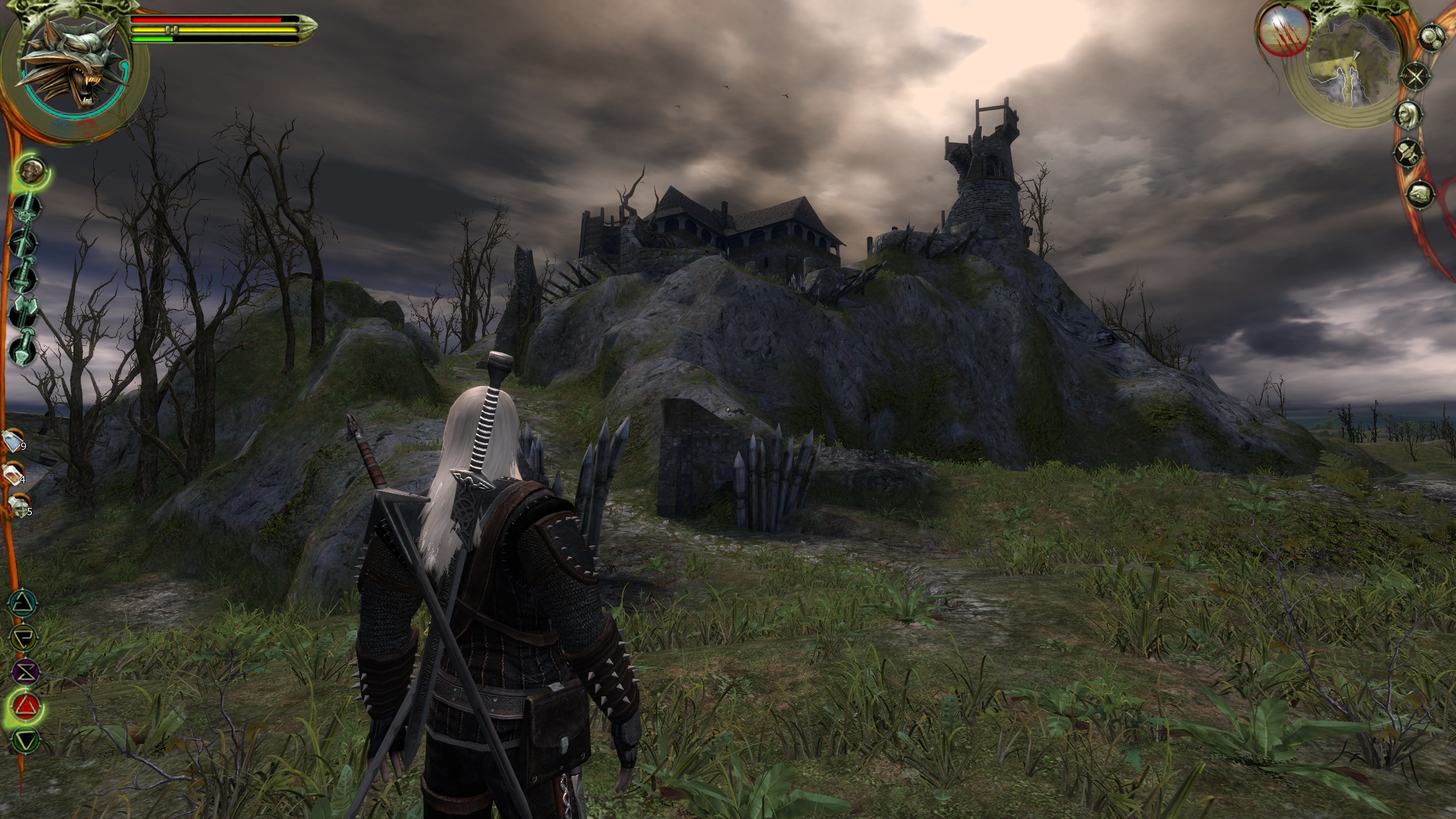 Now that we have finished going through the summary of our choices in the first game, it is time to jump into the second one. As per the previous disclaimer, our review contains no nudity, though the game itself does (namely in sex scenes). It is rated Mature due to this and the violence, adult themes/choices, and language.
The Witcher 2 – Graphics
As per the previous review, the system and configuration used to review this game was an Intel i7 4930k processor, an Intel 180GB 540 Series SSD, a MSI GTX 770 graphics card, and a 2560 x 1440 display. We'll continue to list the system specifications of what we used with each game as over time we may end up upgrading a piece here or there and we'd rather not keep you in the dark when it comes to what you should expect with similar systems.
We thought we'd be able to play the game on Ultra with all of the settings cranked to their maximum…turns out this wasn't possible while staying above 30 frames per second. Either the 2011 Witcher 2 has some poorly coded ultra-settings, or our poor 770 GTX just doesn't have enough power or Video RAM to be able to keep the frame rate up high enough at 2560 x 1440. We may actually have to side with our 770 GTX not being powerful enough for Uber Sampling and High Texture Memory, though with the settings set to High the game runs flawlessly on it.
As for the graphics themselves, the game looks amazing, probably one of the best looking titles of 2011. Comparing it to some of its competition, such as Skyrim or Dragon Age 2, we would have to say it looks better. Yes we know people will say Skyrim is the superior looking game with high resolution texture packs done by modders, we firmly believe a game should NOT have to rely on the modding community to make it or play better than its vanilla option. If we were to have reviewed Skyrim and Witcher 2 the day they came out the high res texture packs wouldn't exist. Also, Elder Scrolls seems to heavily lean on its mod community to make their games visually better…which is a large negative to us. Yes we know the Witcher 2 has mods of its own, but has very few that actually alter the textures to improve it.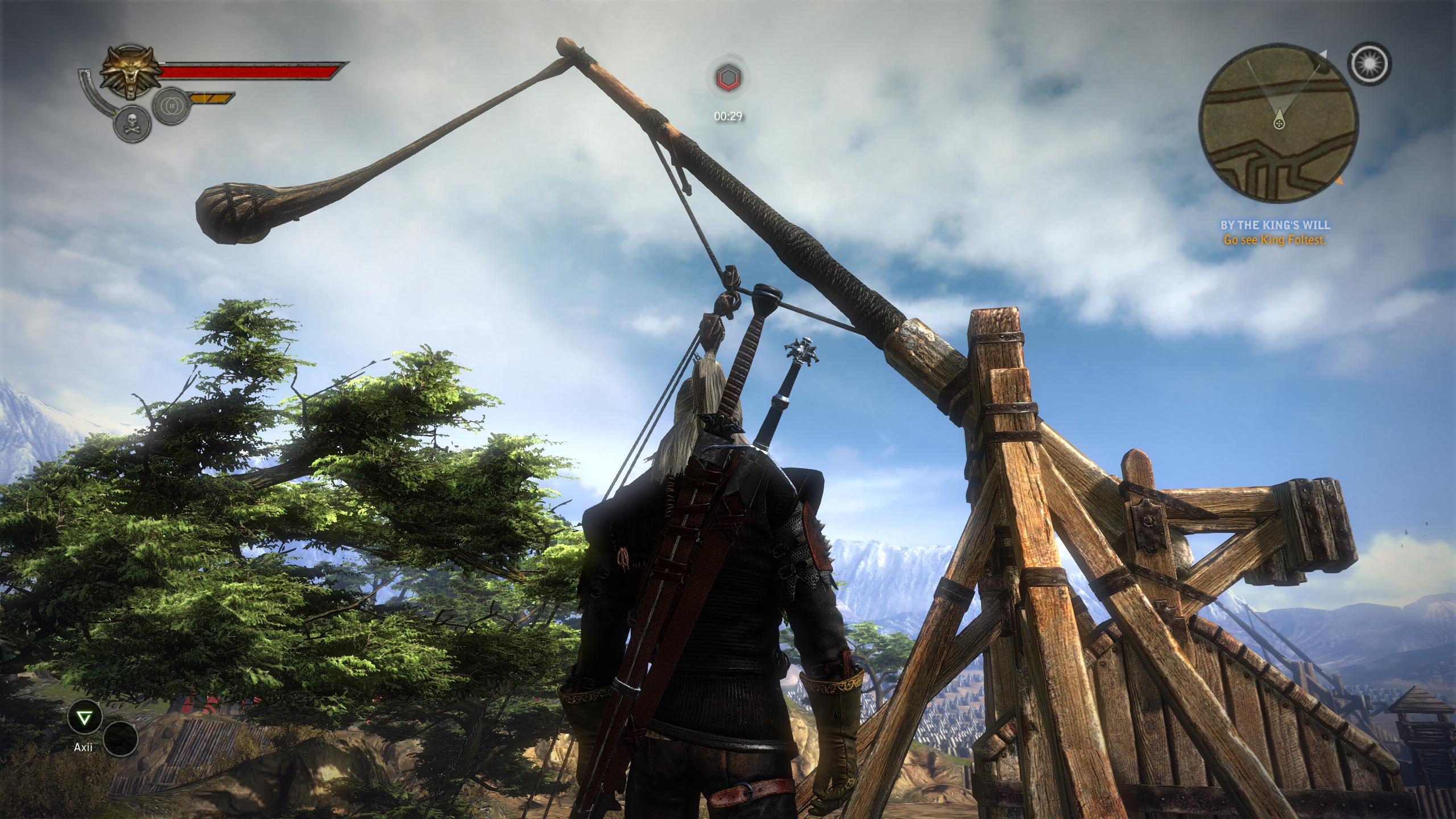 Unlike in Dragon Age: Inqusition, load times were barely if at all noticeable. This may be due to the age of the game, as well the fact we're playing on a higher end system. Facial animations are just as good as they were in the first Witcher game, with the only difference being that they've been improved to match the upgrade in graphics we see on the screen.
The Witcher 2 – Gameplay
The Witcher 2 continues on the tradition of having two main weapons, a sword made from silver, and a sword made from steel and meteorite rocks.  What's a bit more evident this time, at least on the Dark Mode difficulty, is that if you use the incorrect sword on an opponent, it does very little to no damage. The combat log will mention that you are using the wrong sword, which is doing minimal damage or that is ineffective. Switching to the other sword remedies this issue, so there are several ways to realize you're using the wrong sword instead of the enemy being over powered and impossible to kill. We ran into that a few times since Geralt will pull out the last used sword when engaged in new combat, instead of grabbing the 'correct' sword. One could nitpick that he should know to pick the correct one, the way we look at it they made it so that the player should be the one picking the correct one to add some challenge. Just like in the first game, the steel sword is meant to be used against humanoids, such as humans, elves, dwarves, whereas the silver sword is meant for monsters, including dragons.
Oils have made a return to the game, though they do not last as long as they had before, they are just as effective on a sword to give bonus damage against a specific enemy type (ex: necrophages), or just generically. There are additional weaponry, taking the form of thrown daggers, bombs (which were around before), and crafted traps.
In order to be able to throw a dagger, you must put a point into the training (or first) skill tree. We tried using thrown daggers in the beginning (namely during the tutorial as you are shown all forms of combat there), but didn't find we liked using them all that much. Bombs and traps do not have the same sort of limitations as thrown daggers, both can be used without any skill point training. Geralt can once again craft bombs when he is meditating, however he for some reason is unable to make traps himself. Instead he must go to a vendor, pay for them to make them with the corresponding materials and the schematics, or buy them pre-made from certain vendors at significantly higher prices with limited stock.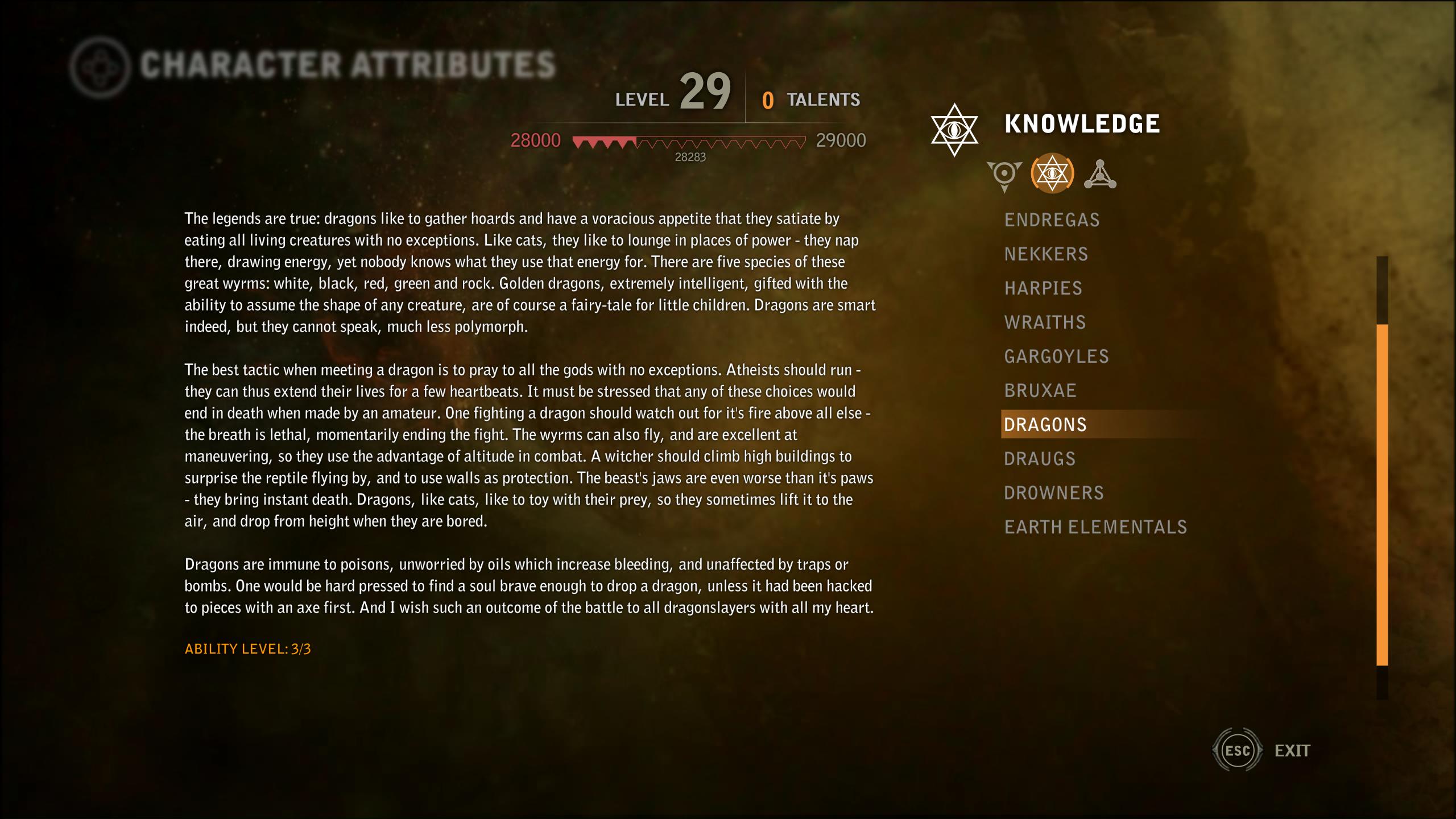 A nice change in learning about monsters is rather than always having to find/buy books to read about certain monsters, if you kill or fight enough of them, you will learn enough to fill up the 'codex' entry. This makes sense as if you are killing a lot of something, you'll eventually figure out its strengths and weaknesses, provided you aren't just continually 'dying' to it. We quite appreciated the fact we didn't have to waste a lot of gold this time on books to allow us to be able to gather items from the slain monsters only if our codex entry was filled out (like in Witcher 1).
The crafting system has returned, broken down into items that you can craft while meditating, and those that require a vendor to make them for you. Gathering materials has been expanded upon, as there are a lot more unique and non-unique items that are required in order to craft something. Swords will require some amount of wood for its hilt (though there are a lot of piles of wood all throughout the game, plus vendors sell them), armour will require different types of cloth and leather, and traps require they own sets of ingredients too. Enemies will sometimes drop some of these crafting items, though a lot of the time you can find them in containers, boxes, etc, so unless you are strapped for cash, you can usually keep a small stock of them in your storage 'chest' which can be found and accessed in each of the acts.
In order to craft an item yourself, you must first be meditating (not in combat) as in the first game, as well as have the schematic for the item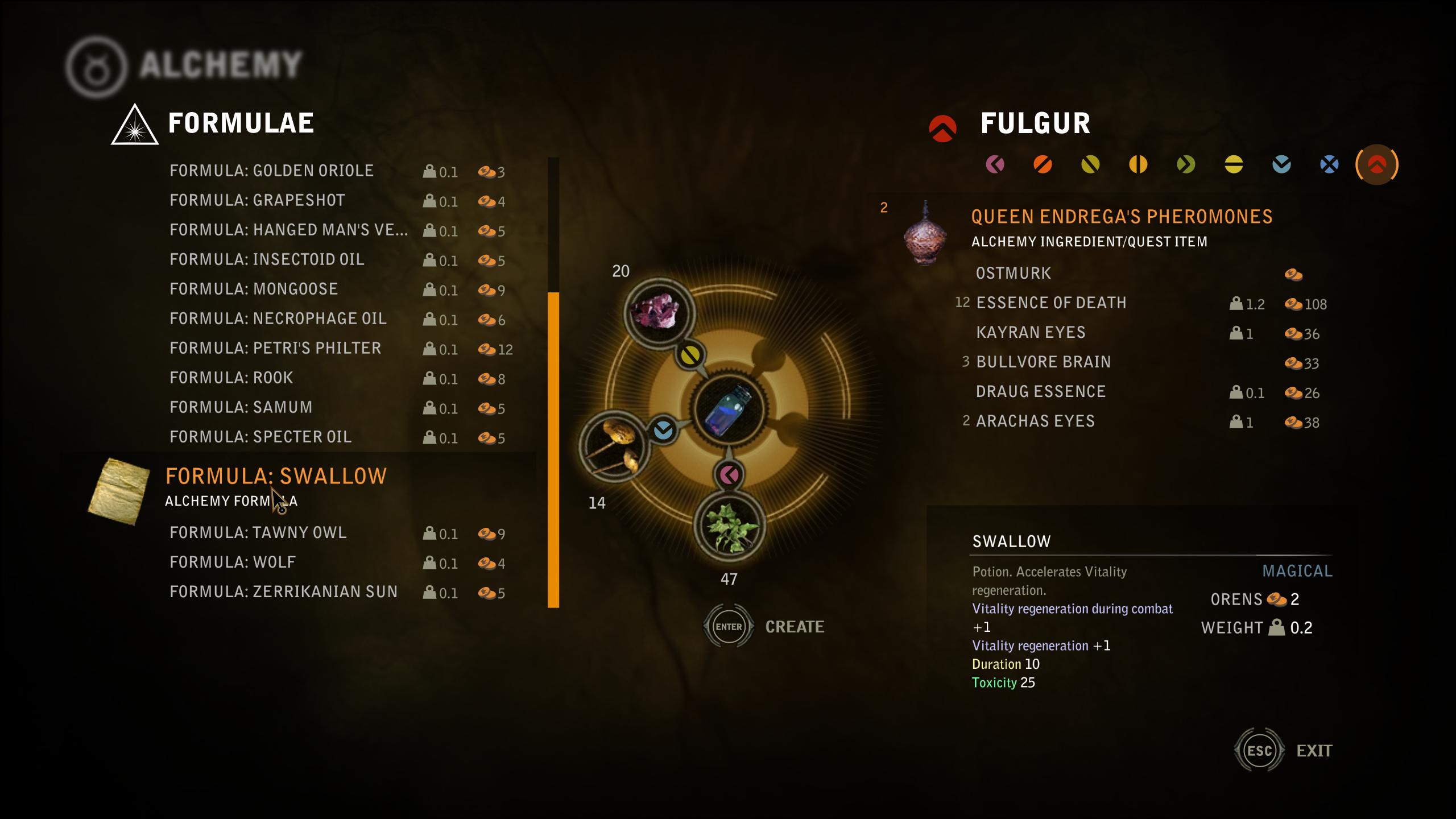 you wish to craft. You are able to meditate anywhere as long as you are not in combat, which has changed from at a campfire or at an inn. We'll elaborate later on why they did this, as some mechanics required this 'change'. The schematics can be bought from various vendors throughout the game. Oils, Bombs, and potions are the items you can once again craft, though they stack a lot higher in your inventory than they did in the Witcher 1. Nice, but loss of realism at the same time is the fact you no longer need buy an alcoholic base for your potions, or have other base items for say the oils or bombs. It looks like either you carry  an infinite amount of them or its just wrapped into the ingredients required to craft the item. It is nice to not have to worry about having them in your inventory to craft something, though it loses some of its previous 'realism' of alchemy.
Some of the potions have had their affects and durations altered. All potions have a maximum of ten minutes (in real time) that they will last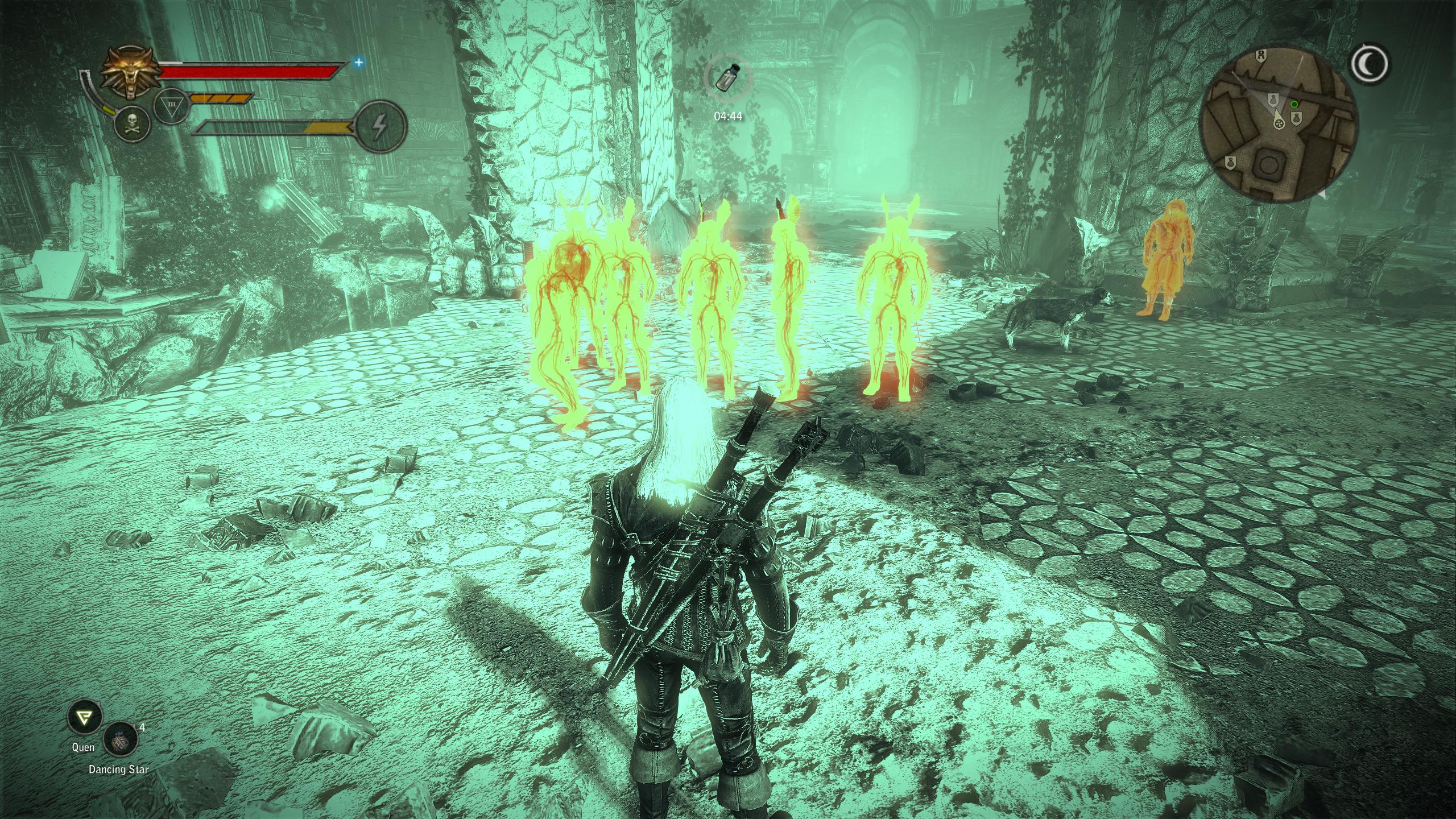 , instead of hours of in game time. This change is alright aside from the fact that when you are in a long conversation with someone who you may have to fight, the potion timer will tick away, leaving you with less time to use the potion in the ensuing combat. On easier difficulties these potions aids may not be as critical compared to on harder difficulties such as Dark Mode where any edge can be the difference between winning the fight or not. The Swallow potion still increases in and out of combat vitality regeneration, though the Cat potion no longer just grants improved night vision. Instead it allows you to see through walls, in the sense that you actually get to see the circulatory system/heartbeat of enemies making it so that you can more easily find them in the dark (as well as avoid their attacks during combat). It is a little odd the different 'view' type when you have a Cat potion, it lasts only five minutes instead of ten to balance this out. We decided to include a screenshot showing this, to prepare you on what you'll be 'dealing with' when you play the game yourself and need to use this potion as there are a few occasions it is quite necessary to use it.
We'll quickly mention Bombs a bit more in detail, as unlike in the first game, we used them quite a bit more. This is because it is an easily thrown weapon that can cause damage to one or to multiple enemies, allowing you to take down groups a bit faster. Now this may not sound all that important, but when you realize later how much harder Dark Mode is than Hard Mode was for Witcher 1, you'll understand why we relied on them for certain bosses or group fights. For ourselves, we namely focused on the ones that did the most single or group targets damage, though there are a few that are helpful in situations such as to blind or confuse enemies instead.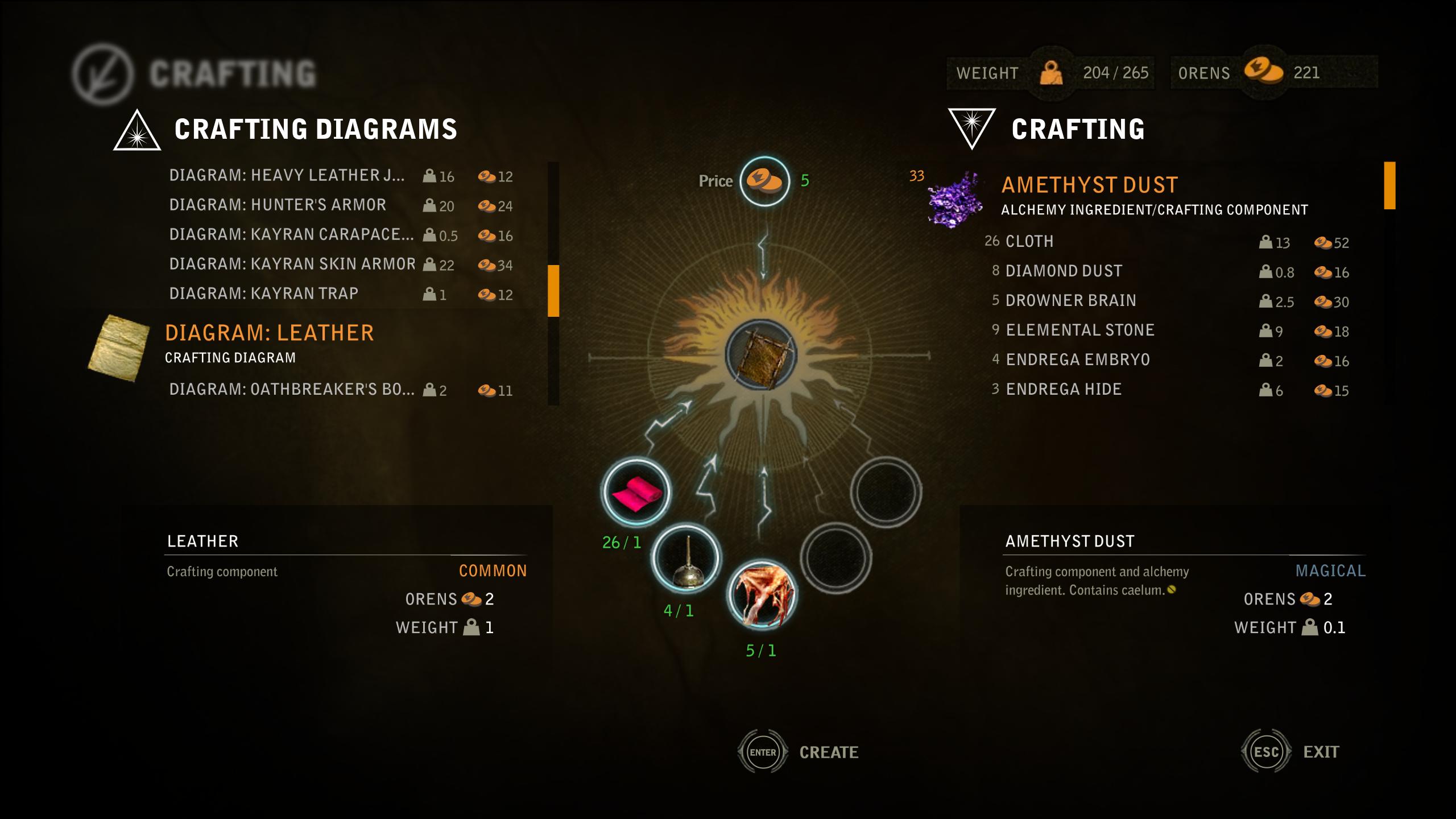 Vendor crafting has been greatly expanded upon, and in Dark Mode, is quite necessary to use. In order for a crafter to be able to craft something for you, you must first purchase the crafting schematic, sometimes from them, though other times it is from other vendors. You must keep these crafting schematics in your inventory at all times, which is a slight downside, but is understandable if you go to different crafter throughout the game, what is the likelihood Geralt can explain how to make something to each vendor correctly. Having a lot of crafting schematics is not a big deal as they are sorted in their own inventory slot and take up very little space/weight. You can also sell schematics you feel you don't need to use after having crafted the item once (such as one time use quest items or the Dark Mode outfits).  With the schematic in hand, you can check the schematic yourself for what items you need, or go to a craft and see in the crafting screen what is required. Provided you have all the materials required to craft the item, you will have to pay a certain amount of money in order for them to craft it. This is a nice touch of realism as how many blacksmiths would work for free if you just threw the ore at them? You're paying for a service after all. Items are instantly crafted and added to your inventory so there is no waiting a day to get a new weapon or piece of armour.
Traps allow you to trap an enemy in their tracks, or explode if they trip it. This is useful if you want to lower an enemy or group of enemies' health in situations where you know you'll be dealing with quite a few of them consecutively. These can be set/used in combat, with a unique one for an act one boss, shortening the fight as a reward. This requires earlier on in the main quest line to grab a specific item only accessible one time, if you don't gather it, you will not be able to craft this boss trap.
Something that is unique to Dark Mode is the addition of three acts 'outfits' called The Blasphemer's Outift, the Oathbreaker's Outfit and the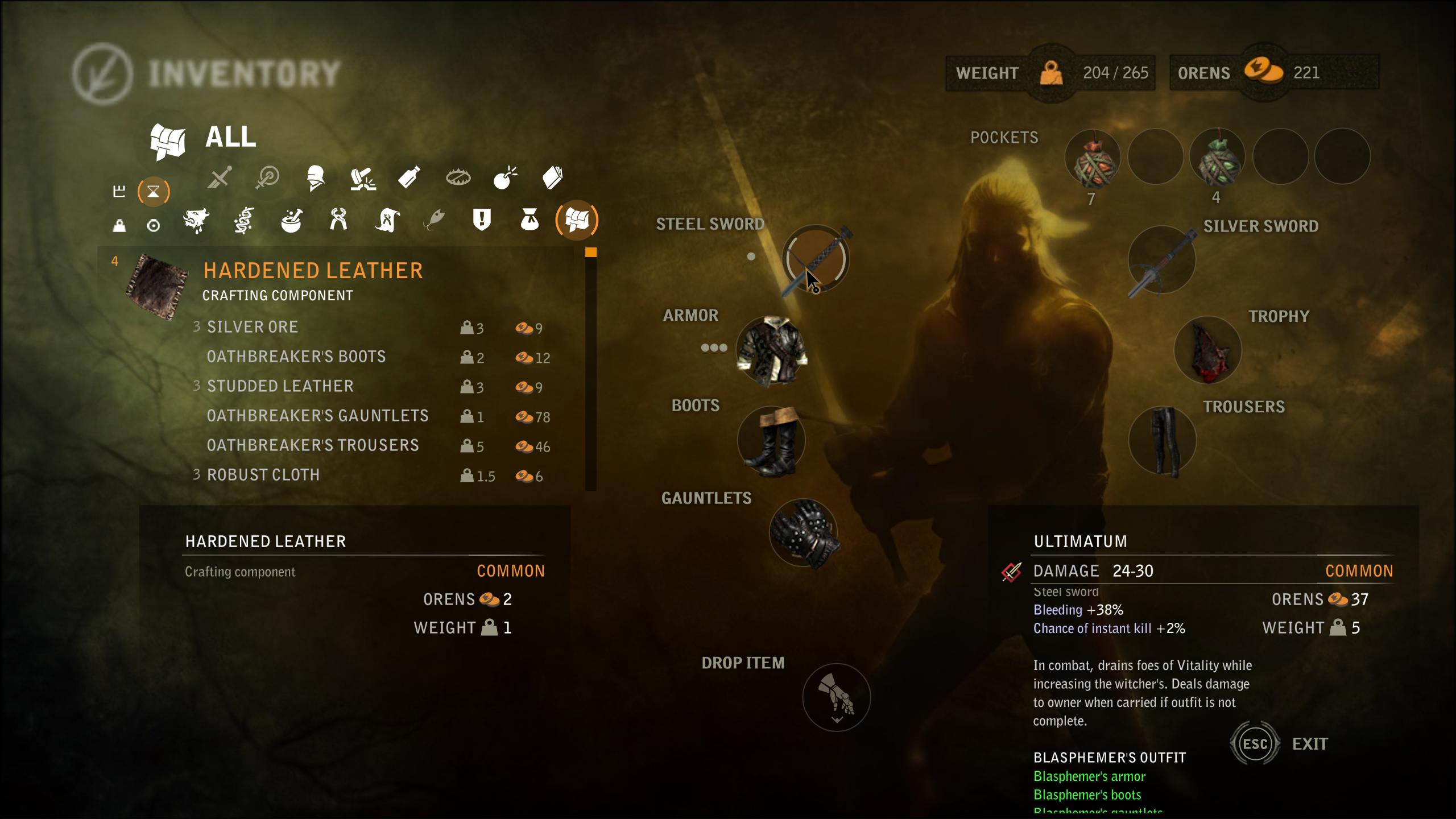 Kingslayer's Outfit respectively. These outfits contain a full set of armour along with the two swords. They tend to be fairly expensive, require quite a few ingredients, with the chest piece usually requiring a unique item that can be found during some part of that act. Even though it is costly to craft the full outfit, it is well worth it for each act to have. If you do not have a full set equipped, namely using one of the crafted swords, you will lose health when you have it out during combat. The weapons themselves are cursed, however, attacking enemies with the sword will restore some of that lost health. Meaning if you have the full oufit, your health will not deteriorate when the sword is out, and when you hit an enemy you'll get/steal some health for yourself. The set of armour has additional benefits. In the first act it helps increase the resistance to poison, which makes the fight against the Kayran much easier as you are not being poisoned (the Mongoose potion only slows down how quickly Geralt gets poisoned on Dark Mode, on all other modes it is the only thing needed to fight the Kayran).  We also found that the swords crafted tended to be one of the best if not the best damage wise in their acts.  Yet another benefit of the Dark Mode armour outfits are that specific armour pieces increase the amount of weight that Geralt can carry, allowing you to not have to go back to vendors to sell items as frequently. Yes, they fixed the inventory system.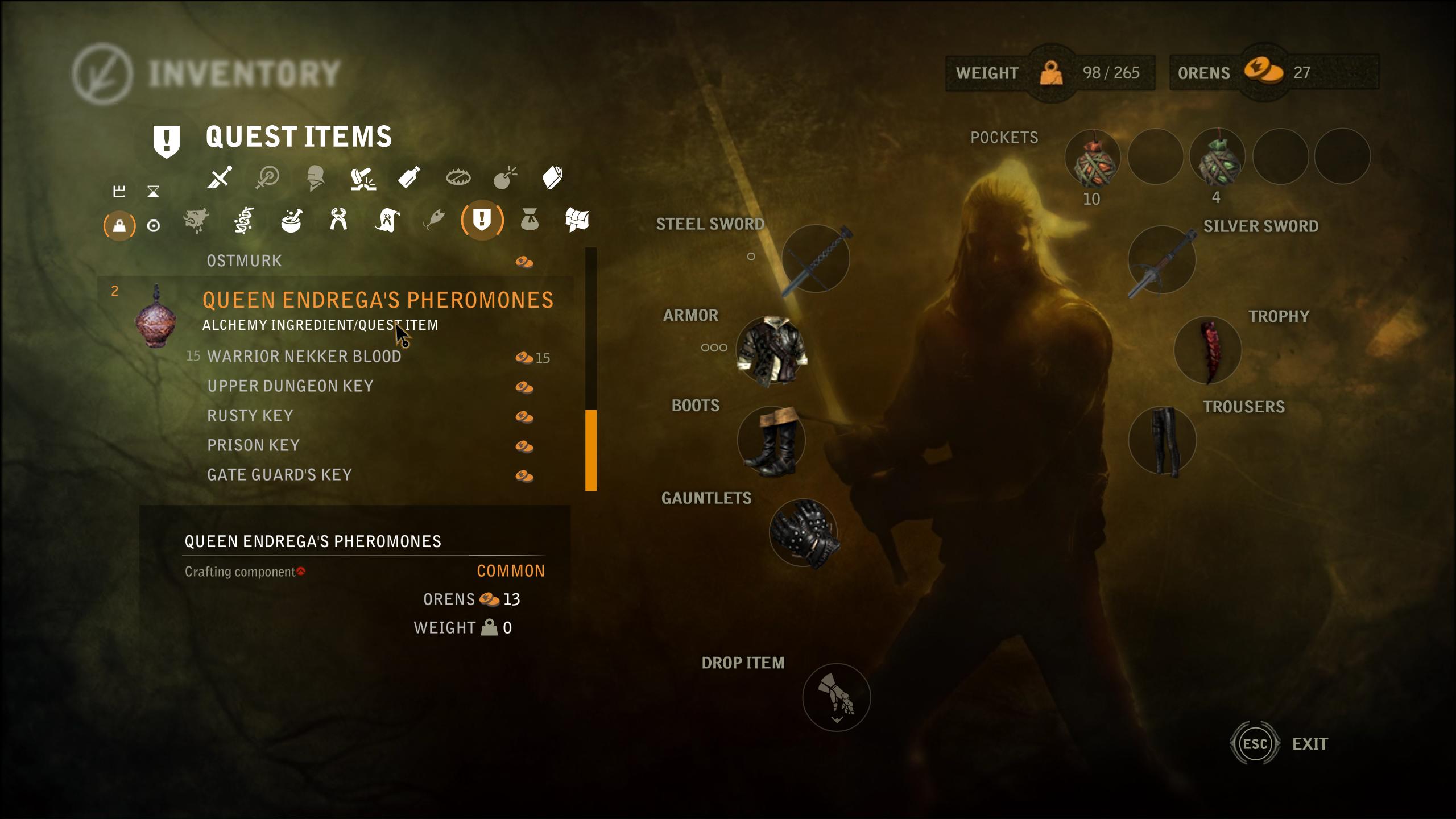 It looks like CD Projekt Red went back in time and fixed one of our largest negatives of the first game. The inventory system. It is no longer a mess of items anymore that could be sort of sorted. Rather than having a fixed number of inventory spots, it is now a weight based system, meaning you can actually loot multiple swords, armour, etc., to sell to vendors later on. This unfortunately means that oils, potions, bombs, traps, crafting materials (non-flowers) all have weight quantities as well, meaning you can end up looting more than Geralt can carry. When you exceed the maximum amount of weight he can carry, you can only move at a very slow pace. Combat seems to be affected slightly, but it is more of a travelling speed that is affected by this. They did not stop there with this inventory overhaul! Items are organized into different categories too, allowing you to keep a 'cleaner' inventory, such as swords, armour, enhancements (oils, potions), bombs & traps, crafting materials, junk items, and quest items. Quest items rarely have any weight, which is a good thing as a majority of them cannot be sold. Either way we were a lot happier having a more comprehensive inventory system based on weight, rather than limiting the amount of fixed slots we have to pick up items. Combining this with the storage chest system, this allowed us to go out with a mostly empty inventory, return mostly if not completely full, then  sell items we didn't need, or store some crafting materials we knew we needed for later on such as iron ore, wood, and leather.
There are four distinct skill trees in the Witcher 2 rather than the more broken out skill branches that existed in the first game. Every time you level up you are awarded one skill point instead of the bronze, silver, and gold skill points. This means you are only ever able to upgrade one skill each level rather than multiple ones previously. Every skill has two levels to it, though you cannot see what the level 2 of a skill until you've purchased the first level (or look online). We would have liked to have been able to see what the level 2 skills were in game, including what skills you could add mutagens to mutate, rather than guessing and respecing later (if you get that mod) or going online and figuring out what skills we wanted where. Not a big deal as a lot of games don't let you know what the higher level skills will do when you haven't unlocked the lower, just a 'would have been nice to have' type thing.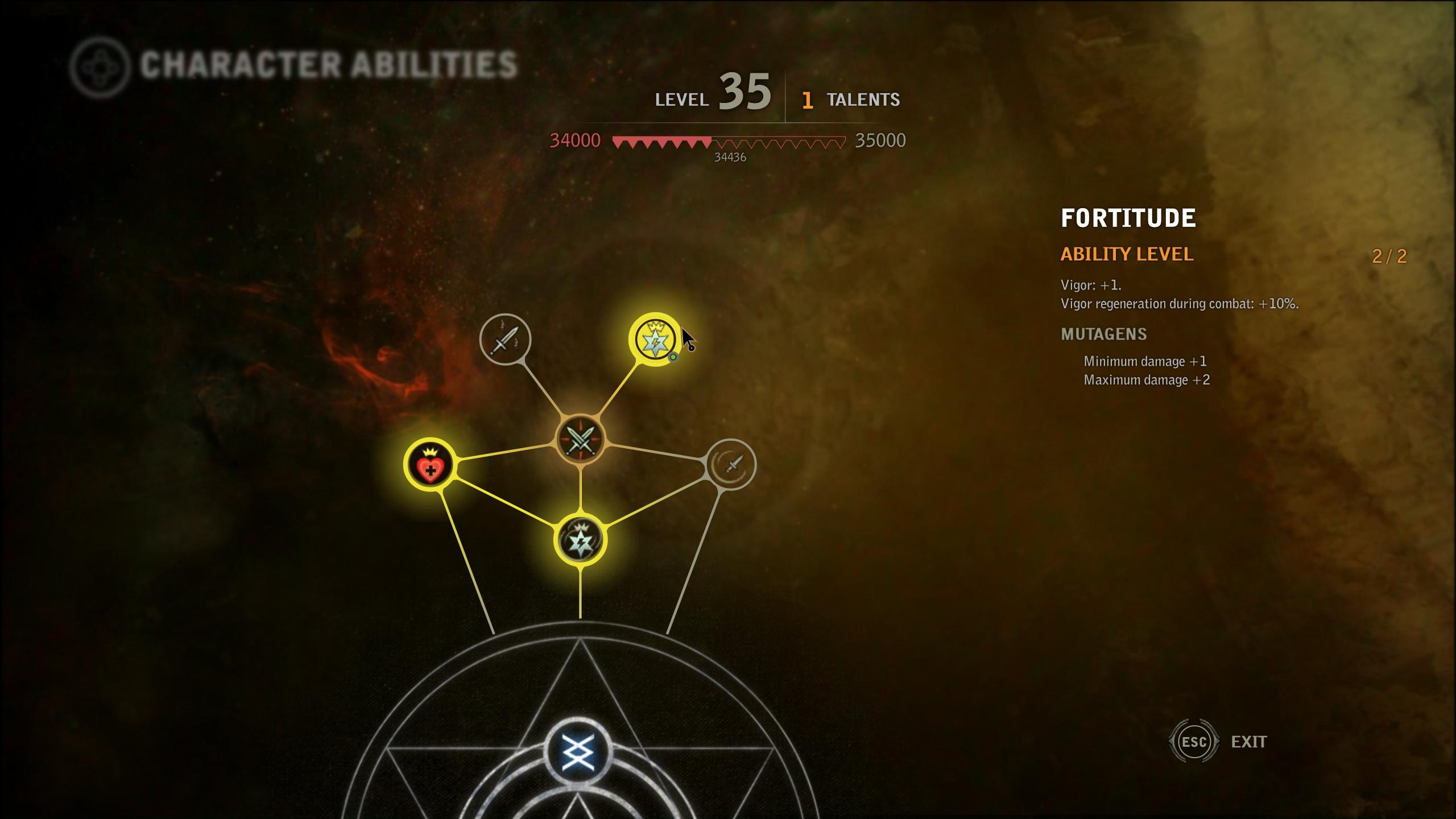 The first tree that is accessible is the training tree, which you have to put your talent points into until around level 9 or 10 (aka must have 9 or 10 talent points purchased to unlock the other trees). These involve abilities such as Vigor Regeneration (increases out of combat vigor regeneration by 25%, Level 2 increases in combat vigor regeneration by 25%), Hardiness (Vitality +10, Level 2 Vitality +50), Dagger throwing (ability to throw daggers), Parrying (Unlock the ability to parry from all directions, Level 2 50% damage reduction while parrying with full Vigor), Arrow redirection (redirect arrows, Level 2 reflects it back at the shooter), and Fortitude (increase in combat vigor regeneration by 10%, Level 2 Vigor +1 or an added Vigor slot). Arrow redirection and fortitude both have the ability to add a mutagen to them. Mutagens can be found by killing enemies, or in the alchemy tree, have a chance to create as a by-product to crafting an alchemy item. Mutagens are permanent (unless you respec and lose the mutated mutagen) and give a variety of bonuses such as to Vitality, increase chance to poison/incinerate/etc., increase Adrenaline generation, sword damage, armour, and more. We focused heavily on Adrenaline, armour, and vitality as those were the more important things to help keep ourselves alive longer and be able to use the Adrenaline Rush ability quicker in Dark Mode.
The other three trees are Alchemy, Magic, and Swordsmanship. All three have skills randomly placed in there to increase vitality, so you do not have to worry about going down one tree to get more health. Each also have their own unique Adrenaline Rush ability. Adrenaline has its own bar that once it is full allows you use it, which each tree having a different effect. We have found that you can actually unlock and benefit from multiple Adrenaline Rush abilities too, so you aren't limited to just choosing one.
Alchemy has skills that can increase the damage of bombs, chance to create a mutagen, increased potion or oil duration, damage dealt increased when poisoned, and many more. Its Adrenaline Rush ability is called Berserk Mode. This increases vitality regeneration rate in and out of combat, as well as increase the minimum and maximum amount of damage done with swords, and increase the chance to kill an enemy outright. We never poked our head into this tree as the only thing of interest in there was the Beserk Mode, which costs way too many skill points to get to that we would lose out on other skills we more rely upon.
The Swordsmanship Tree is a must for those who want to do majority of their damage from melee attacks, along with some more defensive abilities too. Position makes it so that you take less damage while being attacked from behind (the default is 200% damage when being hit from behind). On Dark Mode this is quite important as there are a lot of times there are group of enemies attacking you, with not all of them usually facing you. One hit from behind can sometimes clear out most of your health in one or two strikes. Feet work increases the distance that you can roll away from an attack. Quite useful against all sorts of enemies, including boss fights to evade their attacks if timed correctly. The only way to do damage to multiple opponents using a sword is the Whirl skill. There are also various skills that increase sword damage or deduce damage received within this tree. Group Finisher is the Adreneline Rush ability that can be unlocked in this tree. It allows Geralt to instantly kill up to three close together enemies whose health is low or at the threshold to allow them to be instantly killed. Most normal enemies we found on Dark Mode would be killed instantly, so we figure this is meant to not instantly kill a boss.
The final tree is the one involving Magic. This enhances the various signs that were previously outlined in the prior game which we will discuss again later in the combat section. Some of the skills increase the range of certain signs, increase the amount of damage that specific sign or all signs do, and increase the number of vigor 'slots'. Increasing Vigor when you can is a good thing as it is used for blocking, and the total amount of damage Geralt can do is based on how full that bar is, sort of a mini-fatigue. It is noticeable the damage Geralt does with a full Vigor bar vs a depleted one. We namely went for enhancing the Quen sign, so that it would reflect damage back at one or more enemies allowing us to dispatch them more quickly. Turning the Quen into a defensive and offensive sign at the same time. A fifth sign, Heliotrop, is the Adreneline Rush for this tree. It will create a bubble that slows down time aka enemies within it, allowing you to move faster than them to deal more damage, better chance of dodging attacks, and increases vigor regeneration.
It is possible to have two if not all three Adreneline Rush abilities to be used/triggered at once. We found that having Group Finisher and Heliotrop unlocked and triggering the Rush ability that we would do a Group Finisher attack on one or more enemies, then have Heliotrop up around in the area we were standing. Not sure if this was intended or not, but find this can help balance the odds against large groups of enemies later in the game, especially for Dark Mode.
'Mini-games' make their return in the Witcher sequel, though some of them have been altered slightly. All of them still have side quests where you can only do a mini-game with certain characters unless you've beaten someone else that wasn't as good as them.  You can also make a fair amount of money through them, but not as much as you could before. The developers seemed to have put a cap on how much you can bet which is significantly lower than in the Witcher 1. We see this as a bit of a downside as in order to gather enough money to afford crating the Dark Mode Outfits, we had to go farm enemies for a while in order to cover those costs. This resulted in us gaining more experience, so that can be seen as a good thing, though it would have been nice to have bet some people much more than were able to.
Dice Poker is the first game to see its return, with a change or two. The first noticeable change is that there is only one round of dice to win or
lose against an opponent rather than it being a best of three. This made it so that if you lost the first game you lose the set. They may have made it so that to beat an opponent you didn't have to slug through up to three rounds to do it, but we missed having a chance to lose a round then win the next two. Another change you'll notice is that it no longer tells you what the opponent has in terms of pairs, straight, etc. This 'may' have been removed to make it more realistic as it makes you more aware of both players have. The last change added was you can actually roll your dice off of the board if you are not careful, if this happens on your second roll you are down whatever dice that rolled off the playing surface. This has worked in our advantage the odd time as the computer opponent is not immune to do this and one time they lost two of their five dice from a bad roll.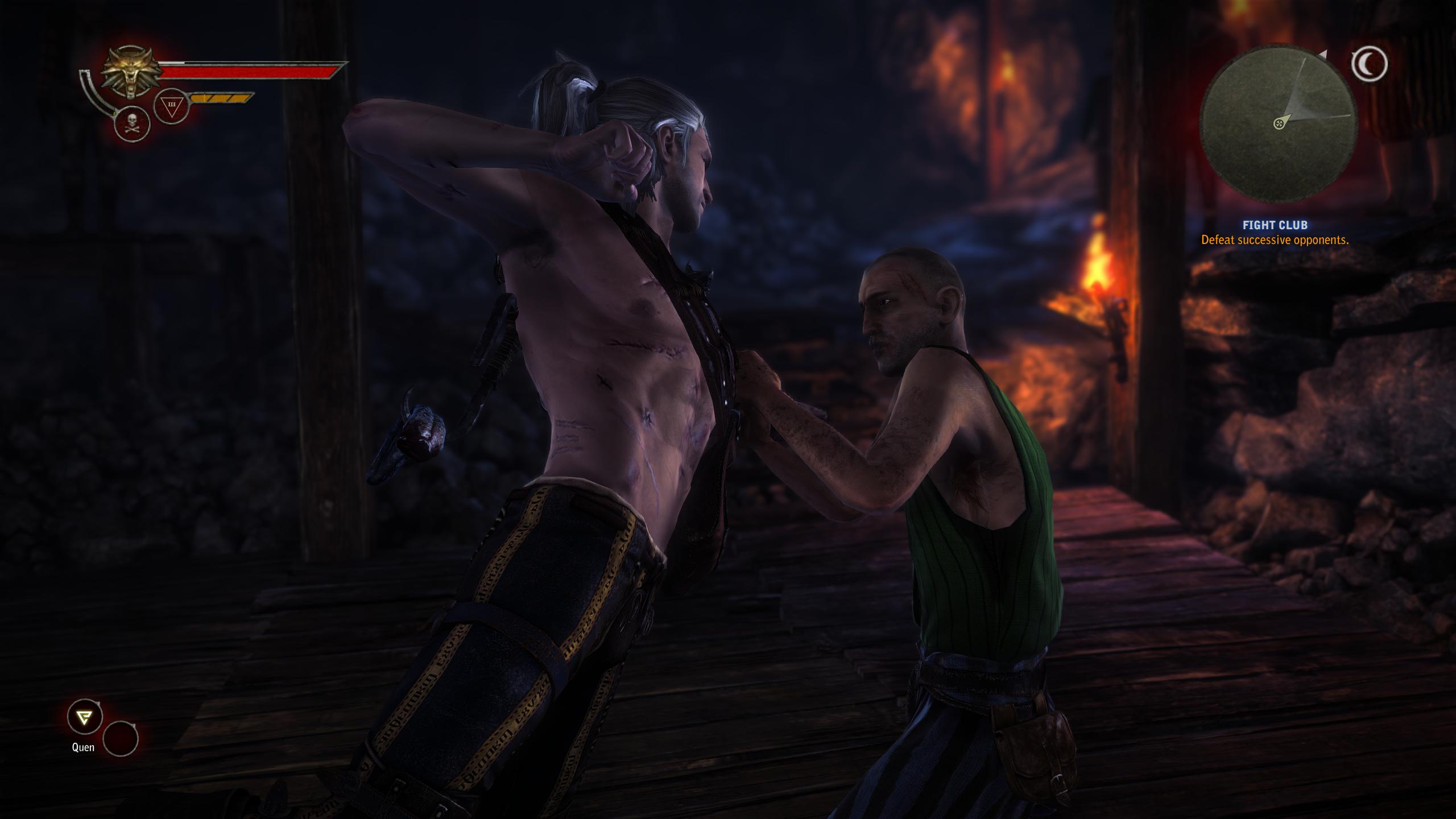 Fist Fighting has also made its return from the first game, it is now a series of quick time events. This makes it a bit more engaging than before as the strategy is no longer hold duck while the opponent is attacking, hit them, and repeat. Instead you have to be fairly 'active' in the quick time event. This is one of the rare times where QTEs (Quick Time Events) don't actually feel out of place, more something that they should be used with or for. You are actually expecting it, whereas a lot of QTEs you are usually not expecting, resulting in half the time failing at them (at least for us).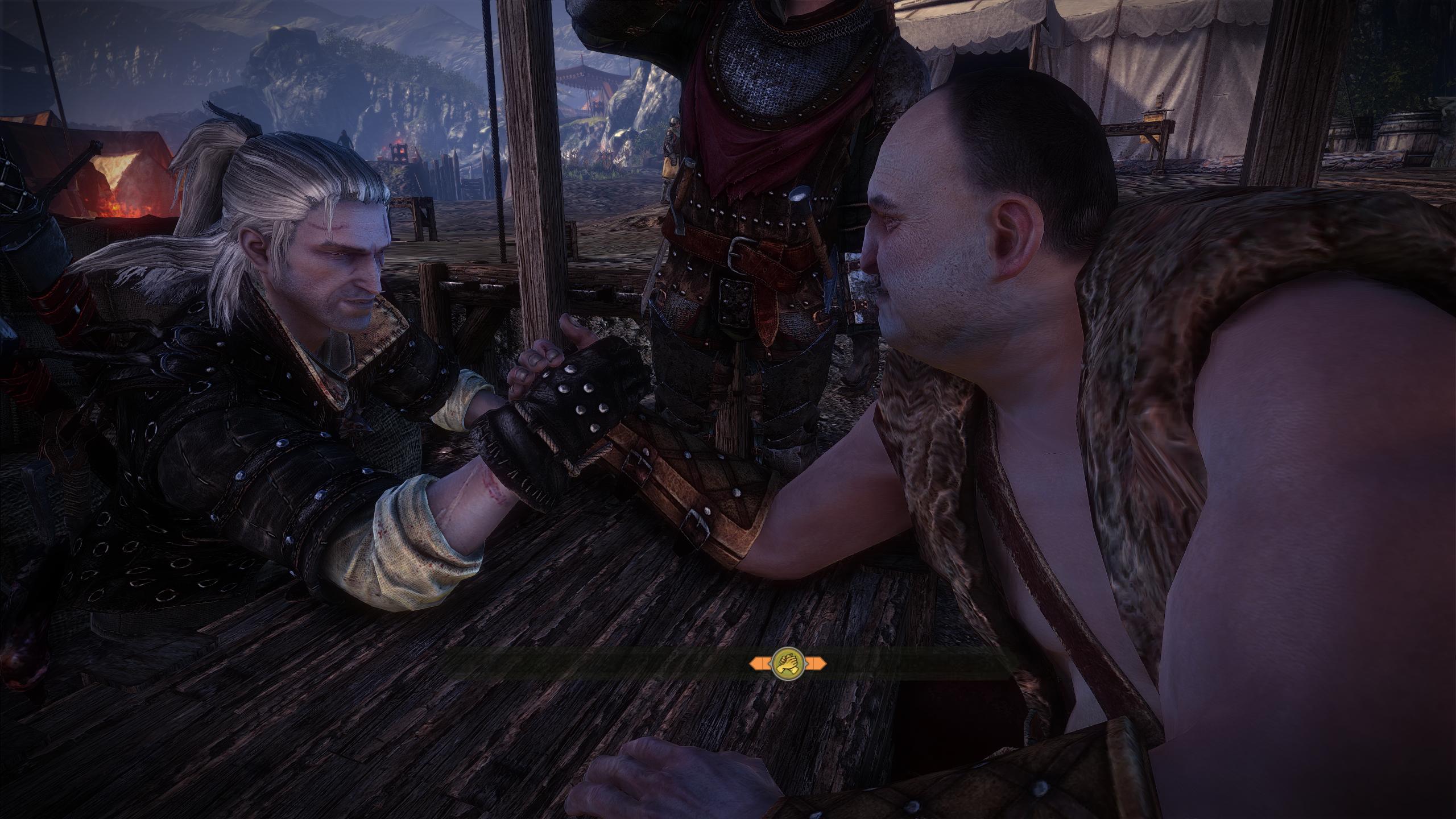 With the departure of the Drinking game and the Romance cards, Arm Wrestling has come in to take its place. Arm wrestling is another fun mini-game that we quite enjoyed. Once you challenge an opponent you see a little bar down near the bottom of the screen. In order to win, you must keep your cursor inside of this yellow area. Go outside of it and the yellow area will shift towards the opponent winning, while keeping it inside will allow it to move towards Geralt's side, leading towards him winning. There is one time where it is nearly impossible to win the arm wrestling contest, though you are supposed to lose the first time against them, so don't bet a lot. The opponent is known to be a cheater and on steroids, calling him out about this you can arm wrestle him a second time without the performance enhancing drugs for a fairer match.
The Witcher 2 – Combat
Out with the old and in with the new, the Witcher 2 sees itself ditch the old combat system that quite a few people did not enjoy to one that we would consider a bit more 'standard' in the RPG realm of things. We were a bit saddened to see the removal of the different fighting styles, as this made it so that not only did you need to use the correct sword, but the correct stance against opponents. We do understand removing the combo attack style combat as a lot of people found it unappealing and turned off quite a few gamers from playing through the entire game.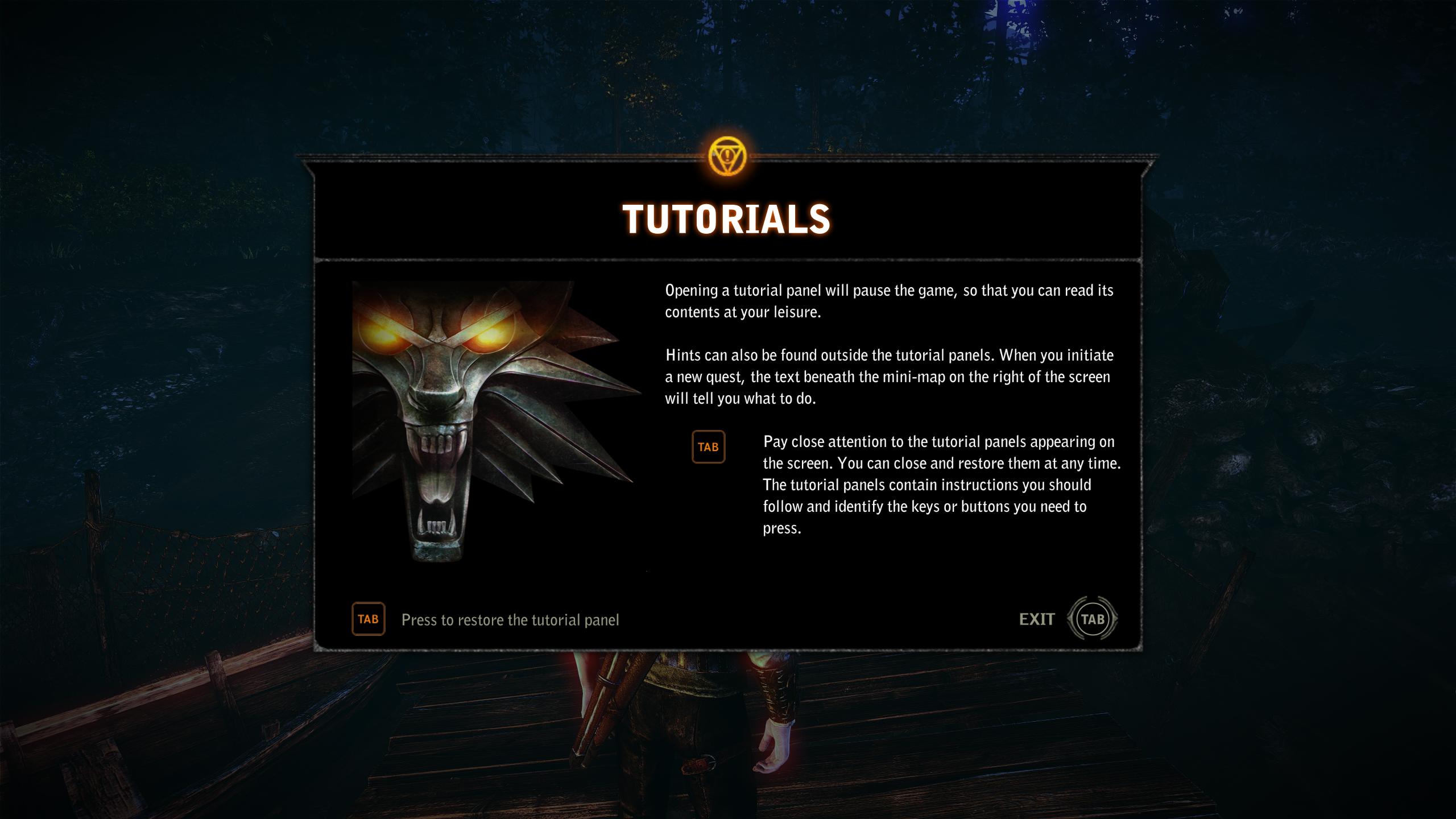 There was also a fair amount of people who were unhappy with the lack of a tutorial to the combat or gameplay mechanics of the game when you are thrown into the prologue act. To us the first time we played it we never had problems, though in the Enhanced Edition there is a tutorial one can play before the actual game. This explains all the basic mechanics of the game, along with tests your combat skills, giving a suggested difficulty afterwards. It told us we should be playing it on normal mode, but we were going to have none of that and dove head first into it on Dark Mode.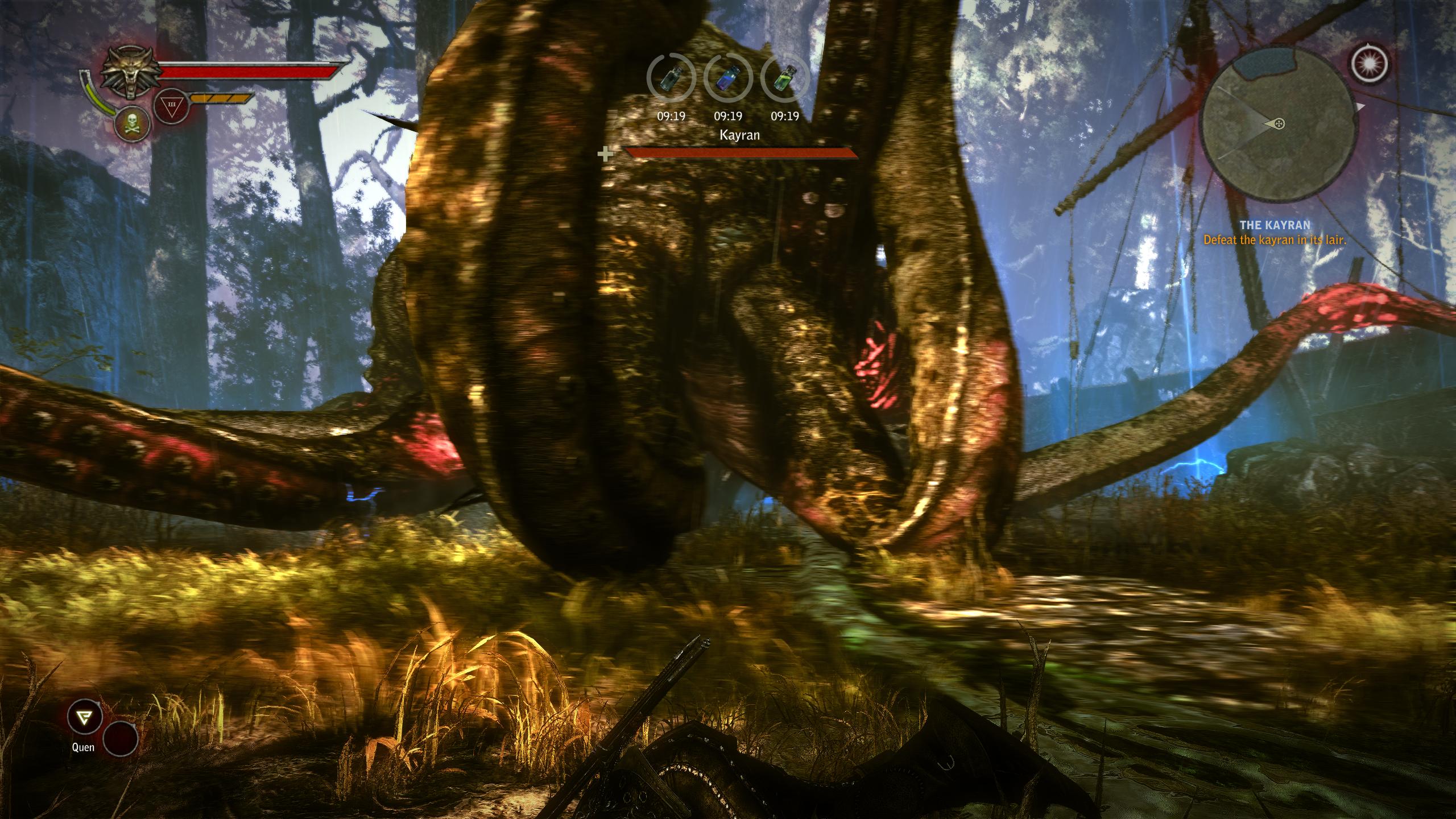 Instead of the Strong, Fast, and Group styles, there is fast attacks and strong attacks. To perform a fast attack, the left mouse button click when a sword is out or in combat (Geralt will automatically unshealth a sword when thrown into combat/attacked). The fast attack will allow you to attack enemies more quickly than the strong attack, but it can be more easily blocked or deflected, and does less damage than the strong attack. The strong attack, which is the right mouse button is much slower, but is harder to be blocked or deflected and does significantly more damage to an opponent. A strong attack also leaves you up to being attacked more easily by an enemy. Added into the mix this time is parry, where you can try to parry or deflect an enemy's attack, taking less damage. A successful parry will use up a slot of Vigor. With the right timing, you can actually deflect it all together and perform a counter attack. With this more fluid combat system dodge now has an actual use. In the first game we could do combo attacks and spec in a way where enemy attacks did very little damage when we were in a combo. Since this no longer exists in the second game, dodging an enemy, or group of enemies attacks becomes all the more important. We preferred to roll out of the way of an attack then use up a vigor point parrying an attack. Not to mention that getting quite skilled at dodging away from attacks comes in quite handy with a lot of the boss fights too, especially against the Kayran.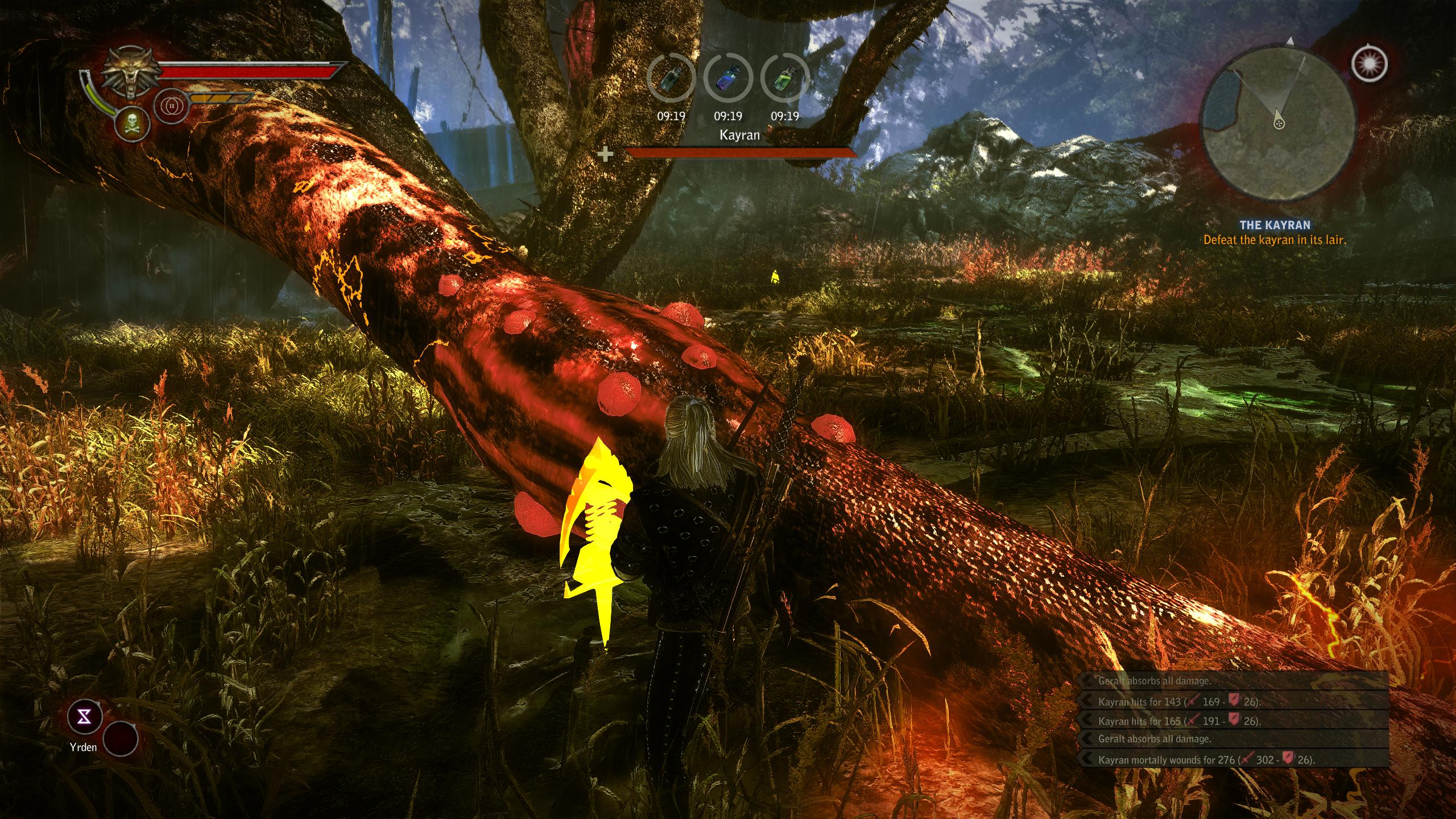 Signs also make their return as they are another staple of being a Witcher. For those who are not aware, Signs are what Witchers use in order to control the chaos that is magic without the need for extensive studying or training that most mages or sorceresses go through. Instead these signs can be used on demand given you have enough Vigor. There are once again five standard Signs, with the sixth having been mentioned prior with regards to the Magic Tree. Aard is once against the first sign we'll mention, similar to controlling the element of air. It can be used to throw or knock back enemies, allow you to attack them as they are dazed after being hit. Very effective against harder enemies, especially a certain boss fight or two as it allows you to not have to worry about being hit IF your Vigor regenerates fast enough and you time your attacks right. Igni is the analog for the fire element, allowing you to set enemies on fire. As there are no longer any camp fires it no longer has an out of combat use. We did not use Igni as much in this game compared to the first one. Yrden enables you to set magical traps on the ground that hold enemies in place 'stunned' for several seconds. It is another effective way to take down one or more enemies by placing a few of them on the ground, attacking the closest stunned enemy, whittling them down that way. Its use is also required against the Kayran fight to trap a tentacle in order to allow you to attack it. Quen for us was one of if not the most important Sign for play on Dark Mode. Quen is still a protective barrier that can be cast in order to not lose health while attacked, it only prevents Vigor from regenerating rather than both Vigor and Vitality as per in the Witcher 1. We will note on Dark Mode Quen only lasts for one attack than it is spent, whereas in easier difficulties normally the barrier will stay up for several attacks before being used up. Axii is the charm Sign, which early on in the game can be your other best friend (Quen being the first one). It will allow you to temporarily convert one of your enemies into an ally who will attack for you. This can be used to have enemies attack each other lowering both their health while you pick off stragglers or just backup to regenerate health.
The Vigor system returns with some updates to it. Rather than being a single long bar with thresholds of when a Sign can be used, it is broken up into quantities instead, with 9 'slots' being the maximum amount that one can have. As previously mentioned, the amount of physical damage Geralt does on an attack is based on the amount of Vigor he has (relatively to how many are available). If Geralt has two Vigor, but one has been depleted, only fifty percent of the maximum damage he will do to an enemy, with both depleted causing him to do the minimum amount of damage he will do with a sword. The more Vigor you have, the more the percentage is broken up, making it so that the attacks aren't affected as much by how many Vigor slots you have. Parry will also use up Vigor, so the more Vigor you have, the better off you are. We only went to about four or five since we were mainly using Vigor for to be able to use Quen when we needed it.
Planning before potential fights is rather important as you are no longer allowed to drink potions while in combat, you must be mediating in order to do so (which means out of combat). For some boss fights you are given enough notice that you are facing something to stop to drink potions before engaging them. Other times though you are thrown into the mix, and with a maximum of ten minutes, you need to hope they don't wear off before you dispatch your enemies. Swallow was once again our go-to potion, as it is only one of a few ways to have your health regenerate while in combat. Shrines as well as the Dark Mode swords (with a full outfit) are the only other ways. It is also a lot harder to consume 'too many' potions as the limit is three potions (unless you get skill points in the alchemy tree). When a potions timer runs out, the toxicity of the potion clears out, as if the effects and toxins are tied together. This makes it so you don't have to try to rest a while (as in in game hours) to drink new potions. Now this helps balance it a bit, we still wish at times we would have been able to drink a potion when we needed it as said before, there were some conversations that would be quite long that when it was over half the potion timer was gone and we were thrown immediately into a fight/combat.
Since we brought it up a few times we'll just briefly talk about the difficulty we played the game on. It is called Dark Mode, it is the second hardest difficulty in the game, much harder than Hard (significantly harder than Hard for Witcher 1 as well).  The amount of damage an enemy does, is nearly equal to that of Insanity Mode, with the only major difference that Insanity mode if you die, your save is gone. Dark Mode if you die you can just reload the game to the last save. Dark Mode is extremely difficult to say the least, as certain enemies or bosses can drain your health in one or two hits, even with the Dark Mode outfits. You really have to be aware of your surroundings, time your attacks and be a master at dodging (or parry + counter). We could probably bash the game a lot based on how hard the game was and how we died quite a bit against certain enemies or near the beginning of the game it is something to be expected on the higher difficulty setting. As the game progresses it is still quite near life and death, you do get a sense of reward from beating a certain fight, or figuring out on the first go the best way to deal with an enemy, ending the fight relatively quickly. One thing people may not be aware of is that the Witcher 2 actually allows you to enable/disable 'difficult' QTEs. This allows you to actually remove most QTEs from in the game, letting it play out in cut scenes rather than having to worry that you may need to do a QTE in the middle of something. As we do not like more QTEs we greatly appreciated this.
The Witcher 2 – Side Quests
We feel that CD Projekt Red seems to know what they are doing with side quests. There is not a ridiculous number of them per act, making them not feel like they are trying to heavily drag out the play time of the game compared to other games (we're STILL looking at you Watch_Dogs). A good amount of them actually tend to be along the way to or from the main storyline, making it so that you do not have to go out of your way to complete them. Of course there are the ones that are off by themselves, those are meant to help expand the universe a bit as well as explore the area.
We are glad to see Witcher contracts returned, with the slight change of no longer requiring codex entries for the monsters in order to gather the proof that you've killed a certain amount of them in order to collect the reward on the contract. Quest items are stored in their own category in the inventory, usually without any weight making it so that you do not have to clear them out to make space like in the first game. Also, with the exception of one or two crafting materials, the rest of them no longer can be used for potions, which means they cannot be accidentally consumed, thus requiring you to go out and kill more of a monster.
Not all monster contracts are created equally though. In one case you are tasked to deal with a Troll, whom are semi-intelligent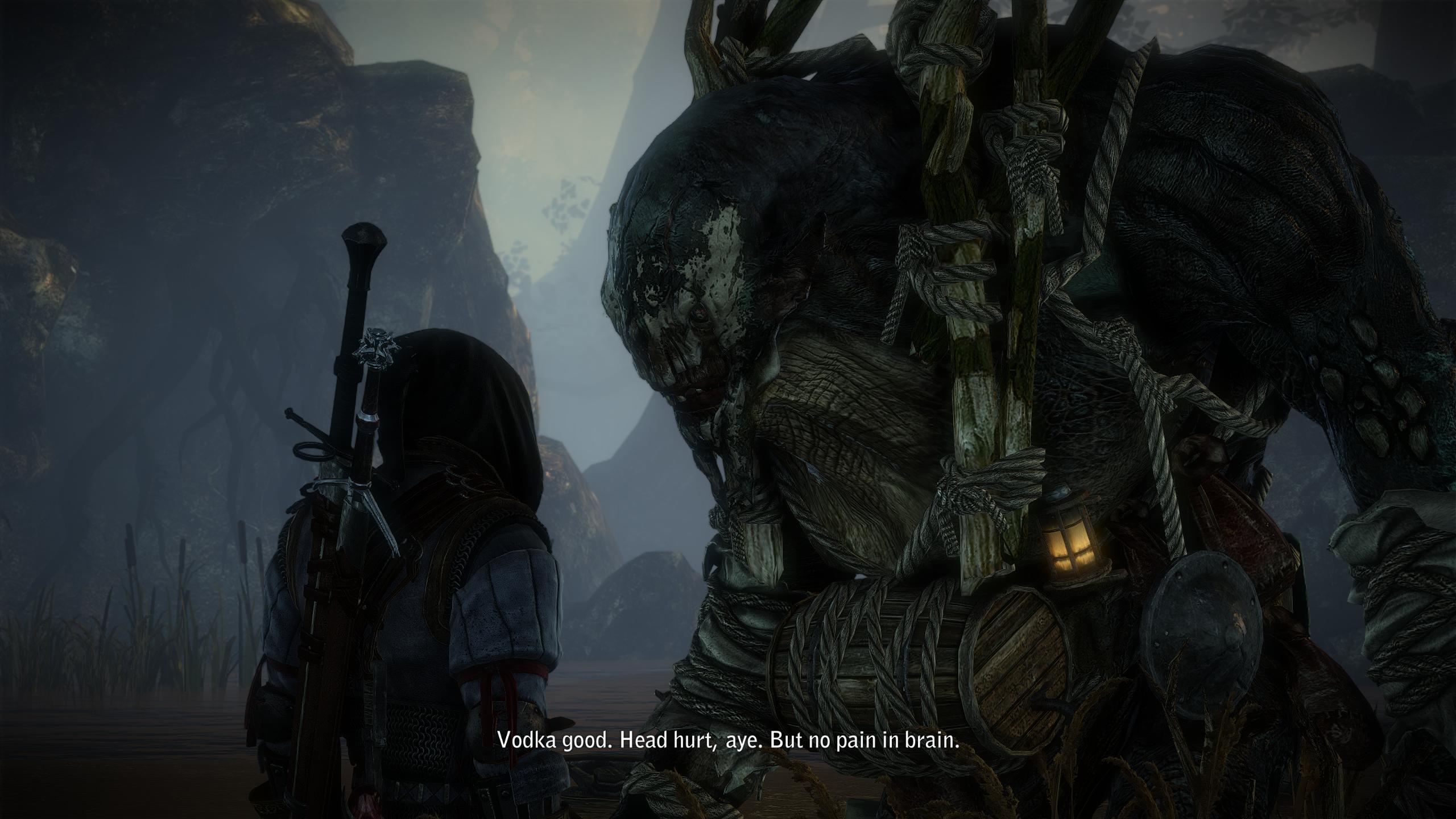 humanoids that tend to keep to themselves, collect tolls on bridges, and usually repair a lot better and less expensively then a trained craftsman (or group of them). The problem is this troll has picked up drinking, letting the bridge go into disrepair to the point it has fallen apart in sections. It has also become hostile towards people, making impossible for others to try to fix the bridge themselves. You are first tasked to go investigate the problem, with the option of either killing the Troll nuisance, or helping out the troll, finding out why it's taken to drinking. As like our choices in the prior game, we felt Geralt would not see this Troll as a monster, but more someone who is misunderstood. We decide to help the Troll out instead of killing it, finding out that someone had actually killed his mate and the heartbreak drove him to drink. Dealing with the murderer of the Trolls mate and returning some part of the Trolls mate back to him, the Troll vows to stop drinking and goes about returning to his duties of maintaining (and thus fixing) the bridge. This choice does not affect the rest of the game, it merely is something that is prompted as a side quest to see what kind of person you want your Geralt to be.
There are additionally 'more normal' type quests, such as helping out a group of people who believe someone is selling incense that is actually a drug. You can choose to either tell individual selling the incense what he has been doing, directly or indirectly, or just go about your way, telling the townspeople off. Another side quest revolves around investigating a cursed item, talisman, with the potential of trying to remove its curse. Going through all the necessary steps, including finding the person who can remove the curse, gathering the materials they require, and helping them perform the ritual (successfully, as you can fail).  Once this has been accomplished successfully, this talisman provides a permanent bonus to vitality regeneration, making it well worth all time and efforts required to remove said curse.
We don't want to describe too many of the side quests as they do not have nearly as may side quests as a lot of games do, hell we'd say there feels like less side quests in this one then in the first game. We praised Dragon Age: Inquisition a lot for how long its play-through was, this was due in part to probably at least half of its playtime from exploring the very large environments to the numerous side quests. Had the Witcher 2 followed even the number of side quests the Inquisition had, we would probably have gotten at least another 10 hours out of our single play-through.
There's also the odd quest that cannot be completed in the act they are received in, arching across at least two acts instead. This may seem frustrating if you are trying to make sure you finish all the quests in an area/act before moving on, though you can usually tell you've progressed as far as you can based on the information given in the quest log.
The Witcher 2 – Story
The game continues roughly off of where the first game ended, with some time having passed between them. You are still Geralt of Rivia, Master Witcher. The introduction cinematic does not revolve around Geralt this time, instead you find out that it is about another Witcher instead, one who is part of a school of Witchers whom have taken it upon themselves to assassinate kings, with the first one being victim in the video.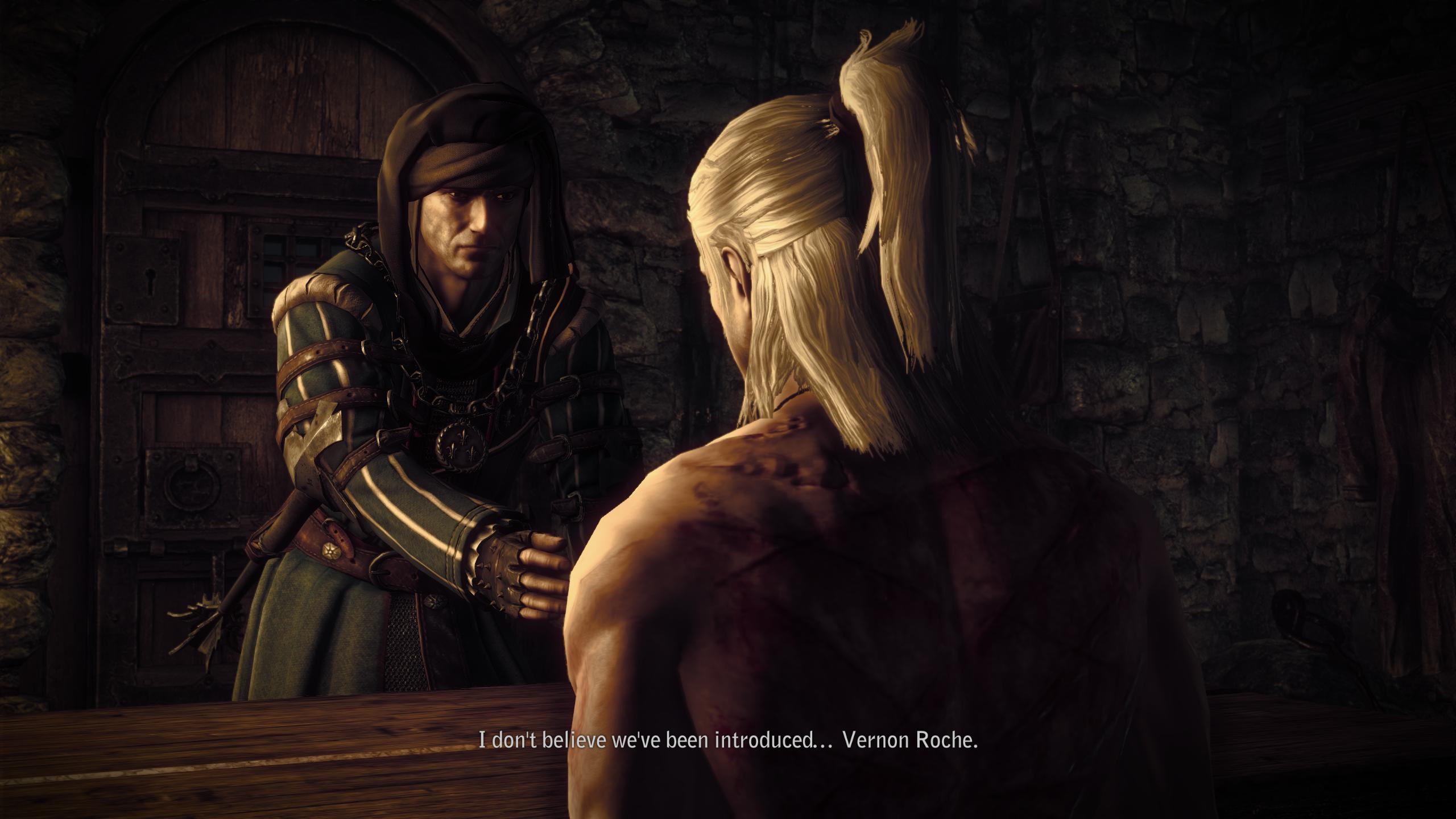 The game itself picks up with Geralt in a dungeon, being introduced to Vernon Roche, the leader of the King of Temeria's Special Forces. The two of you discuss the events leading up to you being locked up in the dungeon on charges of regicide. Flashing back, you are in the company of the King of Timeria, Foltest, as Geralt had stopped one Witcher-like assassin from killing him at the end of the first game, the King deems him a 'good luck charm'. Foltest is dealing with a civil war against Baroness La Valette to reclaim his out of wed children (bastards). Geralt helps lead the assault and the charge on the La Vallete's castle, dispatching countless soldiers, including a duel with Aryan La Vallete. You are given a choice to duel him yourself, insist you do not want to fight him (but still have to fight anyway), or fight him with his group of soldiers. A dragon also shows up that seems to cause a muck of things, splitting you up several times from the King and Roche. Once you finally make your way through the castle and breach the walls, you reunite Foltest with who two young children. Geralt, being pleased that he safely got the king to his children turns his back on the 'blind priest' that had been taking care of them while they were 'locked up' in the tower. This was an elaborate trap, as it is actually the Witcher from the cut scene, who slices Foltest's throat before Geralt can get there to stop him. They briefly fight, though this second Witcher makes his escape out a window to a band of Squirrels. As Geralt kneels down to help the dying King his soldiers come upon him and lock him up.
Roche believes Geralt's tale, wanting revenge for his lost king, helps plan your escape from the dungeons. You take a boat with him and his Special Forces to the Act 1 location of Floatsam, where this other Witcher may have escaped to. Since that was just the prologue, and sort of sets up the Assassin of Kings title of the game, we felt it wasn't too much of a spoiler to loosely explain to you what the prologue was plot wise.
As the game progresses though, nearing the end of Act 1, you must choose between siding with Roche, or with the Squirrel leader Iorveth. We for one sided with Roche as he did help us get out of the dungeon, and his aims are more along the lines of our own. To seek revenge for the death of Foltest, Geralt has similar motives in wanting to clear his name, and find out why this Witcher killed a king. We also learn that Iorveth helped this Witcher Kingslayer before being betrayed by him. This will cause the story to split for the Act 2 and Act 3. We cannot speak for the Ivoreth chain, but we felt that everything that happens in Roche's seems to parallel them (him and Geralt) having some sort of friendship, where Ivoreth could be just as friendly, he is an Elf with the goal of seeing all humans punished for what they've done in the past, innocent or not.
The main storyline was another interesting rollercoaster ride of events. There were a few twists and turns along the way we would never have expected, which is always nice in a game. The Enhanced Edition also provides a better story telling experience, especially with more information about Geralt's past and the significance of the Wild Hunt that it doesn't leave us wondering why the next game is called The Wild Hunt. Originally we thought it could be related to a potential war with Nilfaard, but instead it is something much more sinister, highlighting the need in to find Yennefer, the love of his life and Ciri, the female Witcher we have been teased with in trailers and concept art.
The Witcher 2 – Misc
We don't recall the Arena Mode existing in the original release of the game, so it is fair to say it was more than likely released with the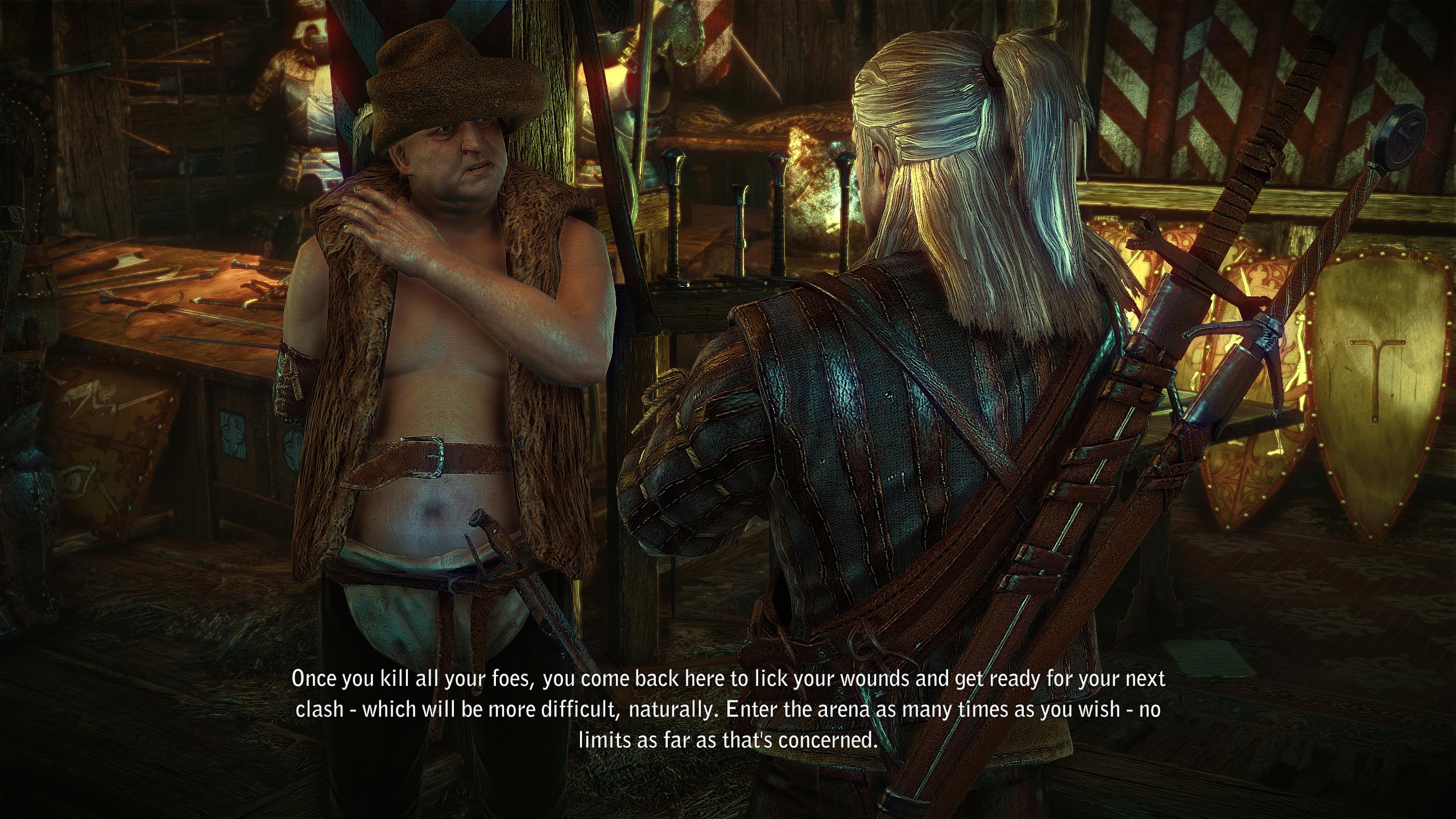 Enhanced Edition. The Arena mode allows you to go into an arena and fight against men and monsters. It is a stand-alone game type, where experience/levels gained, coin won, and weapons purchased are not imported or tied into the main game itself. We only played it briefly but found it quite enjoyable. Sometimes you just want to kill a lot of things and just don't want to deal with interacting with NPCs or storylines. Plus it is also a great way to test out different spec builds if you do not have a respec mod available. Arena Mode can be played on any difficulty, either alone or with a NPC mercenary character whose surfaces can be purchased for a price. We could even say it is a great recommendation in getting used to the combat system and harder difficulties before playing the main game. Want to know what Dark Mode is like? Play a few rounds in the Arena to find out as the tutorial only gives you one chance to fight enemies and it suggests the difficulty based on how far in the tutorial combat you get.
The Enhanced Edition, as well offers additional content to players for free, alongside it being a DRM free game if it was purchased through their Good Old Games site/platform. They even allow you to register your CD key purchased elsewhere with them to allow you to keep a permanent DRM free version in case the medium you bought it from disappears, you lose your DVDs, etc.
Since the game branches off quite a bit in the second act, we'd definitely replay this game a second time to see the differences involving Ivoreth's path in Act 2 and 3 compared to Roche's. As with the first game, we're not sure if we'd go back to play it a third time, but we can say we would pick this game back up again in a few years to revisit the world of the Witcher.
The Witcher 2 – Conclusion & TL;DR
The Witcher 2 on Dark Mode gave us about 40 hours of gameplay (not including the time spent in the stand alone Area) which is quite good for a game that we felt did not have a lot of side quest filler compared to most RPG games out there of late. Seeing we mentioned that the game is worth playing through a second time for the different story in Act 2 and 3, we'd push it to say about 70 hours if you want to play the entire game through the two story branches. That is not bad for a game really, even at the 40 hours for one play-through we felt we'd of gotten our money's worth from it. We can safely say that the Witcher 2 made improvements in all the areas that it needed to, without many shortcomings. We are glad to see that it made its way onto another platform, such as the Xbox 360, though we'd love to see CD Projekt Red release it on the current generation consoles, if only to allow more people to enjoy the game.
We're going to be adding a little extra section in the TL;DR, which is a brief explanation as to what or why we scored something the way we did.
Graphics: We felt that the graphics were quite outstanding, looking back it hardly feels or looks like a 2011 title, especially if you compare it to some of the middle of the pack games who have come out in the past year or two. The fact we can't even run it on Uber mode might show up much graphical potential is pent up in the game itself.
Controls/Combat: The combat and gameplay controls are an improvement over the previous version, though at times we found that when we had rolled away from an enemy it would still register it as a hit, and in Dark Mode a good chance meant our death.
Story: We quite enjoyed not only the story but how the side quests were designed, especially with the game effectively splitting off into two different but similar branches.
Side Quests: The side quests do not weigh the game down and bloat it.
Misc/Replay Value: Lastly the games added Arena mode makes replaying it fairly advantageous, to improve your skill for harder difficulties, though aside from the different branching side quests/main quests there isn't much of a reason to play through it a third or fourth time immediately after due to the limited talent tree configurations and essentially one class type.