$299.99
in stock
1 used from $299.99
as of November 30, 2023 2:12 pm
$159.99
$169.99
in stock
45 new from $159.99
21 used from $113.39
as of November 30, 2023 2:12 pm
$295.99
$359.99
in stock
34 new from $295.99
7 used from $272.31
as of November 30, 2023 2:12 pm
Last updated on November 30, 2023 2:12 pm
MSI Z97 MPOWER – Unboxing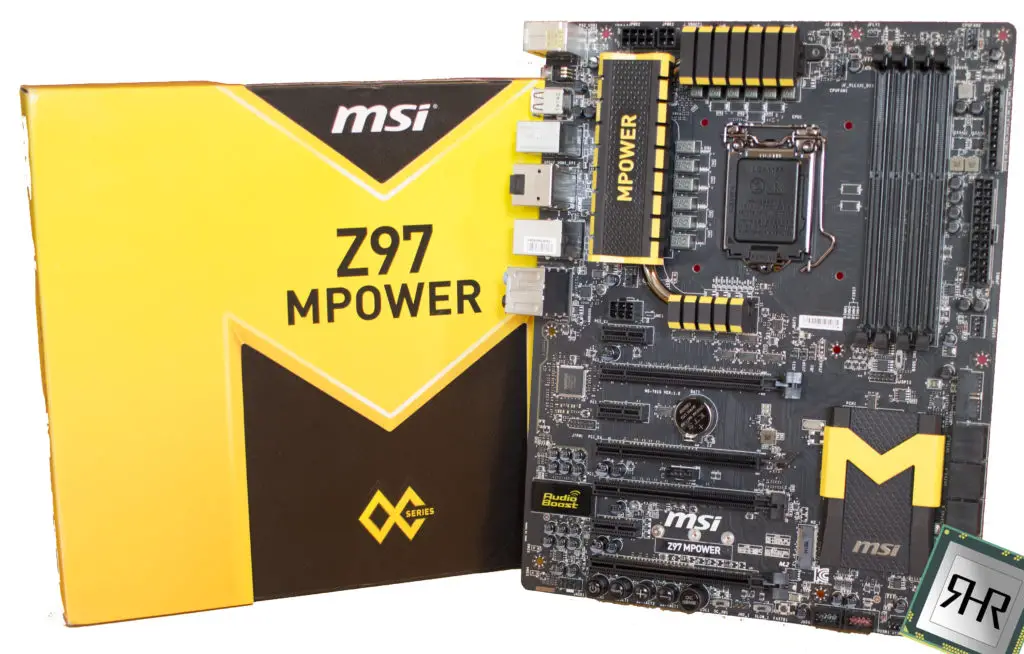 MSI was once only known by the system builders and OEMs, but now MSI is everything gaming and overclocking. The MPOWER line is MSI's cream of the crop when it comes to overclocking and high end. The MSI Z97 MPOWER is a overclocking and system builder's dream board.
With a low cost compared to its competitors such as Asus ROG and Gigabyte OC series, the Z97 MPOWER is at a great price and even just installing and testing the boards basics leaves you with the great feeling of your first build all over again. When installing this board the first glance only showed one issue for most users, the lack of front/mid board USB ports(3 sets). For us this was a issue as our AIO took up one, our front panel took up 2 more leaving no ports for our internal BT module.
Now without further delay lets take a look at the Z97 MPOWER motherboard and all its accessories.
First we have the bright yellow and flashy M on the front of the box. This box will catch your attention right away, though it does not have a lot of info on the front it will catch your eye and make you want to pick it up to see what features it has to offer.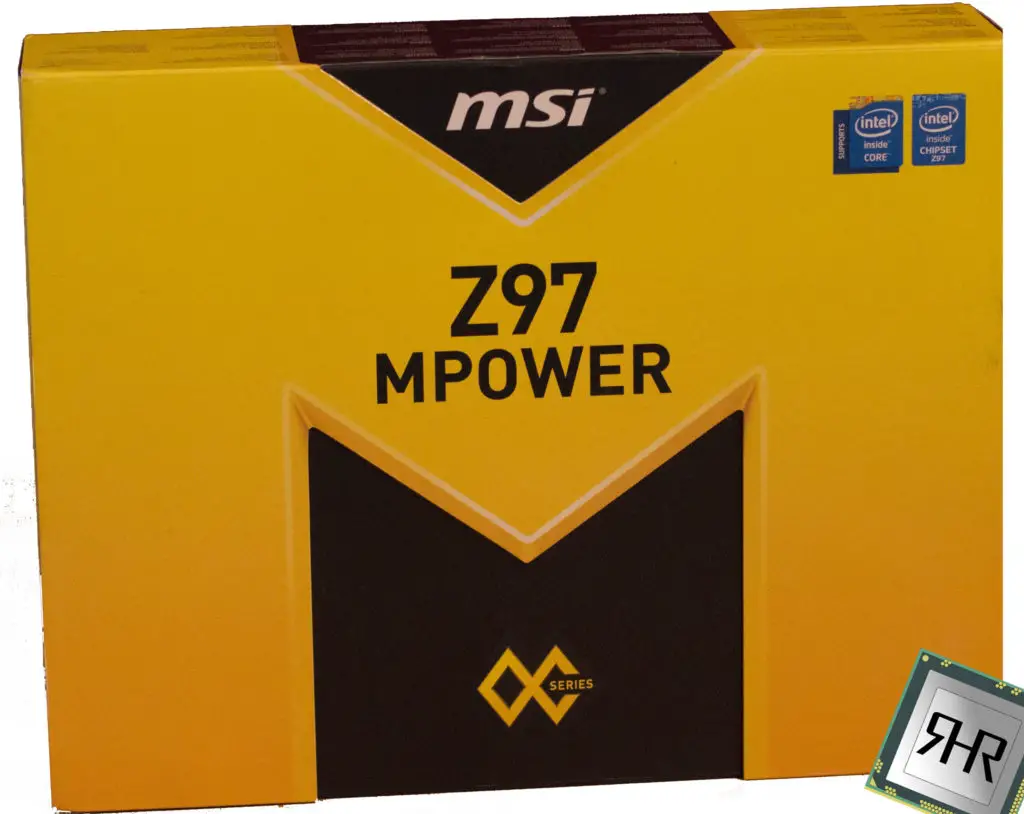 Then you can open the front leaflet up and see all the key features that the Z97 MPOWER has to offer.
The back shows off the overclocking features of the board as well as full specifications. MSI also uses the back panel to show off the layout of the ports.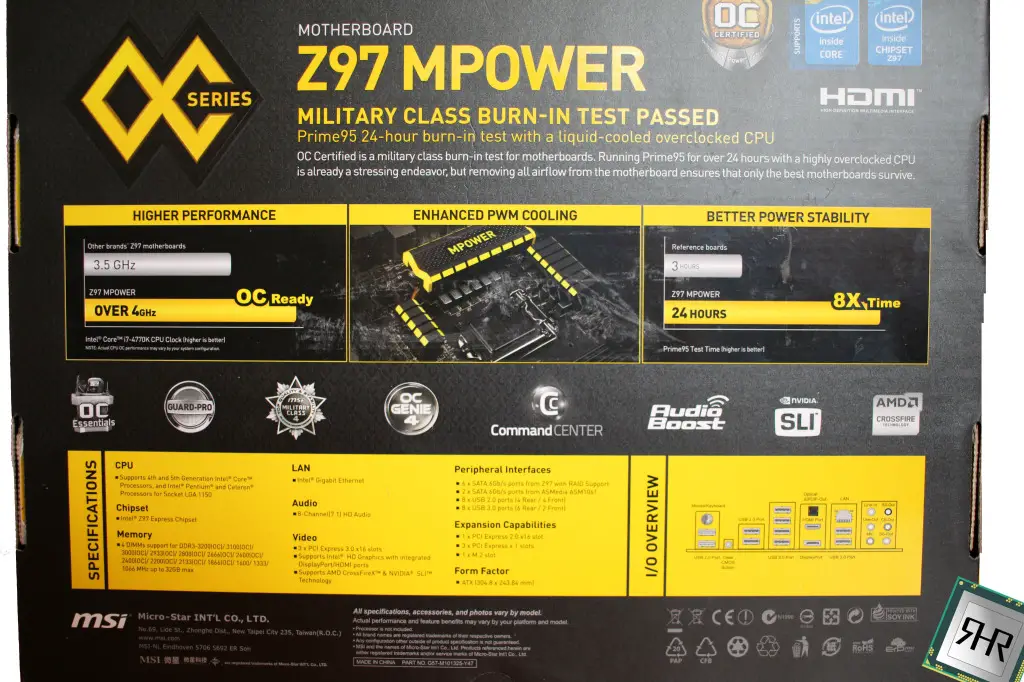 The board is packaged very well, giving you a feeling of comfort when picking up the board from the store and taking it home. MSI did not over package the Z97 MPOWER with foam or anything like that. They used well cut out cardboard as well as a standard static shield.
First item in the box will be the motherboard but lets start with the accessories.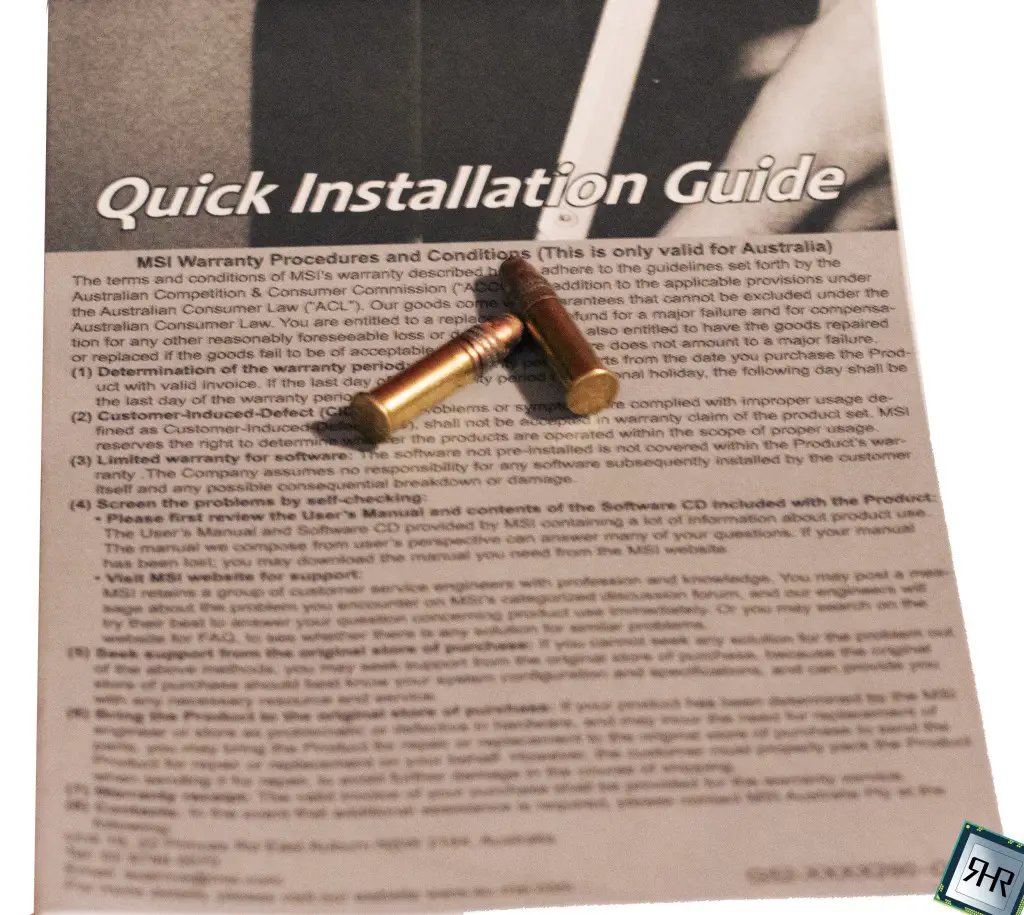 First the Z97 MPOWER comes with a quick installation guide with basic tips on how to setup your system. The black and white leaflet is very simple and in many languages. It will give you some basic help with your setup but the color guides that MSI includes are far more useful.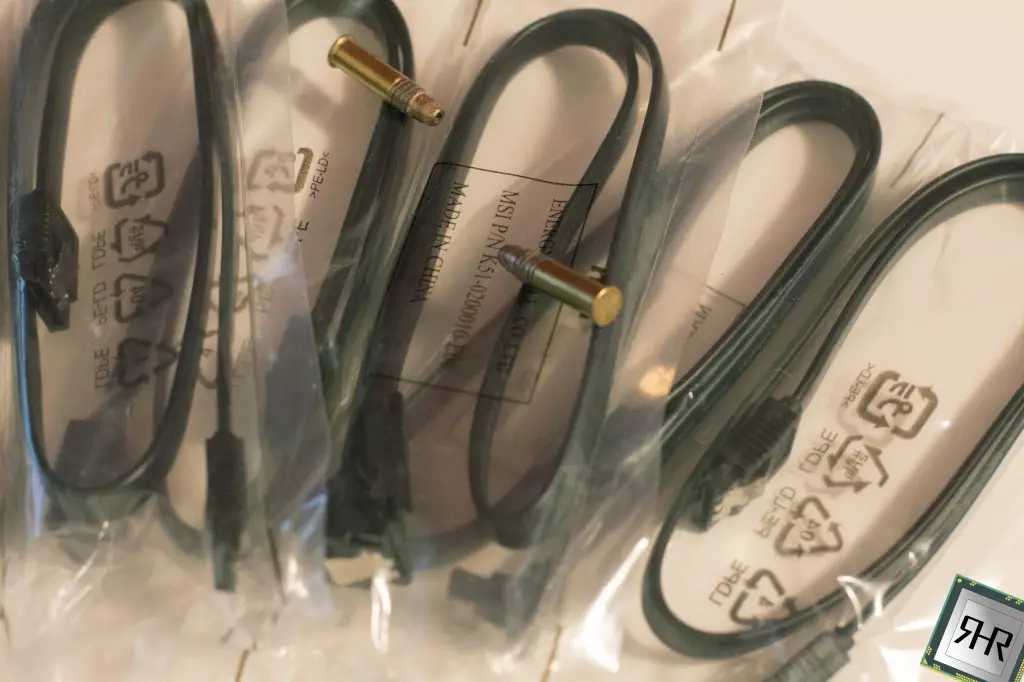 Next the Z97 MPOWER contains 6 Sata cables, 3 with right angles and 3 straight cables. The cable quality is standard to all other sata cables but the black cables do look great in most builds. Most boards come with 4 sata cables and though it does not cost much for the cables the extra 2 is nice to have.
No Limits and features poster. This is a great quality poster that has a lot of great info on the Overclocking features as well as the quick descriptions of all the ports.
Another great feature of the Z97 MPOWER is the Volt Checks that do not require soldering. These great little cables can be plugged right to the board then checked with your volt meter.
Dual M-Connectors are included to simplify installation.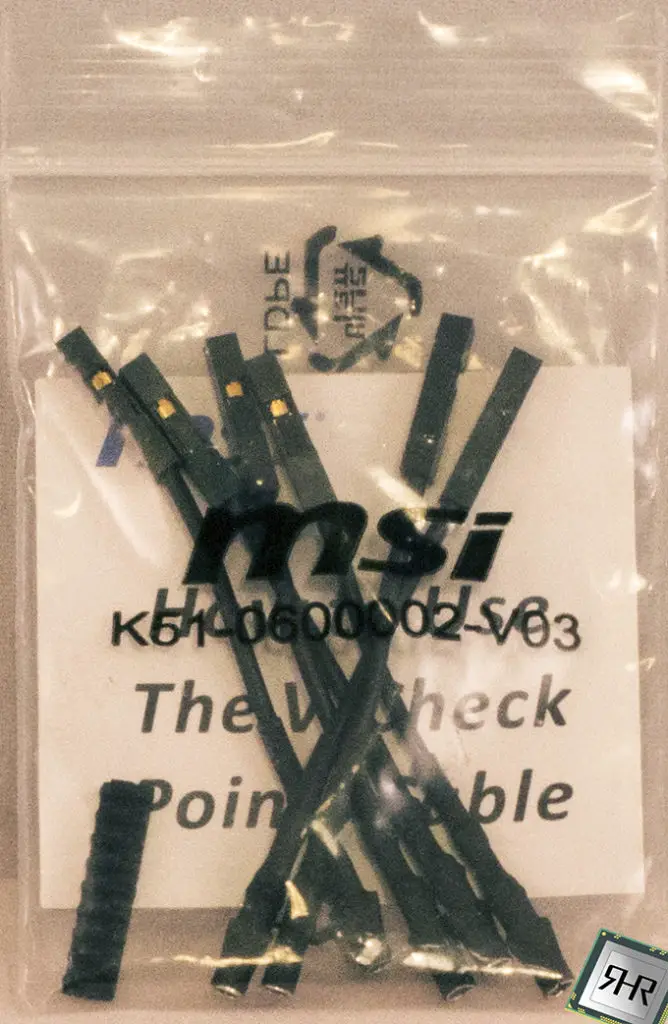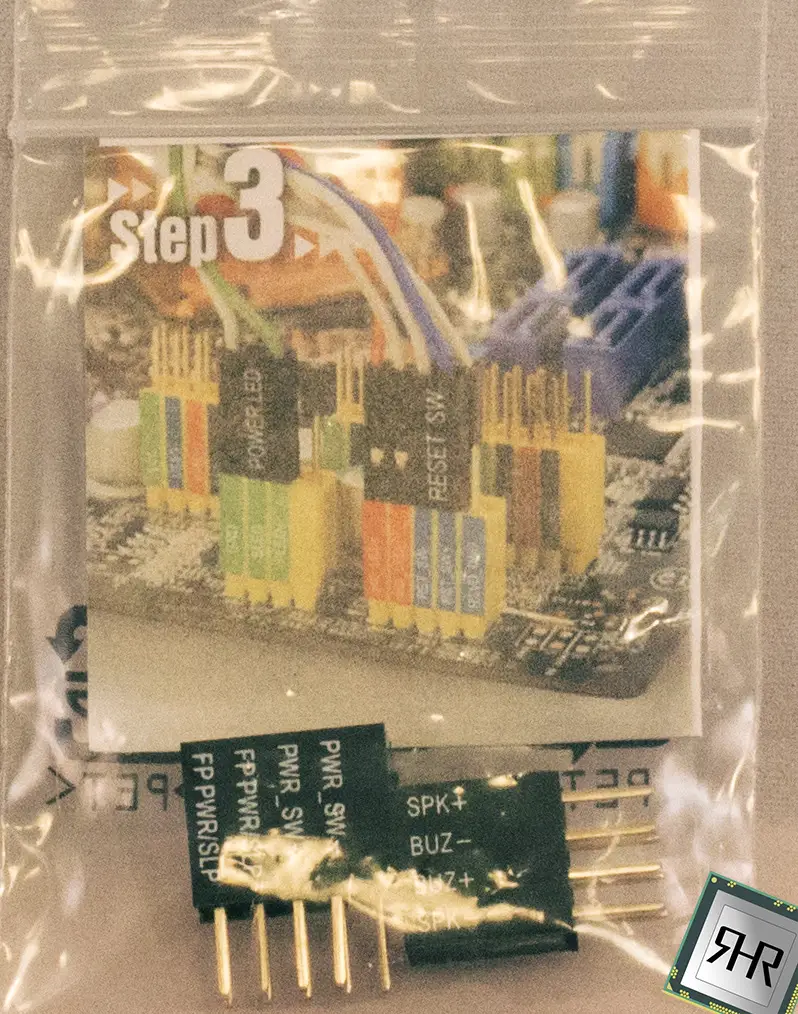 MSI also includes Sata Cable Stickers that you can label and make moving drives much simpler by labeling the cables during install.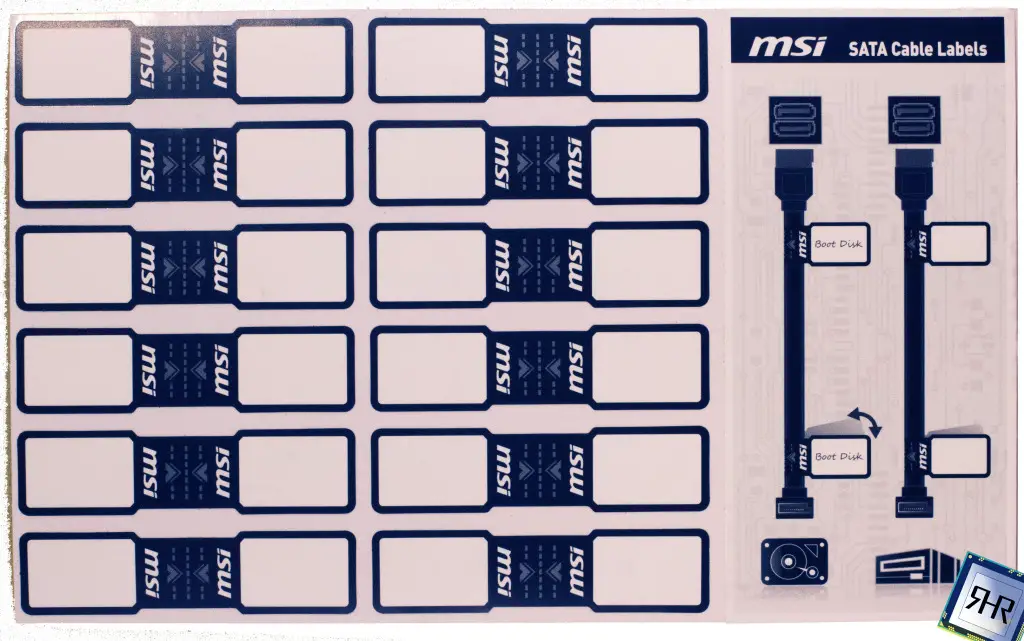 A Flat yellow driver and application disc is included that contains all the drivers and MSI only software you will need for setting up your system. Caution do not select install all or you will end up with Norton and nobody likes Norton these days. A Norton removal tool is found here:  Norton Removal Link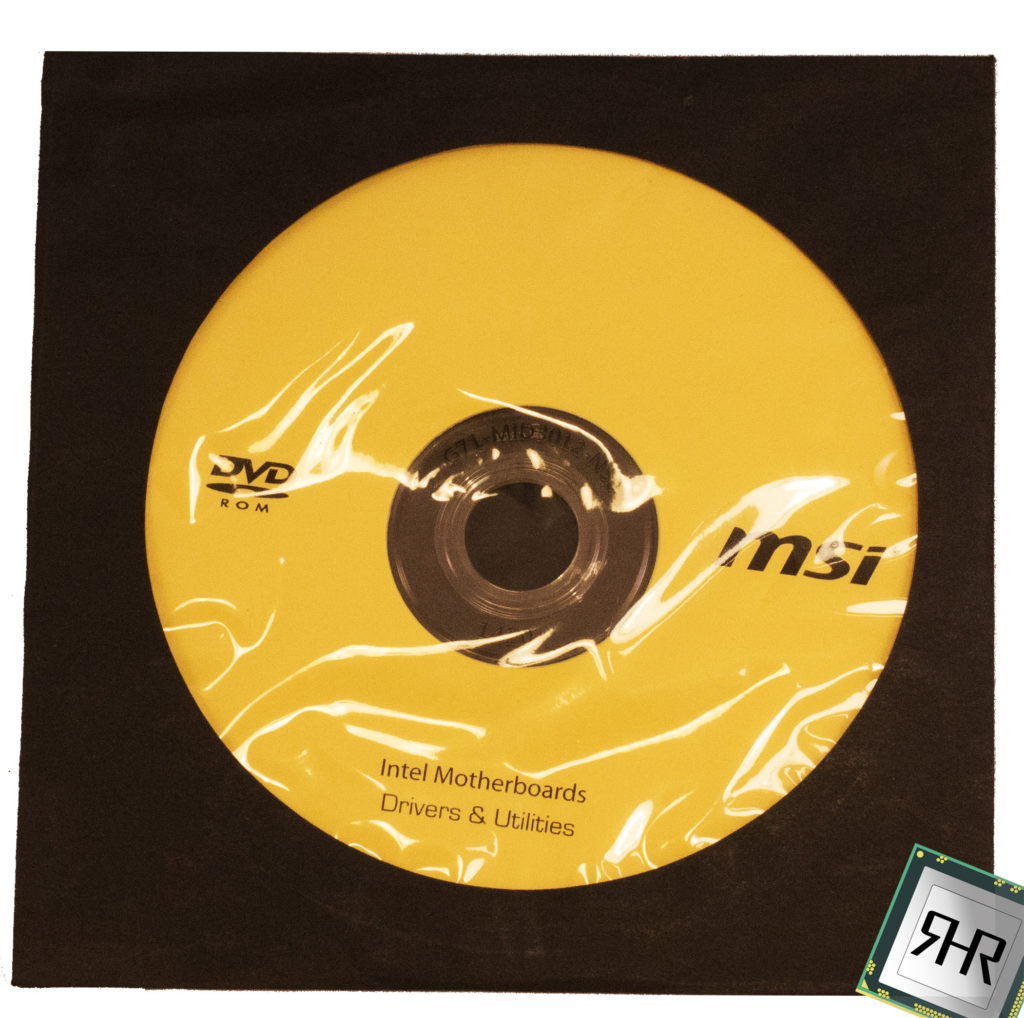 Standard SLI Bridge with MSI logo on it. Though many brands now have very custom bridges, still a great thing to include for the Nvidia SLI fans out there.
Beautiful case badge, with the yellow OC Series tag, white MSI and black carbon fiber looking background. The sticker sticks to even meshed cases very well.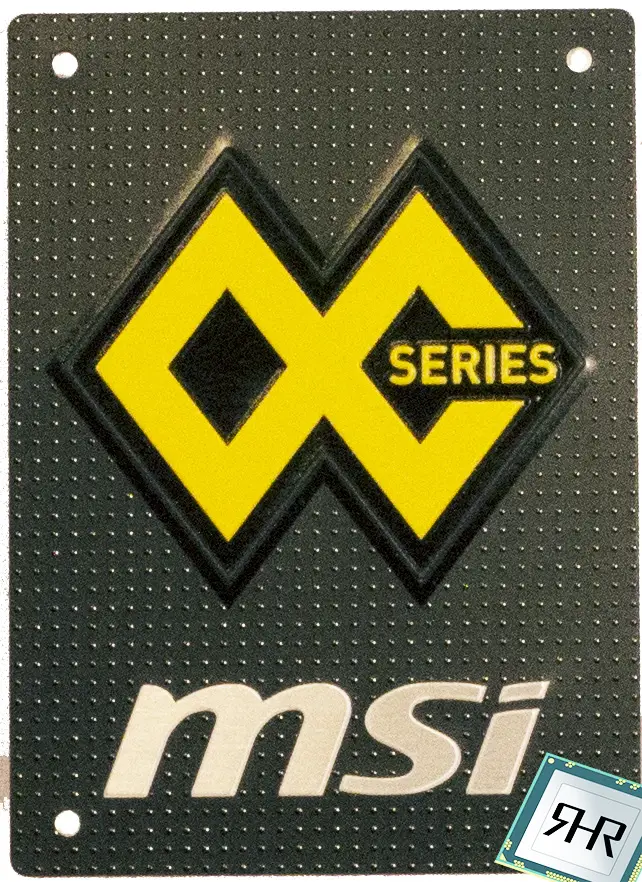 Great quality door hanger saying, "busy breaking world records" on one side and "out buying LN2" on the other side.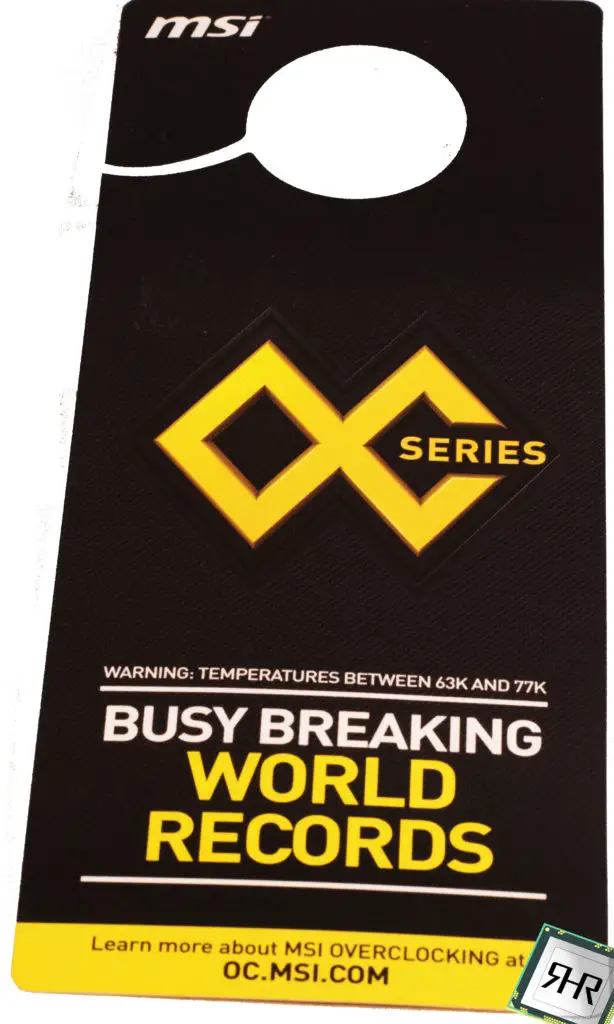 MSI did an amazing job with their MSI Intel 9 Series OC Guide. Good resolution colored photos and very simple to follow instructions on how to overclock their Z97 boards. Definitely worth taking a look over if you have the chance.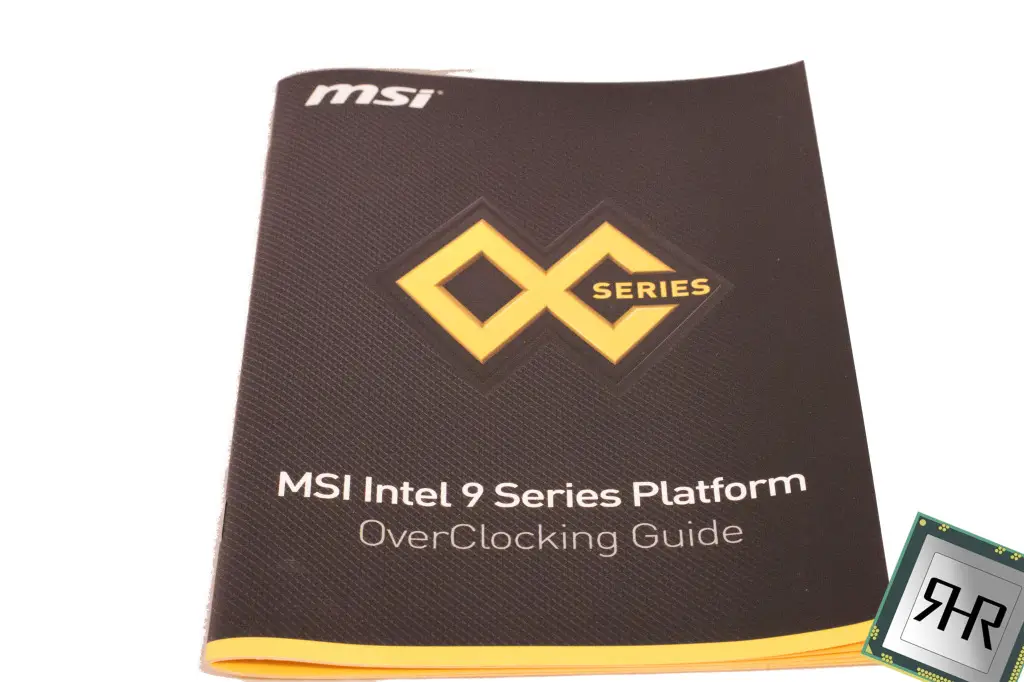 MSI includes a very detailed Z97 MPOWER User Guide, with everything a first time builder would need to know as well as some features even veteran builders may find useful. Plus the whole thing is English only which to me this is a win as it is actually a longer well written guide, unlike many competitors multi language mini guides that just look larger due to many languages.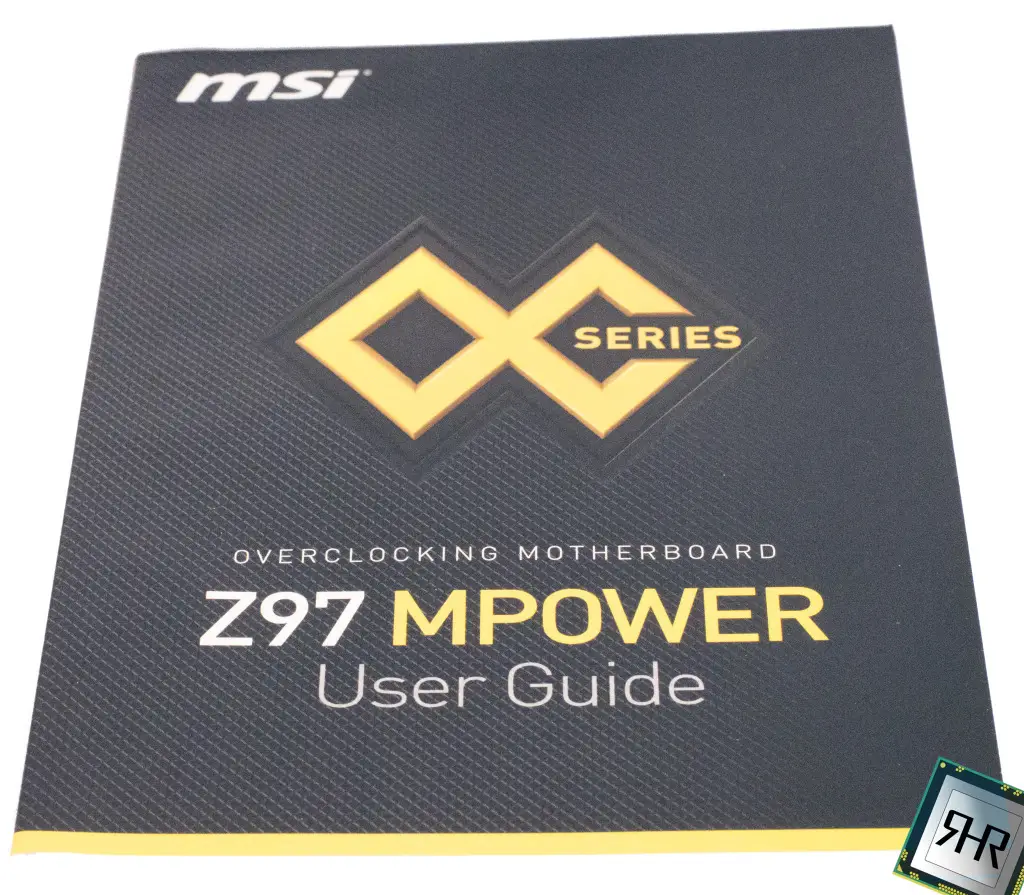 The Software and Application User Guide with the Z97 MPOWER is a must read. It contains the basics for everything from OC Gene to XSplit. The fact MSI spent the time to write guides for third party software truly highlights their desire to give their endusers the best experience possible.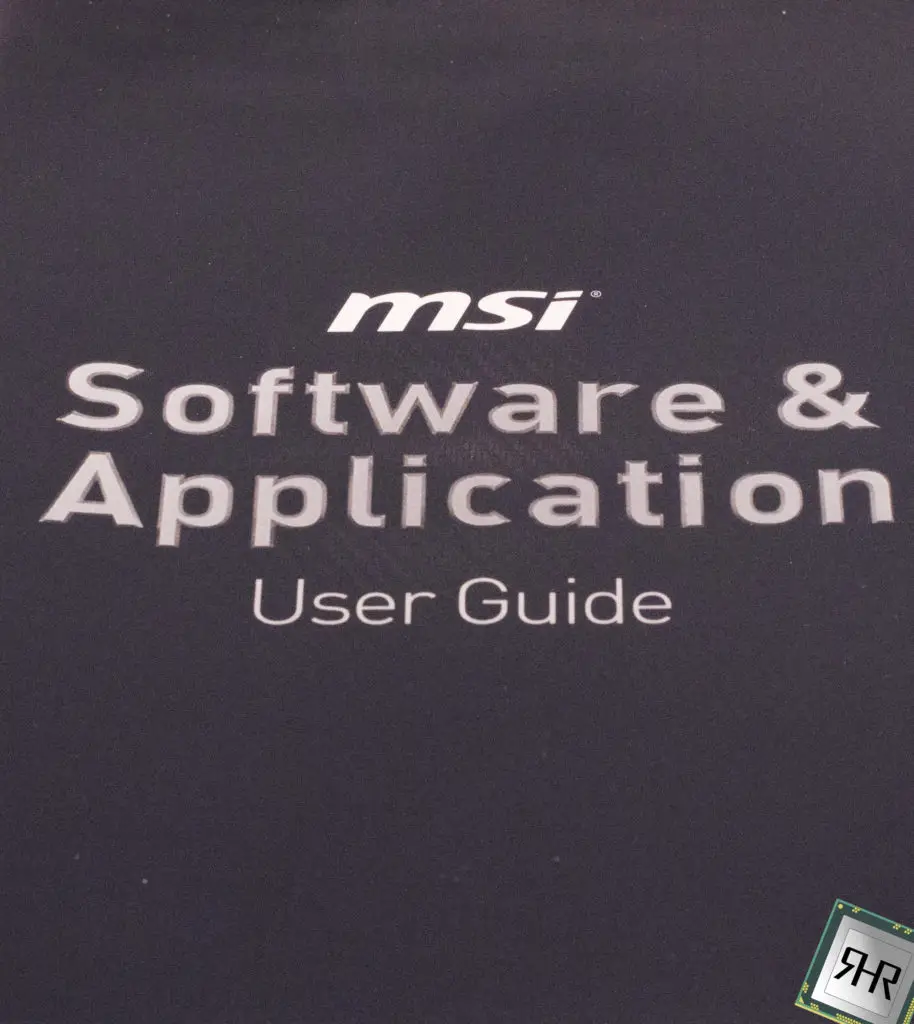 Simple but clearly well thought out matte black I/O Shield with a black foam backing to make for a simple install. The Foam backing is supposed to offer sound and vibration dampening and feels great to the touch.

Now for a closer look at the board itself, sleek matte black style and very eye catching yellow.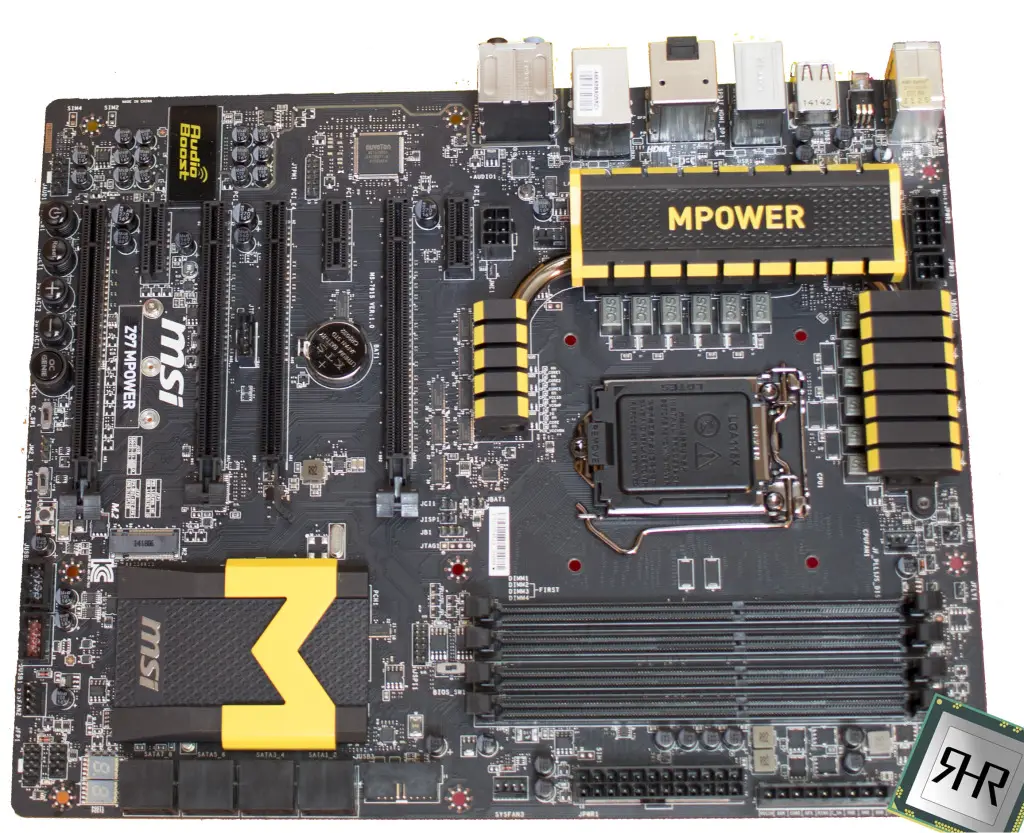 Easy to access OC Genie buttons as well as power and reset on board. Well thought out port placing, from power to Sata everything is placed for a reason to make easier setup and install.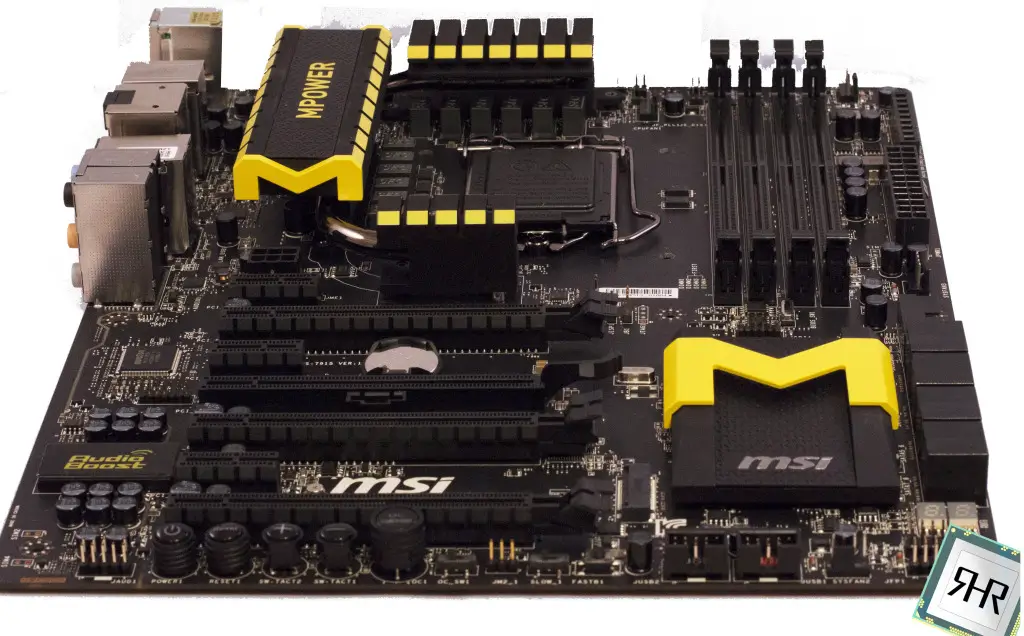 Well placed rear ports. From left to right with dual USB 2.0 under, Bios Reset switch, Dual usb 2.0 Stacked, 4 USB 3.0 Stacked, Toslink, HDMI and Display Port Stacked, Gigabyte Ethernet and dual USB 3.0 Stacked, 8 Channel 3.5mm Audio

MSI Z97 MPOWER – Specifications
CPU • Supports 5th and 4th Generation Intel® Core™ Processors, and Intel® Pentium® and Celeron® Processors for the Socket LGA1150
Please refer to CPU Support for compatible CPU; the above description is for reference only.
Chipset• Intel® Z97 Express Chipset
Main Memory• Support four DDR3 DIMMs 1066/1333/1600/1866*/2000*/2133*/2200*/2400*/2600*/2667*/2800*/3000*/3100*/3200*/3300*(OC) DRAM (32GB Max)
– Supports Dual-Channel mode
– Supports non-ECC, un-buffered memory
– Supports Intel® Extreme Memory Profile (XMP)
Slots
3 x PCIe 3.0 x16 slots(PCI_E2, PCI_E5, PCI_E7 support x16, x8/x8, x8/x4/x4 modes)
• 1 x PCIe 2.0 x16 slot (PCI_E4, supports x4 speed)*
• 3 x PCIe 2.0 x1 slots*  * The PCIe x1 slots (PCI_E1, PCI_E3, PCI_E6) will be unavailable when installing an expansion card in the PCI_E4 slot.
On-Board SATA • Intel Z97 Express Chipset
– 6 x SATA 6Gb/s ports (SATA1~6)
– 1 x M.2 port*
– M.2 port supports M.2 SATA 6Gb/s module
– M.2 port supports M.2 PCIe module up to 10Gb/s speed**
– M.2 port supports 4.2cm/ 6cm/ 8cm length module
– Supports RAID 0, RAID1, RAID 5 and RAID 10***
– Supports Intel Smart Response Technology, Intel® Rapid Start Technology and Intel Smart Connect Technology****
ASMedia ASM1061 Chipset
– 2 x SATA 6Gb/s ports (SATA7~8)* The SATA5 and SATA6 ports will be unavailable when installing a module in the M.2 port.
** M.2 PCIe interface only supports UEFI option ROM, NOT support legacy option ROM.
*** M.2 PCIe interface does not support RAID 0, RAID1, RAID 5 and RAID 10.
**** Supports Intel Core processors on Windows 7 and Windows 8/ 8.1
USB
Intel Z97 Express Chipset
– 4 x USB 3.0 ports (2 ports on the back panel, 2 ports available through the internal USB connectors)
– 8 x USB 2.0 ports (4 ports on the back panel, 4 ports available through the internal USB connectors**)• ASMedia ASM1074 Chipset
– 4 x USB 3.0 ports on the back panel
** internal JUSB1 connector supports MSI Super Charger
Audio• Realtek® ALC1150 Codec
– 7.1-Channel High Definition Audio
– Supports S/PDIF output
LAN • 1x Intel I218-V Gigabit LAN controller
Multi-GPU • Supports 3-Way AMD CrossFire™ Technology*
• Supports 2-Way NVIDIA® SLI™ Technology
*Supports Windows 7 and Windows 8/8.1.
Internal I/O Connectors 
– 1 x 24-pin ATX power connector
– 1 x 8-pin ATX 12V power connector
– 1 x 4-pin ATX 12V power connector
– 1 x 6-pin ATX 12V power connector*
– 8 x SATA 6Gb/s connectors
– 2 x USB 2.0 connectors (supports additional 4 USB 2.0 ports)
– 1 x USB 3.0 connector (supports additional 2 USB 3.0 ports)
– 2 x 4-pin CPU fan connectors
– 3 x 4-pin system fan connectors
– 1 x Clear CMOS jumper
– 1 x Front panel audio connector
– 2 x System panel connectors
– 1 x TPM module connector
– 1 x Chassis Intrusion connector
– 9 x V-Check connectors
– 1 x GO2BIOS button
– 1 x Power button
– 1 x Reset button
– 2 x Base Clock control buttons
– 1 x OC Genie button
– 1 x Multi-BIOS switch
– 1 x OC Genie mode switch
– 1 x Slow mode switch
– 1 x 2-Digit Debug Code LED
* Provides additional power to PCIe x16 slots
Back Panel I/O Ports
– 1 x PS/2 keyboard/mouse combo port
– 1 x Clear CMOS button
– 1 x Optical S/PDIF-out  port
– 4 x USB 2.0  ports
– 6 x USB 3.0  ports
– 1 x RJ45 LAN jack
– 1 x 6 in 1 OFC audio jack
– 1 x HDMI port, supporting a maximum resolution of 4096×2304@24Hz, 2560×1600@60Hz, 3840×2160@60Hz,1920×1200@60Hz
– 1 x DisplayPort, supporting a maximum resolution of 4096×2304@24Hz, 2560×1600@60Hz, 3840×2160@60Hz,1920×1200@60HzThis platform supports dual-display and triple-display function
HDMI+DisplayPort
HDMI+HDMI
HDMI+HDMI+DisplayPort
Extend mode
(Extend the desktop to the second and third monitor)
◯
◯
◯
Clone mode
(Monitors have the same screen)
◯
◯
◯
BIOS
The motherboard BIOS provides "Plug & Play" BIOS which detects the peripheral devices and expansion cards of the board automatically.
• The motherboard provides a Desktop Management Interface(DMI) function which records your motherboard specifications.
Dimension
30.5cm(L) x 24.4cm(W) ATX Form Factor
Mounting