$159.99
in stock
as of November 30, 2023 2:22 pm
Last updated on November 30, 2023 2:22 pm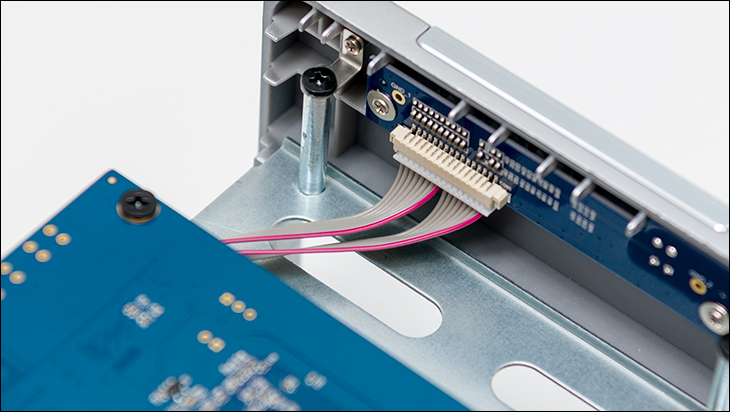 The next step is to flip it over so you can see the underside. Best orientation is with the front facing away from you. If you trace the ribbon cables to the front underside you will see that they are not just held in place with friction. Instead, it has two clips that you need to release before gently lifting the cable off the front header. If you miss this 'hidden' step… you are going to have a bad day.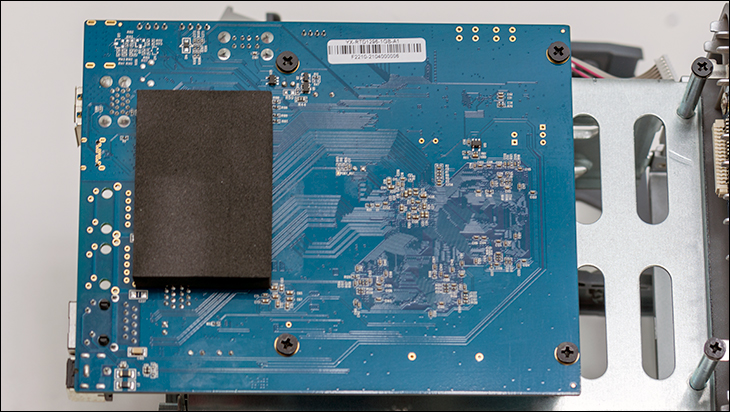 With that done, flip the unit over so the base of the unit is in the air. Before moving on to the next step, as you can see the 'bottom' of this motherboard is rather clean it its layout… as it should be… as there are not many discrete components on this NAS appliance. So much so you can basically consider this a single sided PCB. There are four bolts holding the motherboard in place. Remove them and place them in a safe space. Just be careful to not mix them up with the four bolts for the fan assembly / back.
Then gently lift the motherboard up from the sub-chassis. Directly up is best. You will be disconnecting one PCIe connector as you remove the motherboard so go gentle and go slow. Bam. Done. Now reverse the steps with the replacement motherboard.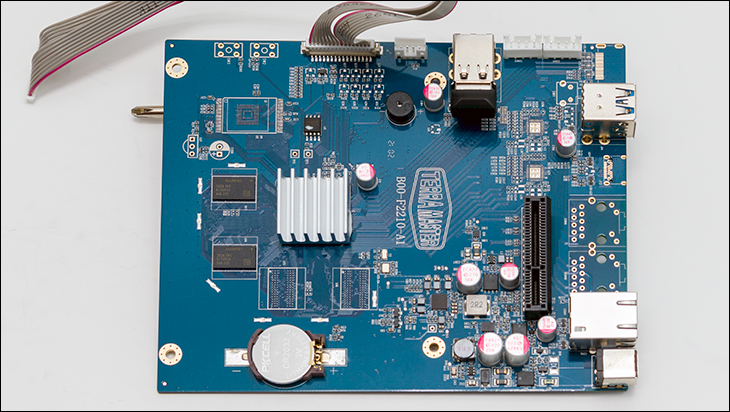 Taking a close look at the 'top' side of the motherboard we were once again surprised at the neat job done. No messy blobs of solder. No 'oopsies' or scratches. It really is as clean a job as found on motherboards living inside NAS' costing much more than the F2-210. It just is a bit spartan. This is because this is an entry level NAS and there is almost no extra ICs on it. To be precise, except for a power controller IC and SoC the only two major ICs are the two Samsung DD4-2400 512MB RAM ICs.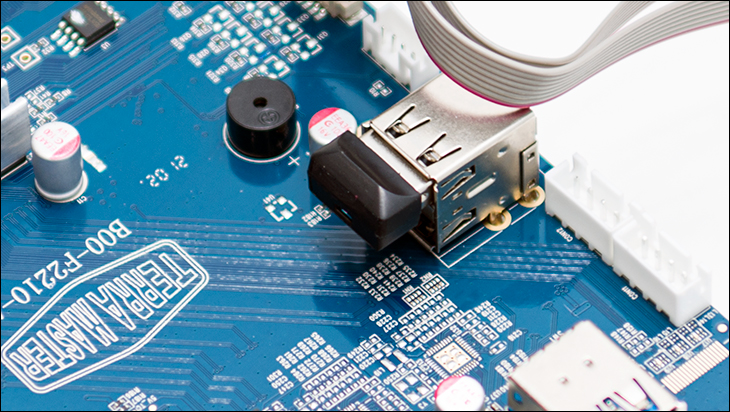 This is a bit surprising as we were expecting a NAND IC. However, TerraMaster has taken a page from unRAID/FreeNAS/etc and are using a small USB thumb drive. A thumb drive attached to an internally facing two block USB 2.0 type-A port header. This is both a good thing and a not so good thing. It is good as you can easily clone this USB drive and store a copy just in case it dies… and you should. You should because it probably will die at some point. USB drives, especially tiny ones, are prone to dying early and randomly. This has taken down many a homebrew NAS over the years and probably just as many F2-210s as well.
Thankfully the amount of writes it will encounter in its (probably short) life are limited. It however does neatly explain why some people experienced a dead-on-arrival F2-210. In many cases it may not even be a dead USB drive, just one that has vibrated loose in transit. A bit of tape or 'warranty void if removed' sticker would go along way towards sidestepping some of these shipping issues… or better still using a NAND IC hardwired to the SoC's integrated SATA controller to eliminate them altogether.
Moving on. As you can see in the motherboard photo there is room on this PCB (right down to silkscreened location and contact pins pre-wired) for more USB and/or Ethernet ports, as well as two more RAM ICs. There is even room for not one, not two, but three discrete controller ICs as well as multiple 'universal' internal and external headers. The obvious answer to why so many missing components is TerraMaster reuses this exact same motherboard for multiple NAS appliances. After all, this does save money and time. Simply swap out the Realtek RTD1296, solder in a couple more 1 or 2 height ports and a couple controller ICs (including a secondary SATA controller) and you go from having an entry level to a mid-grade NAS appliance. So, it is hard to argue with this 'recycling'. Frustrating (as we would have liked to have seen more RAM IC spots populated at the very least)… but understandable.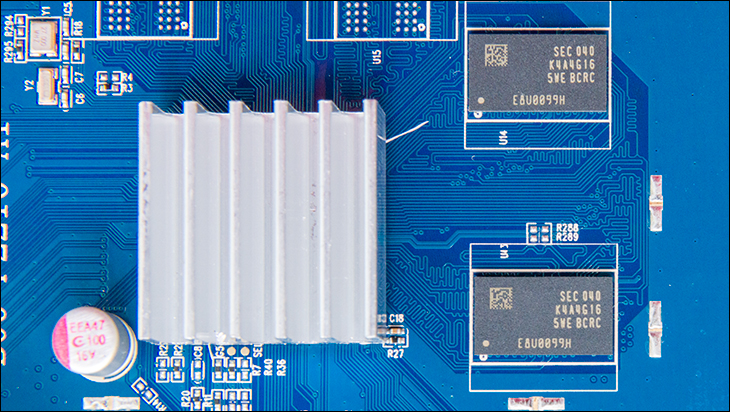 Before moving on to the backplane, a brief overview of the Realtek RTD1296 is in order. First, this is a 10-watt TDP System On a Chip. Thus, the itty bitty heatsink. Could it be bigger? Sure. Bigger is always better but thermal limiting is the least of most owners' concerns… as this is an underwhelming processor. To be precise it is a quad-core ARM Cortex-A53 1.4 GHz System On Chip made by Realtek that was released back in 2018 to very little fanfare. Its biggest claim to fame is it took a rather long while for Plex to bake in support for this itty-bitty ARM processor.
Leaving many a new owner in an… agitated state. To be fair, it is a decent enough example of what ARM SoC's can do in a NAS appliance, but even with a Mali-T820 'iGPU' with H264, HDR10, and even HDMI CEC baked into it… it is an underpowered processor at a NAS appliance's crucial job – ECC parity creation. Thankfully, the F2-210 is not able to run RAID 5 (let alone Raid 6) so it's a bit of a wash. Just understand that this SoC is not a powerhouse and is underpowered compared to the x86 "mobile" processors typically used in more modern designs. So keep you expectations in check and for Raid 1 dual drive 'file server' duties it still is "good enough".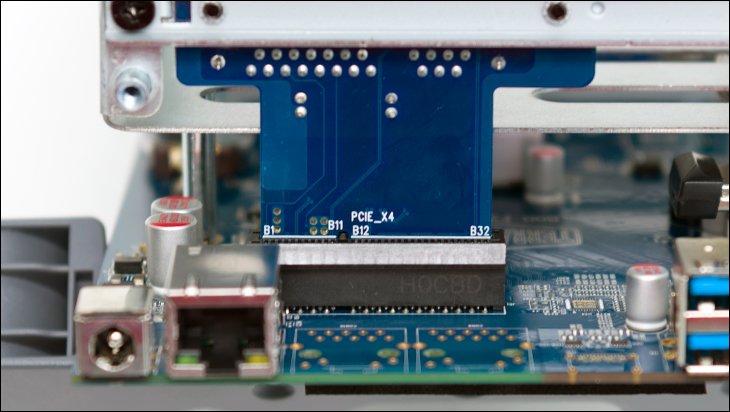 This brings us back to the backplane. Since at this point you have already moved the hard drive cage and its attached backplane from the motherboard's lone PCIE 2.0 x4 slot it is only a couple more moments to remove the backplane and replace it via a couple screws. Honestly, we doubt many will need to do this as it is a dumb SATA only backplane that is used simply to connect the HDDS to the SoC's integrated controller. However, vibrations may knock it loose enough to cause random issues. If this happens a good firm downwards push may fix your intermittent failures without having to RMA it.
Overall, for only $160 USD buyers do get a decently built NAS appliance. Sure, it has a few quirks. Sure, it is based on an older generation NAS appliance design. However, TerraMaster has done a rather professional job at making an inexpensive NAS appliance that is not a flaming dumpster fire. Color us surprised and impressed.