$159.99
in stock
as of December 1, 2023 2:22 pm
Last updated on December 1, 2023 2:22 pm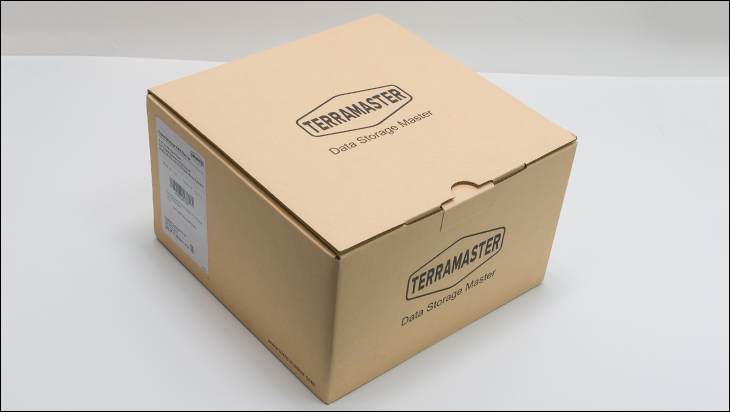 TerraMaster has always been known for their unstated / 'less is more' approach to shipping containers, and the F2-210 is no exception. For all intents and purposes this shipping container has been optimized for online purchases and not retailer shelves. That is why it basically is a small brown cardboard box with the TerraMaster logo and 'Data Storage Master' motto silkscreened in black ink on it. No details, no infographics. Nothing. In fact, you must read the small white sticker on the side to even know what model it is. Considering the asking price we are okay with that. Certain concessions always have to be made to hit a rock bottom asking price, and in the grand scheme of things a sub-optimal shipping container is not even a rounding error. Just understand that you need to know exactly what the F2-210 is before buying it… as this box will not help you out.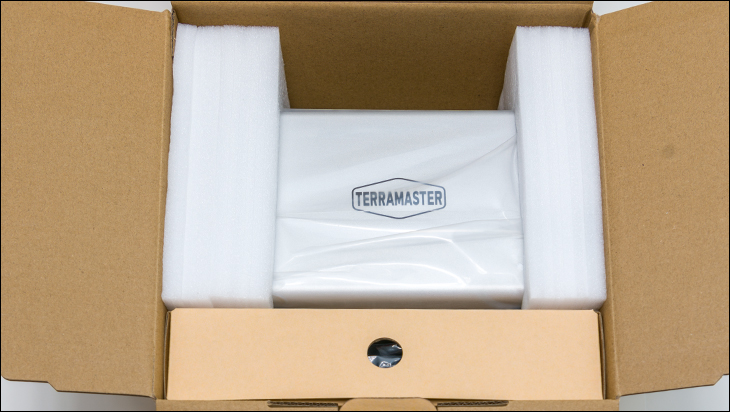 The same is only somewhat true of the internal protection this box offers. Once again, decent, and the combination of foam and plastic does get the job done… but does not exceed the expectations we had going into reviewing a sub $200 NAS.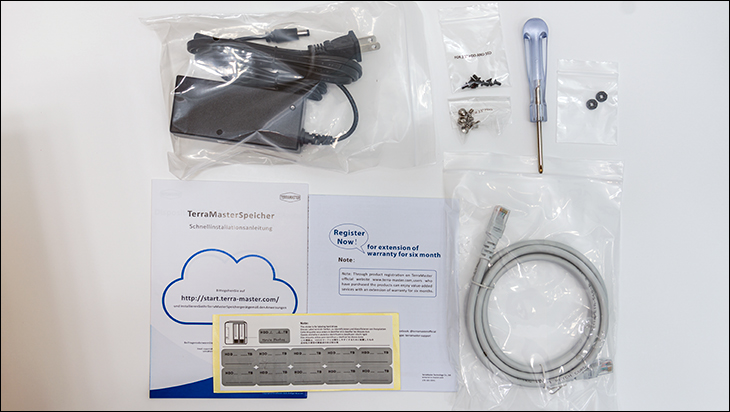 The accessories on the other hand are nowhere near as basic or barebones as the asking price would lead one to believe. In addition to the expected bag of screws and installation / quick start guide, TerraMaster also includes stickers for labeling each drive caddy and even a screwdriver. On top of that expectation exceeding accessories TerraMaster also include a very decent Ethernet cable. To be precise they include a CAT 6 ethernet cable. Even on 1K Synology 'IT Enthusiast' models do not include a CAT 6 cable (and instead Synology includes Cat 5A). Color us impressed.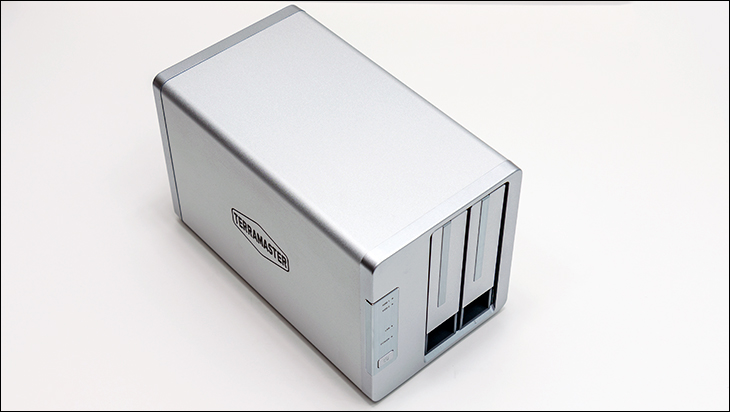 Upon picking up the F2-210 for the first time we must admit to being rather impressed. Unlike some other 2-bay NAS appliances that also target the bargain hunting consumer, the F2-210 does not come clad in plastic. No siree bob this incredibly inexpensive NAS's chassis is clad in surprisingly thick alloy. While it will not even stop pistol rounds, you can rest assured that life's bumps and bruises will be shrugged off by the F2-210's armor. Of course, the downside to alloy versus polymer is that life's bumps and bruises are going to scratch the hell out of the chassis… and after a couple years it is going to look like it went through a war if you are not careful. To us that is a tradeoff well worth making as you can always buff out the scratches using progressively higher grit count sandpaper.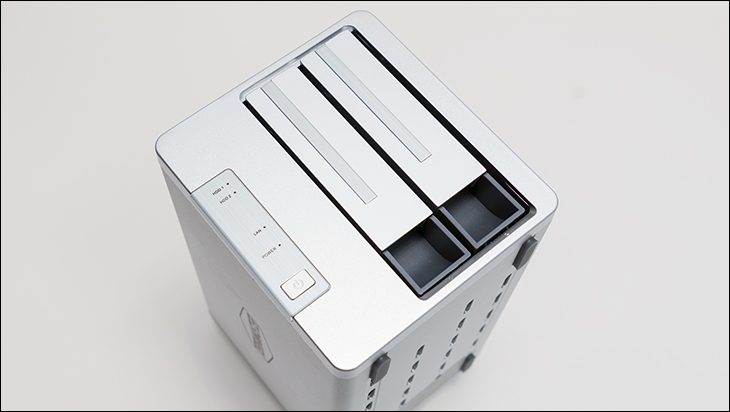 When we first saw the inclusion of label stickers, we did have a sneaking suspicion that was because the drive bays were not labeled nor would the F2-210 come with status LEDs baked into the caddies. That sadly is the case. However, there are HDD1 and HDD2 status LEDs on the top left front of the F2-210 so as long as you remember that HDD1 is nearest the power button and HDD2 is furthest away (i.e. it's a Left to Right naming scheme for TerraMaster NAS appliance drive bays) you will be fine.
Also included on the front is the LAN status LED and Power status LED. The reason for the large gap between the HDD1/2 LEDs and the LAN LED is simple. TerraMaster loves to reuse components across multiple models. Some of which have more than one Ethernet port and need more than one status LED. Others have more than 2 bays and need more than 2 HDD LEDS. We have no issues with using components across multiple models as that helps keep costs down, which in turn helps TerraMaster hit a lower price point.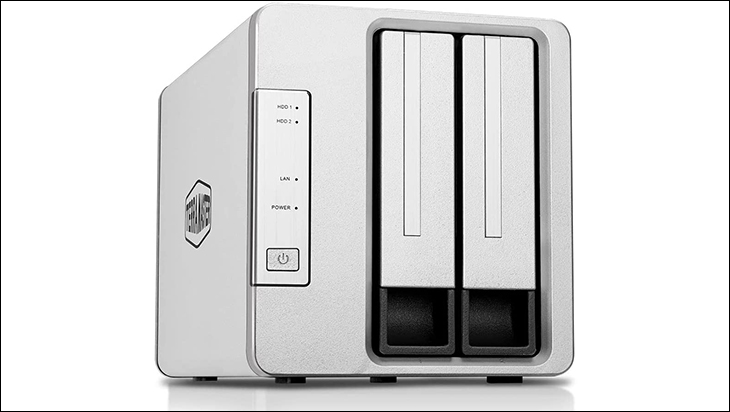 By the same token, and ignoring the drive caddies themselves for the moment, including zero USB ports on the front and only 2 USB ports on the back is a bit disappointing. Yes, the two included are Type-A USB 3.0 (aka 5Gbps USB, aaka USB 3.1 gen 1, aaaka USB 3.2 gen 1) and two is more than enough for an entry level NAS appliance… but having to reach around the back to plug in a backup USB based hard drive is sub-optimal. The same is true of including only one 1GbE port on the back. Ethernet ports break. Its just a fact of life, and yet if you get a bad port your F2-210 is toast.
Yes, both the lack of USB and even Ethernet ports is because the Realtek RTD1296 System On a Chip only offers dual USB 3.0 and lone 1GbE connectivity abilities… but even an ancient Marvel or Realtek 1GbE and/or USB 3.0 discrete IC is only a couple bucks when ordered at tray quantity levels. Yes, this is also the same issue that plagued the Synology DS218Play and even the 2020 DS220j. That is still no excuse for not going the extra mile and we would have the same complaint if we reviewed either of those NAS appliances too. Thankfully… this is a hundred-and-sixty-dollar NAS appliances. As such some minor allowances must be made. In the grand scheme of things, they are not deal-breakers. Just things you need to be aware of.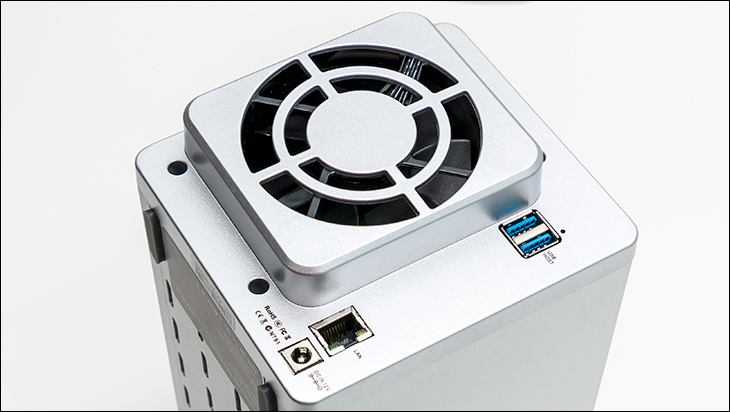 Also on the back of the device is the 80mm exhaust fan and the external power brick's connector port.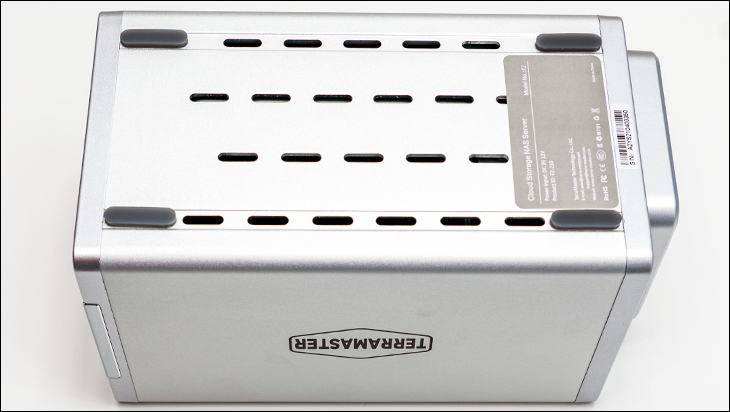 Underneath you can see that TerraMaster include four decently sized antivibration pads (aka 'rubber feet') and have machined in twenty-two reasonably sized air vents. These air vents should provide for a decent amount of airflow into the internals of the F2-210 but we would have liked to have seen more.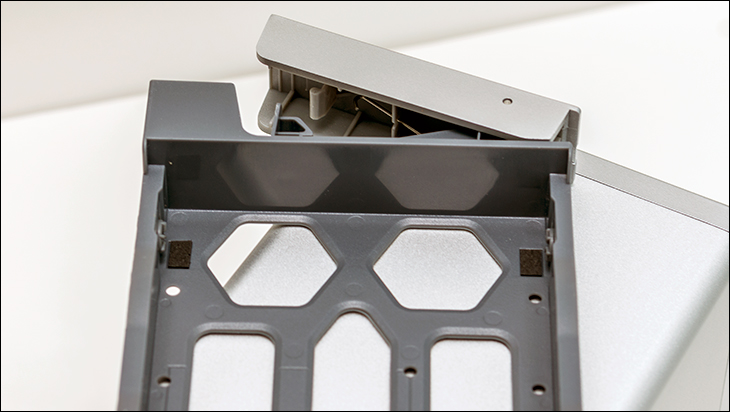 The reason we would have liked to have seen more air ventilation is because these slits are the only way fresh air can easily enter the internals of the F2-210. Yes, this is basically a big honking hunk of metal layered on top of more metal design… with zero places for air to easily flow into the device. There is not even a cutout for DIMM installation anywhere… as this is not an (easily) end-user upgradeable NAS. It comes with 1GB of (Samsung DDR4-2400) RAM soldered on to the main PCB and that is all you get. The same is true of hopes over M.2 ports being included. There are none. Your only options are 3.5 or 2.5 SATA form-factor storage. Even the two included drives caddies will not provide an easy path for air… as they are blanking panel style drive caddies with solid plastic fronts.
The F2-210 really is most accurately described as a sealed unit with only moderate amount of ventilation provided via the underside. For this reason, we would recommend (especially if you are using two 7200RPM HDDS) that you change from the fan controller's default of 'optimized' to full… as that is a lot of static pressure the single 80mm fan has to overcome.
Overall, our first impression of the F2-210 is actually positive. We were expecting a lot more issues than what we can see on first blush. Color us slightly impressed. Put simply, there is obvious room for improvement, but it appears to be a well above average NAS appliance for its price range.