$699.99
in stock
31 new from $696.50
as of September 29, 2023 11:12 am
$1,899.00
in stock
2 new from $1,899.00
as of September 29, 2023 11:12 am
$1,499.00
in stock
as of September 29, 2023 11:12 am
Last updated on September 29, 2023 11:12 am
Like any Network Attached Storage appliance, the Synology DS1520+ is rather easy to get up and running. There really are only a few hardware steps needed, as these are as close to 'plug and play' devices you can get with any 'Bring Your Own Drive' models. This means the first few steps are simple. Take the Synology DS1520+ out of its shipping container, place it wherever it is going to (probably) spend the rest of its life, plug in 1 to 4 Ethernet ports, prepare the external power brick but do not plug it in yet.
Of these four steps we only have three observations / comments. The first is we much prefer integrated PSU's to external. Yes, they make the device bigger. Yes, they are harder to swap out if the PSU dies. In return for a bit of dimensional chunkiness buyers net a more robust, potentially more reliable, and certainly actively cooled power supply unit. One with potentially a higher efficiency rating… and certainly one you will not (easily) accidentally unplug and cause an unexpected / ungraceful shutdown of your running and possibly in use NAS. Certainly not deal breakers, but a bit on the suboptimal side of the equations.
Like most, these models have a back to front air flow pattern so you do want there to be plenty of room behind the unit. Lastly, Synology only includes two RJ45 ethernet cables with the DS1520+… so if you actually want to make full use of this device's redundancy and/or L.A.G abilities you need to spend a couple dollars and buy two more (or make them yourself like we do). That is a touch suboptimal as NAS appliances are all about ease of use.
The next step is to prepare the hard drives and the caddies. Start by unlocking each caddy one by one and sliding it out of its hot swap bay. As made mention previously, these are plastic caddies so be gentle. They are not business grade caddies. These are home user grade caddies. So be gentle. On the positive side, they do a good job at securing the drive in place and are fully compatible with 2.5-inch and 3.5inch HDDs.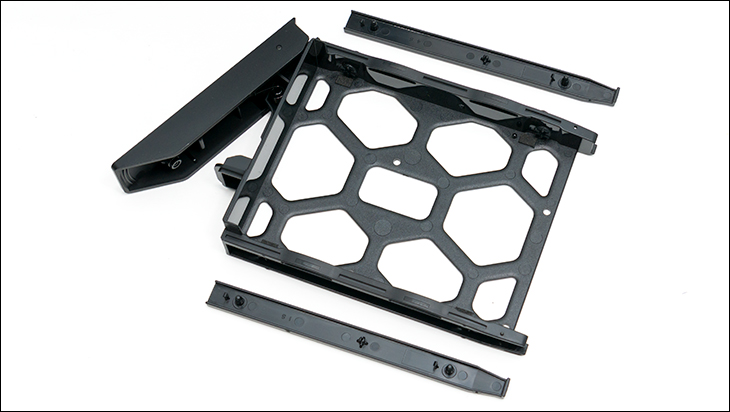 They are also incredibly easy to work with. On each side of the caddy are two 'strips' of plastic.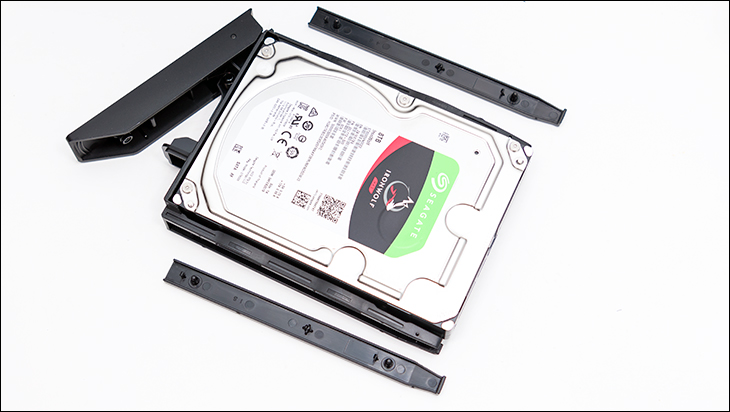 Pull them off, gently place the HDD into the caddy with the drive's label orientated up and the power and data ports sticking out the 'back'.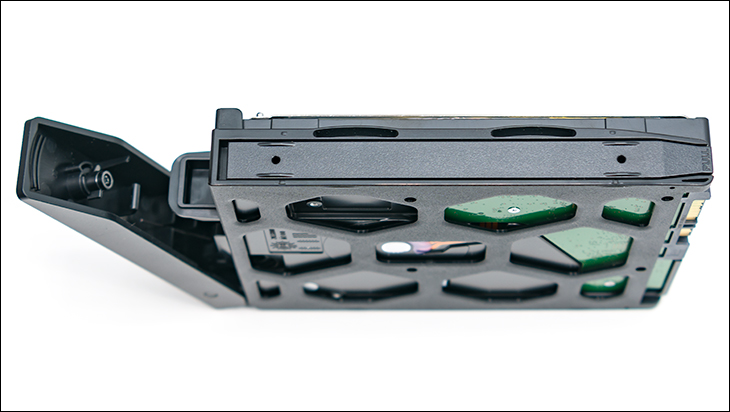 Then push the two clips back in place. This locks the drive into the caddy and on their own are 'good enough' for home users. If you so choose, Synology does include enough screws to securely lock all drives to their caddies. Just be careful you do not overtighten the screws… as the plastic may break from the pressure.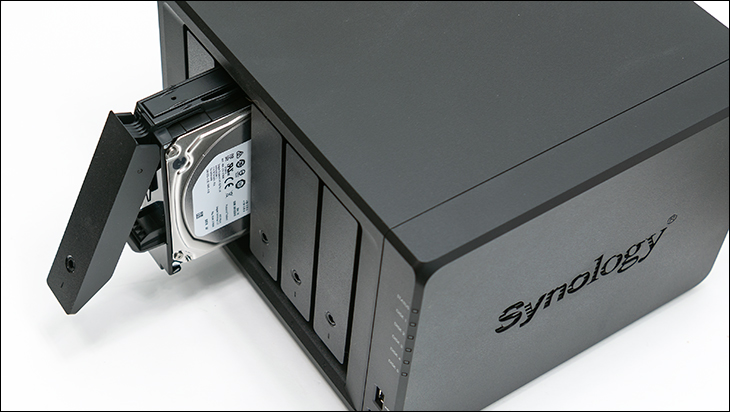 On the hardware side of things… all that is left is to slide the drives back in, plug in your new Synology DS1520+ and hit the power button. When that is done you are ready to actually configure your shiny new NAS appliance.