$699.99
in stock
31 new from $696.50
as of September 29, 2023 11:12 am
$1,899.00
in stock
2 new from $1,899.00
as of September 29, 2023 11:12 am
$1,499.00
in stock
as of September 29, 2023 11:12 am
Last updated on September 29, 2023 11:12 am
Five bay NAS appliances really are the black sheep of the NAS appliance world; though it may be more accurate to say they are the odd-duck of NAS appliances. On the one hand, that fifth bay makes opting for RAID6 a lot more sensible. You will still lose two of the drives to parity striping, but instead of it 'costing' as much in capacity as RAID 1/RAID 10/Mirroring it is only a 40 percent drop in capacity. On the other hand, six bays offer all the versatility of a five bay but make an even stronger argument for Raid 6 viability on a NAS appliance. This is why many consider the rule of thumb to be "Raid 1 for dual bays, Raid 5 for 4 bays, and Raid 6 for six (or bigger) bays'. It is also why 5 bays are a bit of a rarity – for example Qnap does not even offer a 5-bay model, instead the skip right from 4 to 6-bay offerings.
The other side of the coin, and one that many will find the more compelling argument, is 5-bay models do not cost that much more than 4-bay models… and yet cost noticeably less than the typical 6-bay NAS appliance. To us that makes 5-bay models the 'jack of all trades' of the NAS appliance industry. One where you do not even need to buy a M.2 drive for caching and instead can pick up a cheaper (per GB) SATA 2.5-inch drive (or use a spare you have kicking around in your parts pile) and still get excellent Raid 1 or Raid 5 performance. The final decision will really depend on what you need and plan on doing with your NAS device. One thing is for certain, having five bays worth of large capacity storage with dual M.2 drives for caching duties over a 4-way 1GbE LAG / NIC teamed bus is a rather peppy device to say the least.
In either case, making a direct comparison to the main competition is a bit difficult. For many it really is a two-way race. Qnap vs Synology with no true apples to apples comparisons possible. With that said we will do our best to help clarify things.
With no real direct model to compare and contrast there are two 'real' main alternatives offered by QNap. Both are in the 'home' TS lineup. The $600(ish) TS-453D-8G and the $750(ish) TS-653D-8G (and please note the '8G' and not '4G' in both model names). While part of the 'home' and not 'business' model lineup these are the two closest options available in both price and performance that QNAP offer to Synology's 5-bay 'Plus' model.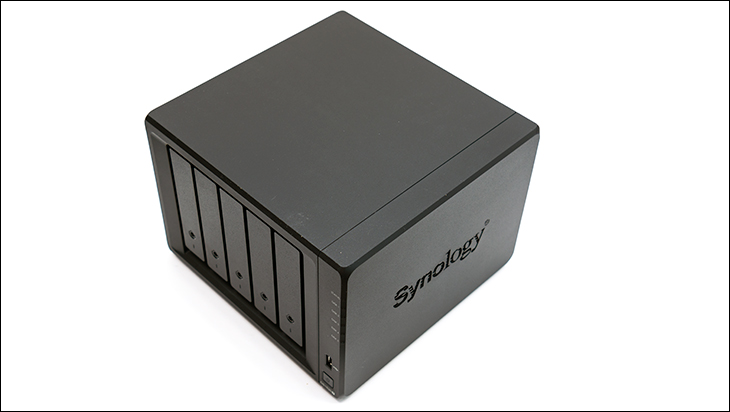 With that caveat taking care of, let us start with the two easiest and clear-cut deciding factors for some. The chassis. If you plan on going full N00B mode and using your fancy new NAS as an improvised storage shelf the choice is clear. A more utilitarian looking metal clad QNAP will handle your stupidity better than plastic. Metal is just more robust than nearly any 'plastic' composite material this side of race cars or the aerospace industry. So, while the Synology DS1520+ can shrug off a surprisingly high amount of abuse without showing scuff marks like painted metal, it is less than optimal. If on the other hand you want a NAS appliance that rivals LaCie (if LaCie used plastic) in the looks department the DS1520 is clearly superior. These are both edge cases that will be applicable to only a few.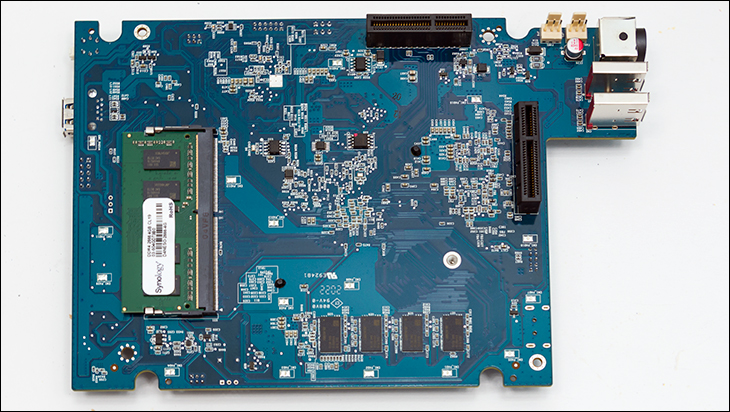 All of three of these NAS devices use the same Intel Celeron "Gemini Lake" j4125 4 core processor. All offer 8G of RAM 'out of the box'. The Synology however is faster at stock speed of DDR4-2666 vs DDR4-2400. Counteracting this is that upgrading to 16GB is as easy as swapping out two DIMMS on the QNAP'ers and is a warranty voiding endeavor on the Synology DiskStation DS1520+. Furthermore, with the DS15020+ such an endeavor is not for the faint of heart as you have to desolder 4 ICs from the PCB during the upgrade process. Synology really needs to stop soldering RAM ICs on to the PCB on anything above their 'value' line… of which the Synology DS1520+ is not part of. It is a 'Plus' model. A plus model with nearly non-upgradable RAM. That is sub-optimal to say the least.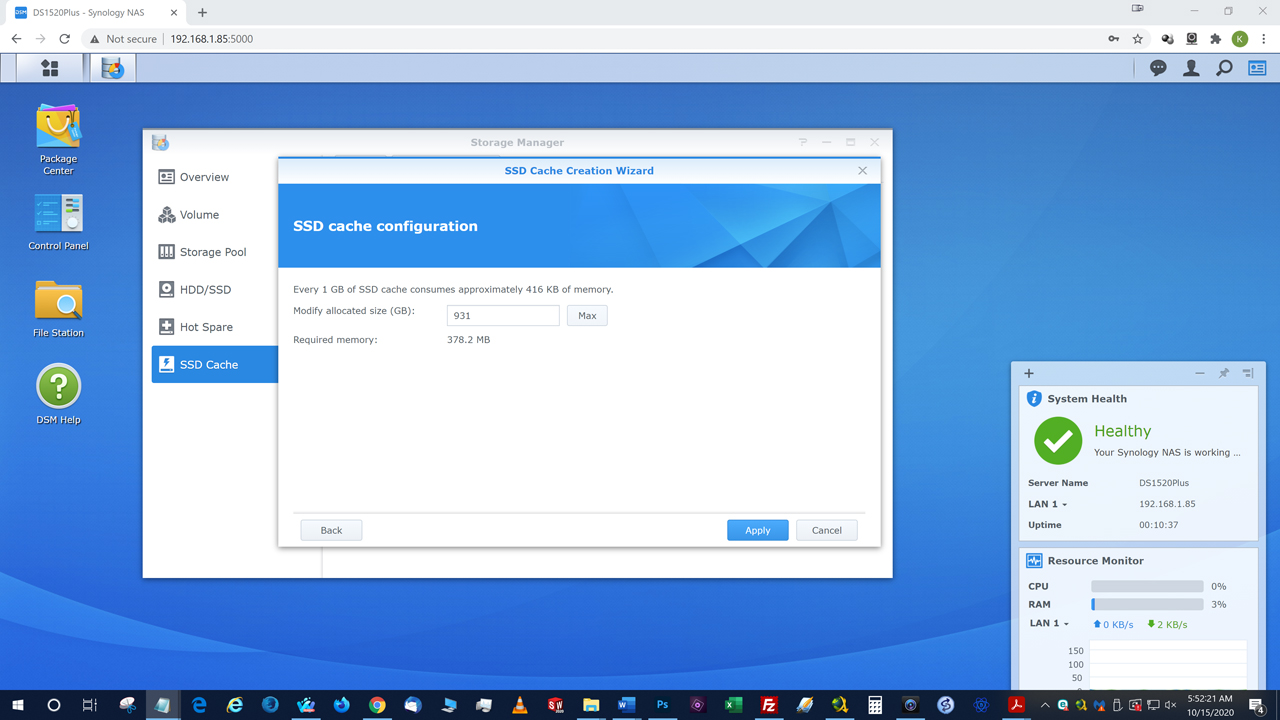 To be fair, few home users will ever feel the need to go above 8GB… and technically that is the 'maximum' the Celeron J4125 'supports'. We say technically as we have run many a celle' with 16GB and even have run a few with 8+4 configurations (and 8+4 can behave nuttier than a squirrel hyped up on sugar). In either case, while the step from 4GB to 8GB is large, it is a minor difference going for 8GB to 16GB. Most home environments simply will not hammer the NAS array hard enough that the extra RAM space for caching will have one whit of impact on overall performance. Most homes will not use PLEX, most homes still use 1GbE networks, and those that do either and hit their NAS hard will probably be better served opting for one or even two moderately sized M.2 drives instead of a bit more RAM. Yes, even the fastest M.2 drive have higher latency with lower performance compared to DDR4 RAM. Yes, the cache will eat upwards of 416K of RAM per 1000MB of SSD cache… but even '256GB' of cache means a lot more chances to get a successful cache hit than with an extra 8GB of RAM. So, it is disappointing but should not be considered a dealbreaker by most… as in practical terms a '1TB' read only cache drive will cost you 378.2MB of memory, and two '1TB' NVMe drives in read-write RAID 1 cache mode will also only cost you about the same amount of your precious 8GB of RAM (as it is RAID'ed).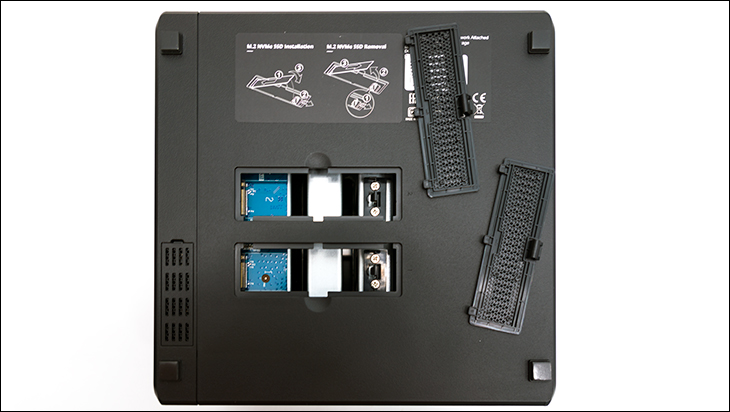 Furthermore, with both QNAP offerings the option for M.2 caching is not included in the box. Yes, neither QNAP model come equipped with such a basic feature. Instead of the nice dual M.2 slots, QNAP includes an empty PCIe (2.0 and not 3.0 we might add) port on the PCB. Thus, you have to spend more money on the QNAP approved adapter to get M.2 caching. That is sub optimal to say the least.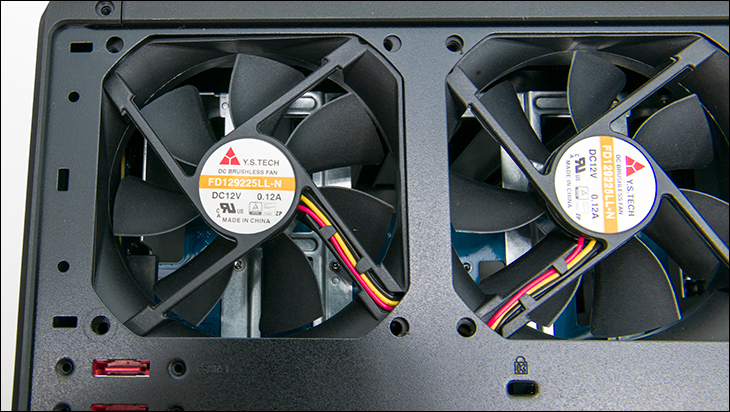 As the 453D is a four-bay model you will lose one of the two 92mm fans and 'gain' a single 120mm fan. If the idea of redundant cooling sounds good to you (and it should… many an early gen NAS appliance has baked to death after its single fan died and it was too stupid to do an elegant shutdown) you need to step up to the 653D to achieve parity with the Synology DS1520+.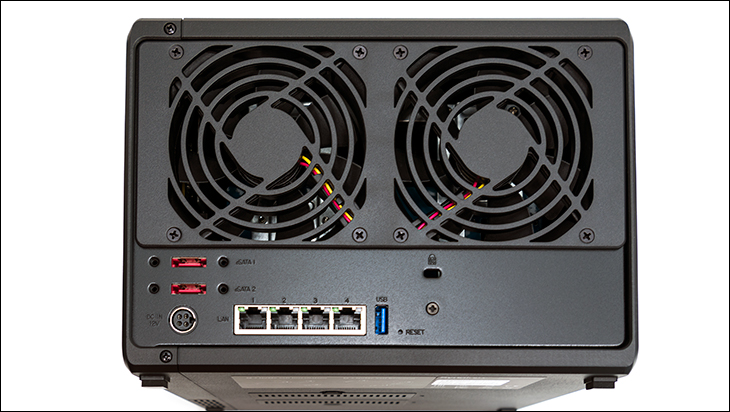 All three options come with dual USB 3.1 gen 1 connectivity. QNAP ups the ante with an additional pair of USB 2.0 ports as well as single HDMI 2.0 port. So, if you care about KVM abilities either QNAP is more optimal. Instead of Keyboard/Video/Mouse support Synology includes a pair of eSATA ports. Thus, backing up to an external storage device or adding a secondary (and tertiary) expansion bay is not only a breeze with the Synology DS1520+ it results in a overall faster, easier to work with device. Put bluntly, most will find the dual eSATA ports on the Synology DS1520+ more useful. USB 3.0 backup is slow. Hella slow compared to eSATA… and using a full time expansion array via USB 3.0?! Fuggedaboutit. That is the road to crazytown with random stops at painville.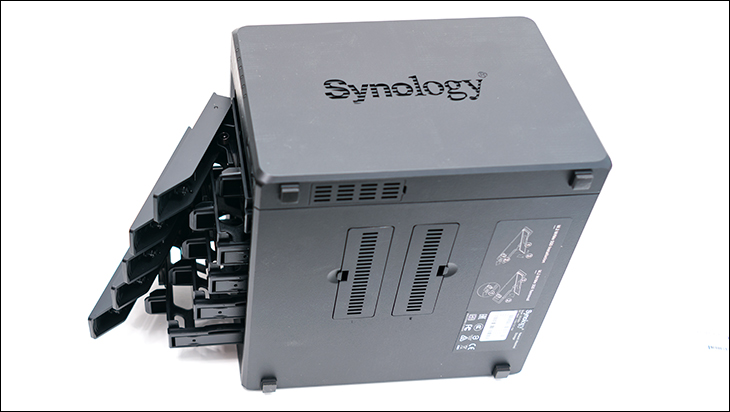 If you do not like the idea of having to first yank off a plastic front fascia before being able to actually access the hot-swap bays, the Synology DS1520+ is clearly superior. If you dislike the idea of the hot swap caddies relying on flexible, integrated plastic tabs, the locking mechanism on the Synology DS1520+ is clearly superior. If you care about noise levels and/or heat levels… the Synology DS1520+ is clearly superior. It simply requires less static pressure to exhaust air out of the case vs. the fan(s) having to overcome that plastic fascia QNAP uses. To get similar external hot swappable drive bays in a QNAP NAS appliance you have to be willing to sacrifice something. If willing to forgo the latest gen CPU that would mean TS-x51. If you do not mind a noticeably more expensive model then that would be a TVS-x73 model… which to be fair offer much more processing power and 10GbE features as well as no plastic fascia covering the external hot-swap bays. Though if going that route a fair comparison is the Synology DS1621Plus.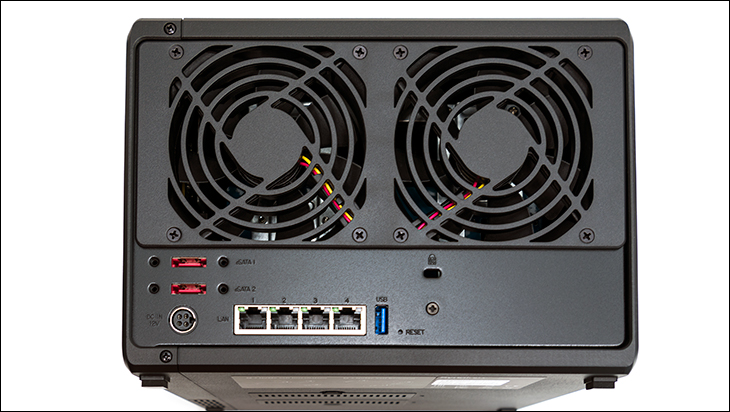 Moving on. if you have a fast(er) network you will probably find the QNAP offerings a more optimal fit. They offer dual 2.5GbE right out of the box, and the inclusion of a PCIe slot means you can even go to 10GbE (or higher if you go 3rd party). The Synology DS1520+ comes with 4 1GbE NICs and no PCIe slot. With 4-way NIC teaming and at deep queue depths the difference in speed is not that great – about 310MB/s vs 440MB/s ish in the real world… but if you are a power user with the networking gear to handle a Link Aggregation Group / "NIC teaming" dual 2.5's are clearly superior with a potential for 310+310 vs 110+110+110+110. Honestly the DS1520+ should have two 1GbE and two 2.5GbE ports, as 2.5GbE is quickly superseding 1GbE on even (some) motherboards. Though to be candid, the real issue is the lack of a PCIe slot. 10GbE is getting less expensive every year and this loss of upgradability really does limit the future proofing of the Synology DS1520+.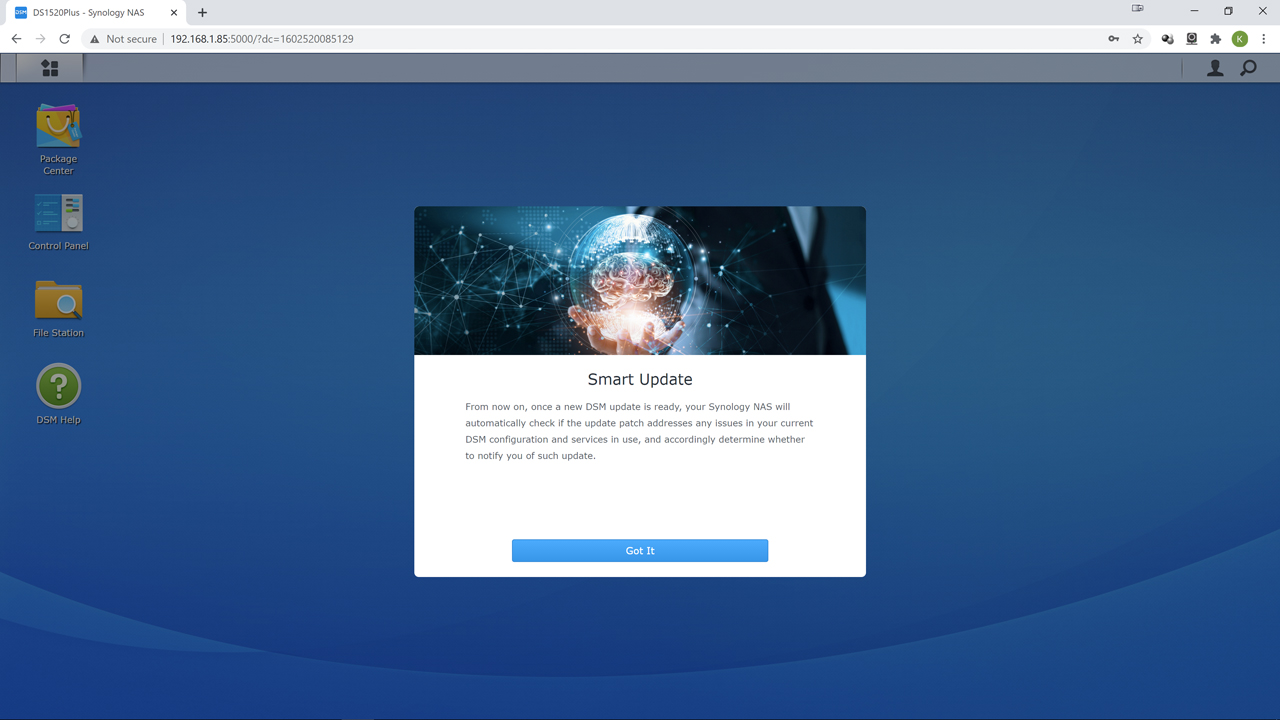 The last thing to consider is the 'software' side of the equation. While it is indeed true QNAP has made great strides improving the ease and useability of their 'QTS' operating system, Synology with their DiskStation Manager OS is still the gold standard and clearly superior in both ease of use and useability. For experienced users (still using pre-built NAS appliances) the differences these days are minor at best, but for first time users the Synology DS1520+ will still offer less stress and headaches.
This is our opinion and analysis on the Synology DS1520+ versus the QNAP offerings. Do not take it as gospel. Do your own homework and draw your own conclusions based upon the areas that matter the most to you as both companies make good NAS appliances. They just have slightly differing philosophies on what makes a NAS appliance a good NAS appliance.