Last updated on November 30, 2023 6:42 pm
Almost since their inception portable Flash based solid state storage devices have fallen into roughly one of two camps: cheap yet ultra-portable drives that are known to be slowpokes, and those that may be larger and cost noticeably more per GB but are USB bus saturating speedsters. Recently we took a long hard look at the Crucial X8 series and walked away very impressed with what it had to offer. That model did indeed blur the lines between the two camps and made it a lot easier to have 1TB worth of portable performance in your pocket. Seagate however begs to differ on what it takes to bridge the divide and has released a new One Touch SSD series which promises to do what no 'high performance' model has done to date: be nearly as portable as a thumb drive, nearly as fast as high performance drives and do both while not costing a fortune.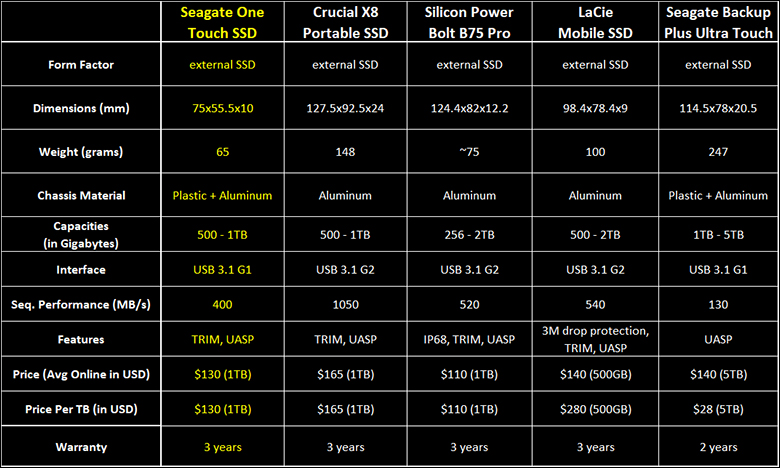 With a real-world asking price of $130 for the highest capacity 1TB variant (the One Touch SSD ranges from 500GB to 1TB) the One Touch SSD certainly will not be an impulse buy like a five-dollar thumb drive, but this is well within budget range of the average buyer and is not much more than the typical 1TB 'high performance' thumb drive will set buyers backs. Of course, in order to do this… Seagate did have to round a few corners.
The first and most noticeable is it is a USB 3.0 (aka USB 3.1 Gen 1) enabled device and uses a SATA controller. This noticeably cuts performance compared to NVMe based models, but at the same time it is a true SSD device and not a Flash Drive using a flash drive 'controller'. More importantly a SATA controller does not require a large heatsink to keep cool. This decreases the weight to near Flash Drive levels – 60 grams in the 1TB's case. Also, with dimensions of 75×55.5x10mm, the One Touch SSD is not all that much bigger than a thumb drive, but is smaller than even a Crucial X8.
We will go into more detail in the closer look section, but even on just a quick blush it is obvious that Seagate's goal with the One Touch SSD is to appeal to as wide a range of potential buyers as possible, and make the perfect thumb drive predator. The downside of course is "Jack of All Trades" is a hard to do right. Usually the end result is the equivalent of a platypus. A model which appeals to almost no one looking for a 'duck' or 'beaver' or 'otter'. So, let us find out which of the two possibilities is correct.