Last updated on December 1, 2023 7:32 pm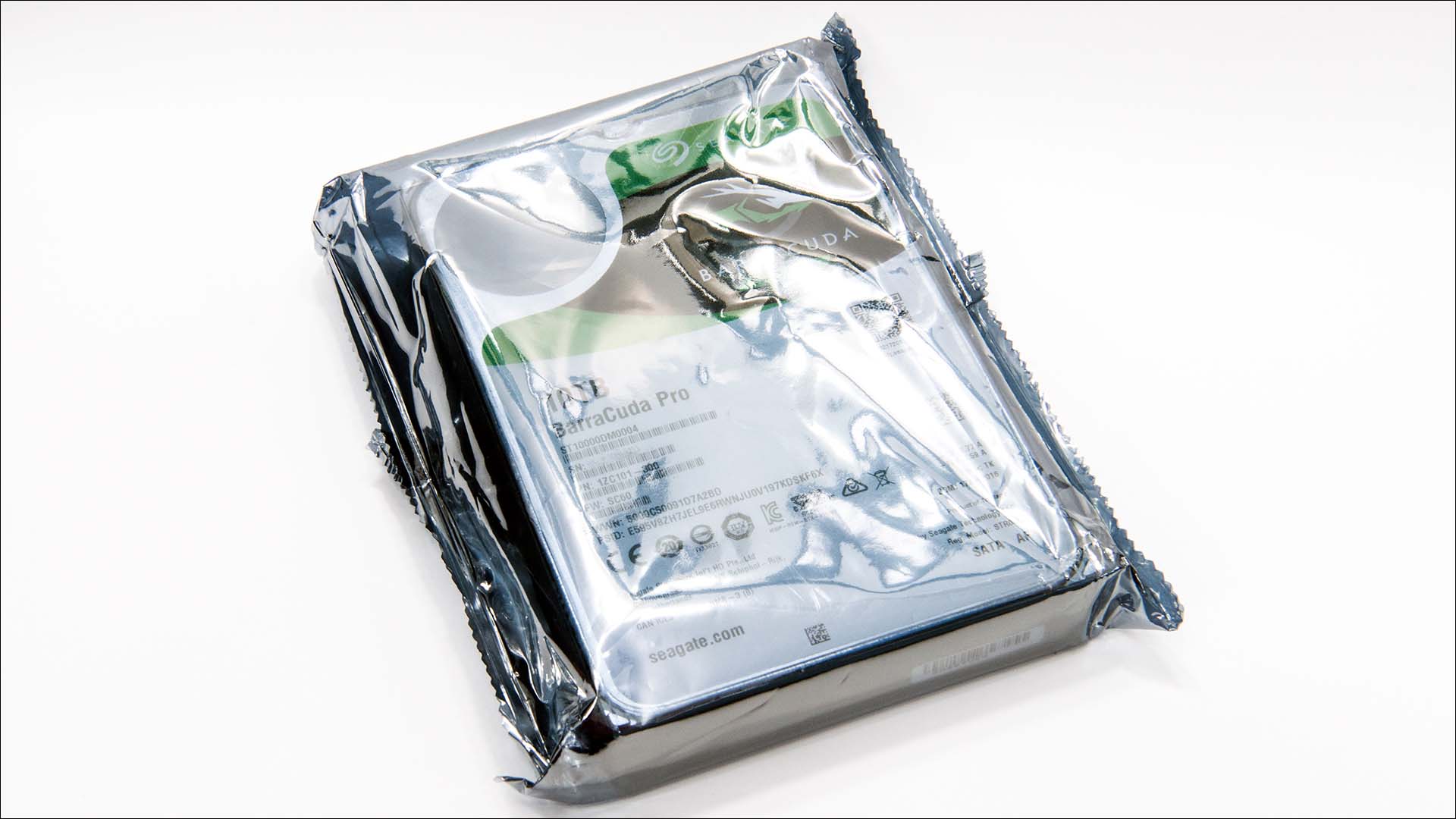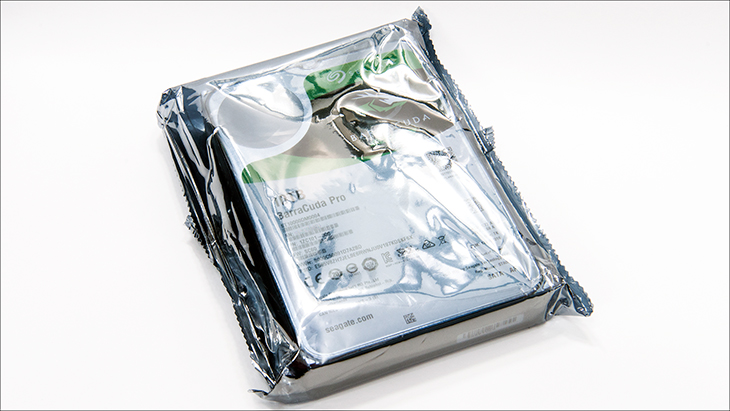 As our sample is not the retail version we can not comment on the shipping container that most will come with. Also, our sample's screws must be made from unobtanium and installed by cyborgs – as those bad boys would not move and 'ate' three of our screwdriver tips in the ensuing conflict. Instead we are going to focus in on what makes the Seagate BarraCuda tick, and how Seagate has went about creating this new model.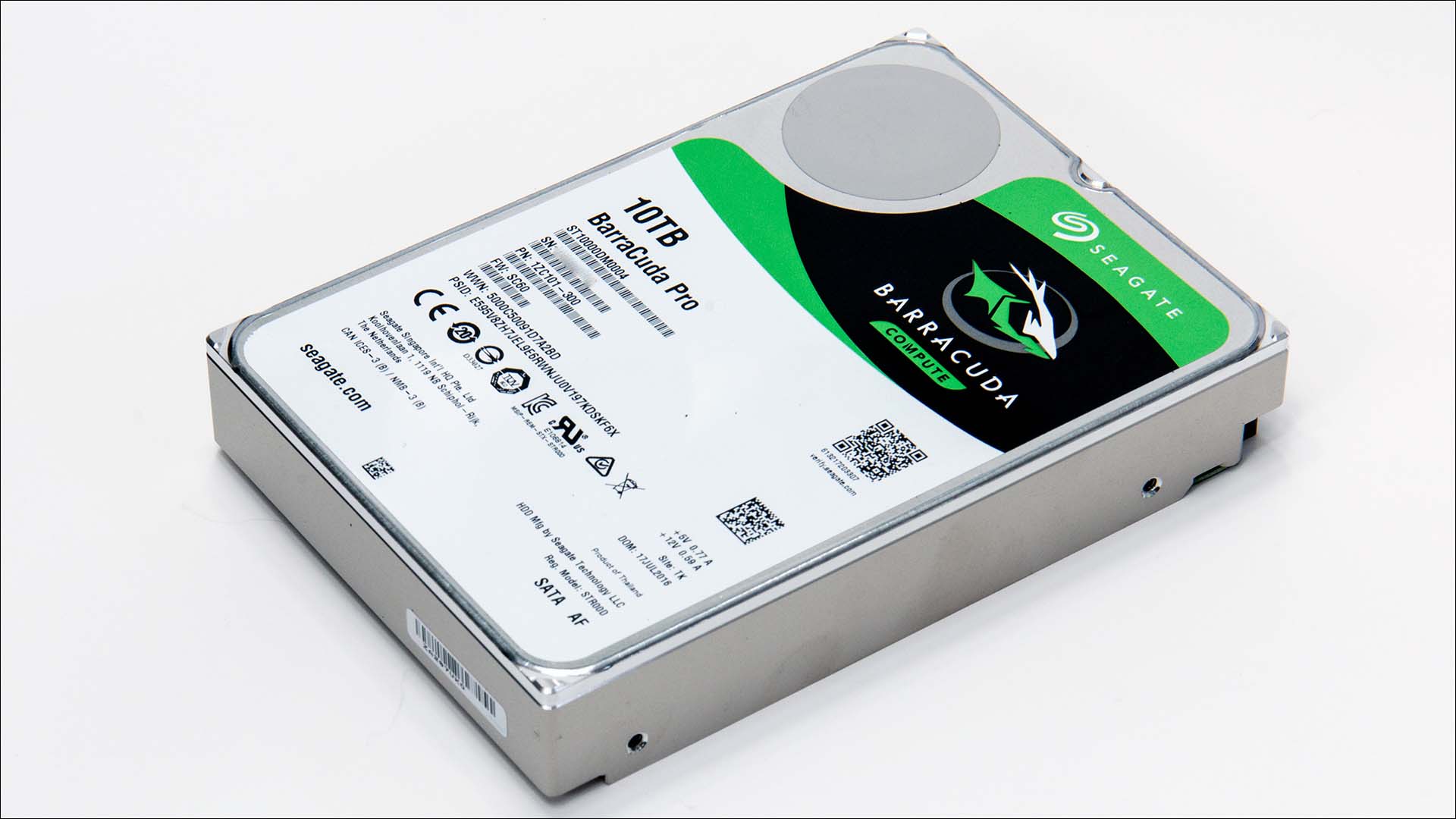 As you can see the exterior chassis of the Seagate BarraCuda is incredibly robust and phrases like 'armor thick' and / or 'thick as a brick' do spring to mind. So much so that this all metal chassis reminds us strongly of previous Enterprise orientated Seagate models and not the typical 'consumer grade' drives we have seen in the past. This certainly is a good thing as while it is heavy, and it is a heavy drive, Seagate has built the new BarraCuda Pro series to rather high standards.
If you pay careful attention though some will notice one difference with this chassis over typical models: lack of 'air holes' or venting. Usually with a hard drive there is a small (covered) air hole that allows for atmospheric equalization when at high or very low altitudes. Basically, with typical models you don't want the air pressure inside vs outside to be too different as this can cause stresses on the chassis – in extreme examples they can actually 'dent' over time. The reason for the lack of venting is simple. This is a Helium filled model.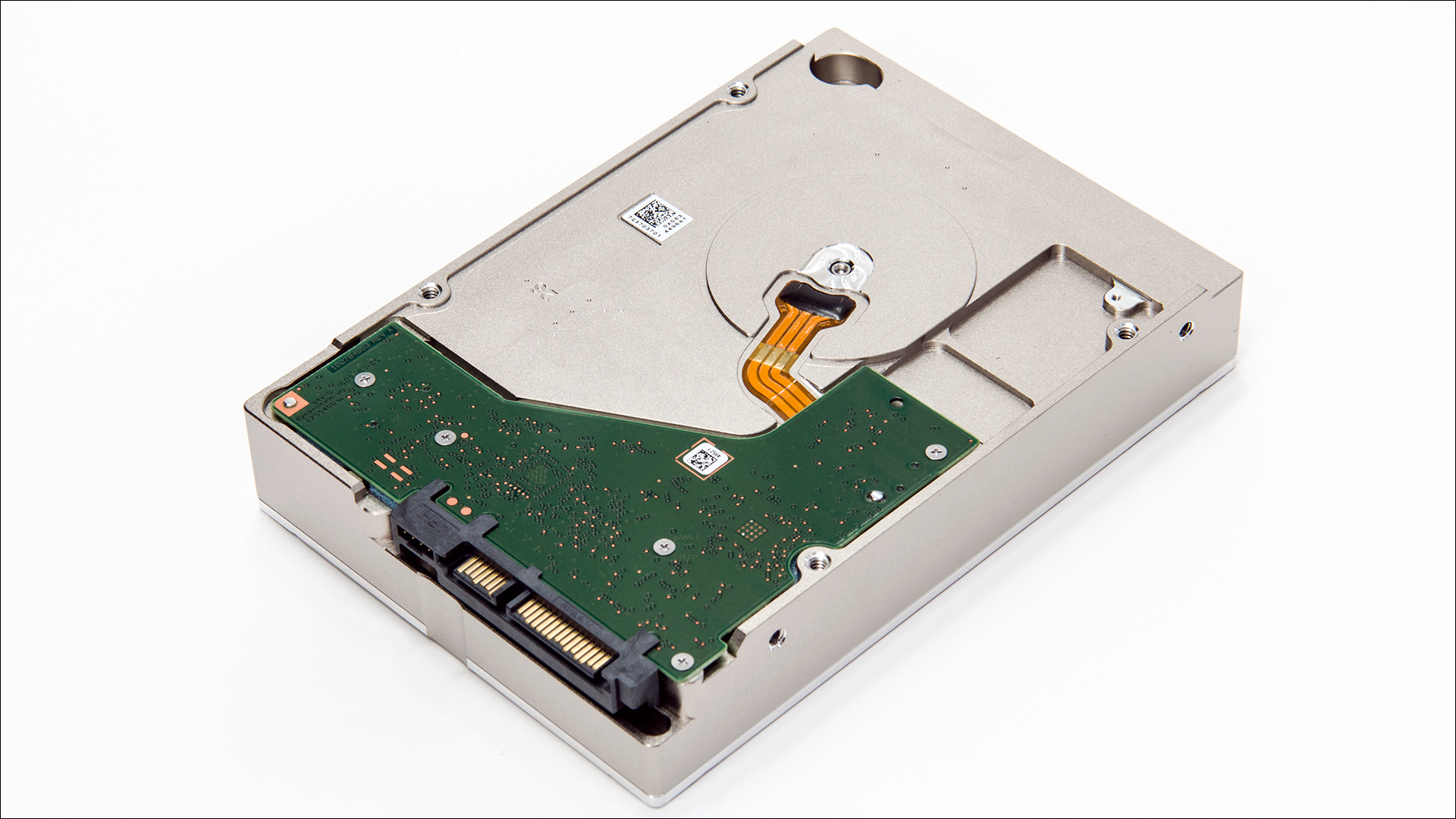 Helium is a slightly controversial choice as it is a relatively new tweak, however Seagate now has years of experience with Helium technology and has had great success with it in the past. Basically, it may be newer than classical air-filled designs, but it is not bleeding edge and thus is now a very safe and proven design choice. The upside to using Helium is that it is a less dense medium for the spinning platters to travel through. So much so that this reduction in 'suction' and 'drag' caused by the spinning platters allows Seagate the luxury of stacking more in to the same standard 3.5-inch full height form-factor. More platters mean more read/write heads which means higher performance – especially with smaller files.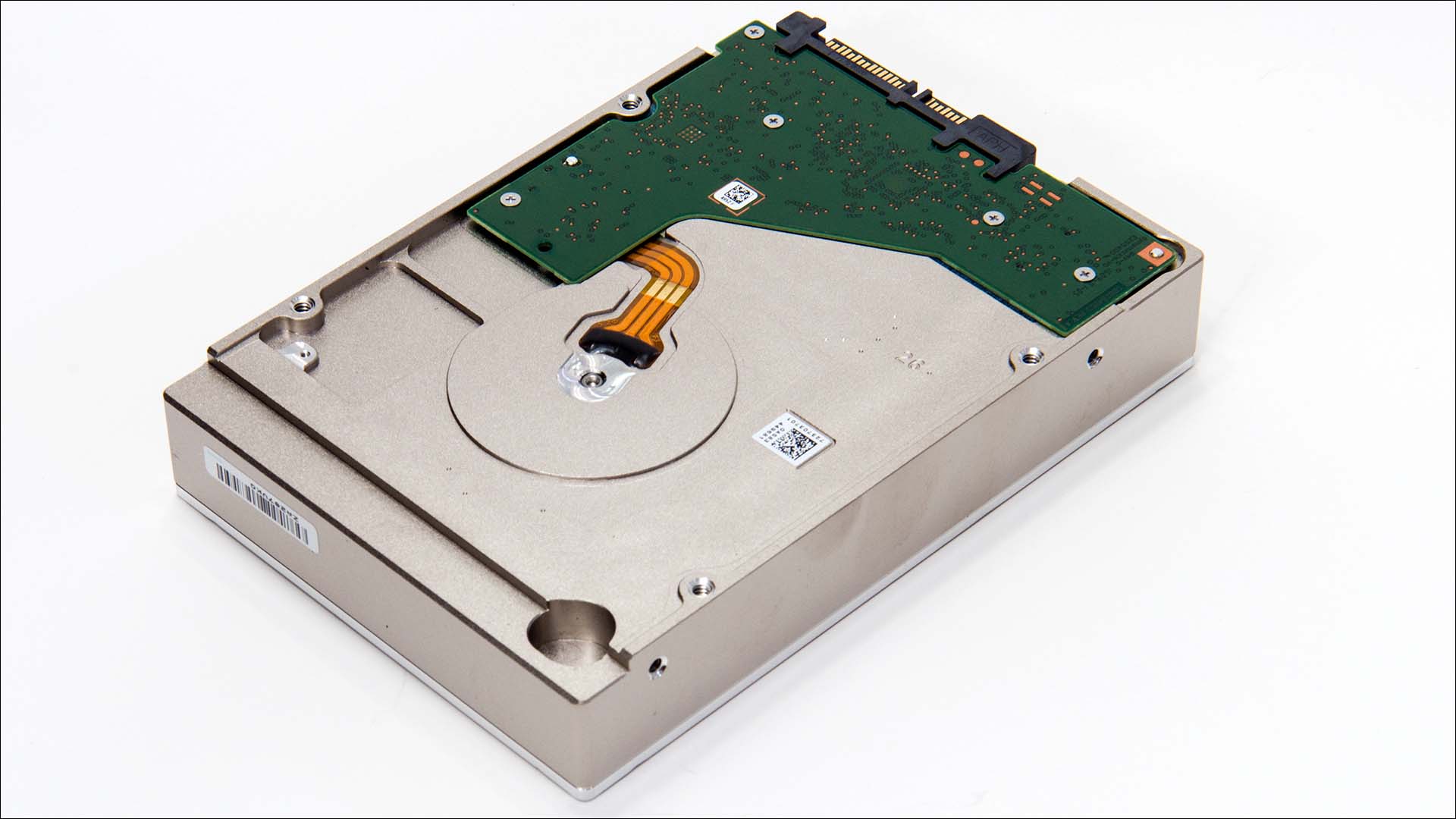 To be precise the 10TB version of the Seagate BarraCuda makes use of seven 1.43TB platters, but the larger 12TB'er uses eight even denser 1.5TB platters. This platter density of 1.43 to 1.5TB also helps improve overall performance as the r/w heads can… read or write more per rotation. Remember the spindle speed is fixed at 7200rpms so the only way to boost performance is to boost bit density on the platters and use more of them. However, while this is a cutting-edge Helium based design Seagate has not opted for any bleeding edge tech on the plater side. Instead it is the tried and true Perpendicular Magnetic Recording tech that has been used for… well… virtually ever.
PMR may indeed be 'old tech' but its quirks are well known and can be tweaked for optimal performance of both read and write performance. Whereas HMR and SMR are still having… teething issues either in write speed or simple longevity. This is because in PMR each bit is separated by a small gap and they do not overlap (like 'shingles on a roof' in SMR) nor require specialty (i.e. expansive and finicky) read / write heads. In other words, Seagate may finally feel Helium is ready for prime time but for their 'every man' / ' one size fits most' models PMR + Helium offers the best of both worlds: increased capacity without increased issues.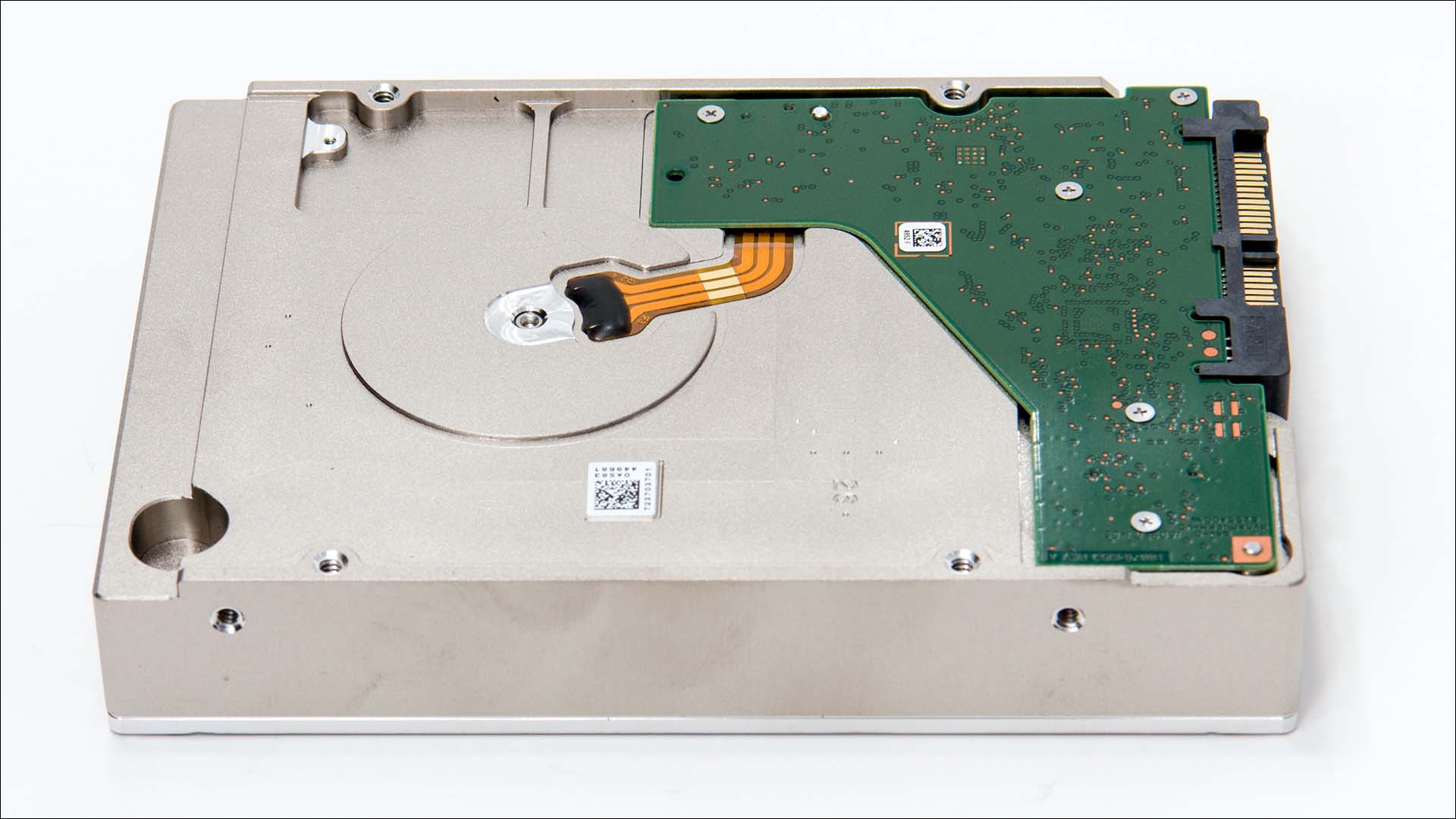 Backstopping this physical spindle and platter design is a controller and cache combination that is truly paradigm shifting. As went over in the previous page MTC really does boost performance into the stratosphere when combined with a powerful (for a hard drive) controller. In this instance Seagate tapped Avago to build the controller. Avago may not be as well known as some, but Broadcom is, and Broadcom was purchased by Avago… who also previously owned LSI's storage division and IP before selling it to Seagate. So make no mistake this controller is based on good tech, it is just the company name and logo is 'new'. To be more specific this controller is basically a hybrid design with one foot in the solid-state controller world and the other in classical hard drive world. As to specifics the Avago TTB8100 is an ARM multi-core based controller that is rather impressive. By being multi-core based , this controller has the luxury of really making full use of Seagate's MTC algorithms and plays a large role in how MTC is able to guess right so often on your future IO requests. Rembert math takes processors cycles and MTC algorithm math takes a ton more than average. So by increasing the core count the controller is actually able to keep up with all the branch predictions, implement the internal I/O requests to its buffer and handle all the IO requests the system (and you the user) typically make… all in real time.

Beyond the hardware and technology changes Seagate has accomplished in one generation one more thing needs to be discussed before actually looking at what the Seagate BarraCuda 10TB can do. That is MTBF. Mean Time Between Failure is the old-school Scientific Wild Ass Guess (SWAG) that people and manufactures have relied upon to gauge drive reliability ever since the military requested its use way back in history. Unfortunately, it is a very 'large number' based statistic that only works 'well' at the corporate level. The old rule of thumb is with MTBF is take the number of drives you plan on using and divide that number into the MTBF to get a rough idea of how many are going to need to be replaced in a given time frame. It does not account for single drive usage and is basically useless for home consumers.
Seagate recognized these limitations of MTBF and has done something about it. Not that long ago MTBF on Seagate drives was replaced by a custom AFR – or 'annualized failure rate'. This too is a statistical based SWAG but in Seagate's case is based on much more refined logic. Instead of counting all RMAs and the such in this number AFR first sets about to remove the wheat from the chaff. Firstly, any drive returned but found to be working does not get added to future AFR calculations. Next, only drives used in 'normal operating' parameters (temperature range of 41 to 122F and typical shock / vibration levels… not being dropped by a shipping agent before the end user gets it, etc. etc.) that died are counted. Google and BackBlaze (and their laughable useless yearly 'hard drive failure rate' stats) may disagree but hard drives do actually need a bit of cooling… and are only good for so much abuse before they 'break'. This is why AFR removes any drives that were abused from its calculations. MTBF does not.
The end result is a much more accurate gauge on how a model will perform when not used in the thousands, or are abused. It also allows manufactures to fix real issues without chasing down ghosts that have no real bearing on a drive's design, and allows for actual real-world improvements in a timely manner. Equally important instead of giving a (usually) wildly inaccurate failure prediction based on service hours between failure, AFR is a more accurate prediction based on the probable percent of drive failures per year that are manufacturer caused. This way if you actually use a drive the way it was intended you can then (more) accurately judge a given model's likelihood of an early death or not.
This however is why Seagate drives actually come with a yearly total byte's write rating. Some do not like this change… but it does make sense. While hard drives can handle a ton of writes they are still mechanical devices that will wear out. That is why, just like with a Solid-State Drive, the higher the yearly Total Bytes written specification the more robust the model. In this instance Seagate has basically unleashed a consumer orientated model with Enterprise drive write rating of 300TB per year. This is over a five-fold increase in a single generation from the Desktop HDD series (which the 'Cuda models are basically replacing). This increased durability in the construction and materials used inside is also why the Seagate BarraCuda Pro series comes with a five year total drive write rating of 1.5 Petabytes and 24/7 usage rating. So, this series can be hammered well beyond what even Small Office / Home Office users will ever do and can be expected to do it for at least five years… and have well under a 1 percent failure rate.
While not the only reason, this increased durability is the direct result of AFR and the ongoing analysis that Seagate does on all models… using much more useable data. As such the MTBF numbers Seagate still quote may sound 'low' compare to some, but in reality their drives are built better than ever before.