$299.00
in stock
as of December 7, 2023 8:45 pm
$154.89
in stock
1 used from $154.89
as of December 7, 2023 8:45 pm
$188.00
$199.99
in stock
2 new from $188.00
2 used from $219.99
as of December 7, 2023 8:45 pm
Last updated on December 7, 2023 8:45 pm
To discover our sample's overclocking abilities we used EVGA's Precision X software and began raising power and thermal thresholds to the maximum allowed and then increased the voltage also to the maximum permitted. Then using Unigine's Valley benchmark we began stability testing.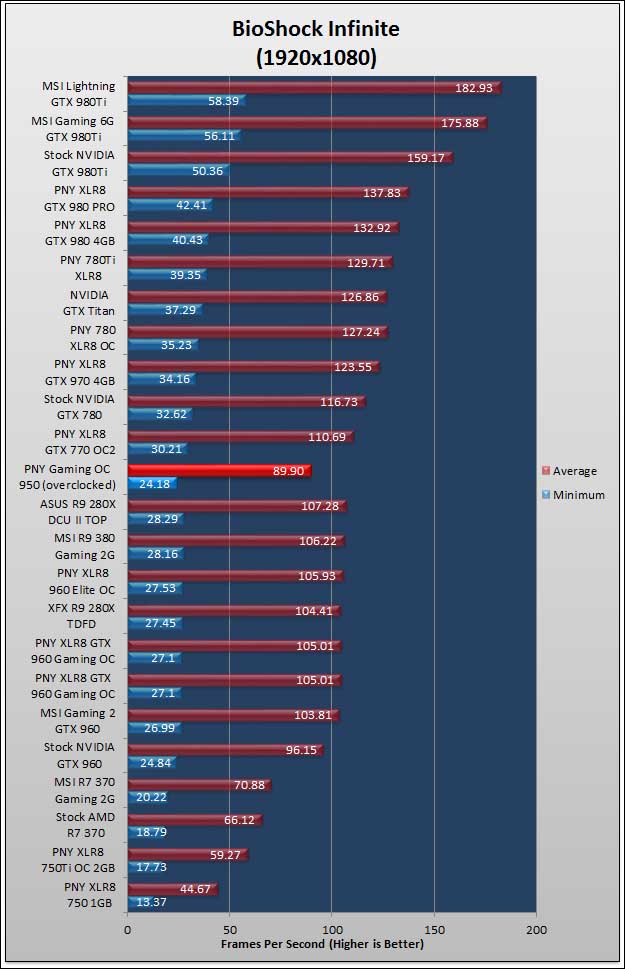 When it comes to manual overclocking, there are two separate and distinct ways of looking at the new PNY GeForce GTX 950 Gaming OC. The first is that PNY has basically done most of the hard work for you already and that the further overclocking efforts will result in only moderate improvements on the core. Put another way enthusiasts wanting to push the Gaming OC 950 even further will be a bit disappointed as there is not much 'gas' left in this tank. Of course hitting 1510 on a 950 is still bloody impressive and does make for a surprisingly peppy little card.
No matter which opinion you hold, there is one silver lining to this potent little powerhouse and that is RAM overclocking. By swapping out the NVIDIA spec'ed GDDR5 RAM for higher performance RAM, PNY has opened up a world of possibilities. Basically while a factory overclock of 9.1% is darn decent and does make the Gaming OC one of the better GTX 950's enthusiasts can do better…. much, much better. Basically with just a bit of effort we were able to push the RAM to 7600Mhz (effective). This boosts the memory bandwidth from the improved 115GB/s level to 121.6GB/s. Compare and contrast this with a references 105.6GB/s and as you can see this is a great improvement in one of the largest weakness this GM206 has.
In the end we achieved a 12.5% overclock on top of the factory overclock, or a total 27.1% over reference; and a 5.6% overclock on the RAM from the already overclocked levels of 9.1% – for a total 15.2% RAM overclock. No matter how you slice it that is still a darn decent level of performance to expect from such an inexpensive video card… and allows this GeForce GTX 950 to nip at the heels of a GeForce GTX 960. Color us impressed… even if we were craving even more on the core side of the equation.