$93.28
$134.99
in stock
19 new from $92.99
1 used from $89.27
as of December 2, 2023 8:02 pm
$1.99
in stock
as of December 2, 2023 8:02 pm
$42.39
$49.99
in stock
2 new from $42.39
1 used from $37.10
as of December 2, 2023 8:02 pm
Last updated on December 2, 2023 8:02 pm
Largest roster of playable heroes ever for an action RPG
August 24, 2016, Taipei, Taiwan – From the renowned developer InterServ International comes the all-new 3D mobile action RPG Heroes of the Dungeon (HoD).  The game features the largest roster of playable Heroes ever found in a dungeon crawler action RPG.  There will be 20 originally designed Heroes offered at launch, each with 4 distinctive skill sets that are upgradable and hundreds of equipment to forge.  Currently, Heroes of the Dungeon is conducting its second beta program in South East Asia, with an impressive retention rate of 55%.  Based on feedbacks from these 50k+ beta players, Heroes of the Dungeon is not a walk in the park when it comes to gameplay difficulties, both in the solo campaign as well as in the various multiplayer modes.  The development team at InterServ have also updated the game on August 23rd with numerous game improvements and new features based on focus group testing from the first round, most noticeably includes two new game modes, user interface optimization, tweaks in the beginner's tutorial, and revision to couple of the Hero's design.  Heroes of the Dungeon is on schedule for a worldwide release in October 2016 on both iOS and Android.
Massive World with Rich Content
[video id="9kyyrm_Mpfo" site="youtube"
[/video
Heroes of the Dungeon offers a rich lore with a campaign story tying together the fate of all the Heroes.  The game's over-world takes place on a war torn continent between four kingdoms, Tytania, Nirvash, Darkwood and Behrend.
The game starts off with the main protagonist, Lance the Berserker, as he sets out on his quest for revenge, and uncovers the great conspiracy behind the Great War between Light and Darkness.
Throughout the solo campaign, players will comes across characters that are friends and foes, and some boss battles will result in the boss character eventually joining the player side and become a playable character. There will be 150 solo campaign stages available at launch with more to come as the game updates.
Many Heroes, Many Paths
With 20 heroes at launch, players need not worry about which character class to start the journey with. In Heroes of the Dungeon, new heroes will be made available to the player once the pre-requirement is fulfilled; these requirements varies from reaching a certain level, completing certain in-games tasks, to time-limited offers.
From the Western fantasy style of Berserker, Shadow Archer and Paladin, to the Eastern fantasy style of Monkey King, Ascetic Monk and Samurai, each hero is unique with greatly varying strengths, weaknesses and with hundreds of skills at your disposable.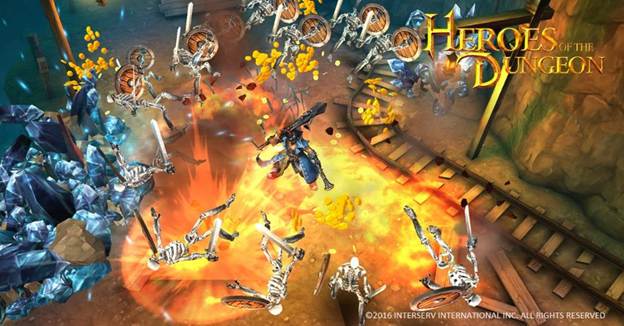 Melee Heroes such as Lance the Berserker and Elliott the Undead King offers high damage output and good defense. Range Heroes such Cloris the Shadow Archer and Beatrice the Mage offers crowd control attacks and magic alignment attacks for special enemies. Tank Heroes such as Orobas the Minotaur and Benidict the Guardian offers damage absorption with high HP.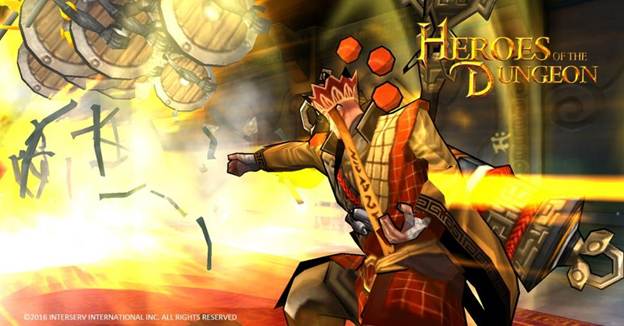 Though player control one hero at a time during solo mission, player can choose up to three heroes to enter each dungeon and swap on the fly according to encounter and environment changes.  As for multiplayer modes, players will bring two to three Heroes onto the stage depending on game match types.  The possibilities are endless when it comes to battle party composition, a change in hero, an upgrade or even a variation of skill combo could turn the tide of battle.
Every Adventure Is Full Of Surprises
Heroes of the Dungeon offer dynamic dungeon stages where the system generates stages at random to provide a refreshing experience every time.
The game's dungeon environment design varies from typical ancient corridors to volcanic lava stages, each filled with deathly traps that test the player's skills.
Not forgetting the hidden treasure throughout that offers unlimited loot for crafting gears and upgrading heroes, this is a hackn' slash RPG title where players are sure to sink in hundreds of hours into.
Stunning Visual and Fluid Combat
As mobile game development matures, more action RPG titles become available, but many action RPG games neglect the smoothness of gameplay as they seek to produce jaw-dropping visuals. For Heroes of the Dungeon, the development team took extra effort in hardware optimization to make sure the game plays smoothly across as many devices as possible, striking a balance between fluid gameplay, great character details, rich environments, smooth combat and great audio and visuals.  The game runs on the Unity engine and can be enjoyed with Android 4.0.3 and above, as well as iOS 5.5.1 and above.
Exclusive MOBA Mode
Gamers of today expect more in terms of gameplay and game modes, aside from the 4 single player modes, Heroes of the Dungeon offers 6 different competitive modes.
From a more standard fare of 1 on 1 Runestone battle, 3 on 3 death match PvP, to guild versus guild battles; the most innovative of all is the Bridge of Arbitration mode.  The Bridge of Arbitration is a MOBA mode offers 2 on 2 MOBA fights, players represents either the blue or the red side and the main goal is to destroy the opponent's nexus tower within the time limit or score more points than the opponent for a win.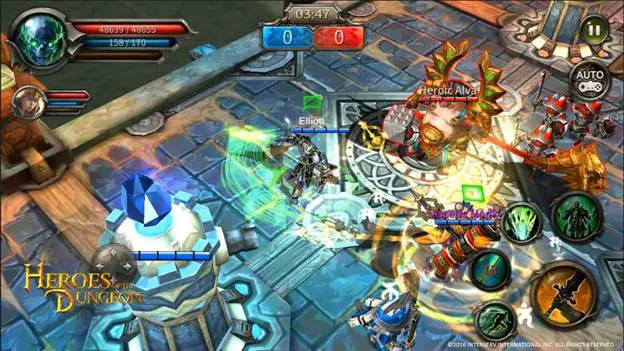 This exclusive MOBA style gameplay will exercise every ounce of the player's ability to control their Heroes and understanding the skill combos between heroes as well as how to counter opponent tactics.  Bridge of Arbitration comes with online leaderboards and every week the top players will be rewarded with in-game items for their achievements, and some rare items will only be available here, hence the Bridge of Arbitration will sure stir up much multiplayer mayhem!
Development Backstory
Professionalism, innovation, entertainment and quality are the principles that InterServ holds highly and they are integrated into the "Heroes of the Dungeon" whole design concept.
"For Heroes of the Dungeon, we designed a very large world with complex character relationships, these relationships materializes in both the single player modes as well as the competitive modes.  The development took two years, and we've carefully selected the key elements that we feel can maximize the gameplay enjoyment for mobile players and make the game what it is, this is unlike how others who are just imitating an already existing concept.
We have also additional ideas for this Dungeon-based Action RPG, of which many will be implemented in future version of this game through updates.  Heroes of the Dungeon will ensure players to enjoy something that they've never felt before when it comes to mobile gaming, and right at the start the player will experience an epic "Dragon Battle" scene as an introduction to the story, one that invokes feelings and emotions.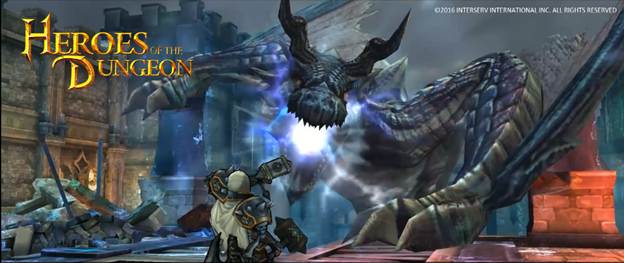 Whether it's the richness of game modes, diversity of heroes or fluid gameplay – we hope that players enjoy this creation of ours." – InterServ International
Heroes of the Dungeon will be available for both the Android and iOS platform at launch.
For game information: https://www.is520.com/hot-heroesofdungeon.html
Note From the Editor: We don't normally post mobile or beta news for these kind of games but thought it looked extremely interesting. Tested the game a little and it runs great on android but will not install on iOS devices yet. But like any beta game do not fall into the hype train, this game maybe good, it maybe great or it maybe trash. Once the full version is out I recommend trying it as I do with any free game but do not hold a beta at the same level as a full release game.