$364.99
$459.99
in stock
50 new from $364.99
4 used from $321.19
as of March 27, 2023 5:29 am
$373.09
$439.99
in stock
16 new from $299.90
18 used from $281.93
as of March 27, 2023 5:29 am
$41.99
$59.99
in stock
20 new from $41.98
1 used from $33.65
as of March 27, 2023 5:29 am
Last updated on March 27, 2023 5:29 am
Bringing the best of air and liquid cooling together
MSI, world leading manufacturer of gaming and overclocking hardware, is proud to announce the result of a unique partnership with Corsair at the Tokyo Game Show 2015. Combining MSI's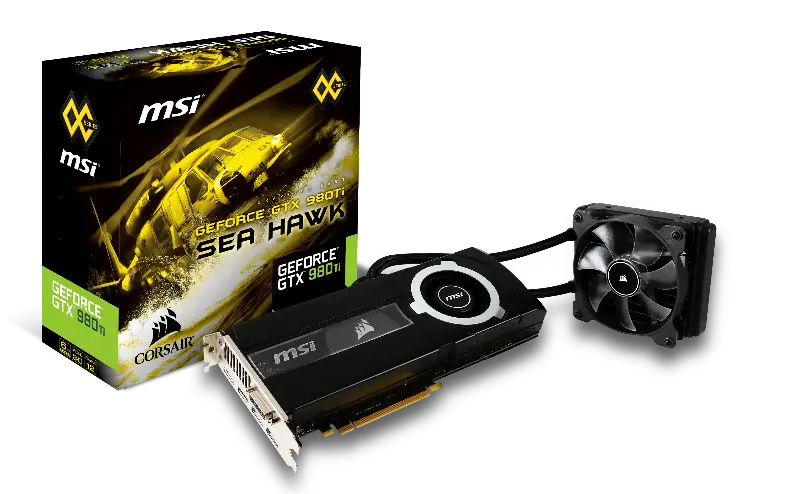 expertise in graphics cards and Corsair's closed loop liquid-cooling solution, the GeForce GTX 980Ti SEA HAWK was born. This latest addition to the legendary MSI Hawk graphics cards family provides outstanding gaming performance at low temperatures and low noise levels.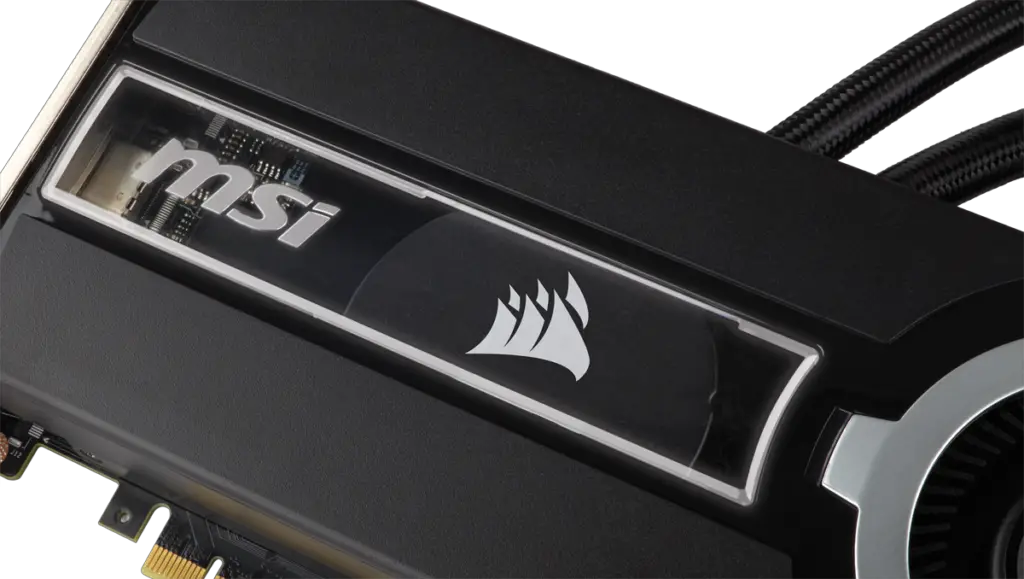 The MSI GTX 980Ti SEA HAWK utilizes the popular Corsair H55 closed loop liquid-cooling solution. The micro-fin copper base takes care of an efficient heat transfer to the high-speed circulation pump. The low-profile aluminum radiator is easy to install and equipped with a super silent 120 mm fan with variable speeds based on the GPU temperature. However, to get the best performance, the memory and VRM need top-notch cooling as well. Therefore, the GTX 980Ti SEA HAWK is armed with a ball-bearing radial fan and a custom shroud design to ensure the best cooling performance for all components.
 
   Micro-Fin Copper Base
    Silent 120mm Fan
 Aluminum Heat Radiator
The advanced thermal solution, combined with high-quality components, enables the card to run at much higher frequencies compared to standard GeForce GTX 980Ti variants. The graphics core can reach up to 1291 MHz with GPU Boost 2.0 technology. The graphics card is also provided with 6GB GDDR5 memory at 7096 MHz. These specifications and the presence of NVIDIA G-Sync technology guarantee a smooth gaming experience, even when using a surround setup with multiple high-resolution monitors.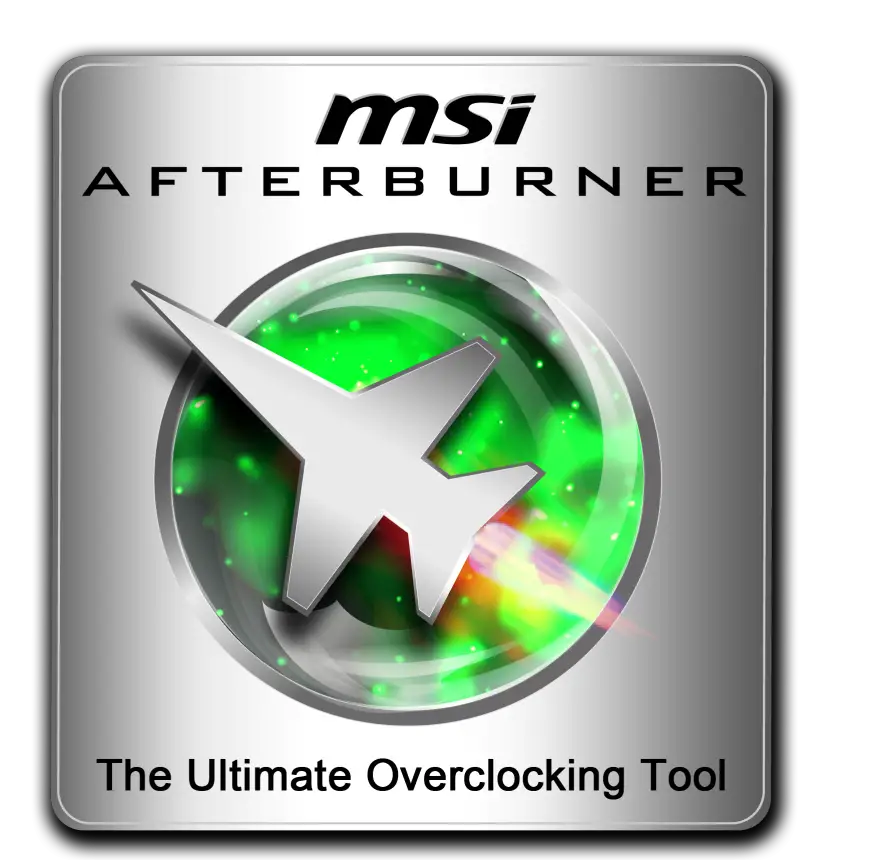 A powerful graphics card needs powerful software. Even though the GTX 980Ti SEA HAWK boasts some serious clock speeds out-of-the-box, the MSI Afterburner overclocking utility allows users to go even further. Explore the limits with Triple Overvoltage, custom profiles and real-time hardware monitoring. Afterburner also adds an in-game FPS counter and can be customized with downloadable user skins. Stay in charge with the mobile app for Android or iOS, there is no need to get out of the game.
Technical specifications
Name
GTX 980Ti SEA HAWK
GPU
NVIDIA GeForce GTX 980 Ti
Processor Units
2816
Boost/Base Core Clock
1291 / 1190 MHz
Memory Clock
7096 MHz
Memory Size / Type
6GB GDDR5
Memory Bus
384-bit
Dimension
Card: 270*111*40 mm

Cooler: 151*118*52 mm

Weight
 1286 g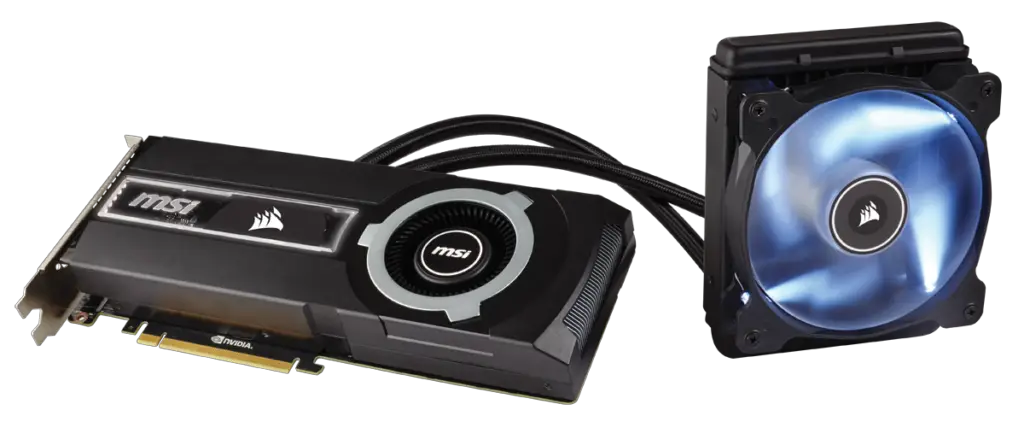 Corsair and MSI collaborate to bring liquid cooled graphics cards to PC gamers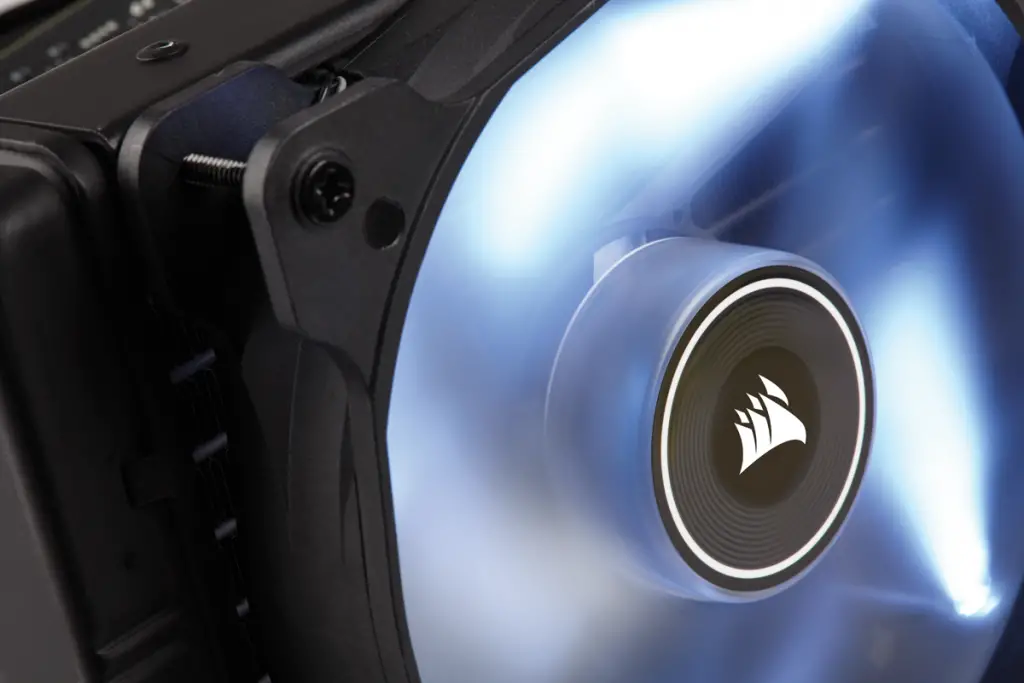 "PC enthusiasts have chosen Corsair liquid coolers to overclock their CPUs and silence the
ir PCs for nearly a decade," said Michael Hooper, Corsair's product manager for cooling technology. "Now with our partners MSI, we are bringing Corsair liquid cooling technology to the GeForce GTX 980 Ti with the Hydro GFX—one of the fastest, quietest, and easy-to-install graphics cards available."
Hydro GFX – GeForce GTX 980 Ti card
GPU:NVIDIA® GeForce GTX 980 GPU with Maxwell 2.0 microarchitecture, designed for next generation gaming at resolutions of 4K and beyond

1190/1291 MHz base/boost clock
Clocked 20% faster than standard GeForce GTX 980 Ti cards for up to a 15% performance boost.
  Cooling:

Integrated liquid cooling technology keeps GPU, video RAM, and voltage regulator 30% cooler than standard cards
Corsair Hydro Series H55 liquid cooler with micro-fin copper block, 120mm radiator/fan
Pricing and Availability
Hydro GFX will be available in October in the US www.corsair.com with an MSRP of $739.99 USD.