$389.00
in stock
as of September 29, 2023 12:03 pm
$98.68
in stock
1 used from $98.68
as of September 29, 2023 12:03 pm
$19.99
$49.99
in stock
19 new from $19.99
5 used from $19.79
as of September 29, 2023 12:03 pm
Last updated on September 29, 2023 12:03 pm
Kingston has a long and rather sterling reputation for pushing the boundaries of the solid state drive industry, and in the process creating some of the best mainstream and value orientated drives available. For instance, Kingston was the ones to see the true potential in the original Intel controller and offer the V-40. A solid state drive so popular that Intel themselves stepped in to kill it and then turned around and made their own 'version'…of the exact same drive. That is the kind of outside the box thinking Kingston is known for.
Unfortunately, in recent times they have stumbled a bit and the furor of their V series silent change of NAND was…..rather extreme to say the least. The Kingston HyperX Savage series is Kingston's response to the vocal feedback and their best effort to offer a drive that is both powerful, yet frugally priced. In other words its Kingston's effort to replace their tarnished V series with a new model that can offer all that the pre-change V series could do, and yet do so without requiring any 'silent' upgrades later on.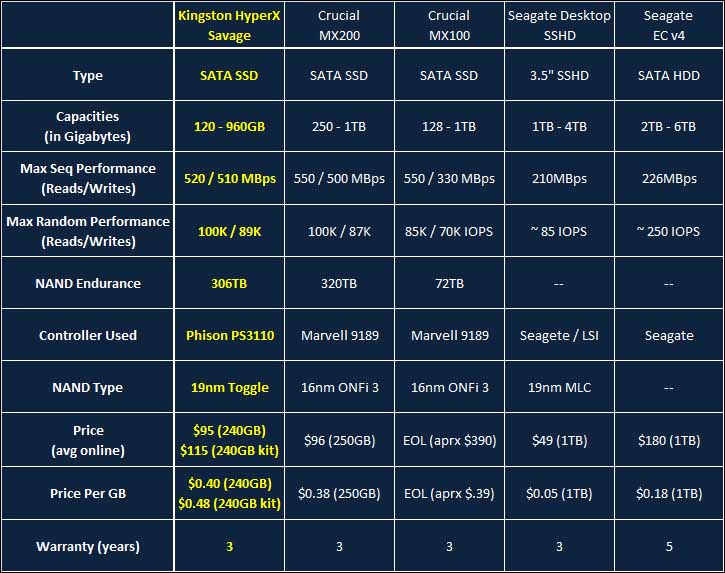 That may be easy to say, but doing precisely all that is bloody difficult with only a few companies being able to pull it off. In order to do this Kingston started with a blank slate and every single internal component has been changed with zero parts carried over from the V series. The most obvious is that this series is one of the few to opt for a controller from a previously little known PHISON controller company. In fact the Savage is one of the first to use PHISON's latest creation: the PHISON PS3110. This controller goes about things in a radically different way from how the V series' SandForce SF2200 controller does things. Backstopping this NAND is cutting edge Toshiba A19 Toggle Mode NAND that is also radically different from the ONFi 1 that the V series relied upon (and caused all the uproar in the first place).
This massive change was needed as the SandForce controller previously used is downright decrepit by modern standards, and with ONFi 2 NAND supplies drying up – and ONFi 1 shown to be a non-starter with consumers, these massive changes are not as surprising as it first sounds. This radical change is still impressive however and we do look forward to seeing what they can do with an entirely new game plan. After all most consumers do not actually care how the performance is created…just that it has performance to burn. We will of course go over the how and why of this drive, but at the end of the day this $95 drive has already passed the first hurdle: price.
At $95 this series is actually cheaper than the class leading Crucial MX200 250GB SSD and that is indeed the gold standard upon which all value orientated drives must be judged. As that is the drive to beat we will also be including the MX200 250GB SSD so that consumers will be able to directly weigh the pros and cons of the Savage against an already 'proven' series and as such see if its abilities best align with their particular needs.