$399.99
out of stock
2 used from $399.99
as of November 29, 2023 8:02 pm
out of stock
as of November 29, 2023 8:02 pm
$239.99
out of stock
3 used from $239.99
as of November 29, 2023 8:02 pm
Last updated on November 29, 2023 8:02 pm
TL;DR:
Much as Gigabyte has spent a lot of time and effort refining their BIOS to a razor edge so too have they spent considerable time and effort making their software solution as easy to use and as user-friendly as possible. The end result is as good a software package as you will find from any manufacture.
The most important application in the GIGABYTE App Center is the Easy Tune utility. This is the heart and soul of GIGABYTE's software suite and will be the most used program of the bunch.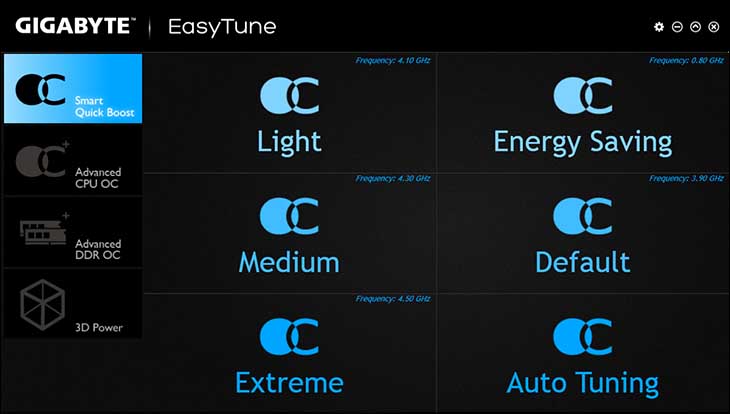 When you open it up you will be greeted with a simple and clean interface that has been refined and simplified over the past few generations. Along the left side of the screen are the four main sections of the Easy Tune program: Smart Quick Boost, Advanced CPU OC, Advanced DDR OC, and 3D Power.
While not listed along the side there is a fifth section: the hardware monitor. This upgraded and improved monitor runs along the side of the main application in a separate window and gives a well-tailored overview of voltages and other important system information in real(ish) time.
The majority of the real estate is given over to dealing with features and abilities of whichever option is chosen, but the default screen on start-up is Smart Quick Boost. In previous times this section is where you would spend the majority of your time while using this application but this is no longer the case as the majority of overclocking features are now in the two Advanced sections. Instead of trying to be too many things at once, the new and refined Smart Quick Boost deals simply with push button 'auto' overclocking.
The automatic options have now been expanded and cover a wider range of options. The main options are still Light, Medium, Extreme, and 'Energy Saving'. Energy Saving deals with under-clocking rather than overclocking. This is actually a pretty novel idea for anyone that has excess system resources that only need to be used in certain instances.
While these options are good enough, for many the real star of the show is the Auto Tuning option. Auto Tuning allows consumers to press a single button and let the software apply, and then quickly stability test any overclock. If it passes it will then increase the overclock, reboot and retest until the short stability test fails. We still recommend extended stability testing before considering any auto overclock truly stable, but this is a great addition for any novice overclocker as it will find a very good starting point upon which to start.