$23.89
$40.99
in stock
2 new from $23.89
as of September 22, 2023 8:53 am
$10.99
$15.99
in stock
7 new from $9.99
6 used from $7.91
as of September 22, 2023 8:53 am
$19.99
in stock
as of September 22, 2023 8:53 am
Last updated on September 22, 2023 8:53 am
In a effort to appeal to their followers and innovate in the way Bitfenix does best, Bitfenix's new releases are a thing of beauty that cater to the gamer in all of us with very "Borderlands" or "Greek Gods" themed naming.
In our last article we focused on the Pandora but today we look deeper into a case I know I have been dying to see, the Atlas.
"It is said that the Greek god Zeus fought for 10 long years against the titans, only to have the battle end in a draw. We at Atlas like to believe Zeus could have won the fight in half the time if only he had one of the guns from our legendary line of firearms. All Atlas guns offer exceptional rate of fire, damage, and an epic level of high technology. Regardless of your god, you need not look to the heavens for salvation from adversity. Atlas weaponry can answer your prayers and grant you a power few mortals have ever experienced. Prove yourself as a true believer. Join the select ranks of Atlas owners and become a god among men!
— Atlas sales pitch, Official Borderlands Guide"
The Atlas is the kind of case Cube fans have been dying for, a true competitor to the Air 540. If priced right this could be the must have case of Q4 2014 and 2015 for the following reasons.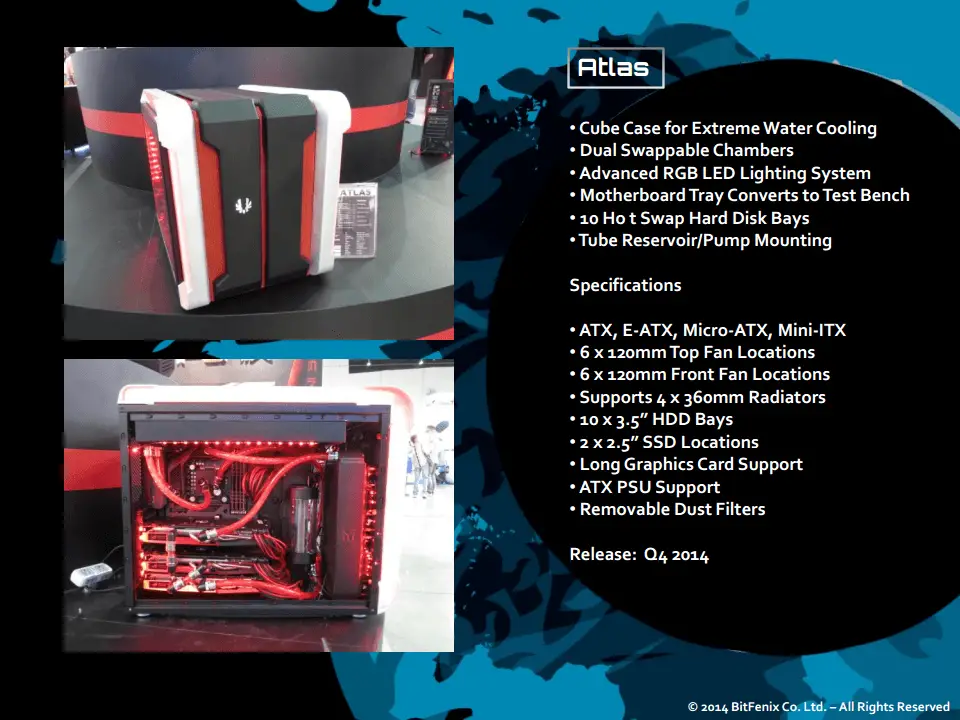 You read that right over 12 fan mounting points, support for up to 4 360mm rads and an insane 10 3.5" HDD mounting setup. Factor that in with awesome features such as a removable motherboard tray that seconds as a tech bench and you have a winner in our eyes.
Again like in our last press release of the Pandora the only two items that could cause these new great cases to fail and flop is, price and QA. If these new cases come in aggressive enough and with great quality parts they will be a massive winner. If they fault on either of these two items they could very well just end up being cool cases that are seen at shows and gaming events.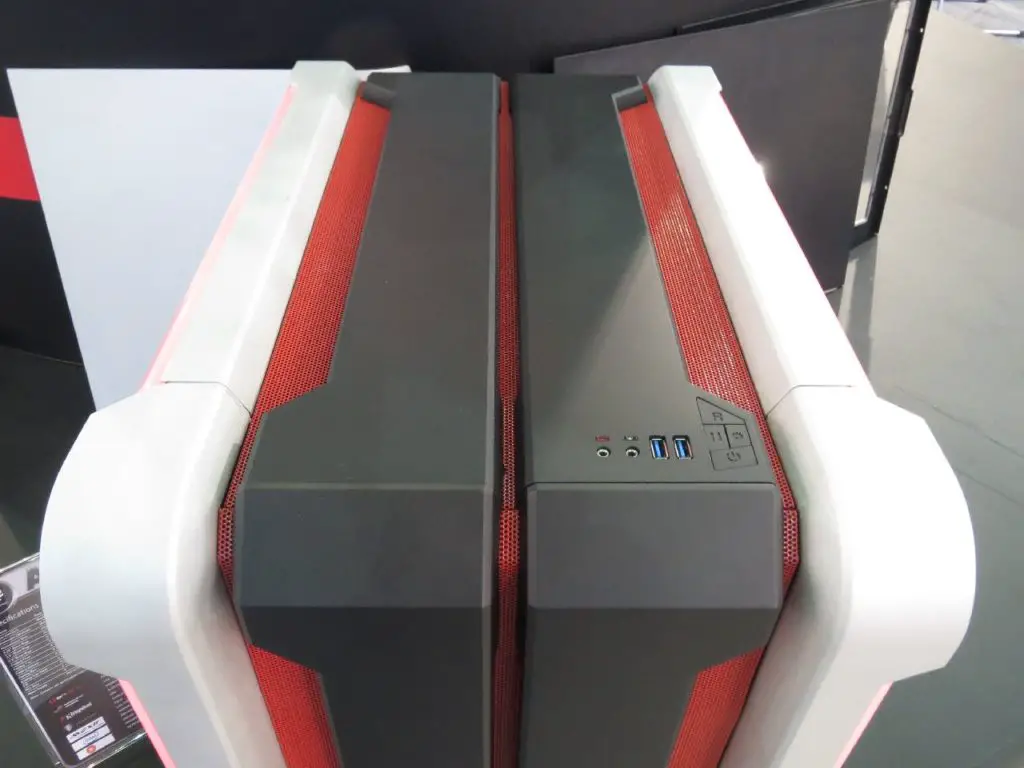 The awesome matte red accompanied with a bone or wall like design gives the outside of the Atlas a true gaming feel, but air flow looks slightly restricted due to the large black center walls. Buttons continue to have simple yet elegant design where the standard 2 USB 3.0 and audio jacks are seen adjacent to.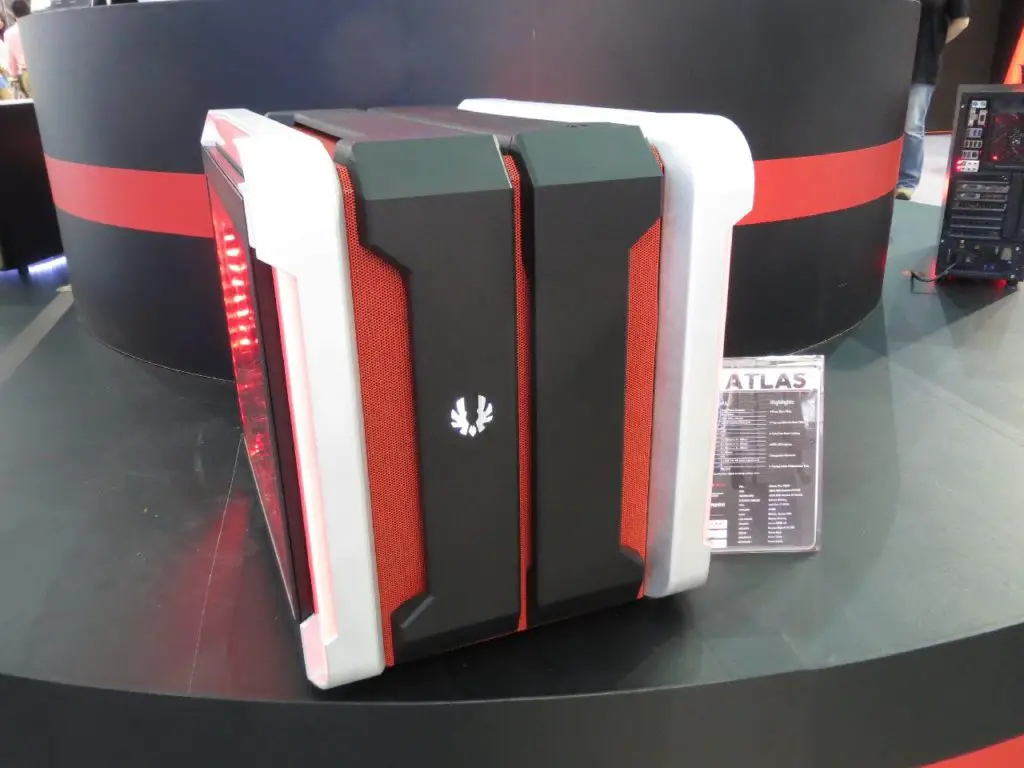 Keeping the "ODD Drives are a thing of the past" train rolling, the Bitfenix removed the ODD drive from the Atlas all together and instead gave you more air flow and massive custom cooling options. This new no ODD drive setup also leaves you with a very simple but functional front bezel and show the same simple yet very Bitfenix custom feel like the top of the case does.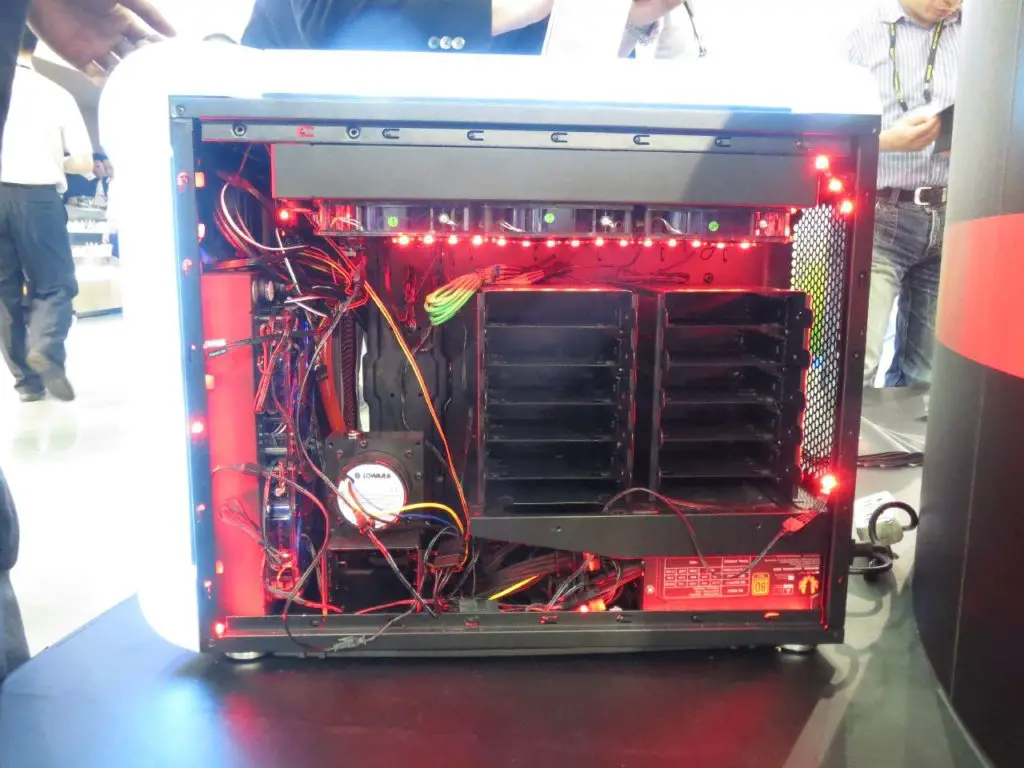 Bitfenix outdid themselves with their internal spacing of the non-motherboard chamber. 12 total hard drive slots 2-2.5", 10-3.5" much more fan spacing and room for some of the biggest power supplies on the market today. Add to that you now have some of the best places to run and hide cables plus hide all the less then sexy looking pumps and water cooling gear, you have a total win in the eye candy department.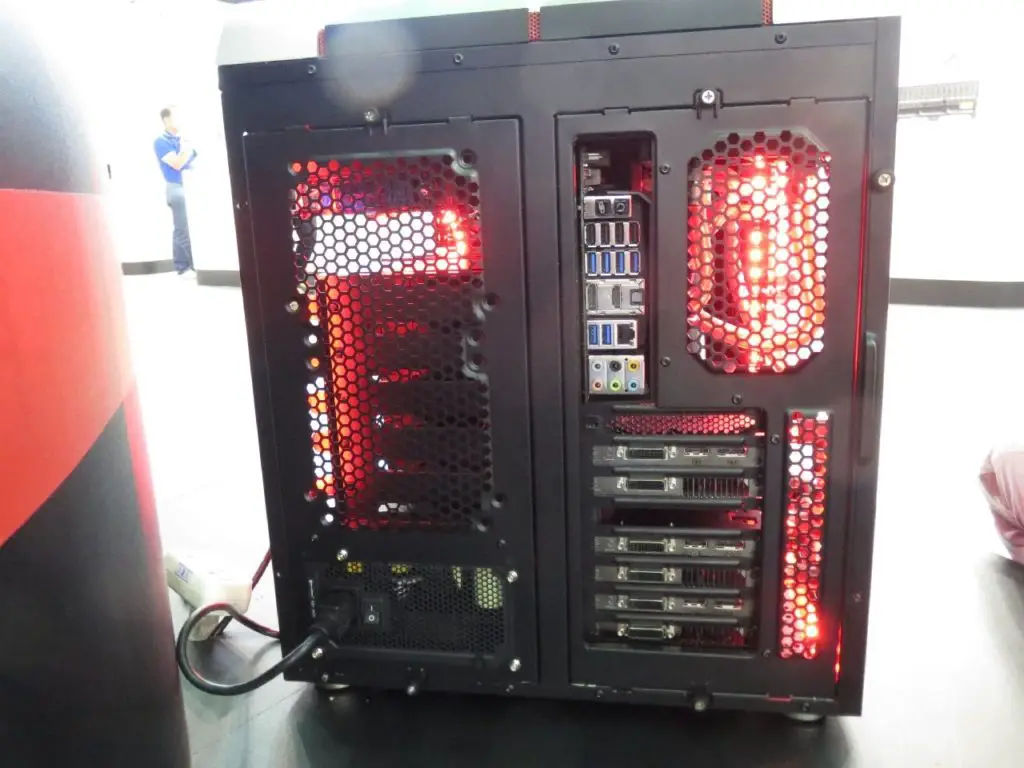 Spacing for all of the main motherboard sizes excluding the dying XL-ATX form factor the Atlas is designed to handle some massive graphics cards as well as even supports more water cooling in the way of a 240mm rad in the back.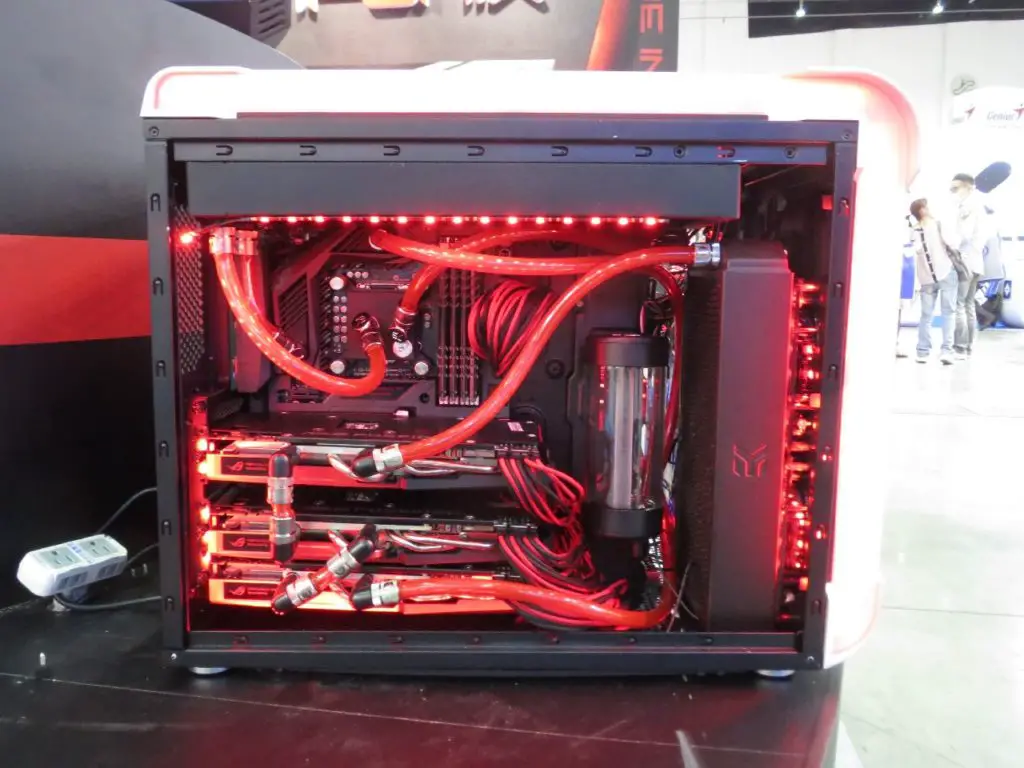 The motherboard side is kept very clean by hiding the PSU,HDD's and cabling on the other side. This frees up space for massive watercooling or massive GPU power houses. Bitfenix showed off the Atlas featuring triple Asus Poseidon gpus and a full watercooling setup. Showing that spacing is no issue in this powerhouse cube.
In conclusion the Atlas is a case I know many are dying to see the final results of and I know this reviewer will be pressing hard to get Bitfenix to send him one for his new main rig.