Last updated on December 1, 2023 7:53 pm
Biostar Racing B150GTN – Closer Look
Closer Look TL;DR
While the Biostar Racing B150GTN is not perfect, and really could use WiFi, the overall layout and design of this motherboard gets more right than it does wrong. The power subsystem is darn decent – bordering on excellent – for a B150 board, the included U.2 port is awesome, and including a x4 M.2 port – even if it is on the backside – is impressive. Now if only it came with USB 3.1 abilities.
A Closer Look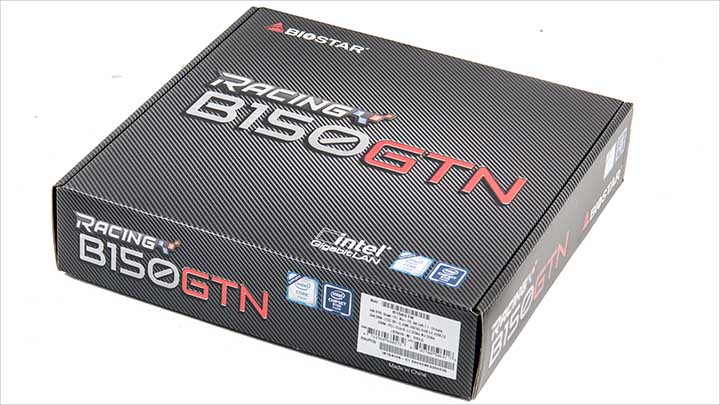 Much like the Z170GT7 the B150GTN comes in a shipping container that really is rather impressive for this price range. No one will have any issues picking this box up and bringing to the front counter to be 'rung up'. More importantly while the front underscores the whole 'racing' theme of the motherboard the back is covered in details that cover off all the features and abilities this motherboard has to offer.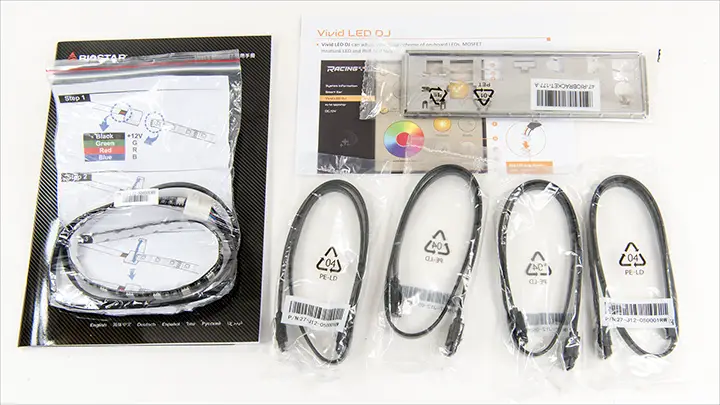 Once again Biostar has not included any case badges, SATA labeling stickers, or other goo-gaws; rather, they have nicely covered all the bases with the necessary essentials. To be precise BioStar includes a software and driver's DVD, four SATA cables, a rear IO panel and a LED strip that connects directly into the motherboard to further enhance the look of your custom build. All in all, it is excellent for this price range.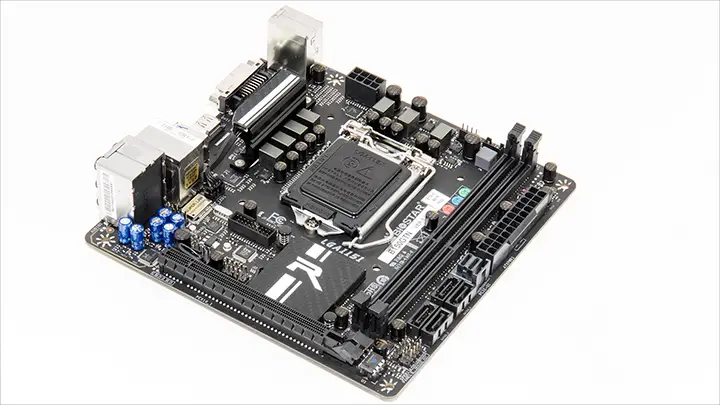 Much like the Biostar Racing Z170GT7, the B150GTN boasts a very monochromatic look with a custom black PCB, black storage ports, black DIMMS, black PCIe slots, and black with white accents heatsinks. This does give this board a rather low-key look that can – if the owner so chooses – have the dial turned all the way to eleven when the system is on. This is because the VRM and PCH heatsinks has built in LEDs that are capable of millions of color combinations. This does give the system a nice splash of color. Though what does push things into the above average end of the spectrum is the fact that there is onboard header for adding LED light strips to this board and it comes with them! For a sub $100 that is simply amazing.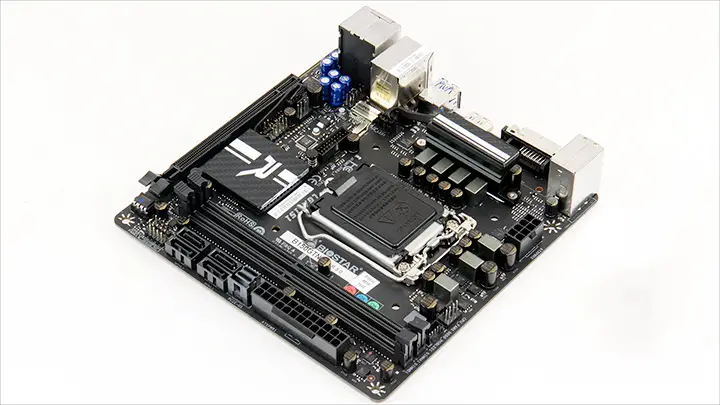 Overall, considering this motherboard is downright tiny the overall looks and aesthetics of the Biostar Racing B150GTN is rather good. Not only does this motherboard feature a very nice and clean layout most of the various connectors and ports easily accessible, and free from possible obstruction.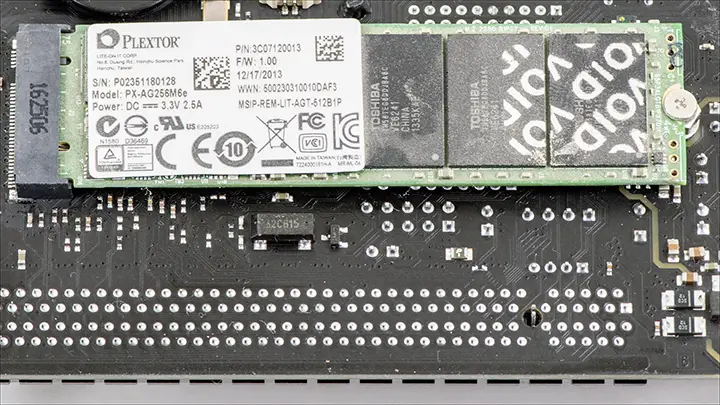 The only exception is the rather odd placement of the M.2 port (on the back of the motherboard) and the lone USB 3.0 front header.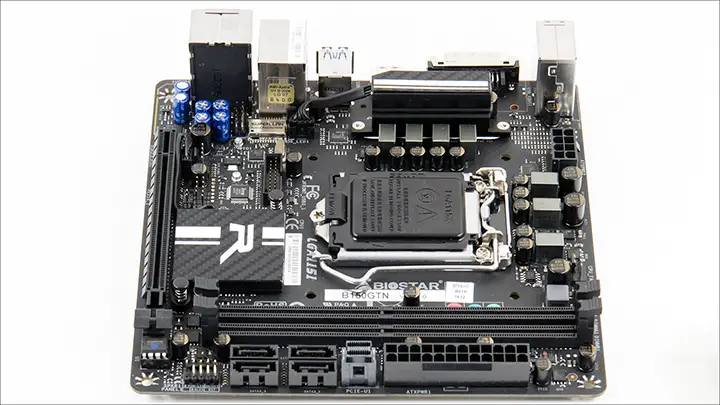 Moving the M.2 to the back does allow for 2280 M.2 drives to 'fit' without the use of a daughtercard so we have little issue with this move. The USB 3.0 header on the other hand is in a rather suboptimal central location. This will make using this critical port more difficult and will result in a large cable sticking 'up' from the center of the mother board.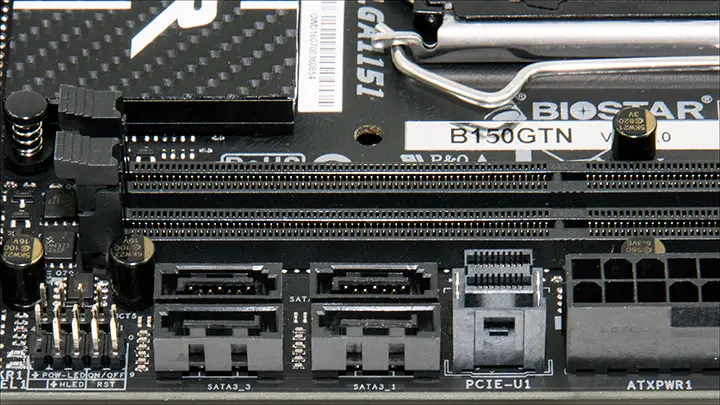 On the positive side the reason there was no room for the USB 3.0 header in its usual front edge location is because BioStar has included four SATA ports and a U.2 port. We personally love seeing a U.2 port on any motherboard and the fact that such an inexpensive motherboard comes with this highly advanced storage interface is amazingly impressive.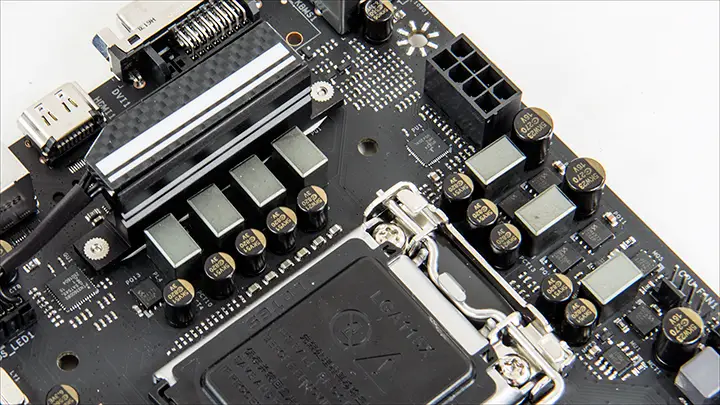 Moving on the small VRM heatsink and smaller PCH heatsink may lack the robustness (and heatpipe) of some more expensive mITX motherboards we think this level of cooling is more than acceptable. After all this is a B150 based model so overclocking is a non-starter and the VRM is actually pretty darn impressive all things considered. The only minor disappointment is the use of pushpins and not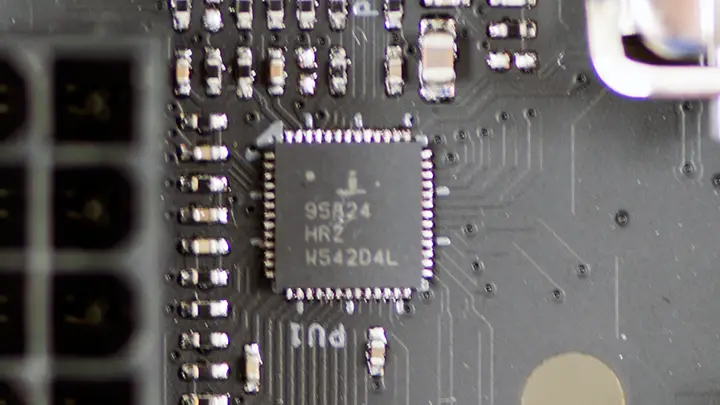 To be precise the BioStart B150GTN uses a 7 phase power delivery subsystem that consist of an Instersil ISL95824 controller, P-PAK MOSFETs, Super Durable Ferrite Chokes, and 10K Solid Capacitors. Now the ISL95824 is not a 7 phase controller, nor an 8 phase with one phase empty; rather it is a hybrid 4+2 phase controller that uses 4 for the CPU and 2 for the integrated GPU. Obviously the GPU has one phase doubled up with an additional 'virtual' phase so as to reduce overall stress and load. Overall for a B150 system is a good power delivery subsystem that can easily handle to demands of even the highest Intel i7 CPUs.
The two DIMMs of course also get their own power subsystem, to be specific it is fed by a fairly typical single phase power design. Though once again it also gets its own 'Super Durable' components. For most owners a single phase vs dual phase design will not matter all that much – especial considering this motherboard 'only' supports up to DDR4-3200 speeds.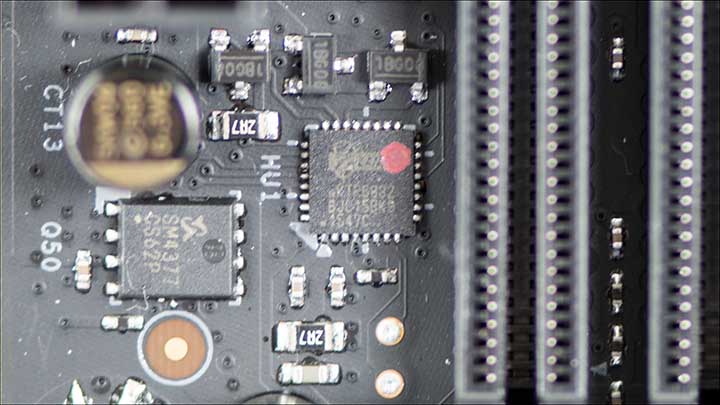 Of especial note is the eLAN 8-bit microcontroller. Even though this motherboard does not have the BioStar Racing Z170GT7's touch panel BioStar has included it. Obviously this controller is being used for controlling the integrated RGB lights and 5050 RGB header.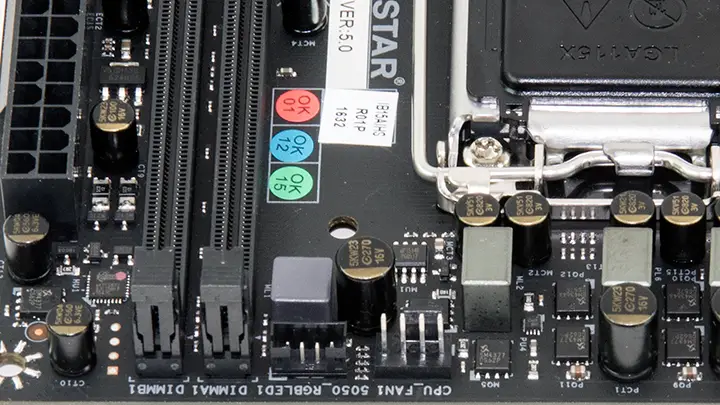 Interestingly enough, this 5050 header's location is actually better than the Z170GT7's as it along the edge of the motherboard right next to the single 'CPU' 4-pin fan header.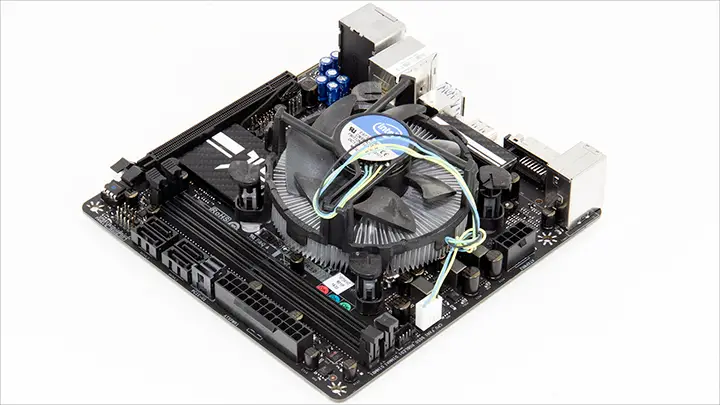 As this is a small motherboard meant for small builds we doubt many will miss not having a secondary 4-pin fan header. On the positive side BioStar does include a small 5050 RGB LED light strip so that if the integrated lighting is not enough for you, adding more is a snap. As this is a m-ITX motherboard it should come as no surprise that it only comes with one PCIe slot. To be precise it is a PCIe 3.0 x16 slot that can be used for either a discrete GPU solution, adding WiFi abilities, or even adding in more SATA storage ports.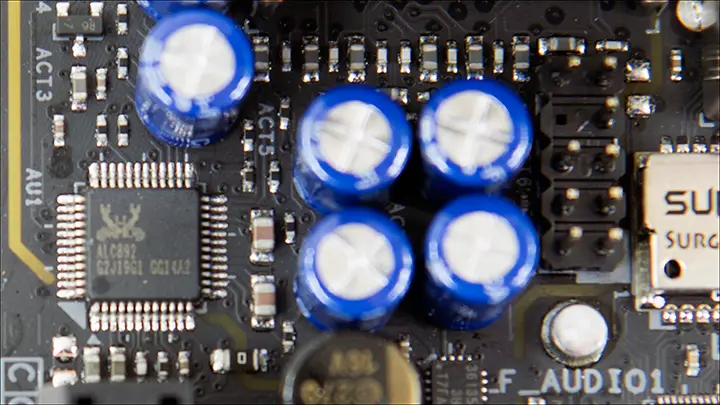 One of the very interesting additions to this motherboard is the onboard audio. These days even the most basic of motherboard has to include a decent onboard audio solution and while the Biostar Racing B150GTN will not win any accolades from audiophiles it is still very decent. As expected the onboard solution has been electronically separated from the rest of the motherboard and this alone will make for a much, much better sound solution compared to even high end motherboards from two years ago. In addition, Biostar has opted for the very respectable Realtek ALC892 controller which is actually a bit better in its abilities than what the Racing Z170GT7 comes with.
Sadly, while BioStar has taken the time to offer a good integrated sound solution, they did not include any USB 3.1 abilities. Since Intel still has not integrated USB 3.1 into any of their PCH's, let alone the B150, this would obviously have necessitated the use of a secondary discrete USB 3.1 controller. This would have increased the overall asking price of this rather inexpensive motherboard, but we think it would have been worth it as these USB 3.1 controllers only cost a couple dollars at the wholesale level. Since they did not this motherboard only supports USB 2 and USB 3.0 standards. Though considering the intended niche of this motherboard few will care about this minor misstep, but if you do this motherboard may not be an optimal choice for your needs.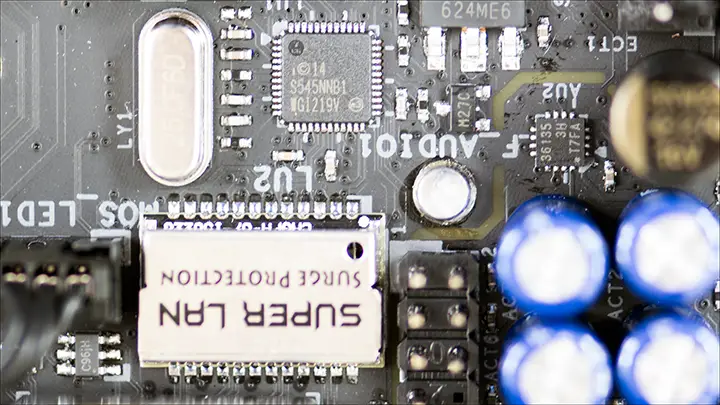 Besides the lack of USB 3.1 the rear IO is rather decently equipped. For example, while there is 'only' a single 10/100/1000 Ethernet 'LAN' port included. This port is controlled via the extremely potent Intel i219v that many enthusiasts prefer over the various 'Killer' NIC options – and everyone prefers Intel over Marvell and Realtek options.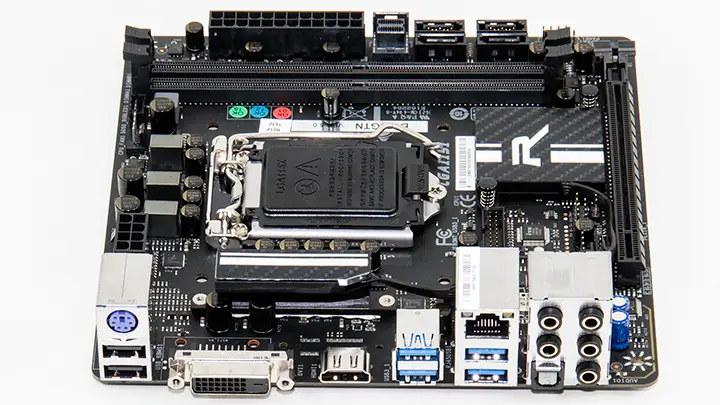 Rounding out the rear I/O panel is a PS/2 keyboard & mouse port, four USB 3.0 ports, two USB 2.0 port, and six audio ports (including a S/PDIF port) that allow for 7.1 surround sound. Biostar has also included a full size DisplayPort, and a DVI-D. The only disappointment is the lack of even more USB 3.0 ports, and the lack of HDMI. Other than that, this is a very good rear IO features list.