Last updated on September 30, 2023 8:52 am
Asus TP300LA – Introduction
Brand: ASUS


Model: TP300LA-DB51T-CA
Price: $799CAD $649 USD
Warranty: 12 Months with ADP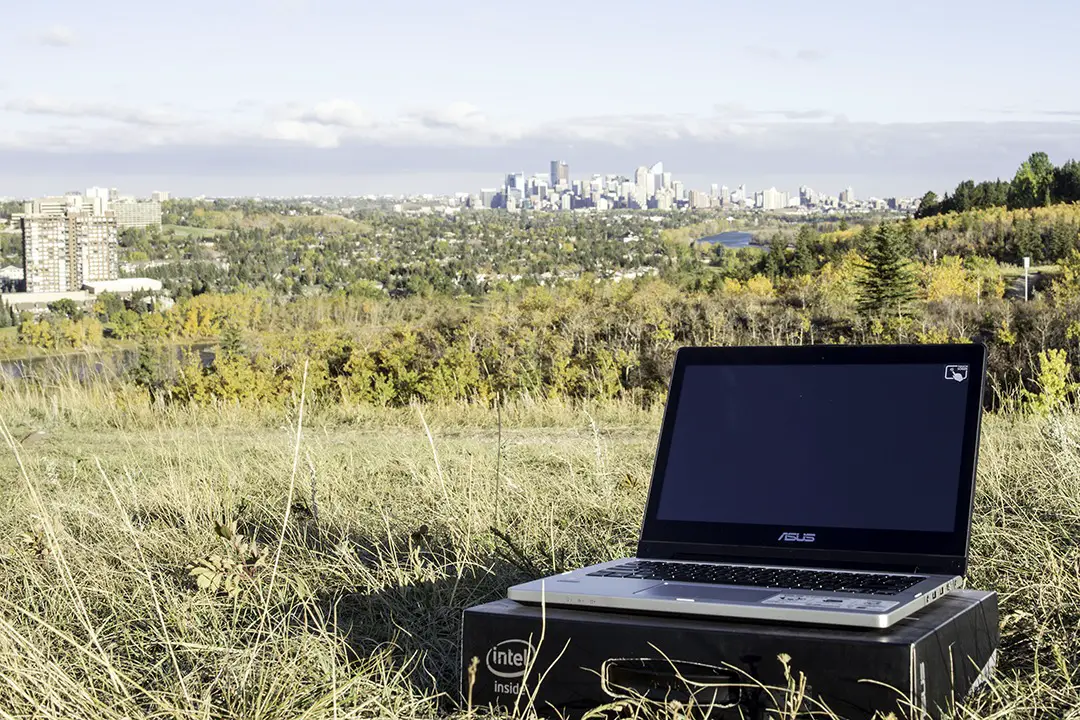 The line between laptops and tablets is getting blurry. No longer do you have to make the decision between bringing a tablet with reduced functionality or a big laptop that's heavy and cumbersome.
Enter the Asus Transformer Book Flip TP300LA, a power sipping 13.3″ convertible laptop with a muti-point touch screen and all the power you could need on the go. Packing Intel's newest Haswell processors and endless configuration options for just about every component, Asus covers any mobile users requirements.
Competing with the specifications of a MacBook Pro at nearly double the price, Asus has sights on winning over users looking at getting more for less. Has Asus managed to build something worthy of competing with the more expensive options or is this convertible laptop just a flop? Read on to find out what we think.
Asus TP300LA – Specifications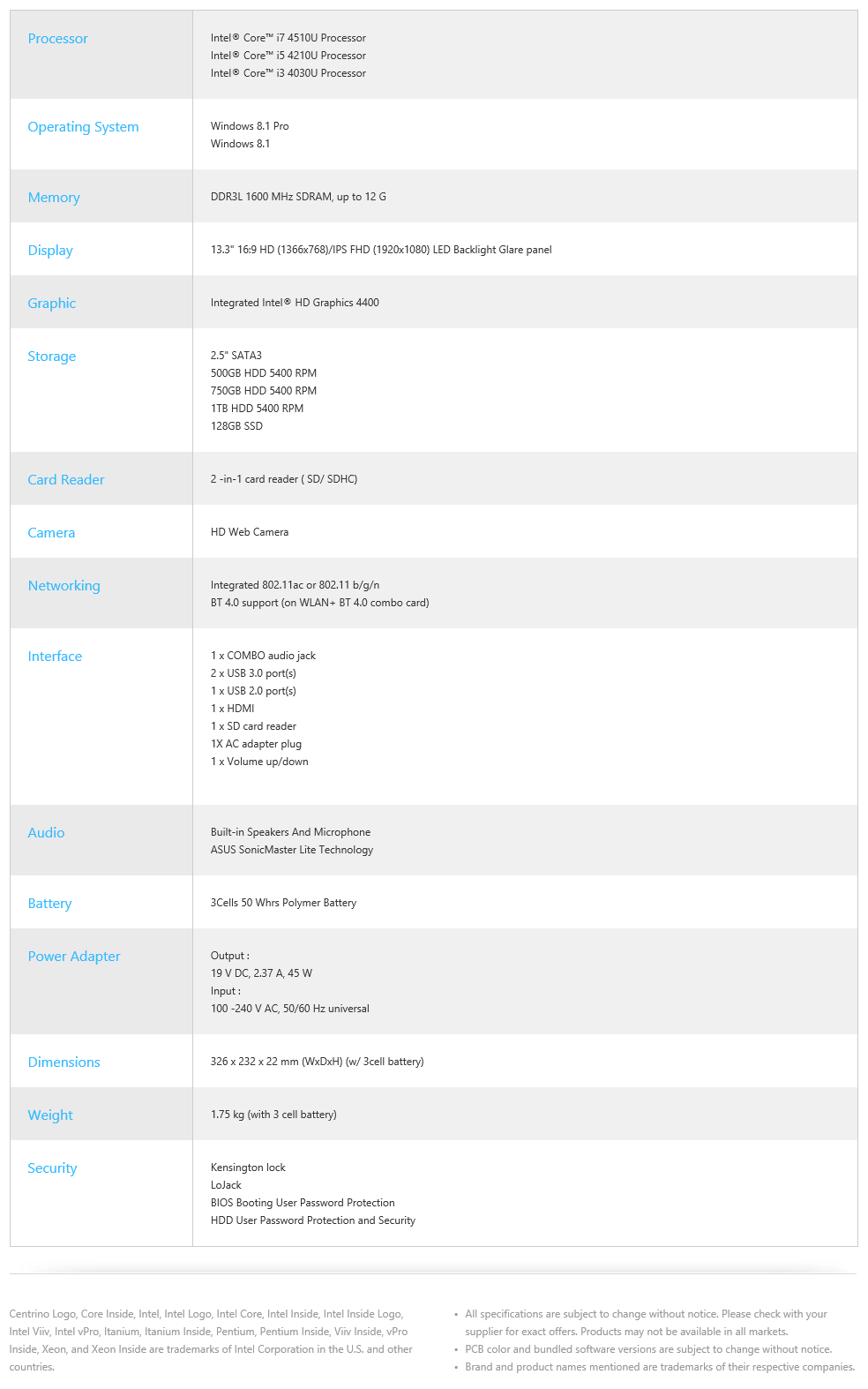 Asus TP300LA – Unboxing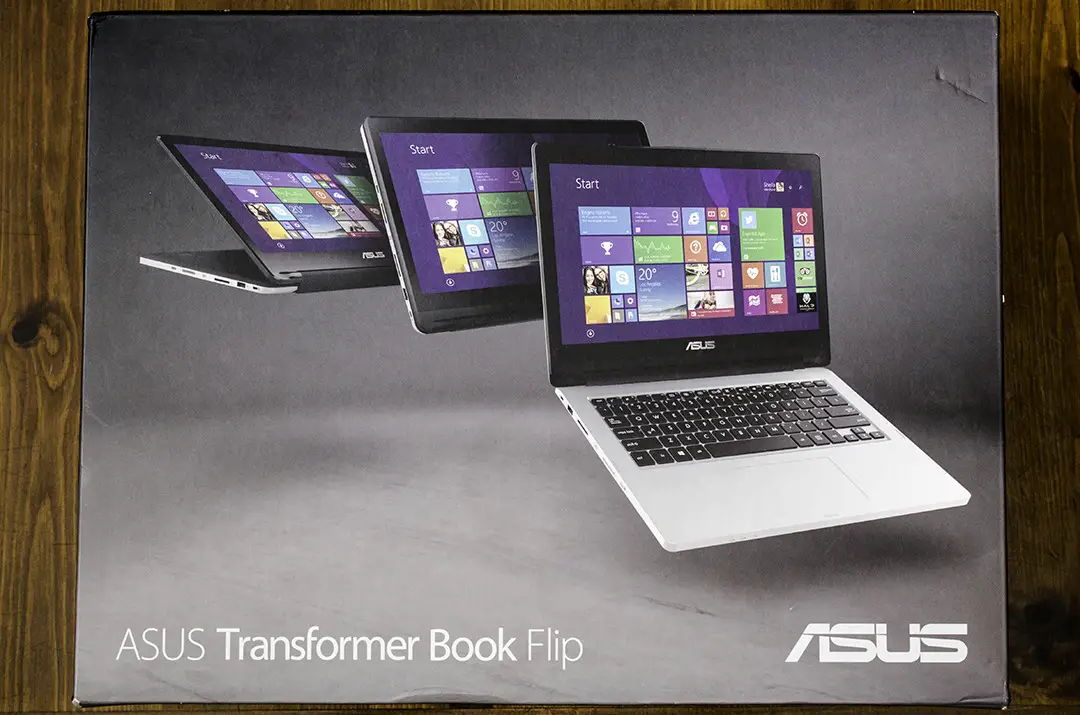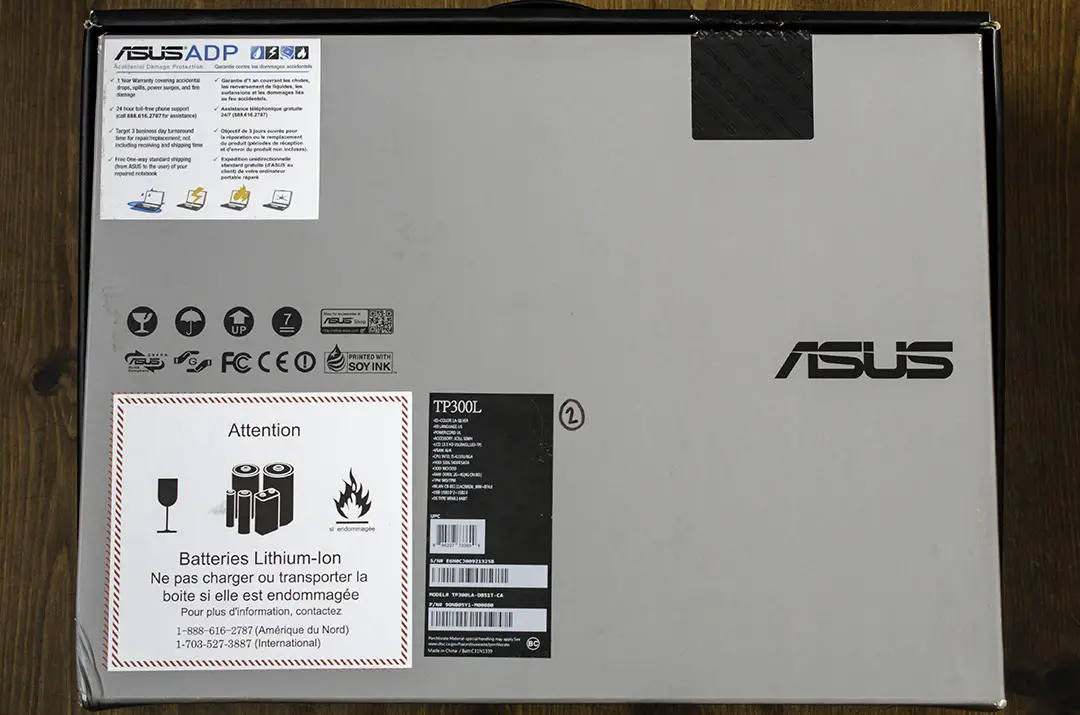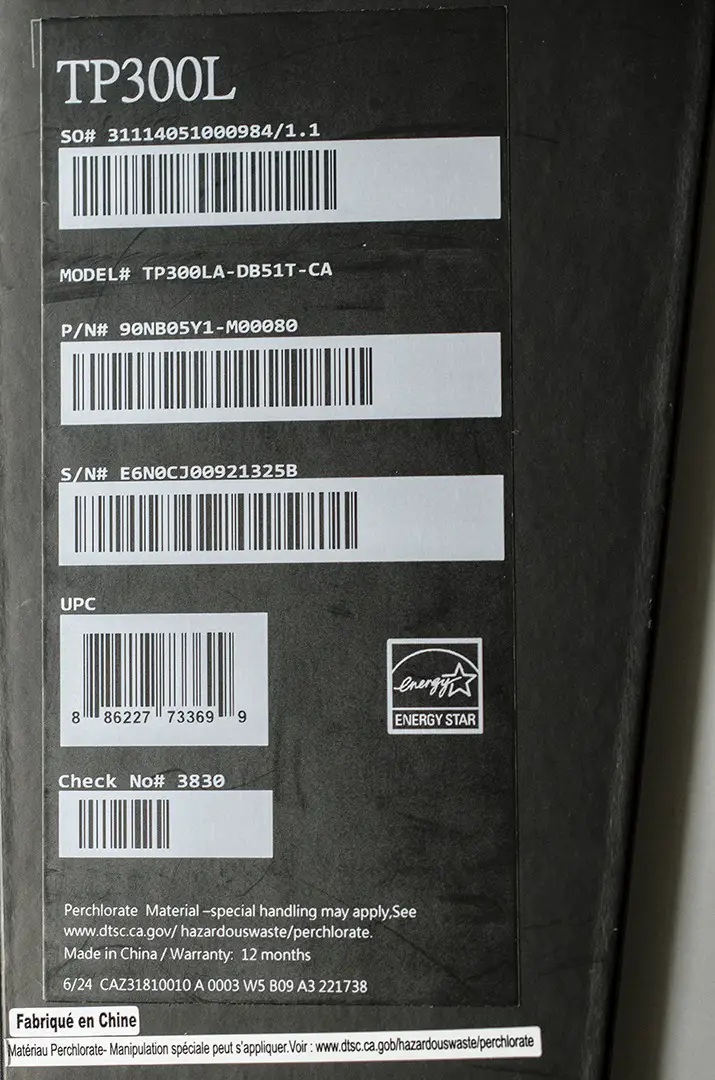 Asus has followed their typical box scheme once again, with a simple product picture alongside with the model name. Simple, but very effective for someone who might see it on a store shelf. The back of the box has a sticker outlining the Transformer Book Flip's one year warranty. The great thing is that the TP300LA falls under Asus' Accidental Damage Plan (ADP), meaning stuff like drops, liquid spills, power surges, and even fire damage, are not going to nullify your warranty. Both the back and one side have a black sticker that lists all of the important numbers, such as model number and serial number.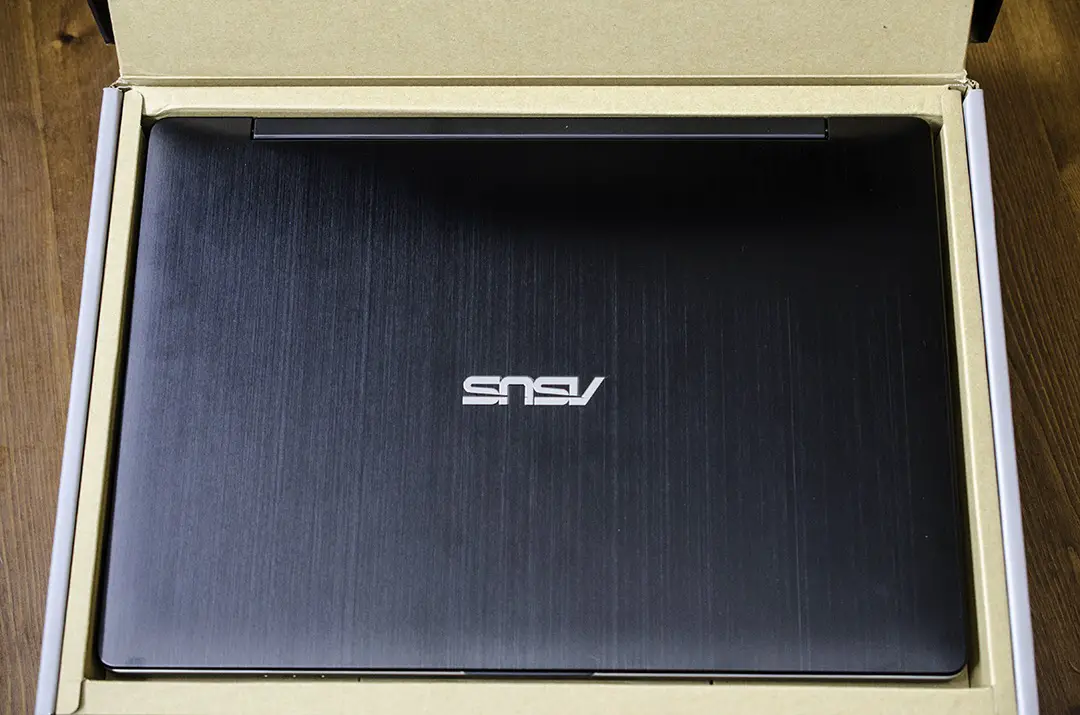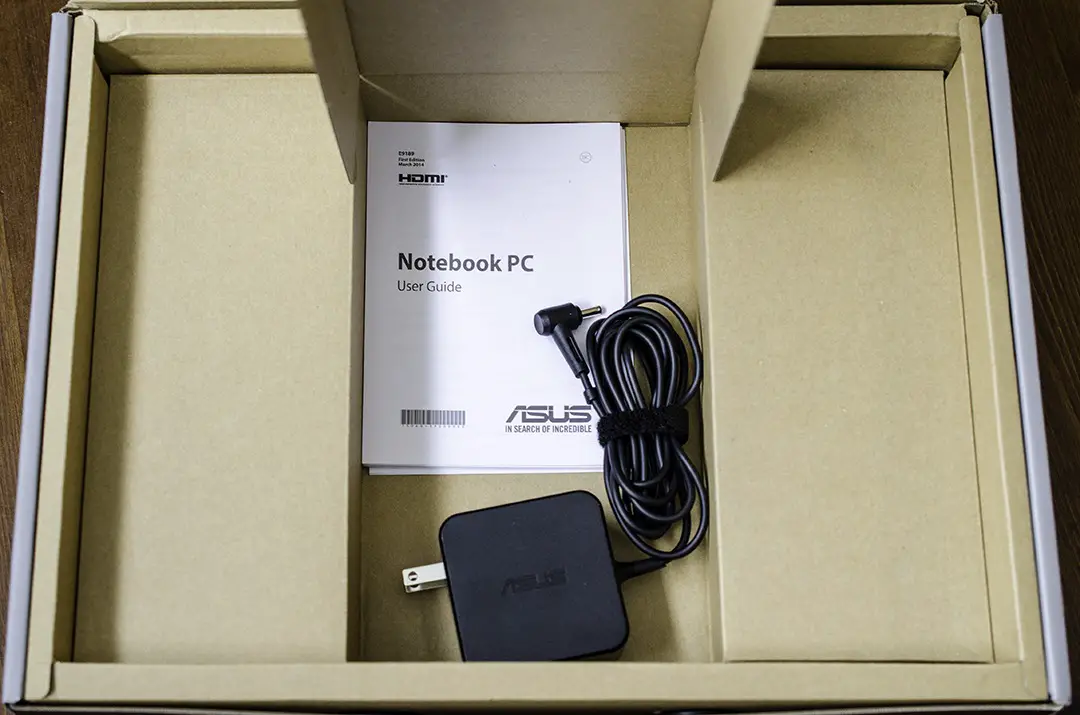 Opening the box we are greeted by the laptops beautifully brushed black metal lid and shiny silver Asus logo. Asus has gone with a full cardboard packaging that seems to hold the laptop in place well. Below the TP300LA is a compartment that houses the AC adapter, various warranty pamphlets, and…that's it. As usual Asus'  low prices are reflected in their lack of accessories.
On the topic of the AC adapter, the unit that came with the TP300LA is model AD883J20, outputting 19V at 2.37A.
Asus TP300LA – Closer Look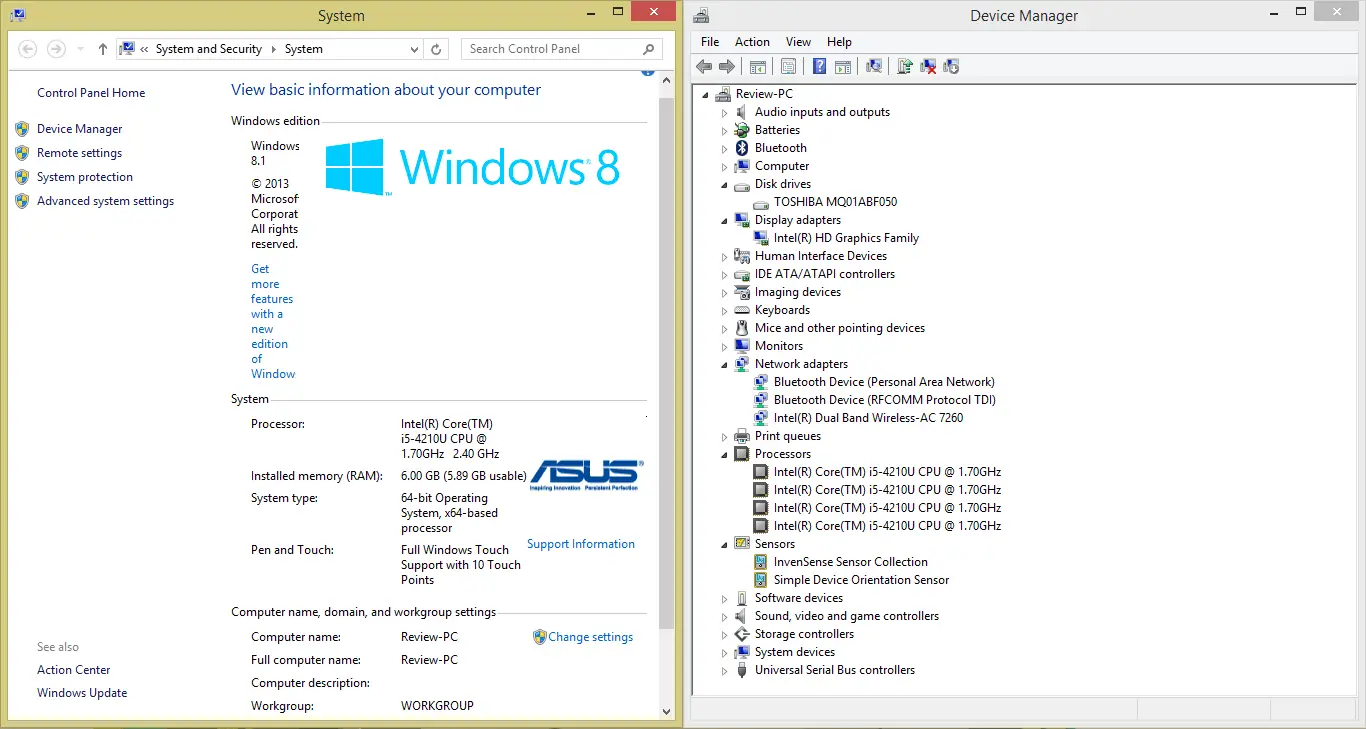 Asus has packed our TP300LA with an Intel Core i5-4210U processor. The other available options are the Core i3-4030U or Core i7-4510U, which gives you a choice to match any of your requirements. The 4210U has its two hyper-threaded cores clocked at 1.7 GHz, reaching a maximum of 2.7 GHz when Turbo Boost kicks in. With a maximum TDP of just 15W we should expect battery usage to stay at a minimum.
On the memory front our unit is packing 6GB of DDR3L 1600 MHz RAM. In the various configurations offered by Asus, you can get up to 12GB of RAM. Since DDR3L runs at a paltry 1.35V, that should also help with power usage.
Asus once again has given you piles of options to fit your storage needs. For our model in particular, we have a Toshiba MQ01ABF050 hard drive with a capacity of 500GB and spins at 5400RPM. Other options include a 750GB HDD at 5400RPM, 1TB HDD at 5400RPM, and a 128GB SSD. Asus has decided to partition the hard drive from the factory, with the "OS" partition at 186GB and the "Data" partition at 258GB. This is a great idea as you can do a full Windows 8 restore on only the OS partition while keeping the Data partition intact.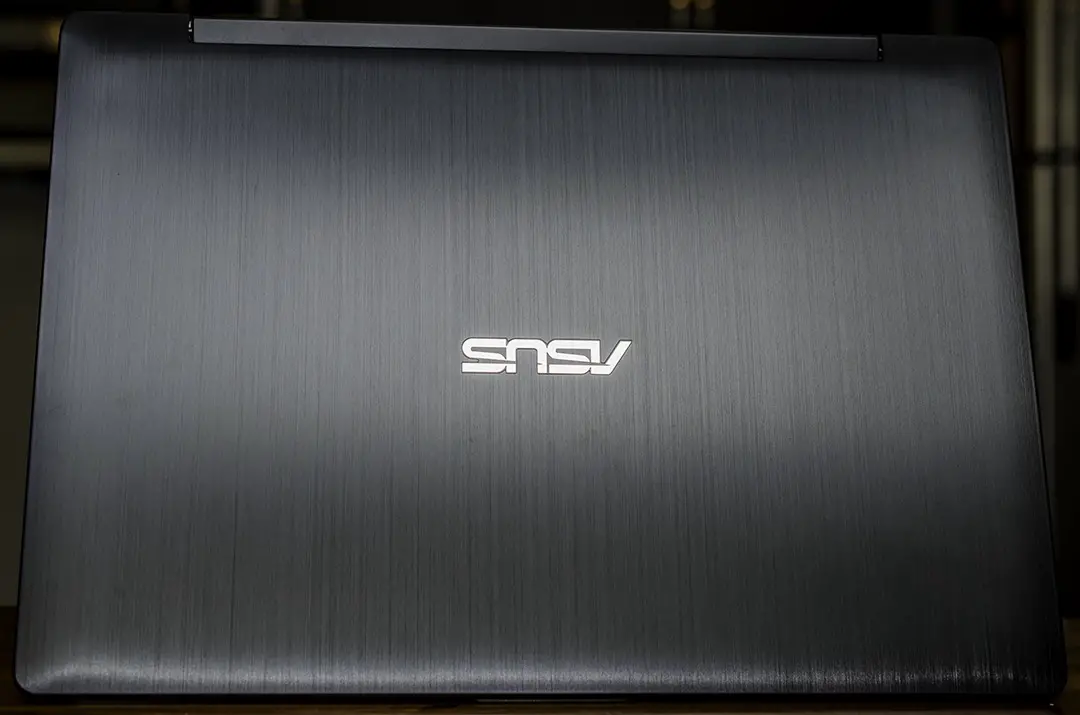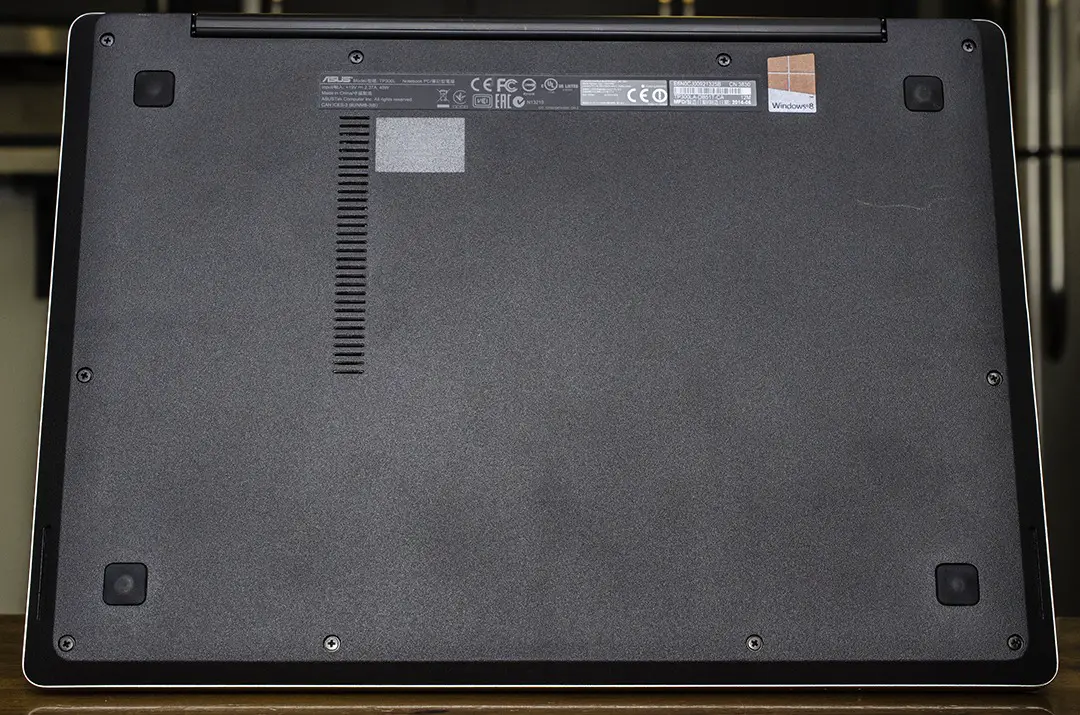 As mentioned earlier in the review, Asus has fitted the top lid of the TP300LA with a black brushed metal finish. Sunlight changes that a bit and gives it a much lighter look as seen here, but it can't hide the mind boggling amount of fingerprints that the lid collects. The bottom of the laptop also suffers a bit from fingerprint magnetism, but thankfully to a lesser degree. Asus decided to keep the bottom of the laptop plastic as opposed to the aluminum body that we'll see more of later. On the bottom you will find a row of intake holes, four rubber feet, and the two stereo speakers facing outwards on the angled edges.






Moving along to the edges of the TP300LA, we see that Asus has provided quite a few ports to cover most everybody's needs. Starting on the left, we have a Kensington lock hole, a USB 2.0 port, SD card reader, Windows button, volume up and down, and power. The Windows button is a nice touch and especially useful when you're running the TP300LA in tablet mode. Moving onto the right side you get a combination headphone/microphone port, two USB 3.0 ports, HDMI 1.4 port, and DC in. The front sports three status LEDs, while the back is reserved solely for the 360 degree hinge.
The main disappointment here is that Asus has left out Ethernet completely. Not only is there no integrated port, there isn't a USB adapter included in the box. Granted they aren't very expensive to buy, but I feel Asus could have included one to cover all of their users bases.
Asus TP300LA – Keyboard and Trackpad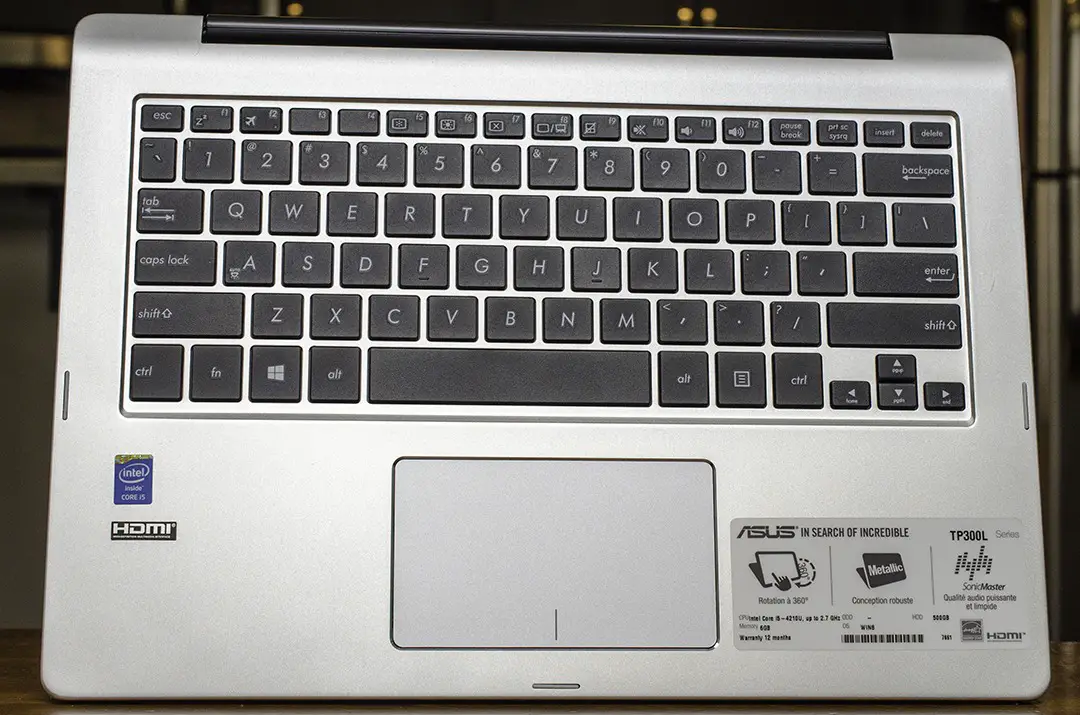 The TP300LA serves up a chiclet style, ten-keyless, non-backlit keyboard housed in an aluminum body. The keyboard has a wonderful overall feel to it due to the great travel time and well spaced keys. The keys themselves feel a bit plasticky but they are solid and do not wobble.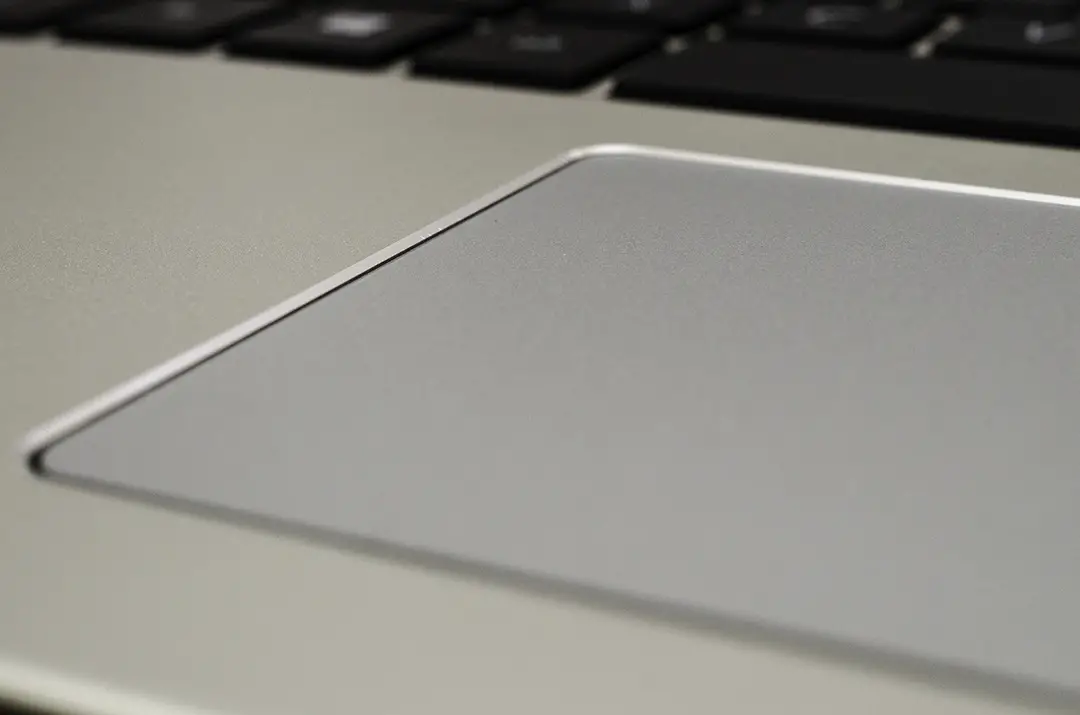 The trackpad is also quite nice for a laptop in this price range. The aluminum around the trackpad has been beveled and creates a near seamless edge. The trackpad is centered and spaced perfectly from the keyboard, meaning you're pretty safe from having your palm touching accidentally. Tracking is accurate and recognizes gestures almost every time. The only negative thing I can say about it is that trying to physically click anywhere other than the bottom area is quite difficult and usually ends up with the cursor somewhere other than where you left it.
Asus TP300LA – Screen and Heat
Depending on the TP300 model you choose, you will have either an HD (1366×768) TN panel or an FHD (1920×1080) IPS panel. In our review model, the DB51T-CA, we have the former. Both options run alongside a 10 point touch panel that we'll touch on shortly.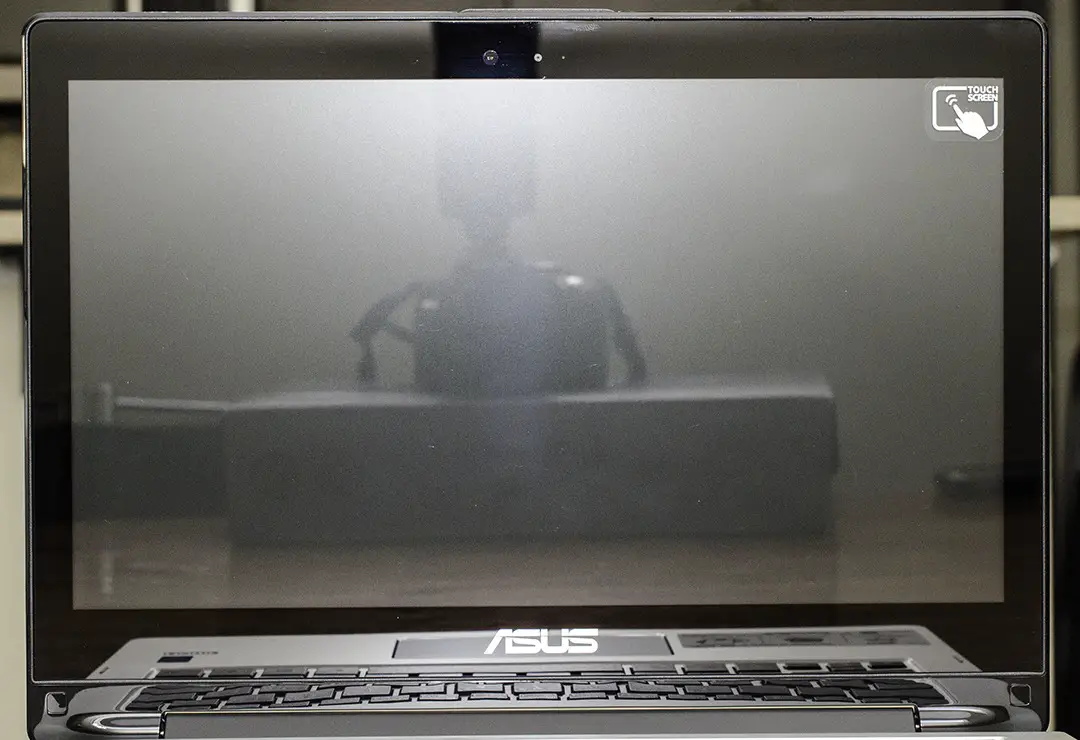 As you can quite obviously see in this picture, Asus has gone with a very glossy screen for the TP300LA. For a TN panel, it outputs a very vibrant and colourful picture. Vertical FOV is abysmal as expected, but horizontal is quite good at about 170 degrees before discolouration sets in. In direct sunlight it can be quite difficult to see anything, but the adaptive brightness does work well to help fight that as best as possible.
As you would expect with this level of glossiness, fingerprints are a huge issue.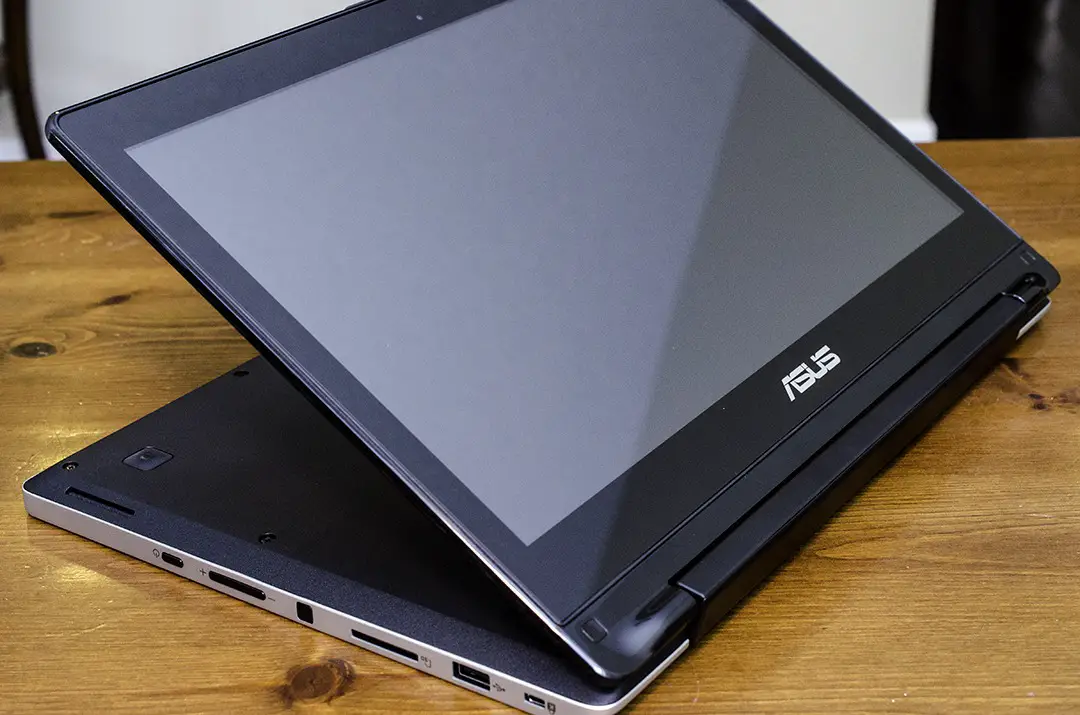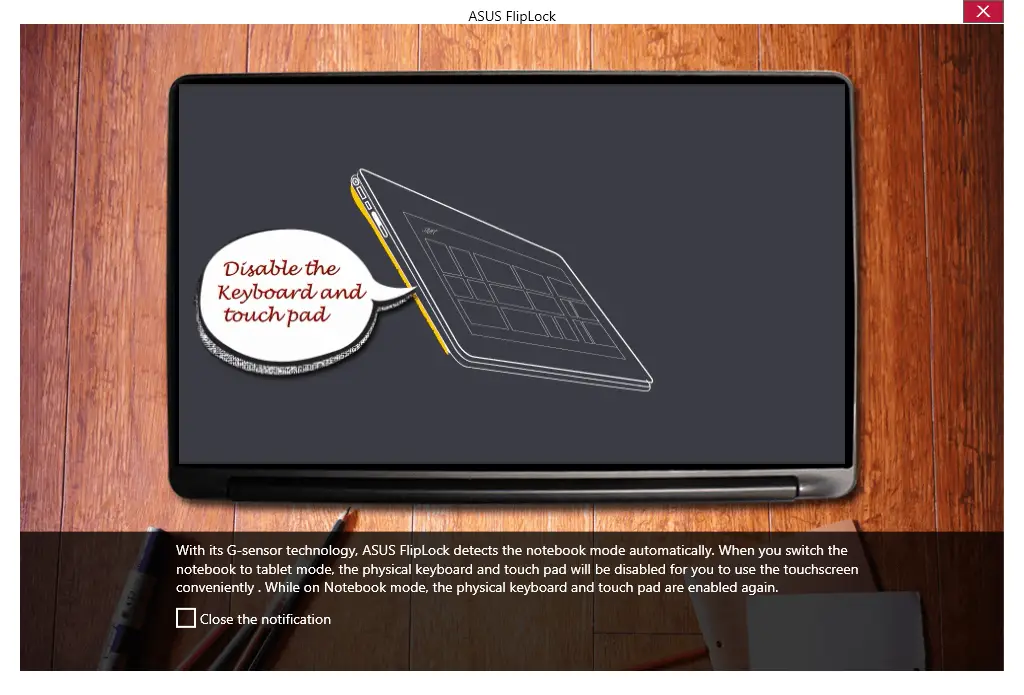 Here we finally touch on the main selling point of this laptop. Asus has built the laptop on a large hinge that rotates a whole 360 degrees. You can use the laptop in a traditional orientation, angled with the keyboard down to have a tablet-like experience without having to hold it, or even folded all the way around the back for the full tablet mode. The hinge itself is nothing short of amazing as it manages to hold the screen steadily at any angle.
I know when I first saw this unit my mind had started wondering, "How does the tablet mode work when my hands are going to inadvertently be pressing keys on the keyboard?" Asus of course thought of that beforehand and has included a piece of software that they call "FlipLock". Automatically, the trackpad and keyboard are disabled when the built-in accelerometer notices the change in orientation. I'm happy to say it does work as intended, although it's cumbersome having a nearly 4 pound tablet with a keyboard facing outwards.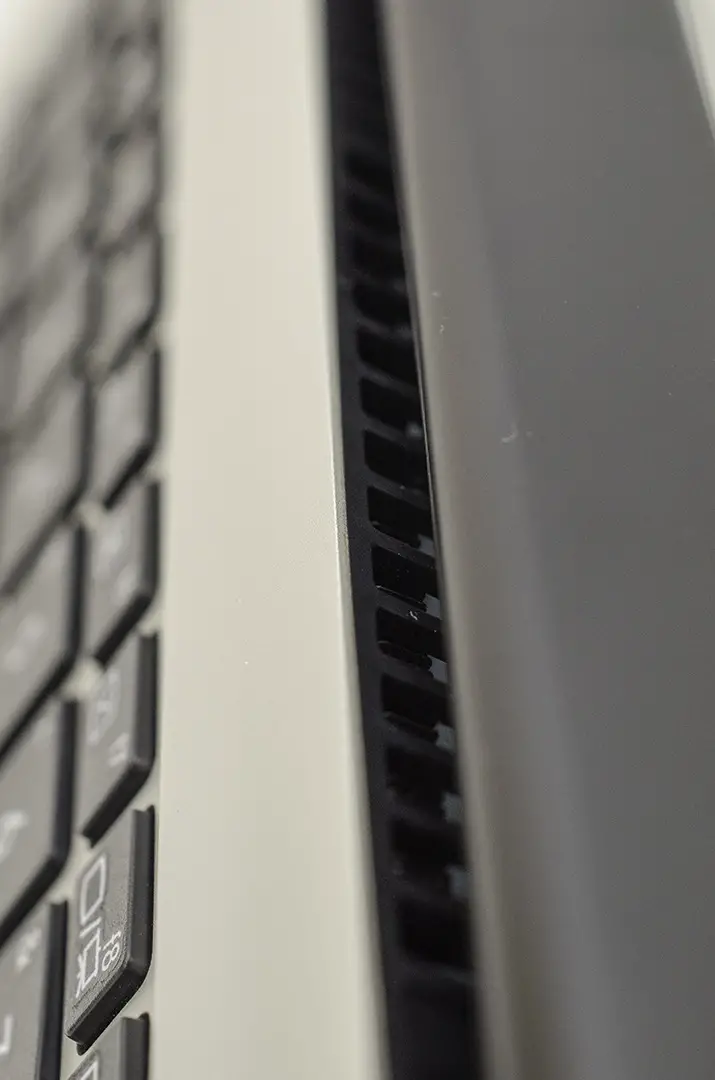 The reason I added heat to this section is because Asus decided they would exhaust hot air right at the hinge. I can't see why they chose this route with so much empty real estate on the sides of the laptop, but it doesn't seem to matter much as the TP300LA keeps cool with the lack of a dedicated GPU. I would be worried with the TP300LD model however as there would probably be a lot more heat dumping out of those vents.
Asus TP300LA – Software
[gallery columns="2″ ids="3375,3376″
[gallery ids="3377,3378,3379″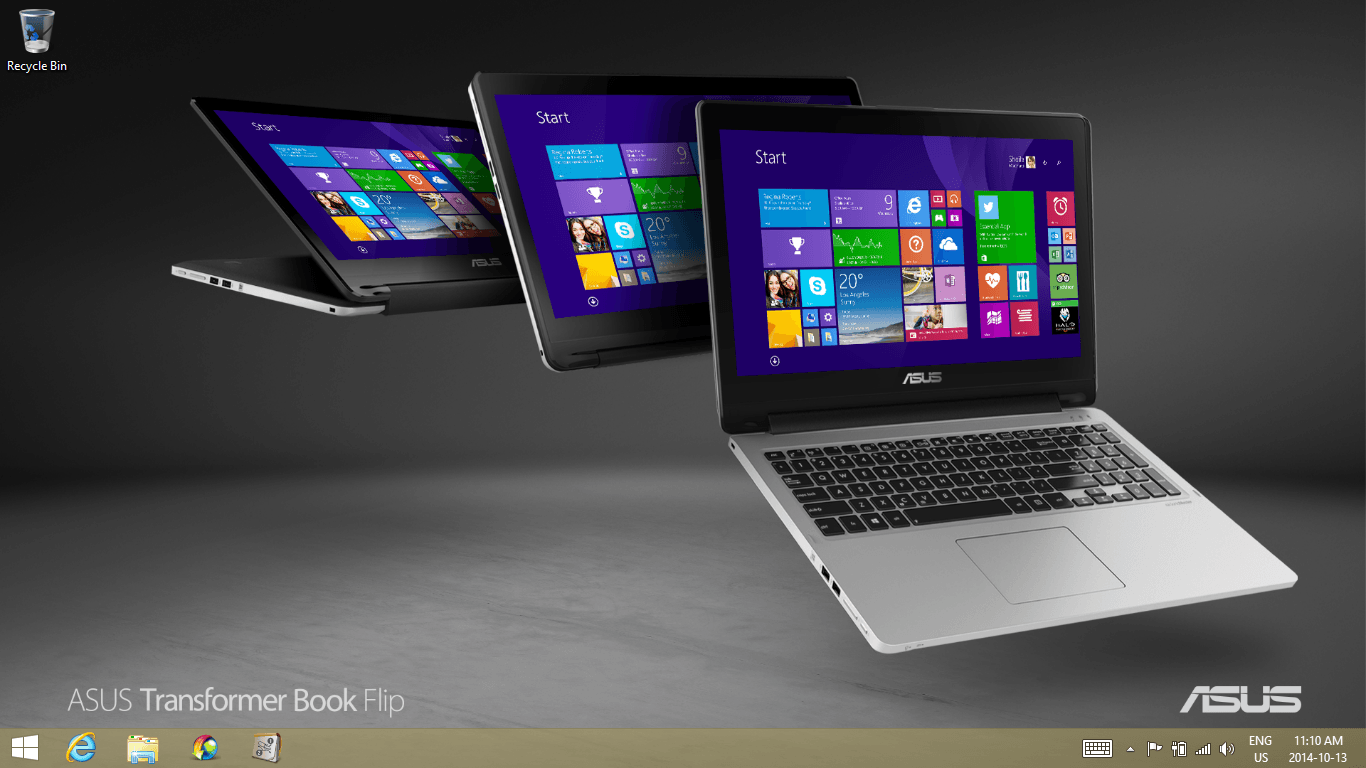 The TP300LA is loaded with a 64-bit version of Windows 8.1, and Asus thankfully has kept from dropping a bunch of junk software into the laptop. At an average 34 seconds for a cold boot from a 5400RPM HDD, it shows just how little you have loading at the start. There are a few Asus apps included but they are all useful in one way or another. We'll go over some apps quickly to see what you can expect to see when you load the TP300LA up for the first time.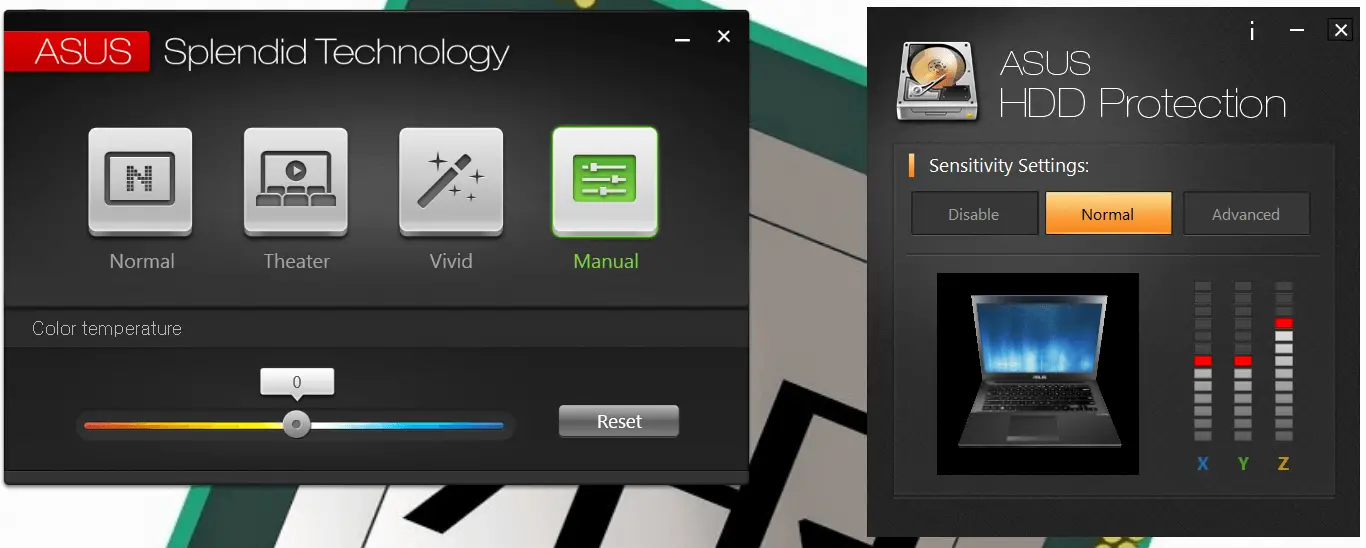 Asus Splendid Technology is a simple program to managed screen colour temperature. You have three presets and a manual slider to cover whatever temperature you prefer. Vivid is the default setting.
Asus HDD Protection is an application that's always running in the background. It watches for rapid changes in the X/Y/Z axis and temporarily stops HDD rotation to prevent damage during a fall. With the program window open you can watch the sensors work in real time. The software works very well and never failed to activate when I would simulate a fall.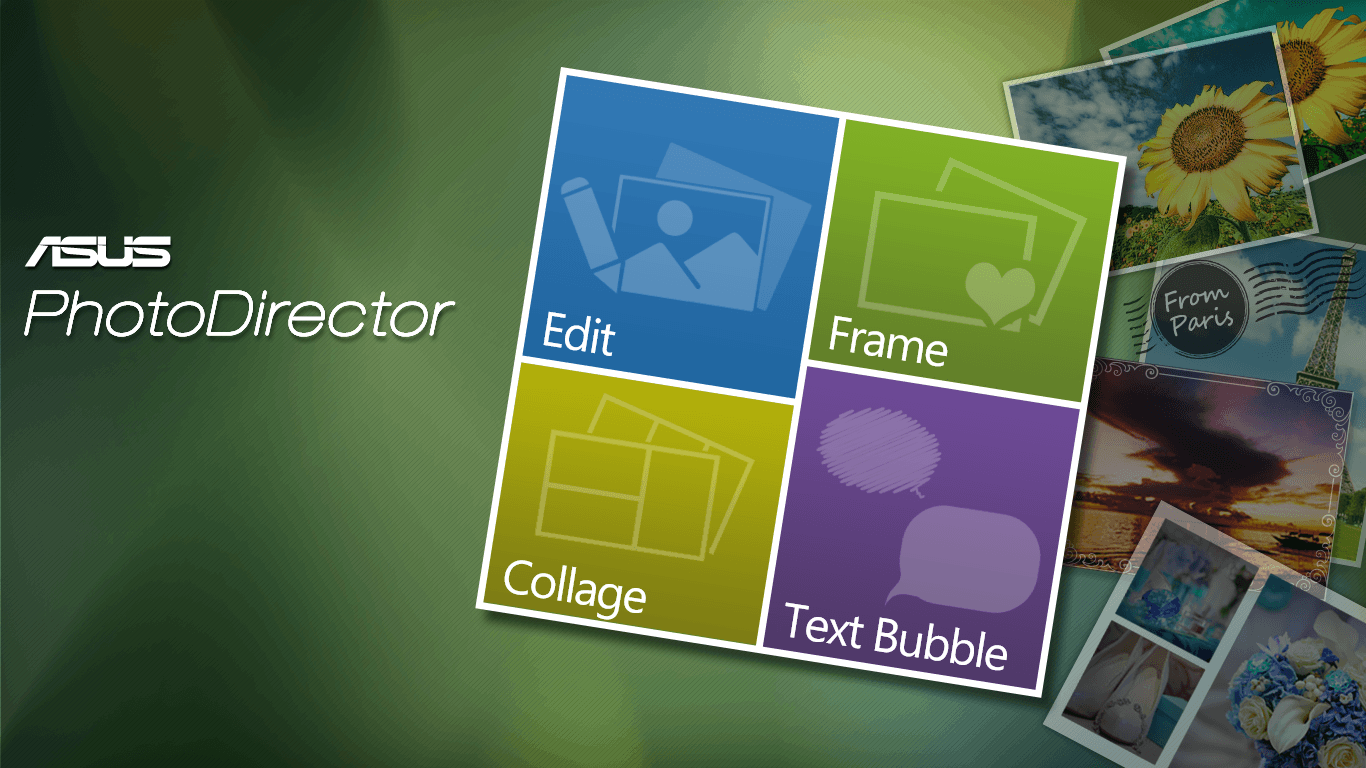 Asus PhotoDirector is a small app that lets you do minor photo editing. Stuff like cropping, rotation, and basic colour adjustment. You can also apply effects to pictures, such as black and white and HDR. While it's far from a professional app it will serve most basic users needs for stuff they want to throw onto Facebook and the likes.


Asus PowerDirector is similar to PhotoDirector in that it's a basic app meant to edit personal videos. Think of it like a fancy looking Microsoft Movie Maker. You can add intros, background music, trim video lengths, and then save the video or post it straight to Facebook or Youtube.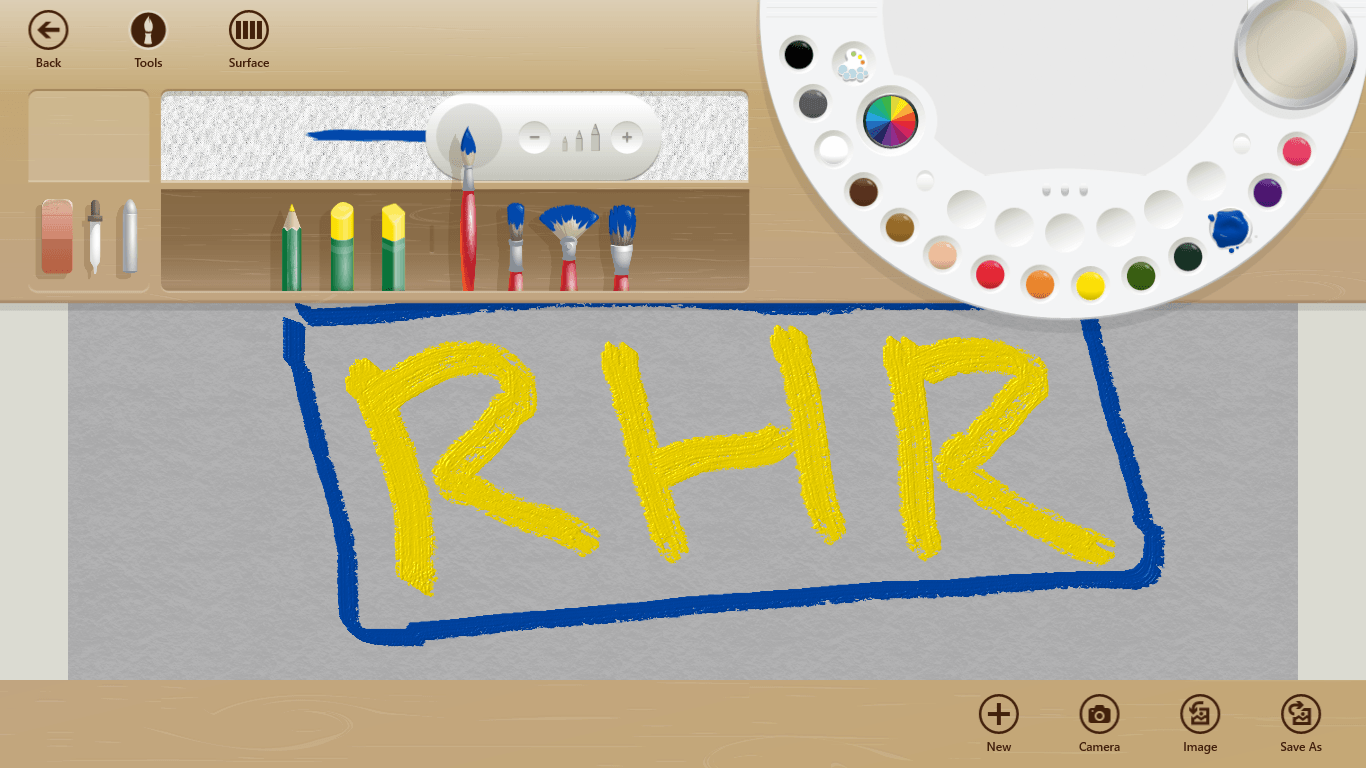 FreshPaint is a fun app that lets you doodle using the laptops touch screen and trackpad. A great way to let kids (and maybe adults like myself) draw stuff without having the need to clean crayon off of the walls after you turn around.
Asus TP300LA – Performance
One of the main deciding factors for laptop purchases is battery life. Asus has dropped quite a few low voltage components into the TP300LA to keep power usage down. Turning adaptive brightness off and locking it at 50% brightness, I managed to squeeze just under 5.5 hours of straight local 1080p video streaming before the laptop shut itself off. With adaptive brightness enabled and mixing in some lighter use, I'm sure over 6 hours would be completely reasonable to expect.
For a synthetic benchmark we turn to PCMark 8 Advanced Edition, version 3.0. Scoring 2377 in the Home Convention test and 2115 in the Creative Conventional test, the TP300LA sits just about where you'd expect a laptop at this price point. You can see in the graphs that the CPU stayed clocked around 2.7GHz during most tests and stayed pretty cool during those full loads. Keep in mind that these are "U" suffixed processors so they don't dump much heat to begin with. While the processor clocks high during heavy loads, it can't make up for the lack of dedicated GPU. The HD4400 simply cannot handle most recent games, so you will have to stick to moving up to the TP300LD model for a chance at that.
Asus TP300LA – Conclusion
Asus put a lot of thought into the TP300LA in order to cover as many bases as they possibly could. With our model currently sitting at a price of $800 CAN at most major retailers or $649 USD at the Microsoft Store, you get great bang for your buck when it comes to pure specifications. Build construction is spectacular across the board with the metal lid, aluminum body, and sturdy keyboard. Asus' choice of screen leads to a wonderfully colourful TN panel with great horizontal viewing angles, but the glossiness drastically hinders usage in bright lighting conditions.
Asus has kept their products free of loads of bloatware and junk. A few in-house pieces of software offer a little extra multimedia functionality, while the Asus HDD Protection is a wonderful addition that could save your precious data if your laptop happens to take a tumble.
Overall the TP300LA covers its laptop role well. When moving to the dedicated tablet format, the weight and holding onto the keyboard is a bit awkward. If you can overlook that, the touch functionality is accurate, responsive, and just overall works well.
Packaging & Accessories – 3/5
Functionality & Aesthetics – 3.5/5
Build Quality & Warranty – 4.5/5
Performance – 3.5/5
Value – 4.5/5
Summary: Well built and equipped, the TP300LA has great overall value. Some physical aspects leave more to be desired. Many model options leave you with the choice of a higher performing laptop in the form of SSDs and/or dedicated GPUs.