Last updated on December 1, 2023 6:22 pm
TAIPEI, Taiwan, September 2, 2020 — ASUS today announced three new NVIDIA® GeForce RTX™ GPUs, including ROG Strix and ASUS TUF Gaming GeForce RTX 3090, GeForce RTX 3080, ROG Strix and ASUS Dual GeForce RTX 3070 models.
The second generation of RTX is here. The GeForce RTX 3070, RTX 3080, and RTX 3090 herald a new era of performance and fidelity for PC gamers. To unleash all the performance these new GPUs have to offer, ASUS engineers have been hard at work developing brand-new GeForce RTX 30-series graphics cards from the ground up, and we're ready to share all the details with you.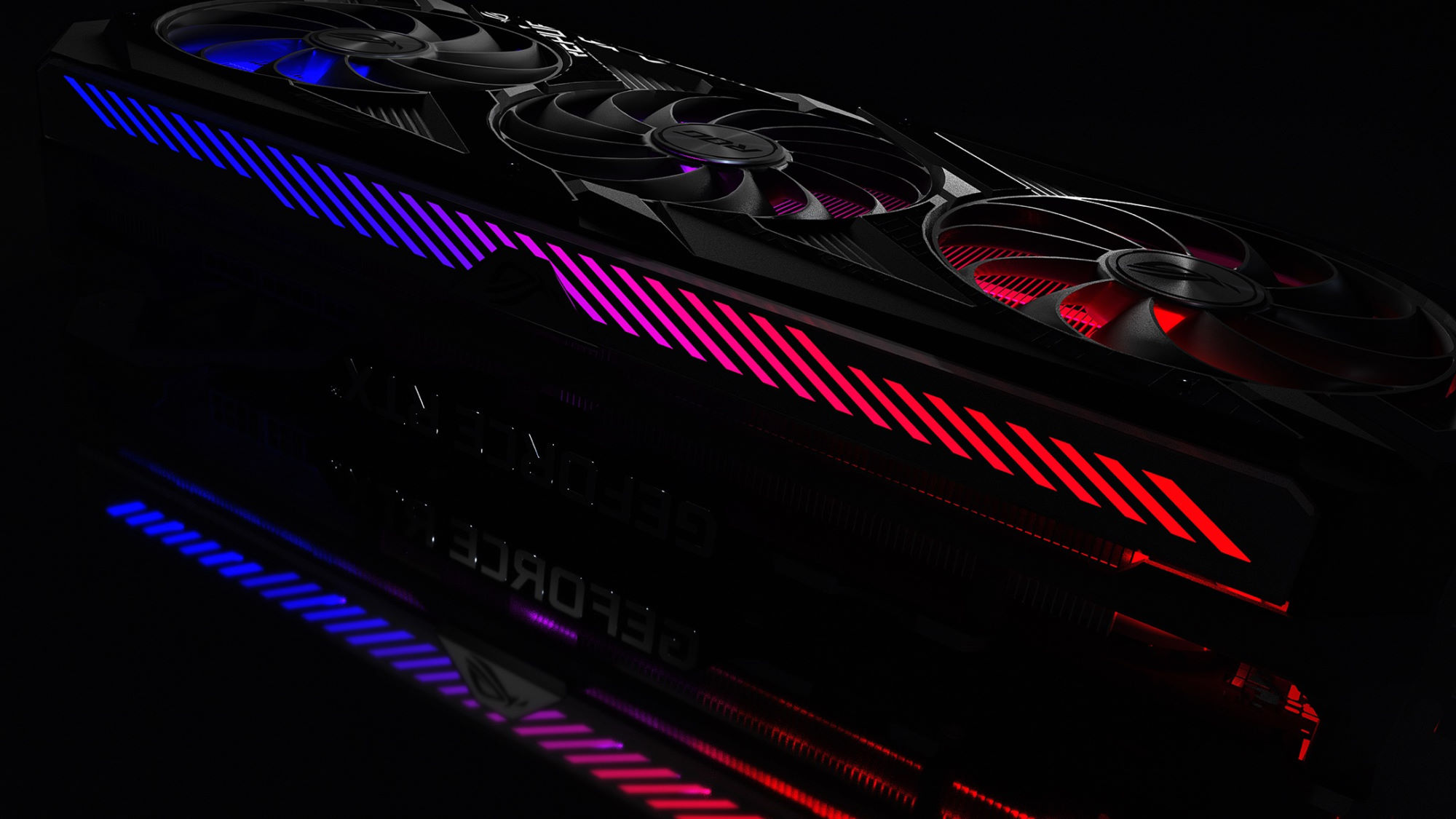 It's worth taking a moment to savor this milestone in GPU history. All three GeForce RTX 30-series cards are powered by the new NVIDIA Ampere architecture, which delivers up to a 1.9X improvement in performance-per-watt compared to its predecessor. In fact, the GeForce RTX 30-series can lay claim to the greatest generational leap in performance in NVIDIA's history. That's thanks to across-the-board improvements in CUDA, RT, and Tensor cores, as well as brand-new GDDR6X memory in the GeForce RTX 3090 and RTX 3080 and a PCI Express 4.0 host interface on the entire lineup.
No matter which GeForce RTX 30-series GPU you're after, you'll find that our engineers have buffed up the cooling, power, and style of our graphics cards to deliver all the performance on tap from these chips. We've built out multiple families of new cards, each tuned to the needs of different builders. The ROG Strix series, completely reimagined for this generation, offers our best combination of performance, quiet operation, and style yet. TUF Gaming cards return with a hard-edged new design and beefed-up features. And ASUS Dual and Turbo cards will soon bring the next generation of gaming graphics to more specialized builds. Let's take a look at each of these new cards in turn.
Redesigning an icon
The arrival of the GeForce RTX 30-series GPU lineup marks the first full rethink of the iconic ROG Strix cooler in over four years. You'll find more of everything in our new design: more airflow, more heatsink surface area, and more style. A bold new look, including a full-length addressable RGB LED array on the left edge, makes these ROG Strix cards our most distinctive yet. But beauty needs to be more than skin-deep. We constantly iterate and improve our designs to deliver better products, and everything we've learned from that work has been infused into the DNA of this generation of ROG Strix.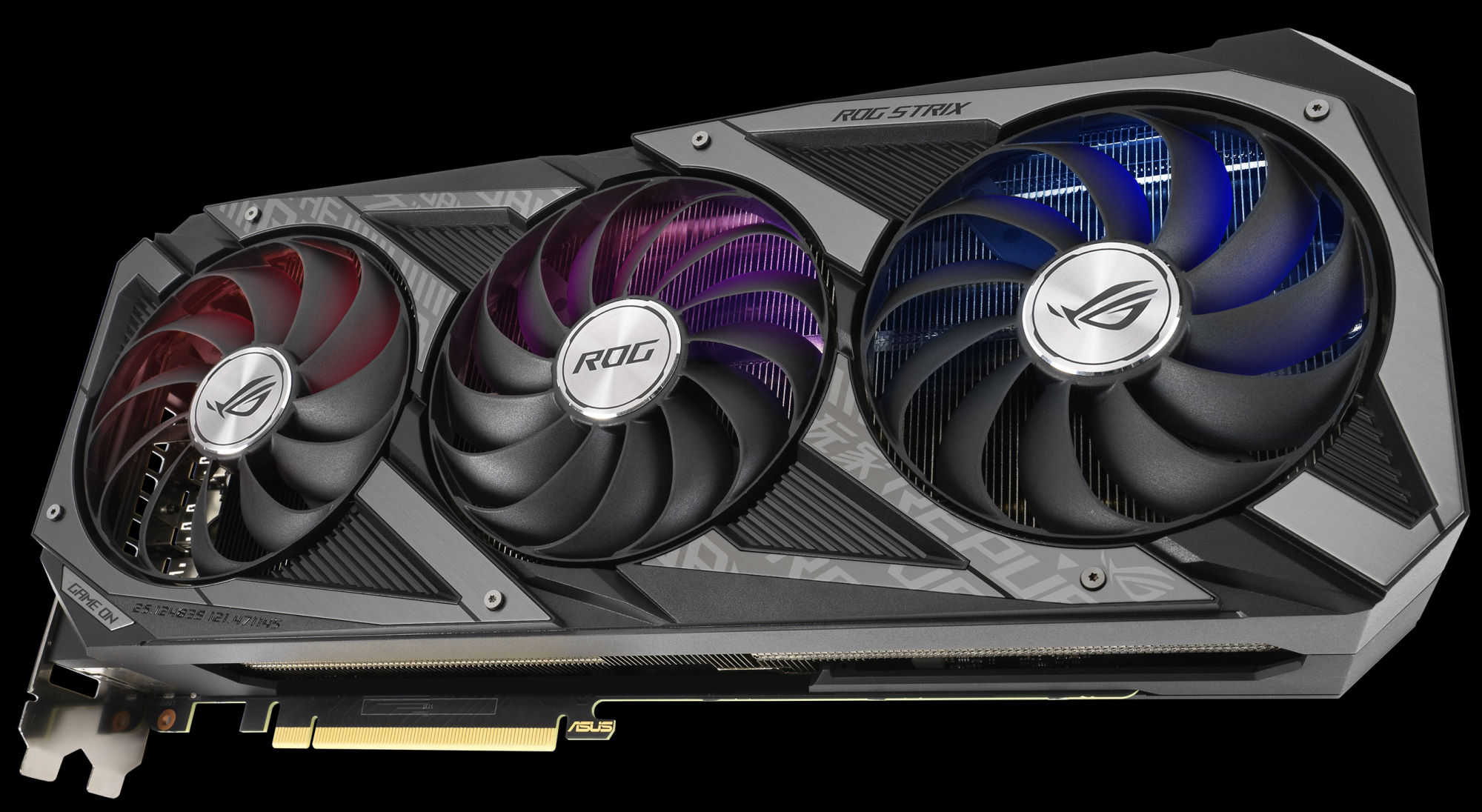 To ensure that enthusiasts get the most out of ROG Strix GeForce RTX 3070, RTX 3080, and RTX 3090 GPUs, our engineers and designers grabbed a clean sheet of paper and imagined how every component could work together to deliver the best possible performance and power delivery alongside the lowest temperatures and noise. From new fans to a custom-designed GPU retaining bracket, no element of the card went untouched in our pursuit of performance.
A new class of chill
The next-generation ROG Strix cooling approach starts with the fans. Our exclusive Axial-tech fan design made its debut on the Turing family of ROG Strix graphics cards. Smaller hubs, highly swept blades, and barrier rings at the edges of the rotor delivered increased airflow with every revolution, all without raising noise levels. We refined this design for the GeForce RTX 30 series by carefully studying the airflow characteristics of past coolers and tuning our fans to ensure that each part of the heatsink receives the right amount of airflow for maximum performance.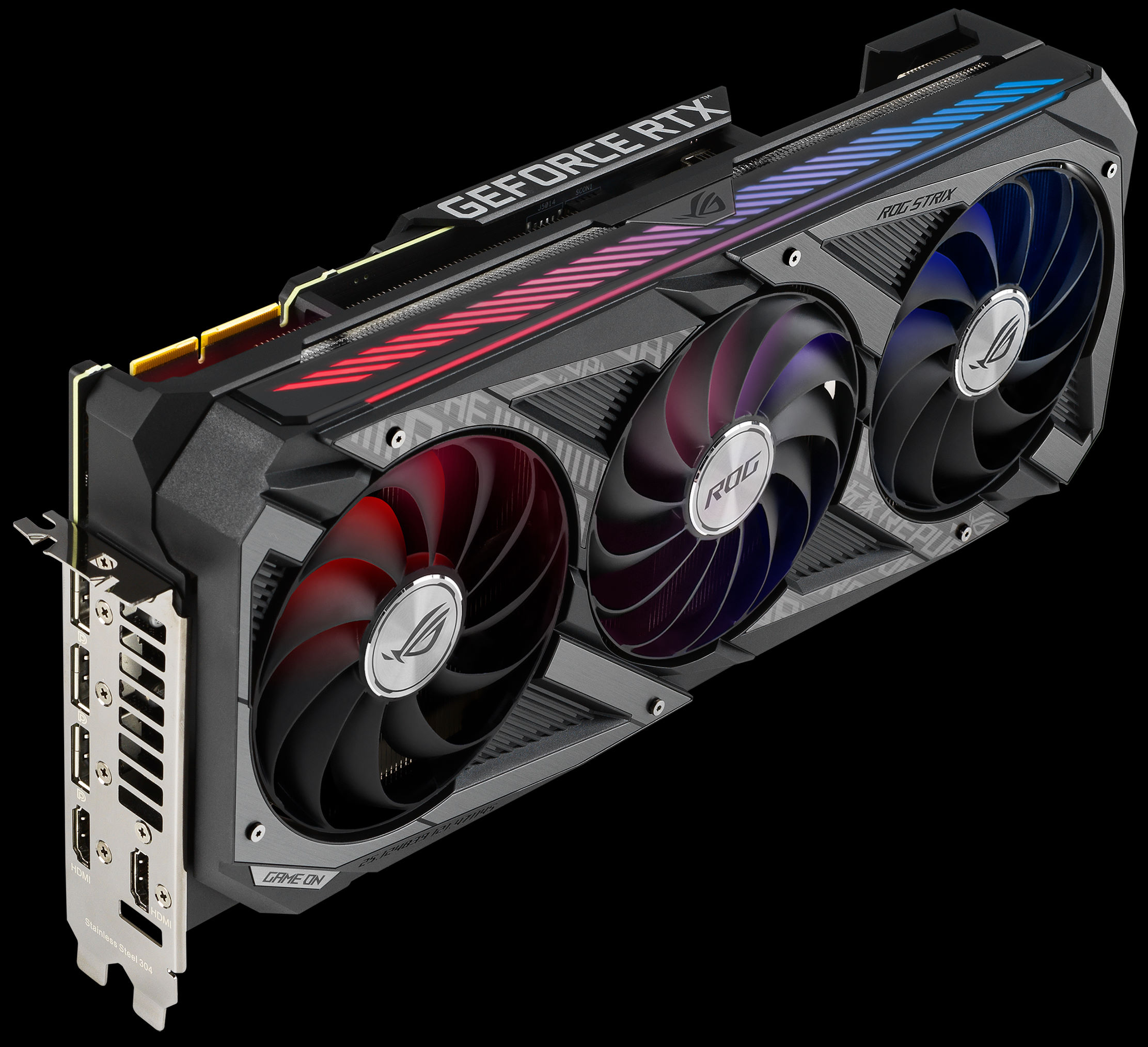 The new outer fans on the ROG Strix cooler use notched barrier rings to minimize any interference with air intake in the central region of the card, while the center fan uses a solid barrier ring to deliver maximum airflow and static pressure over the hottest part of the GPU heatsink. The fans also spin in counter-rotating directions—outer fans counter-clockwise, center fan clockwise—to further manage undesirable airflow behavior at the intake side of the cooler. Finally, we added more blades to each fan—11 for the outer fans and 13 for the central unit, up from nine on the previous generation—to increase their air-moving potential. Taken together, these changes handily increase both the static pressure and cubic feet per minute of airflow available.
That increase in air movement is important, because the cooling array has to tackle a higher thermal load while maintaining the low noise levels that enthusiasts demand. To achieve that balance, we've expanded the heatsink's height to 2.9 slots, up from 2.7 slots in the previous generation. The large fin stack wicks heat away from the GPU with the help of several heat pipes and our high-surface-area MaxContact base plate design. A custom retention bracket at the back of the PCB increases mounting pressure and ensures even distribution of that pressure, maximizing transfer of heat from the GPU into the heatsink above.
When we set out to design the custom ROG Strix PCB for this generation, we maximized the density of components near the GPU itself, reducing the overall length of the circuit board. That approach is essential to the card's thermal design. The shorter PCB allows us to expose a portion of the fin stack through a cut-out in the backplate. That opening gives hot air another place to escape from the heatsink, further increasing the effectiveness of the cooler and channeling more hot air into the exhaust airflow path of the host system.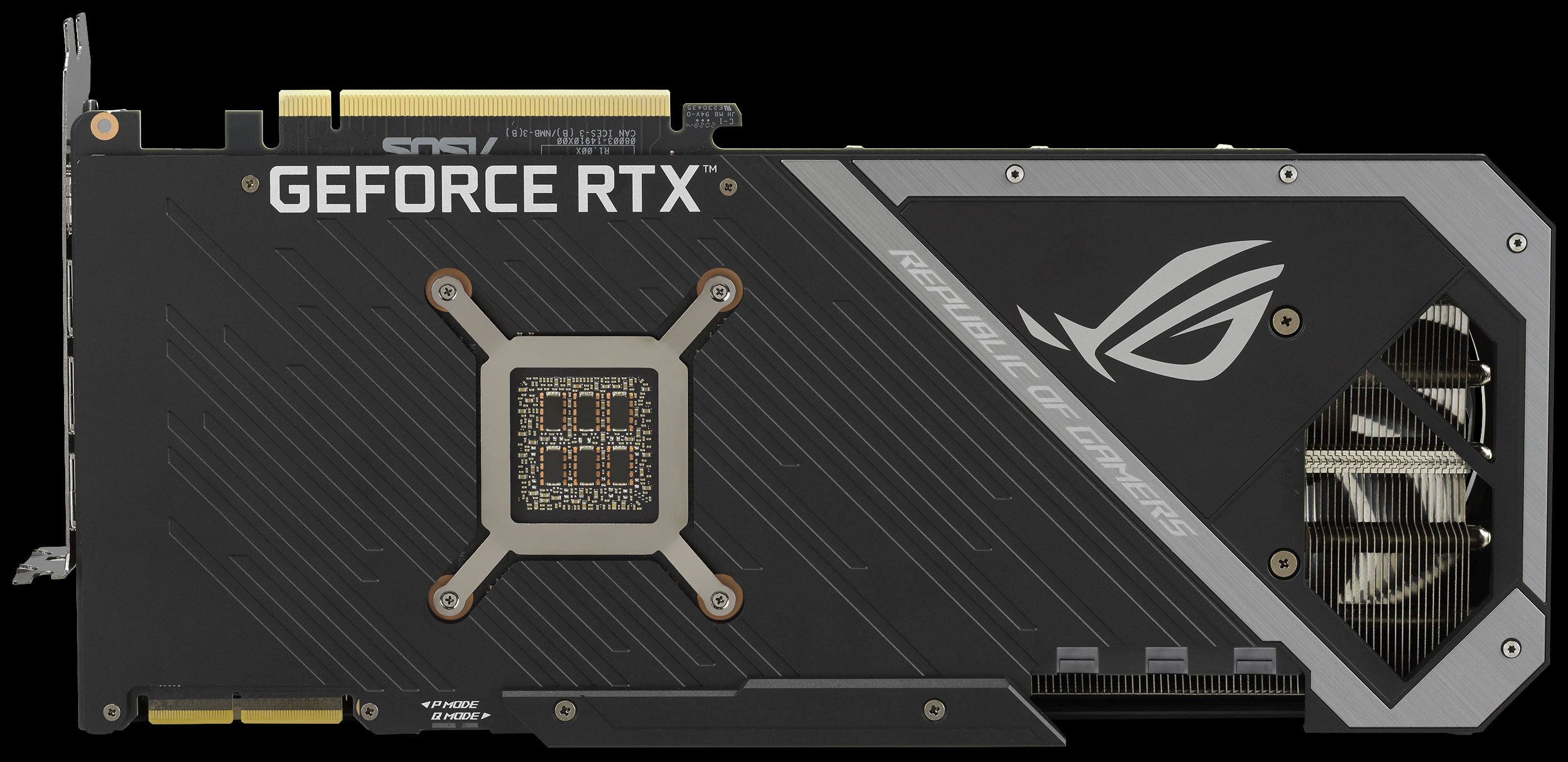 Even the backplate has a role to play in this integrated cooling approach. The highest-end GeForce RTX 30-series cards include GDDR6X memory ICs on the back side of the PCB, and those chips need to stay cool, too. On applicable models, we couple the memory to the massive backplate with thermal pads. In tandem with the passive cooling capabilities of the backplate, the active airflow through the aforementioned cut-out helps keep these back-mounted components happy.
Other evergreen cooling features from past ROG Strix cards make a return for the RTX 30-series. Two FanConnect II headers allow you to connect case fans to the graphics card to increase airflow specifically when the GPU is under load (or to expand the number of fans that can respond to shifts in CPU temperature). A dual-mode BIOS switch offers a choice between the highest cooling performance and clocks, or a 0dB mode for silent running at idle and light loads.
Power to win
As part of the formula for delivering their massive generation-on-generation performance improvements, GeForce RTX 30-series cards draw more power than their predecessors, especially at the top of the range. Many enthusiasts might think about power delivery in terms of VRM phases and cooling, but we began our engineering journey at the point of entry to the graphics card itself. Some GeForce RTX 30-series cards may satisfy their power requirements by drawing from PCI Express auxiliary connectors and the 75W of power available from the PCI Express slot. This approach is perfectly within spec, but it may create additional power-delivery and thermal demands that some motherboards might not be built for.

To maximize overclocking headroom and system stability for every PC build, we opted to use three eight-pin PCIe auxiliary connectors on the custom ROG Strix PCB. This approach means that the card will satisfy all of its power needs by drawing directly from the PSU, reducing demands from the ATX12V and auxiliary power connectors on the motherboard. Modern high-wattage PSUs have plenty of eight-pin PCI connectors to spare, and their active cooling ensures clean, stable power across a wide range of operating conditions.
To get the most out of GeForce RTX 30-series cards, including ROG Strix models, we recommend a power supply with 750W of capacity or more, depending on the specs of the rest of your system. Our ROG Strix and ROG Thor families of PSUs are already prepared to handle the demands of these cards thanks to their massive internal heatsinks, quiet fans with our Axial-tech design, and copious quantities of eight-pin PCIe connectors.
We take full advantage of our three-connector design by giving ROG Strix GeForce RTX 30-series cards up to 400W of total board power to play with. That figure provides Ampere GPUs with lots of additional headroom to achieve the best performance, both out of the box and overclocked. We deliver power using a massive custom VRM array comprising 22 power stages across all of the major voltage rails. Strong and efficient 70A power stages on the main rails ensure the cleanest and most reliable power delivery.
The raw number of watts that a graphics card can pull wasn't the only challenge our engineers had in mind when they designed our custom PCB. Modern GPU clock and power management is incredibly sophisticated. In under a second, graphics processors can shift from drawing next to no power to pulling hundreds of watts. These large transient loads are another reason that your system needs a high-quality power supply. Even the best PSUs experience component aging that can reduce performance over time, though, and anybody who has had to troubleshoot intermittent power issues with their PC will know how frustrating that process can be.
ROG Strix cards have long featured sensing circuitry and LEDs at the power connectors that will warn you if you don't have your PCIe power cables connected, quickly identifying a common missed step in the build process. We've upgraded this monitoring capability with sensitive circuits that detect when a PSU is unable to satisfy the GPU's power demands under high transient loads. After such an event, the LEDs above the power connectors will blink. Should you experience intermittent errors like black screens under heavy GPU load, this handy feature might save you hours of troubleshooting.
When you consider the new ROG Strix cards, we think you'll be impressed how each component was carefully designed to complement the whole. Altogether, this new design delivers the higher performance and flexibility demanding users expect without compromising on noise or style. It's the perfect choice for high-performance, high-end builds.
TUF Gaming gets buff for Ampere
We didn't stop at redesigning our ROG Strix family of graphics cards, of course. For DIYers looking for rock-solid reliability and impressive performance in more straightforward PC builds, our TUF Gaming family of GeForce RTX 30-series cards has gone back to basic training and emerged stronger, leaner, and sharper than ever.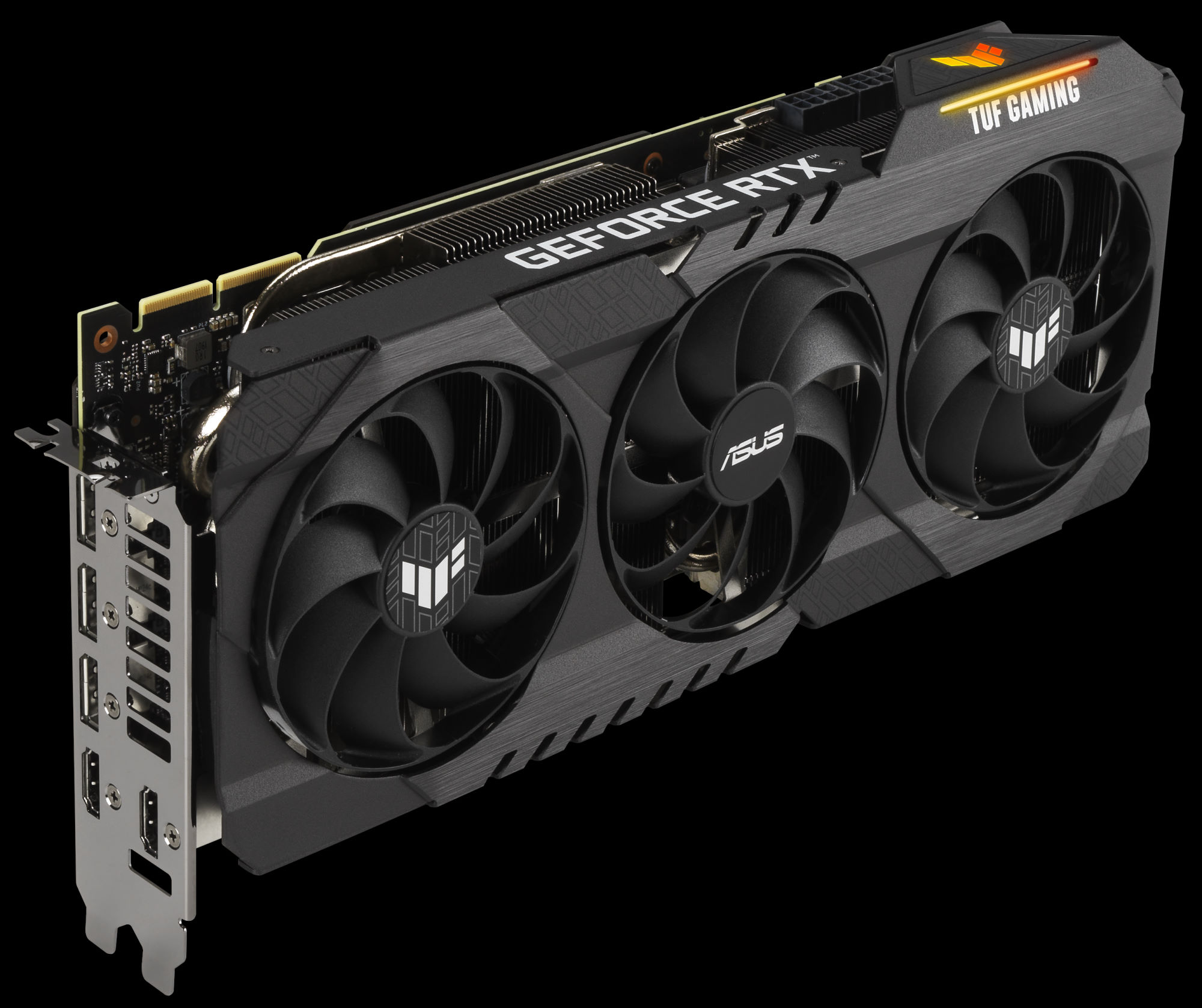 The new design starts with an angular, matte black metallic shroud with a rugged industrial design. It covers a massive 2.7-slot heatsink that's ready to keep GeForce RTX 3080 and GeForce RTX 3090 GPUs chilly under demanding loads.

A trio of tried-and-true fans, built with our nine-blade Axial-tech design, push plenty of air through the high-surface-area heatsink. Just like the new Strix cooler, the central fan rotates clockwise while the two on the flanks spin counter-clockwise to reduce turbulence. This proven design allows higher RPMs and more air movement through the heatsink without a corresponding increase in acoustic footprint. A dedicated memory heatsink keeps the massive complement of GDDR6X memory cool for reliably swift performance, and a 0dB fan-stop mode allows the card to maintain silent running under light loads or at idle. The full-length backplate shows off plenty of TUF Gaming graphics, and a large cut-out ahead of the PCB provides another route for hot air to exit the heatsink.
TUF Gaming GeForce RTX 30-series cards also feature plenty of enthusiast-friendly touches that will help level up the capabilities of your build. We've carried over the same handy transient-sensing power circuitry from new ROG Strix cards to keep you informed about whether your card's power needs are being met at a glance. Auto-Extreme assembly technology, used across our lineup, precisely places and solders components without human intervention to boost reliability and build quality. A 144-hour testing regime and extra-sturdy capacitors ensure out-of-the-box reliability and a long service life. And you'll be able to personalize your TUF Gaming card to match the rest of your system with Aura RGB LEDs, too.
More in store
For builders after stealthy style and plenty of performance, we've also spun up an ASUS Dual GeForce RTX 3070. This card uses a pair of fans with our high-end Axial-tech design to move plenty of air across its 2.7-slot heatsink.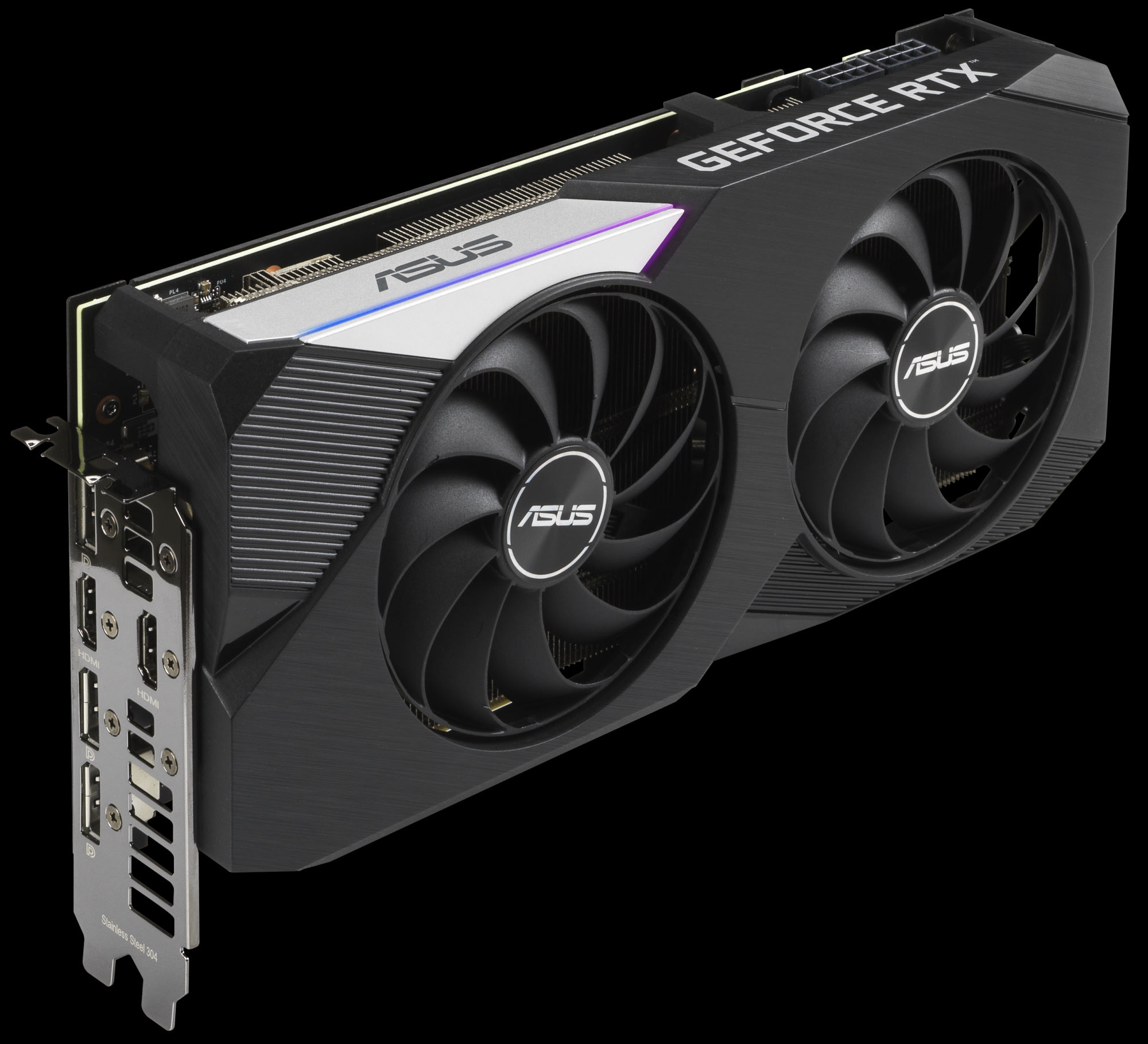 In keeping with its under-the-radar mission, a 0dB mode cuts the noise completely at light loads and at idle, and a full-length protective backplate adds another touch of functional style.
AVAILABILITY & PRICING
ROG Strix, TUF Gaming, and Dual NVIDIA GeForce RTX™ 30 Series GPUs will be available worldwide in September 2020. Please contact your local ASUS representative for further information
SPECIFICATIONS
ROG STRIX GeForce RTX 3090

ASUS TUF Gaming GeForce RTX 3090
NVIDIA GeForce RTX CUDA cores: 5248
24 GB GDDR6X memory
PCIe interface: 4.0
2 x Native HDMI 2.1 output
3 x Native DisplayPort 1.4a
NVIDIA GeForce RTX CUDA cores: 5248
24 GB GDDR6X memory
PCIe interface: 4.0
2 x Native HDMI 2.1 output
3 x Native DisplayPort 1.4a
ROG STRIX GeForce RTX 3080
ASUS TUF Gaming GeForce RTX 3080
NVIDIA GeForce RTX CUDA cores: 4352
10 GB GDDR6X memory
PCIe interface: 4.0
2x Native HDMI 2.1 output
3 x Native DisplayPort 1.4a
NVIDIA GeForce RTX CUDA cores: 4352
10 GB GDDR6X memory
PCIe interface: 4.0
2x Native HDMI 2.1 output
3 x Native DisplayPort 1.4a
ROG STRIX GeForce RTX 3070

ASUS DUAL GeForce RTX 3070

NVIDIA GeForce RTX CUDA cores: TBD
8 GB GDDR6 memory
PCIe interface: 4.0
2 x Native HDMI 2.1 output
3 x Native DisplayPort 1.4a
NVIDIA GeForce RTX CUDA cores: TBD
8 GB GDDR6 memory
PCIe interface: 4.0
2 x Native HDMI 2.1b output
3 x Native DisplayPort 1.4a