$9.99
in stock
7 new from $9.89
as of December 7, 2023 6:53 pm
Last updated on December 7, 2023 6:53 pm
While it is extremely easy to lose sight of the fact that not everyone wants, needs, or even desires a huge CPU cooling solution, that does not change the fact that most… do not need, want, or desire one. In fact, for many people the Intel factory / stock cooler that came with their i3 or i5 is "good enough" and trying to convince them otherwise is an uphill battle. One company that has been successfully waging the war on terrible factory coolers is Artic. Just as their 'Freezer' is for mainstream, and their 'Liquid Freezer' is for enthusiasts, their 'Alpine' series is for value orientated consumers interested in a decent cooling solution that will not break the bank. Their latest foray into winning the hearts of minds of joe and jane sixpack is the $12 Alpine 17 LP.
As the name suggests the Alpine 17 LP is a Low-Profile cooling solution meant for Intel socket 1700 users. As such, phrases such as 'small', 'easy to use', and even 'inexpensive' should all spring to mind for experienced systems builders… as that it what the Alpine LP's have been offering for a couple years now. For novice system builders, and even the average joe/jane who never thought about a CPU cooler before, the Alpine LP's are targeted with laser like intensity on eliminating OEM CPU coolers from every system out there.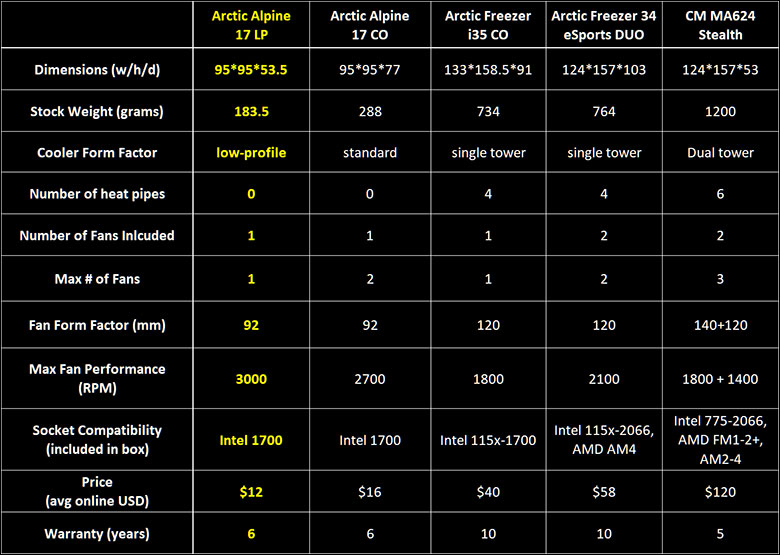 On paper it is "easy" to do just that. Build a cooler that does not sound like a SJW'er having a(nother) meltdown. Does not "work" like a New Jersey teamster union member on their (fourth) lunch break. Is as simple to install as changing a light bulb. Weighs (relatively) the same as the typical bulimic super-model. Is as durable and robust as a Glock 19… and above all else is nearly as inexpensive as a McDonald's Happy Meal. Doing all that and being as compact as possible… now therein lies the rub. That is not easy. It is as hard as Chinese math with the classic snarky engineering request of 'you have three options, choose any two' springing to mind. Yet, that is what the Alpine LP's routinely do.
The secret to the Alpine's success is multi-fold. First Artic starts with Intel's official 'Keep-Ins' specifications and builds the widest cooling solution that will fit inside that specification. In the LGA1700 & 1800 official documentation that is 95x95mm. Then, unlike Intel, they stack the largest fan on top of it as possible. This is where most other companies stop reading the specifications published by Intel and call it day. The LP design however keep going. Keep going and take into account the Intel LGA LGA1700 & 1800 official Maximum Thermal Solution Center of Gravity Height from IHS specification (25.4mm) and adjust the cooling fin array downwards until it meets this critical specification.
After doing all that, they then upgrade the fan's bearings to Fluid Dynamic bearings to decrease noise as much as possible (even when running at the full 3000RPM) while at the same time upgrading the motor hub so that, unlike Intel which can only go down to 600RPM, it can keep spinning all the way down to 300RPM. Then to finish things off Artic pre-applies the TIM (MX-4), uses a pushpin mounting configuration, bestows upon it an impressive 6-year warranty, and then it gives the resulting marvel of engineering an MSRP of only 12 Euros.
On paper that sounds like mighty fine engineering, but at the end of the day it is only the real-world performance that matters. So, the question becomes not if it is better than stock Intel coolers but if it is better enough to justify upgrading from them. After all, Intel actually did put (a tiny bit) of effort into their 12th generation 'R' cooling solutions. To answer this question, we (temporarily) sourced and have included results for the short/slim RS1, the medium RM1, and Intel's big boy RH1 CPU cooling solutions. Armed with that data one should be able to easily judge the Artic Alpine 17 LP on its merits and not its marketing. So let's dig in.