$131.64
$259.00
in stock
57 new from $131.63
7 used from $121.11
as of December 7, 2023 8:43 pm
$156.00
$309.00
in stock
67 new from $148.88
10 used from $123.24
as of December 7, 2023 8:43 pm
$109.99
in stock
12 new from $109.99
4 used from $109.99
as of December 7, 2023 8:43 pm
Last updated on December 7, 2023 8:43 pm
Summary: Ryzen 5 OC vs Intel 6900K OC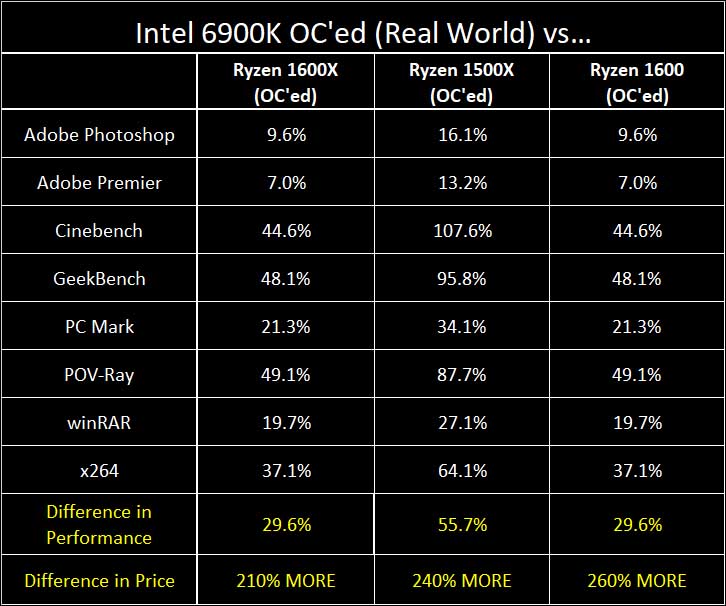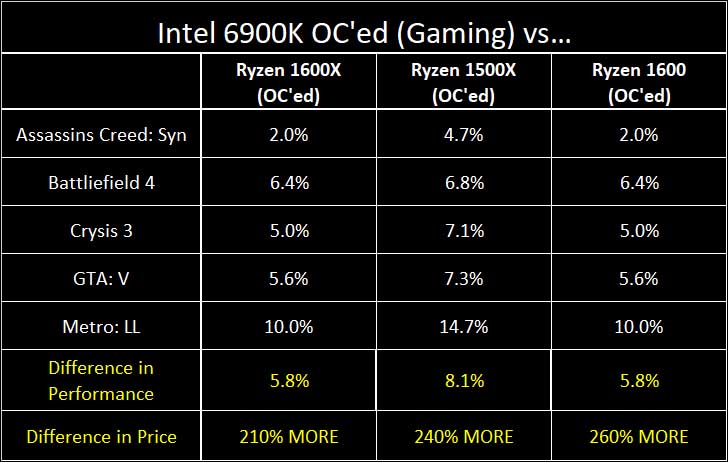 By modern standards the Intel 6900K is not a great overclocking CPU… but it does overclock noticeably better than AMD's Ryzen R5 series. This does make it a touch easier to justify the sky-high asking price but we doubt few will even consider the 6900K if they are interested in the Ryzen 5 series.
Summary: Ryzen 5 OC vs Intel 6850K OC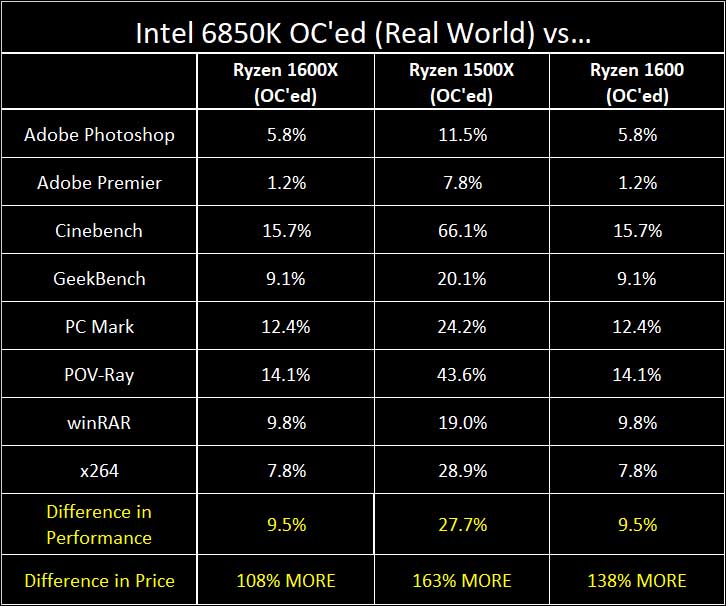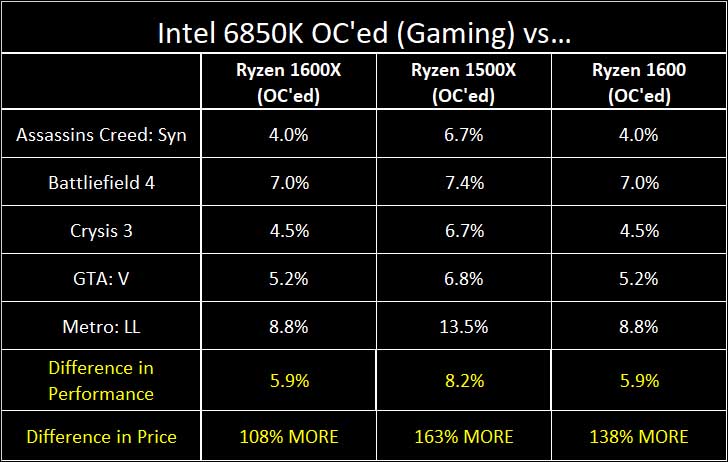 Once again the lack of overclocking headroom does handicap AMD's Ryzen 5 series, but few will consider the rather large difference in price is warranted… larger performance gap or not.
Summary: Ryzen 5 OC vs Intel 7700K OC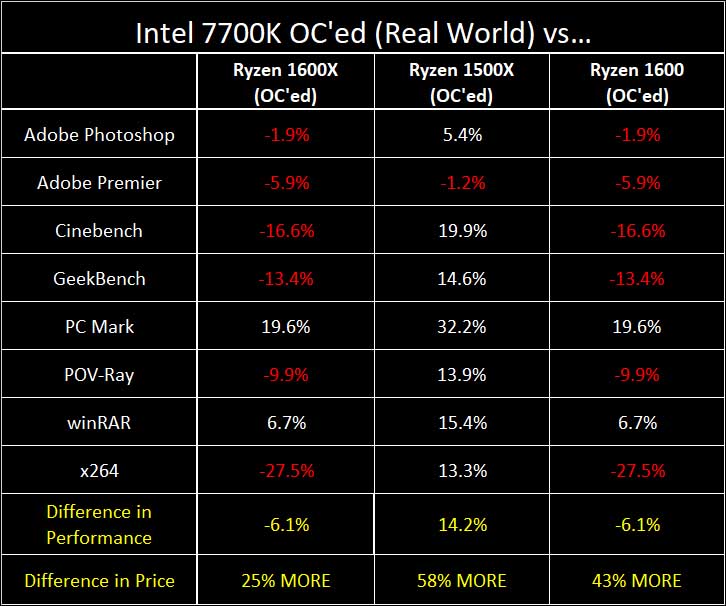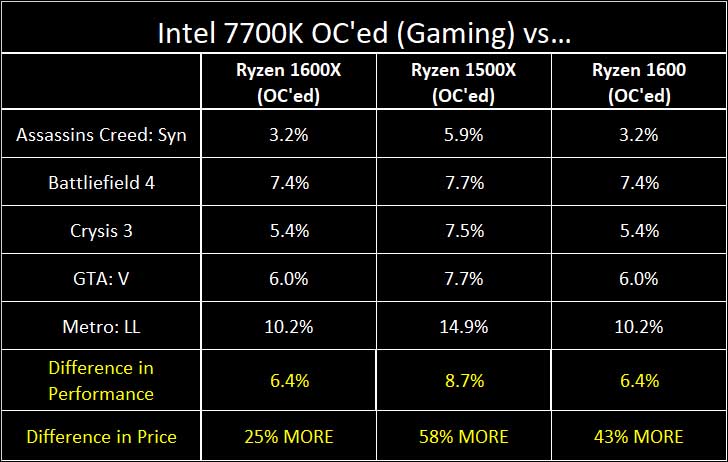 Let's face it… smaller CPUs overclock like scaled cats in comparison to larger core CPUs. This is why the 7700K's gaming performance lead only widens when both it and the Ryzen 5series are overclocked. However four cores, even four heavily overclocked cores, simply cannot compete against a six core value beast like the Ryzen 5 series. It really is only when you consider the smaller 1500X that things become murky. Given the fact that the 7700K is about to be EOL'ed and is rumored to not be forwards compatible with the Z270 chipset successor it is rather hard to recommend it.
Summary: Ryzen 5 OC vs Ryzen 7 OC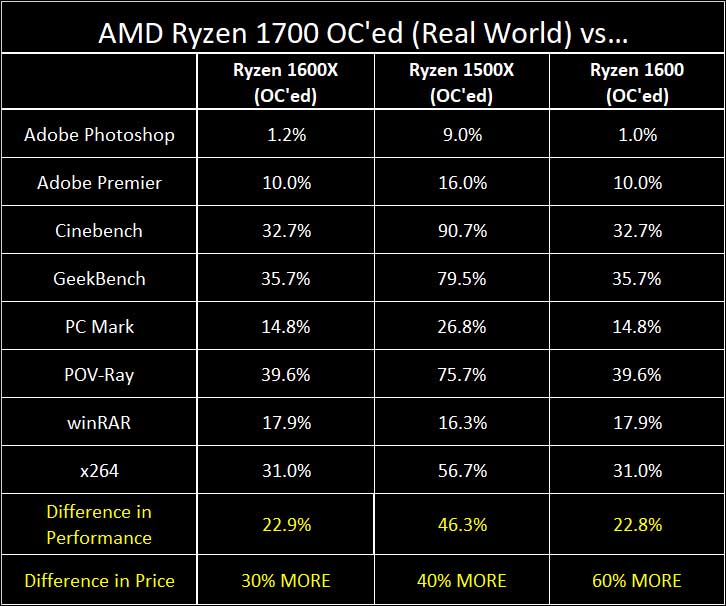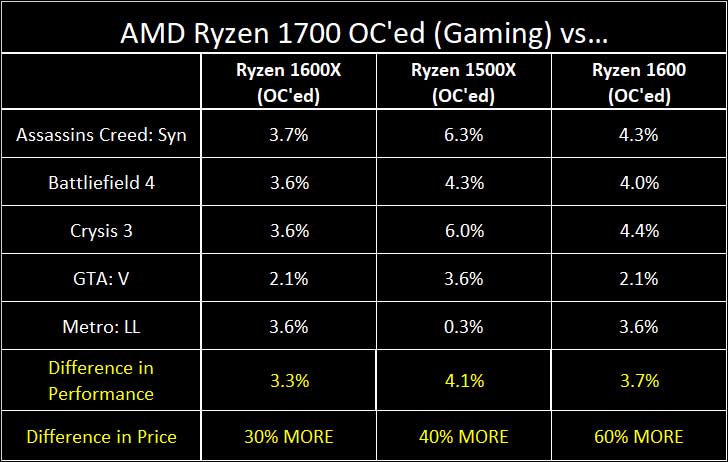 AMD really is AMD's own worst enemy and the huge difference in price for just two more cores is hard(er) to justify than it would be if Ryzen 5 overclocked better. As such you will have to really think about your needs and if a 'mere' 6c/8t is worth it or not… or even if a 4c/8t overclocked is a better use of your budget. We can not tell you which way to go but you really cannot make a bad decision either way – the R5 and R7 are killer deals compared to their Intel competition.