$12.53
in stock
as of November 30, 2023 7:05 pm
$15.00
in stock
as of November 30, 2023 7:05 pm
$10.80
in stock
as of November 30, 2023 7:05 pm
Last updated on November 30, 2023 7:05 pm
Overview
It has been our experience that buyers fall into two camps when it comes to mega-battery based phones. Those who either love them or those or do not. At the forefront of this market niche is ASUS with their ZenFone Max series. Last generation we took a long hard look at the ZenFone 4 Max and found it to be a decent phone that did make a few compromises in order to offer buyers massive battery life at a rather reasonable price. With the recent release of the ZenFone series we thought that the all new ZenFone Max Plus would be a great primer to see what exactly ASUS has changed to their winning formula and see if ASUS has minimized the limitations of their phone's design.
On paper the ZenFone Max Plus certain does seem to tick most of the right boxes. On the battery size of the equation they have bestowed this phone with a large 4,130mAh batter, which promises to provide days between charging. That certainly is large… but is not as good as the last generation's 5,100 battery. On the positive side, the ZenFone Max Plus is now weight has been trimmed down nicely. Specifically even though it has an all metal construction the ZenFone Max Plus only tips the scales in at 160 grams.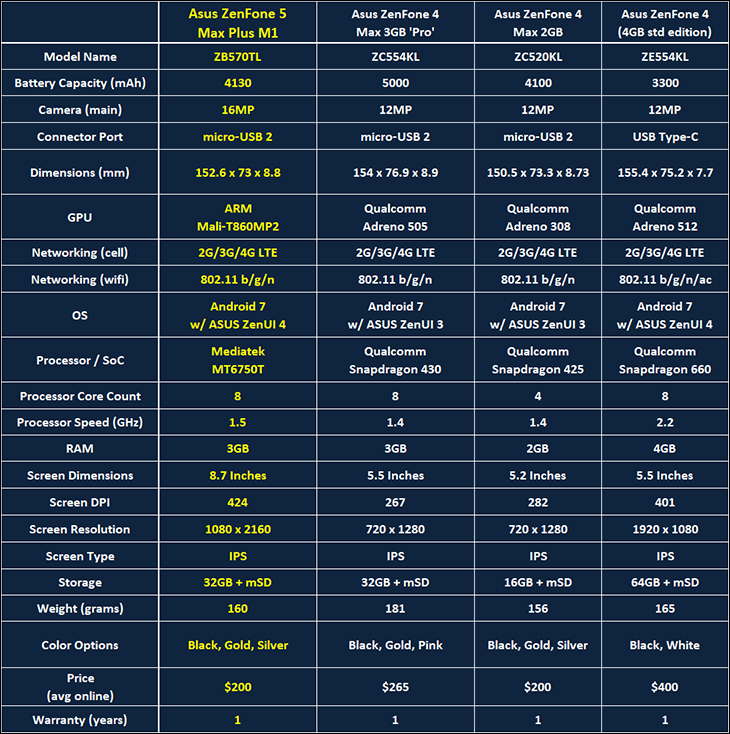 The real changes however are in what ASUS has paired this relatively large battery too. First up, gone is the mediocre 720P (720×1280), 5.5-inch screen that (dis)graced the ZenFone 4 Max 3GB. Instead the ZenFone Max Plus gets a rather impressive – for its price range – '2K' screen (1080×2160) that promises to be much, much easier to use, much clearer (a whopping 424PPI!), and offer fewer compromises compared to its predecessor in the visuals department. In addition to its better resolution and larger screen size of 5.7-inches, the form-factor has also changed. Instead of 16:9 it uses the newer 18:9 which has proven to be more optimal for phones than the 'TV' 16:9 standard. Better still is the screen is almost edge to edge with very little black bars at the top and bottom!
Under the hood ASUS has also upgraded both the graphics and general processing power the ZenFone Max Plus has on tap. Gone is the SnapDragon 430 + Adreno 505 combination, and instead they have opted for the MediaTek MT6750T with Mali-T860 MP2. This processor + GPU combination is much faster (8 cores @ 1.5GHz / 2 cores @ 700MHz) than any 'Max' phoned released to date, so while not bleeding edge by any stretch, it is indeed a nice improvement. We will go over exactly what this upgrade actually means for real world usage but the ZenFone Max Plus M1 does promise to be better than ever before.
Of course, going hand in hand with all these upgrades is one obvious downside: the asking price. To be precise a last generation ZenFone 4 Max 3GB can still be picked up for about $150, whereas the new ZenFone Max Plus 32GB capacity edition will set buyers back $200. Two hundred is still very reasonable, but the real questions are not only if the ZenFone Max Plus makes for a more well-rounded option, but if the improvements are able to justify its asking price. Put another way, in making the ZenFone Max Plus more appealing to the general buying public have they undermined what made the ZenFone 'Max' series such a hit with its intended demographic? Let's find out.
Specifications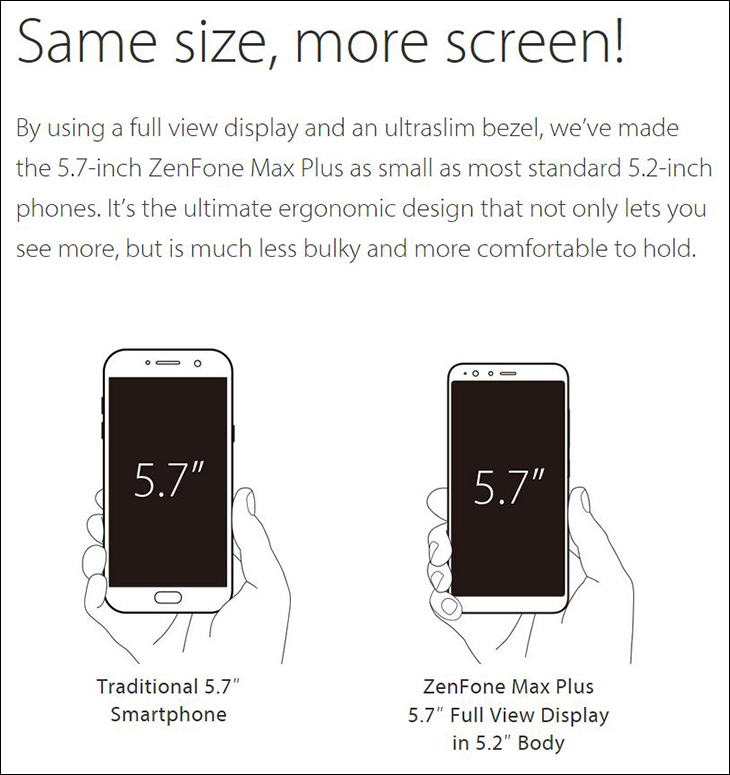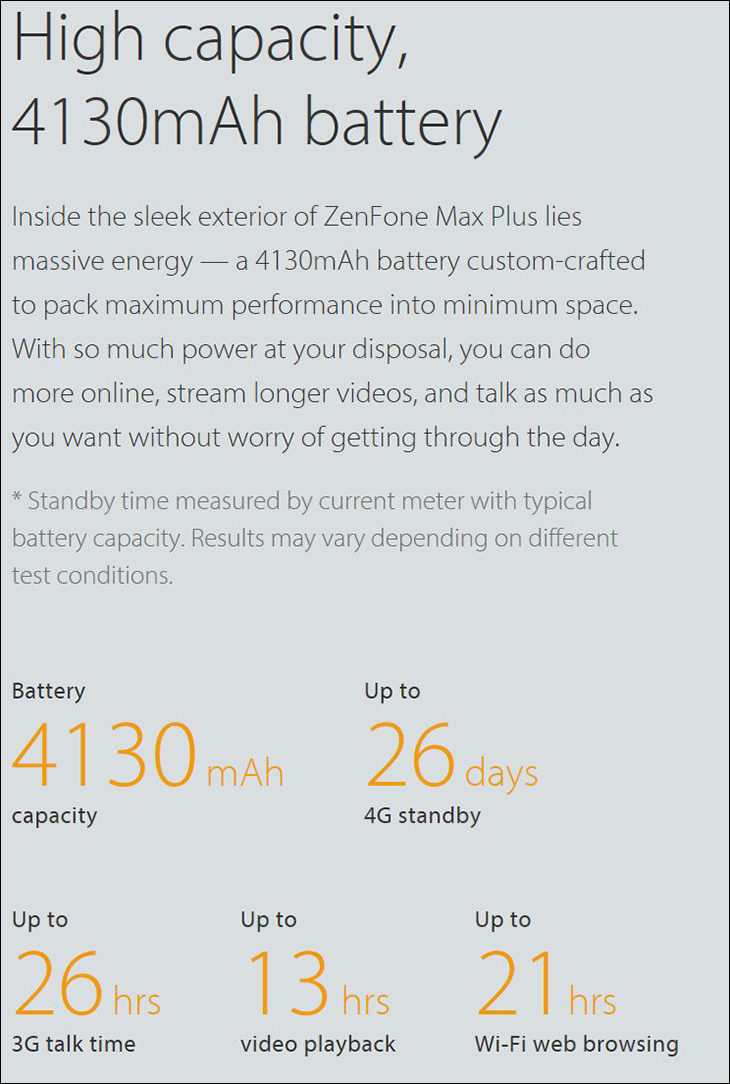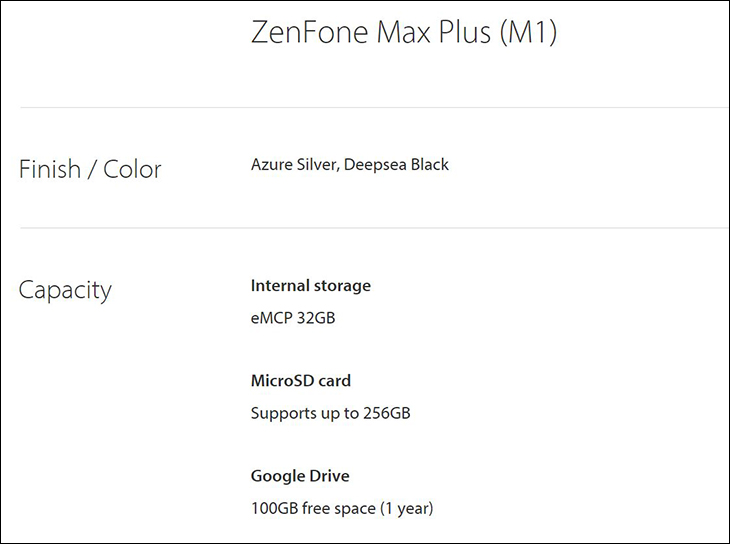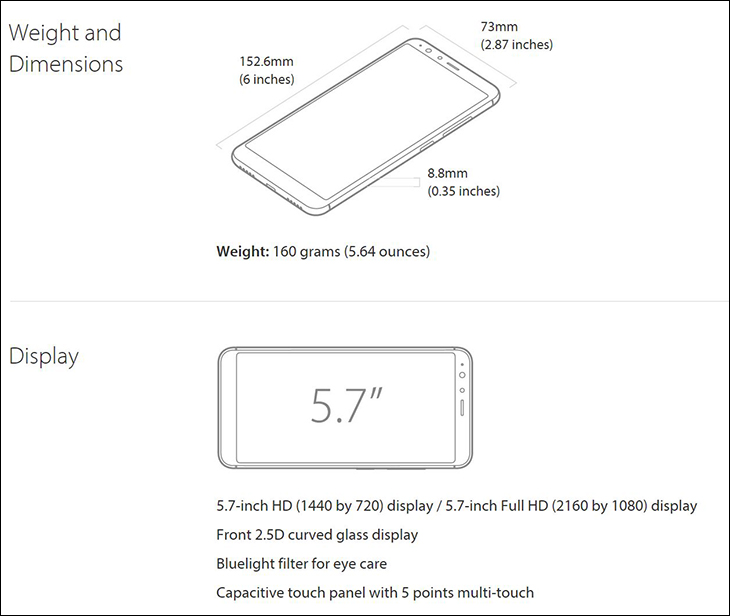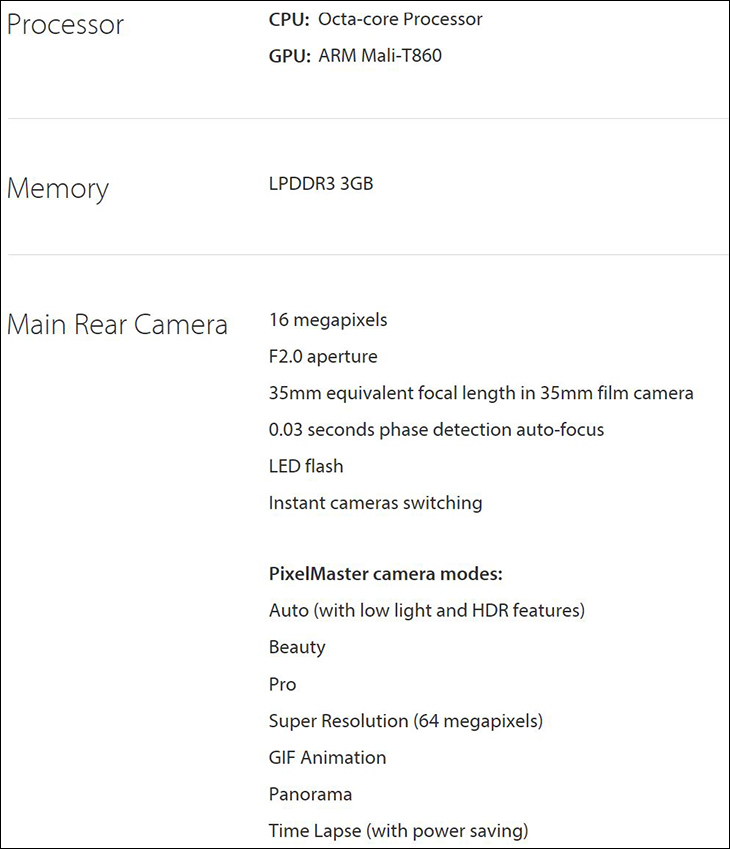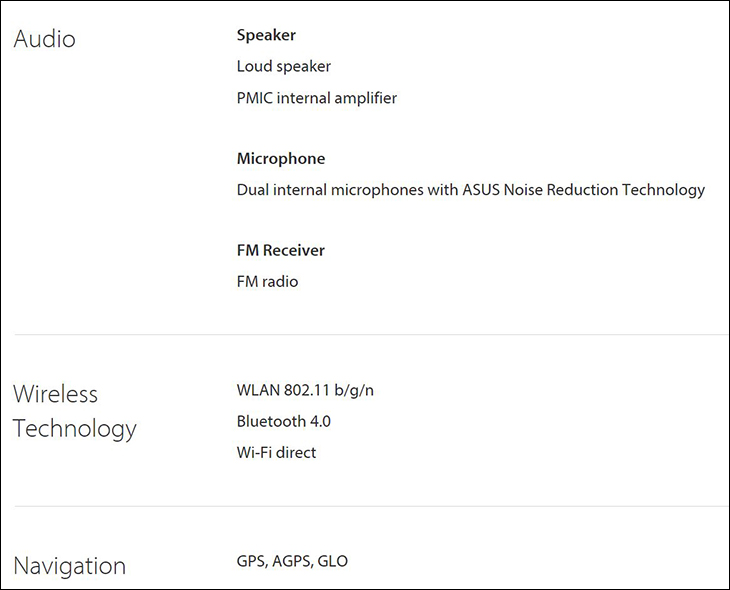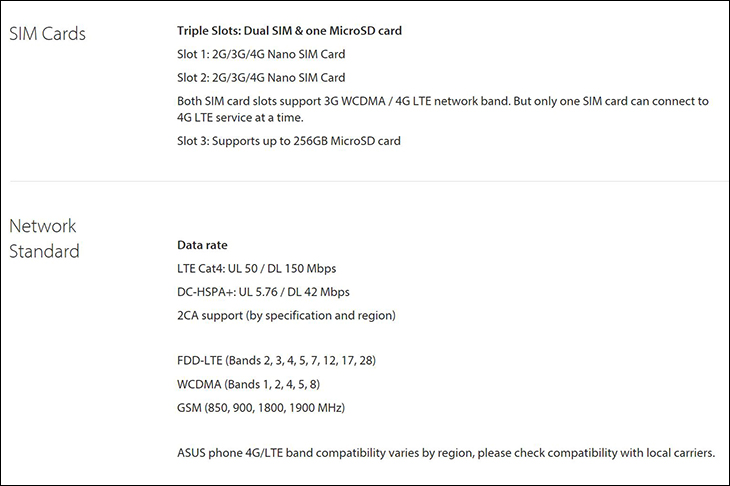 Hands On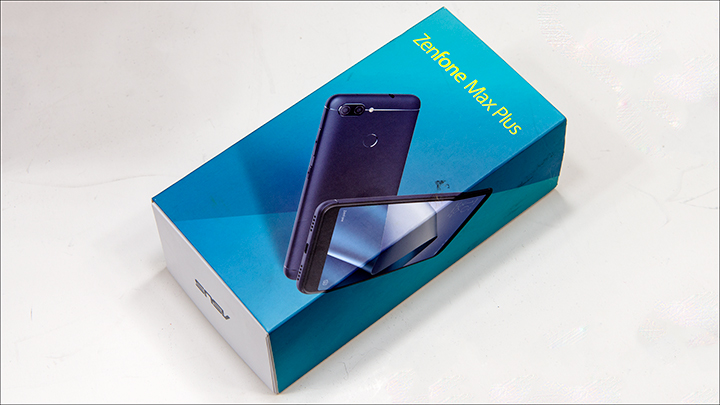 At this is a more mainstream budget orientated phone it should come as no surprise that ASUS has not upgraded the shipping container used with the predecessors. What this means is that you can expect to get a nicely small and colorful blue box that is attractive in an understated way, but it is not comparable to the shipping containers ASUS uses for their premium phones.
In practical terms this shipping container is more than good enough in both the looks and protection department – but do not expect the box to fold out and wow you with its first impression. Instead when you remove the outer cardboard sleeve you will be greeted with a standard two-piece cardboard box. When you remove the top half the phone itself will greet you (it is housed inside a thin bubble-wrap style sleeve). To get to the accessories simply lift out the thin cardboard divider and there they will all be in nice little cardboard dividers.
On the accessory side of the equation there really is no changes vs. the older generation. Just like its predecessor(s) the ZenFone Max Plus series come with a 2A wall charger (with detachable USB 2 cord), various instruction pamphlets, and a nifty OTG (on the go) adapter. Still not included is a pair of ear-buds on their more budget orientated phones. Though most will find the OTG adapter actually useful, whereas a cheap pair of 'buds are not – beyond emergency 'my real earbuds died!' type situations.
Unfortunately, when you take a closer look at the 2A charger and cable most will be disappointed to find it is a micro-USB 2 cable and not USB 3.0 Type-C. This is because ASUS has once again not opted for the newer, and better, USB 3 interface. While it is disappointing to see an old-school micro-USB port on a phone released in 2018 we can understand the reasoning behind it. Older micro-USB cables are easier to source, few will ever be able to take advantage of the increased bandwidth USB 3.1 g2 offers (as phones are not high performance storage devices!), and most of all 2Amps at 5 volts is 2 amps at 5 volts. No matter how big the bus or charger bandwidth specifications… the phone is going to only pull 2Amps / 10 watts of power. Nothing more. So while it is a bit of a disappointment, it is not a deal-breaker.
Moving on. While yes the USB interface (and accompanying internal USB controller) has not be upgraded most of the rest of the ZenFone Max Plus is an upgrade. Let's start with what has been carried over before going over what is new and (mostly) improved.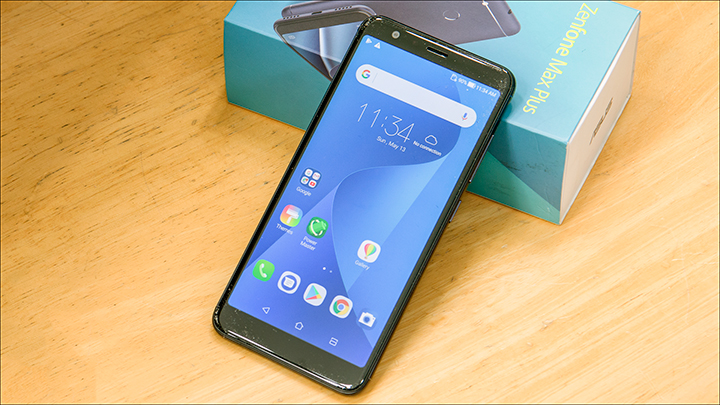 The most noticeable carry-over is the battery capacity… kinda sorta. The previous ZenFone 4 MAX line came in two capacity options: the original 4100mAh and a 5000mAh version. The ZenFone Max Plus on the other hand uses a 4130 battery. This is a downgrade from the refreshed ZenFone 4 Max (aka ZenFone 4 3GB / ZenFone 4 Max 'pro') and is barely bigger than the original ZenFone 4 Max model (aka ZenFone 4 Max 2GB / ZenFone Max 4 'original'). This is disappointing and will displease the Max's previous main target demographic – those who want mega talk time between charging.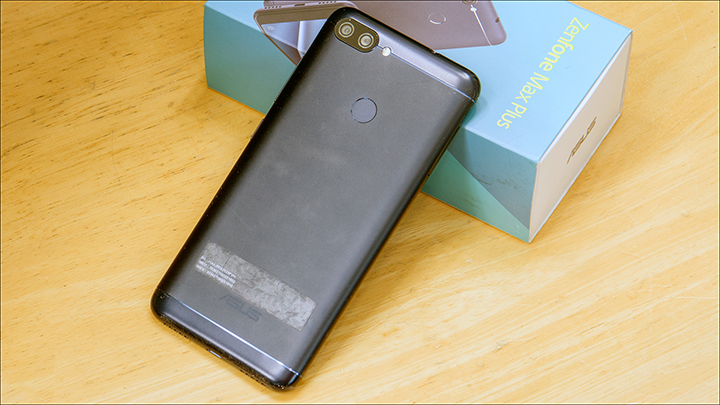 Also carried over is most of the button layout and interface. So those who are used to using a ZenFone Max model will not have to relearn where the buttons are. This means power, volume up/down, speakers ports and headphone ports are all where they were before. The downside is that the speakers themselves have also appeared to be carried over. In testing the speaker quality is about the same as it was on previous generations. That is to say adequate but not amazing in their sound fidelity or volume. The lack of 'crystal clear' sound will be most noticeable when listening to music, watching videos, or playing games. Outside of these key areas the sound is still more than good enough for daily usage. So if you want uber sound from your phone… expect to spend a lot more than what this model costs as all in this price range all are best described as 'adequate'.
On the positive side the speakers may have been carried over but the microphone has not. In testing the new microphone – with actually useful 'noise reduction' software – does indeed make for a much clearer phone. Outside of hurricane winds – or driving with the top down and not using a hands free setup – the person on the other end of the phone call will hear everything you say as if they were in the same room as you. It is better and to our way of thinking is much more important than better speakers.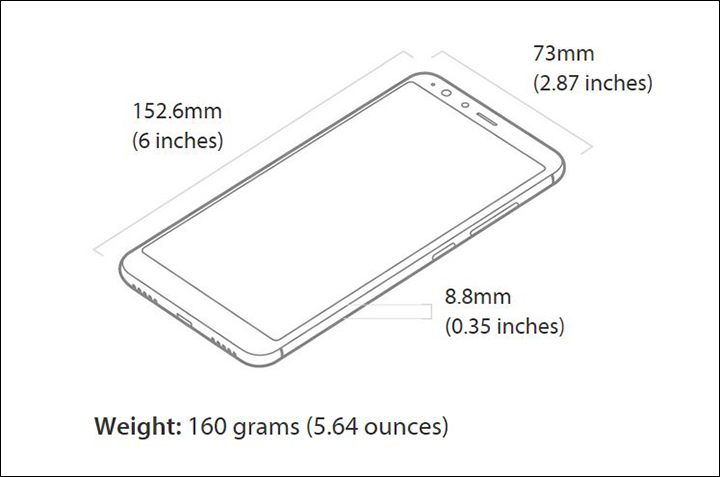 Even though the chassis itself is slightly bigger (albeit a bit thinner) it is still an all metal chassis that comes in a couple different color options. This is both a good and bad thing. On the positive it is all metal and not cheap plastic. On the negative it still is a touch to slippery for our liking. Some of this is because of the slick metal used and some is because the entire body is now more rounded and blends very nicely into the screen. So while very pretty and attractive looking ASUS really needs to either use a better surface coating for the back of their mid-level priced phones or include a wee bit more texturing. If you are like most people this will not matter all that much as once you put in a silicon or similar protective shell this issue becomes moot. If you like to run your phone 'naked' a bit of grip tape / skateboard tape on the back may be a wise decision – as it will slip from your hands if you do not grip it tight.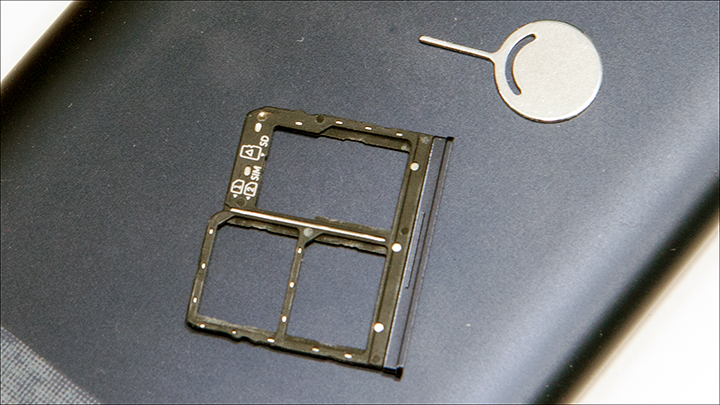 The last obviously good carry over is the dual SIMM plus SD card holder. Yes this bad boy carried on the proud tradition of offering incredible phone flexibility that few – even in ASUS' own ZenFone lineup – can match. Interestingly enough though is the layout has changed. Instead of the long 1/2/SD layout ASUS has gone to a side by side layout that is actually easier to use and is less 'bendy' than the long slender ZenFone 4 Max's holder.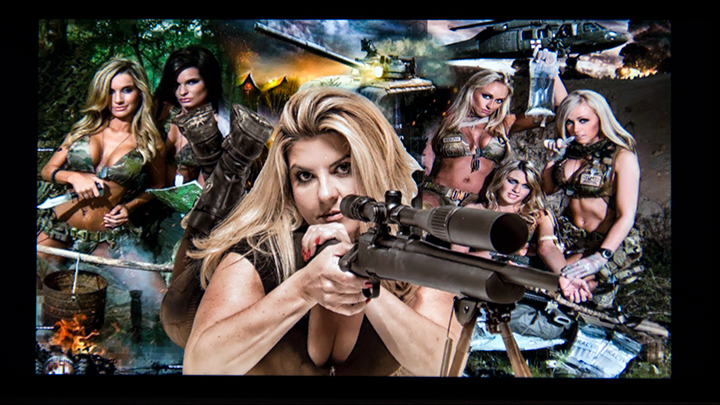 Those are the major things that have been carried over. Now on to what has been changed – and it is legion. First and foremost is the screen. Unlike the previous ZenFone 'Max' phones the main claim to fame of the ZenFone Max Plus is not the battery life it is the screen. This 5.7-inch screen is down right gorgeous. Thanks to its In-Plane Switching tech and 2k resolution (with 424 Dots per Inch!) this screen is crisp, clear, and really enjoyable to use. Text will never be fuzzy, pictures will 'pop' with life like reproduction, and videos are amazing to watch on this phone (albeit with black bars on either side thanks to 18:9 aspect ratio vs 16:9 for video). The 18:9 aspect ratio also makes the form-factor much 'taller' and 'thinner' than you would expect. So much so that the ZenFone Max Plus is basically only as a wide as the 5.1-inch ZenFone 4 Max series.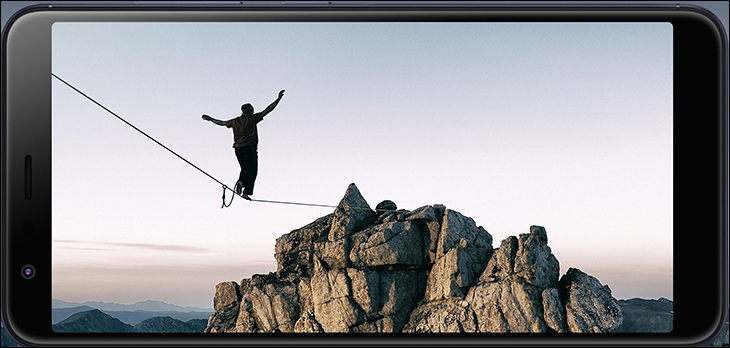 Equally impressive is the screen covers noticeably more of the body with a screen to body ratio of over 75 percent, whereas the last gen was basically 70 percent. This may not sound like much of an improvement but it is. Less 'black bars' on the sides (almost non-existent actually) and smaller black bars at the top and bottom. ASUS still has room for improvement (for example the LG G6 has a 5.7inch, 2K 18×9 screen that is boasts over 90 percent screen to body ratio) but it is a nice upgrade though. The downsides though are it is not color-corrected at the factory so while close colors are not perfect until you adjust them (a slight blue tinge is what you will notice), and it eats battery life.
Some of the increased battery consumption is due to a larger backlight – as it is a bigger screen – but mostly it is because the onboard 'video card' has to deal with massive increase in pixels. That takes a lot more processing power than the ZenFone 4 Max 3GB's 720p screen demanded. In day to day tasks the battery drain increase will be minor but once you watch movies, or play games expect battery life to quickly tank. Quite honestly, even if this model came with a 5000 or even 6000mAH battery, battery life would be shorter than its predecessor. There is no such thing as a free lunch and in order to get that gorgeous display you have to be willing to pay for it with shorter battery life.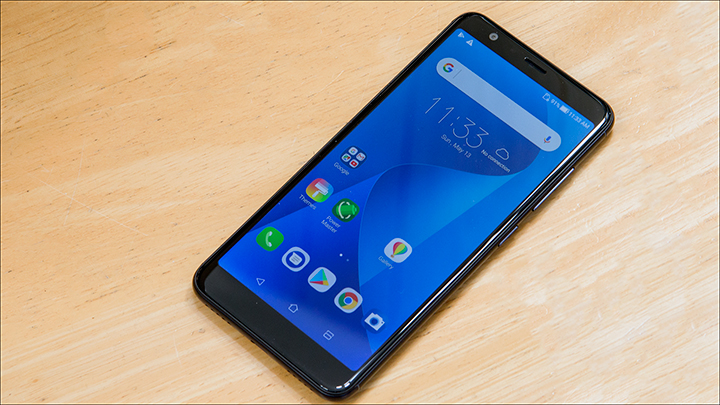 On its own this issue would be will worth the trade-off. Sadly, even though ASUS has upgraded the 'GPU' to a more powerful controller it still will struggle in fast paced games. Expect lag and low frame rates if playing at its full resolution with any game beyond 'Candy Crush' type time wasters. Basically the integrated video solution is more powerful than its predecessor but it is not 2.53 times more powerful… and over 2.3million pixels is pushing the limits of what even top end (read expensive) phone processors can handle. ASUS would have been better served by opting for a SnapDragon 8-seires (8 cores), Kerin 9-series (8 cores), Mali-T880MP12 (12 cores) or even just the Mali-T880MP4 (4 cores) instead of the Mali-T860MP2 which only has two cores running at sedate 700 MHz to handle the pixel pushing load.
Of course you can down-grade the resolution in games so as to make it easier but as this is a 18×9 aspect ratio screen finding an equal divided lower resolution will be a tad difficult – remember, unless you what to loose clarity you need to have a resolution that takes up say 2×2 pixels or 3×3 and not say 1.5 pixels! Things will get easier as time goes by on this front as 18:9 is a newer standard… and after using it is most certainly here to stay.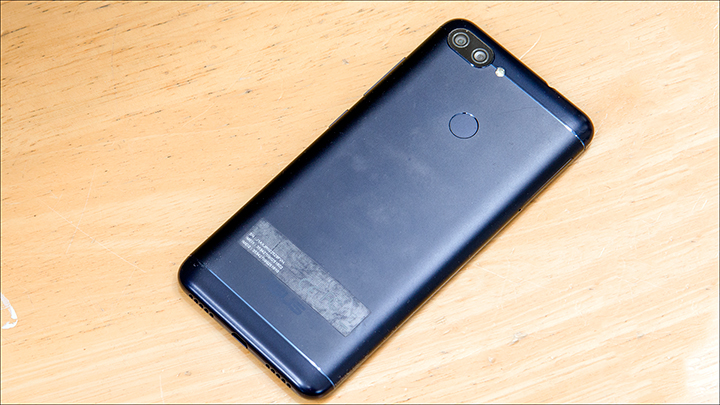 Also important to note is the physical 'home' button is missing. Instead ASUS has gone to a standard 'virtual' layout and removed this button. This plays a large role in how ASUS was able to increase the screen to body ratio. We are ambivalent over this change. On the one hand virtual buttons are not as optimal as physical, on the other this setup does work better. This is especially true when you consider the actually good finger print reader that ASUS now includes on the back of the phone. This reader is perfectly placed so that when held in either hand your index finger can easily swipe across it to unlock your phone without first repositioning your hand. Quite honestly this is the best layout for a finger printer reader we have seen and it is an excellent upgrade. In use, once you get it setup, it works very well. The only nitpick is if you try and have it read your finger 'upside down' compared to how you scanned in your finger print it will not work. The simple work around is to scan your finger in multiple directions as you get 10 'finger print' memory slots.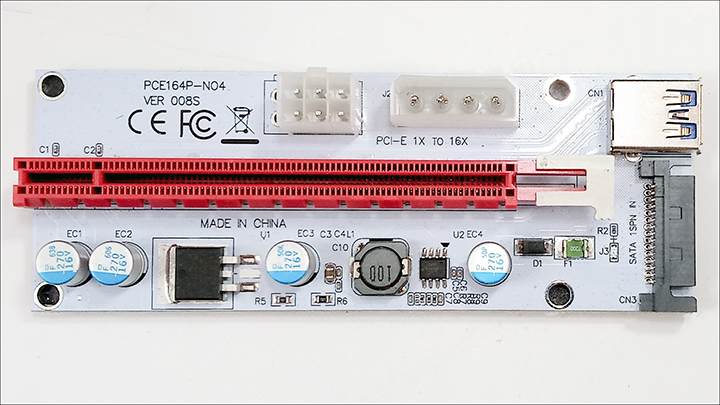 Also improved is the cameras. Gone is the main 12MP camera and now ASUS uses a 16MP camera. It still does not allow for RAW formats but for an entry level camera its actually pretty decent – and a nice upgrade from the last gen which was best described as 'adequate'. The other cameras have not changed that much but are still perfectly good for 2018.
The last important change is the WiFi. The last generation 'Max' ZenFone series did not come with 802.11AC WiFi abilities. Instead only the ZenFone 'standard edition' or higher came equipped with this performance boosting feature. Thankfully ASUS has seen the error of their ways and the new ZenFone 4 Max Plus model does indeed come with 2×2 802.11AC (and G/N) abilities. This does make transferring large quantities of data to the phone via your home (or public) network a noticeably easier task. In testing the antennas are still not as good as the last generation ZenFone 4 standard's – let alone Pro – but they are darn good for this price range. Just don't expect blazing fast performance. Instead expect very good networking performance that does make transferring movies and the like a lot less odiferous chore.
Benchmark Results
3DMark For Android
3DMark For Android is a benchmark tool developed by Futuremark to test the performance of a Android mobile device's graphical performance. In this instance we are using the older Ice Strom test which uses OpenGl ES 2.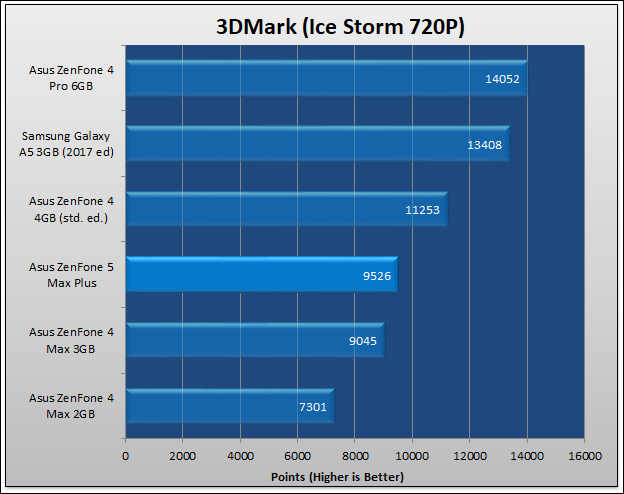 AnTuTu Benchmark
AnTuTu is one of the most popular benchmark apps for Android devices. It tests many parts of your device and assigns an overall score.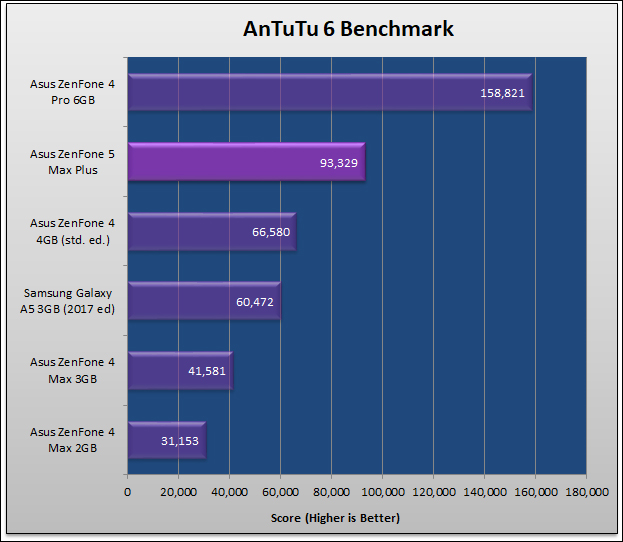 Basemark OS II
Basemark OS II is a system-level All-In-One benchmarking tool designed for measuring overall performance of smartphones and tablets from all platforms, including Android, iOS and Windows phone 8. The benchmark features a comprehensive suite of tests including system, internal and external memory, graphics, web browsing, camera, battery and CPU consumption.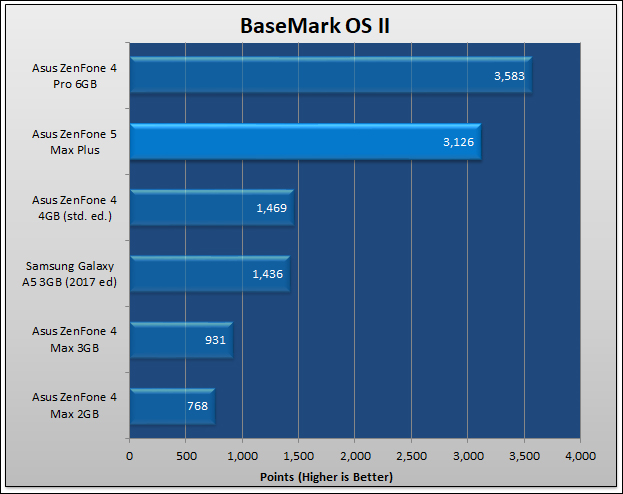 Battery Life
For testing the true battery life of mobile device we have used the simplest expedient possible – use them from fully charged until they turn themselves off and record the time it took. For talk time recorded this is a mix of 4G and 3G coverage. For 3D Gaming we have used Modern Combat 5: Blackout. For Internet this is a combination of YouTube, Netflix, and typical Internet surfing – including using Gmail for email. For charging the included charger was used and we timed how long it took to fully charge the battery.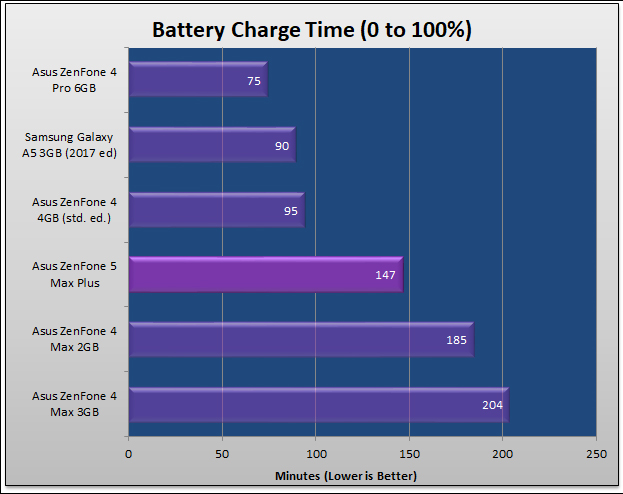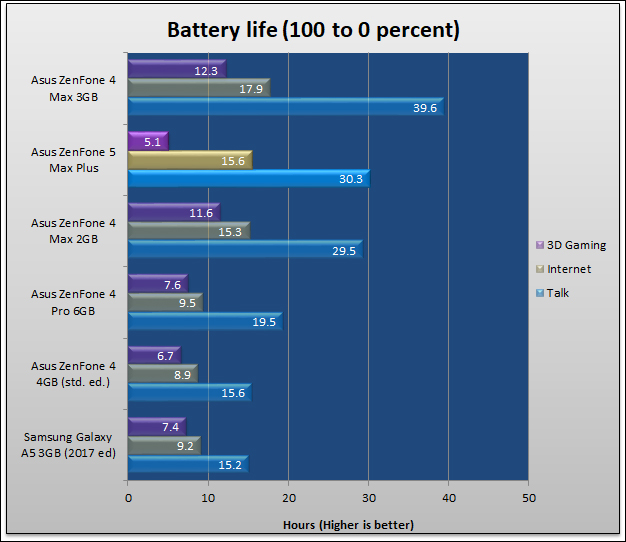 GFXBench Manhattan Benchmark
GFXBench is a high-end graphics benchmark that measures mobile and desktop performance with next-gen graphics features across all platforms. As a true cross-API benchmark, GFXBench supports all the industry-standard and vendor-specific APIs including OpenGL, OpenGL ES, Vulkan, Metal, DirectX/Direct3D and DX12. It automaticaly detects the API level supported by your device and runs the relevant high-level tests. While it includes numerous tests we have focused solely in on 'Manhattan 3' which uses either the OpenGL ES 3.1, Desktop OpenGL, or Metal API.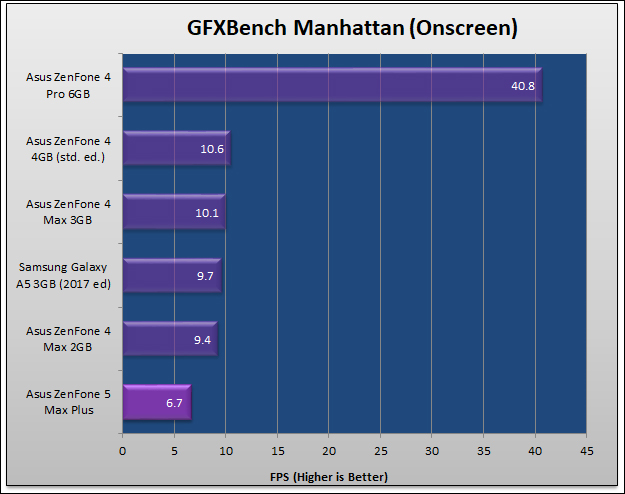 JetStream Benchmark
JetStream combines a variety of JavaScript benchmarks, covering a variety of advanced workloads and programming techniques – covering classical, synthetic, and real-world examples – and reports a single score that balances them using geometric mean.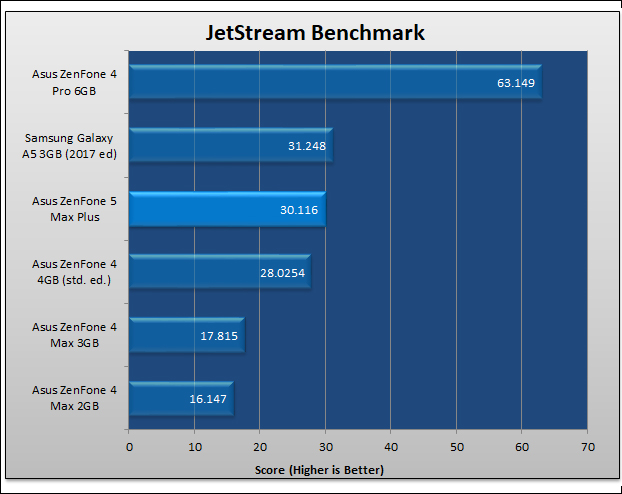 Networking Performance
For testing the networking abilities of a phone we have devised a simple test: copying 5GB of mixed sized files to and from the device over our home network. This homenetwork uses Ubiquit AC-Pro wireless access points connected to a Ubituiti EdgeRouter 8 Pro. The send/receiving device on the other end of the device is a Ryzen 7 1800X based system using an Intel 900P 280GB NVMe solid state drive.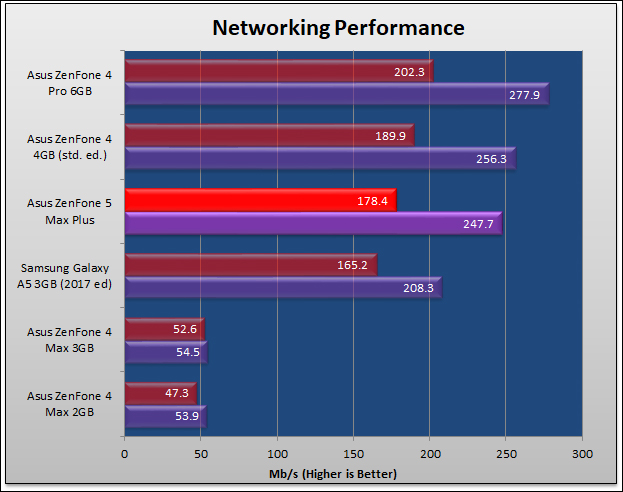 PCMark For Android
PCMark For Android is a benchmark tool developed by Futuremark to test the performance of a Android mobile device at the system and component level. In most cases the tests in PCMark are designed to represent typical phone user workloads. In this instance we are using the Work 2.0 overall score which benchmarks overall phone performance and battery life based on everyday activities.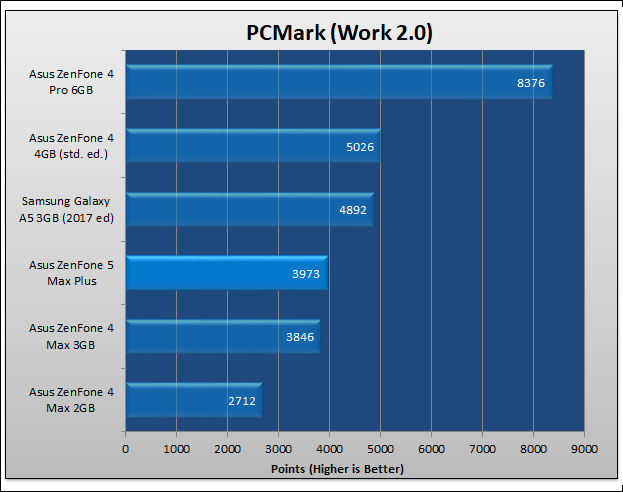 Summary
Final Score ZenFone Max Plus: 80 out of 100
Before we begin we do have to make one thing perfectly clear. The new ZenFone Max Plus M1 is a very, very good phone. Throughout testing we were simply blown away with its screen. Its razor-sharp text, images and gorgeous color reproduction is a thing of beauty to behold. For the screen alone the ZenFone Max Plus M1 is worthy of your consideration. The low asking price is just icing on the cake.
When considered against typical mainstream options the ZenFone Max Plus M1 overall is still a really nice phone. Its screen is gorgeous. Its large battery life gives it a talk and video viewing time that few can even come close to matching. Even its more trimmed down weight makes it a good option for the average buyer. When you mix in a very decent customized Android OS with easy secondary storage abilities and the ZenFone Max Plus M1 does hit its target of moving the ZenFone 'Max' series into more mainstream territory.
With that said the ZenFone Max Plus M1 is a good choice, but just may not be an optimal one for everyone. This is because in order to hits its new target demographic – that is to say average people with an average sized budget – a few critical decisions had to made on what to include… and what to leave on the cutting room floor. The first and most obvious is moving away from mega battery life that made the ZenFone Max's so unique. This is going to disappoint the 'old' target demographic who prized battery life over everything else. For these, the older ZenFone 4 Max is still the better choice – warts and all. Hopefully ASUS, as they did the last gen, releases an 'upgraded' MAX 'Pro' with better specifications as that will be the true spiritual successor to the ZenFone 4 Max 3GB 'Pro' phone.
Yes battery life is good bordering on very good, but by opting for a smaller capacity battery than its predecessor battery life is going to be decreased. It is just simple math. On its own this would not be too big an issue, but when you pair a smaller capacity battery to a – admittedly gorgeous and well worth the sacrifice – screen that is bigger and has 253 percent more pixels and uses more powerful processors (cpu and gpu)… battery life is going to be noticeably worse. This reduction is most conspicuous in gaming type scenarios as the 'GPU' needs to eat battery life to push all those gorgeous pixels and keep frame rates at tolerable levels.
To mitigate this issue somewhat ASUS did cut back on the GPU power compared to similar '2K' screen equipped phones. This does help battery life somewhat, but in highly demanding games frame rates are going to be… less than optimal and lowering the resolution is going to be necessary to keep frame rates high enough to be enjoyable. This is the price you will have to be willing to pay in order to get a gorgeous 2K screen for only $199.
Put simply ASUS may have made the classic mistake of forgetting the old adage "Make new friends, but don't forget the old. One is silver, the other is gold". Will the new design philosophy bolster sales enough for the inevitable loss of dedicated 'Max' buyers? We think it will as you get a lot of phone for very little money. Just understand what changes have been made and make sure its abilities line up with your needs before hitting the buy button.