$268.00
in stock
as of November 29, 2023 6:02 pm
$169.00
in stock
as of November 29, 2023 6:02 pm
$147.99
in stock
11 new from $129.95
6 used from $94.95
as of November 29, 2023 6:02 pm
Last updated on November 29, 2023 6:02 pm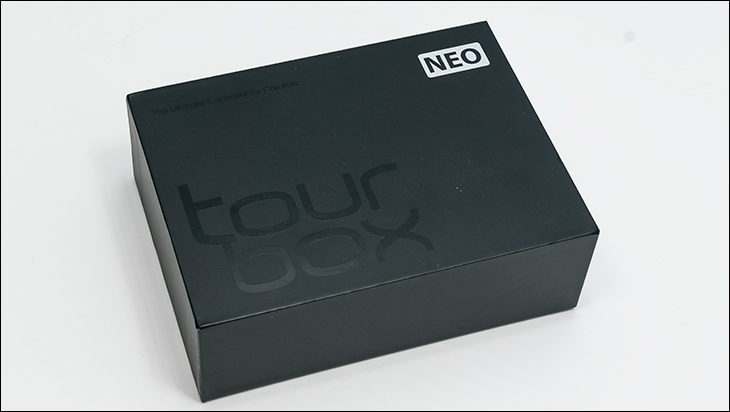 As you can see the shipping container the TourBox 2020 comes in take many of its cues from Apple in that you either know exactly what you have in your hands or you will have absolutely no clue what is inside the box. Obviously, TourBox design team did not have retail 'bricks and mortar' stores in mind but honestly this minimalism does work. Its simplicity will draw your eyes to it and pique your curiosity like no flashy box can. Just be ware that you need to have done your research before you buy or you may be in for a wee bit of a surprise.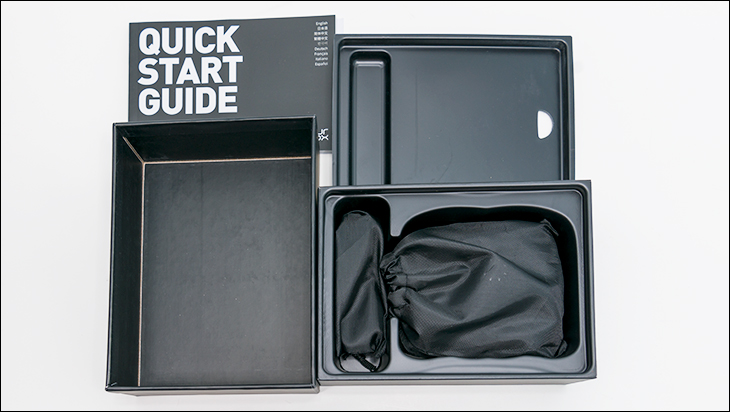 For protection TourBox has opted for formfitting plastic molds that secure each and every part of the TourBox 2020 system while in transit. Mix in, admittedly mediocre quality, draw string bags to reduce the chances of said plastic scratching anything and it is a pretty decent combination. One that will absorb a lot of blunt force trauma before passing it on to the precious cargo. Overall, we would rate it slightly above average given the robustness of the TourBox 2020.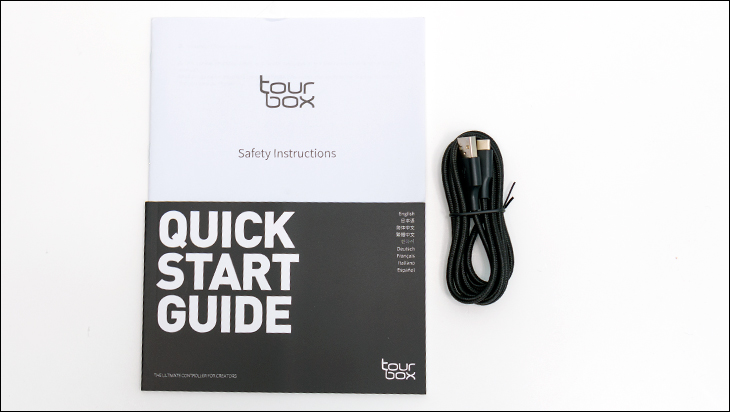 The included accessories are on the one hand very good and on the other left us craving more. As you can see you get a very nice and detailed installation pamphlet, and a nicely braided USB Type-C to Type-A cable that is rather long. Sadly, TourBox did not include a secondary Type-C to Type-C cable nor even a Type-A to Type-C adapter. Many portable computing devices these days will only have a Type-C port free for its use… so you may want to price in an aftermarket cable (about ten bucks) or at the very least an adapter (about the same) into the Total Cost of Ownership equation.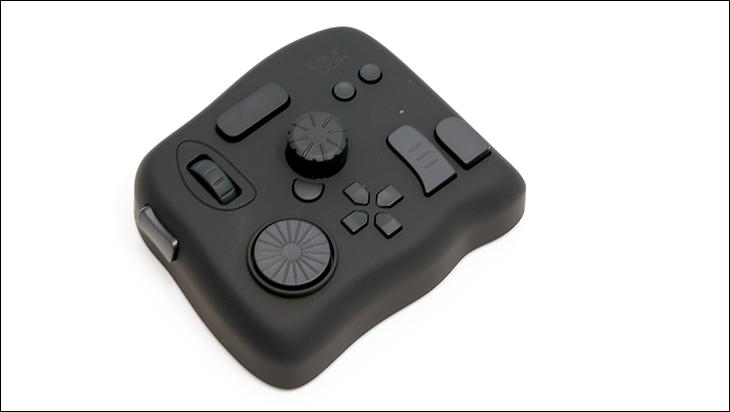 For anyone following the Kickstart campaign for the O.G. TourBox the number one question you will have is simple: what makes the TourBox 2020 different? Honestly?… not much. TourBox's design now comes with an extra switch located to the bottom left of the centrally(ish) located 'pentameter' style knob, they claim more robust switches… and have taken the Henry Ford approach to color options – as (unlike the Kickstarter version) you can have it in any color you want as long as it black. The extra button may or may not matter to you and maybe black is what you wanted… or not. Either way, the big improvement is in the switches. We highly doubt they are Cherry or Omicron's, but the mechanical switches used are tactile and provide a nice audible click when activated. So, while the Black Magic Speed editor beats it like it owes it money, they are better than the switches Contour Design uses in their Shuttle Pro v2.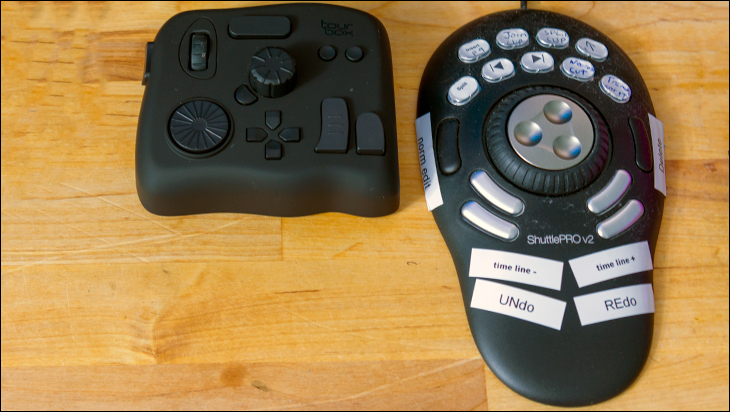 It is our personal opinion that the Shuttle Pro v2, and not Speed Editor, is the main competition for this editing aide and as such it behooves us to compare and contrast the two. Luckly, a family member showed interested in learning DaVinci Resolve recently and we picked up a Shuttle Pro v2 for them… sorry for the labels as they do make for nice 'training wheel' aides until they fine tune / customize it to their liking. As you can see the TourBox 2020 is slightly taller and a tad wider, but is no where near as long. This in conjunction with the removable USB cable, something the Shuttle Pro v2 lacks, makes for an incredibly easy to carry device. One that you can throw into your 'go bag' or laptop case and carry it to the job site. This is not something we can say about the Shuttle Pro v2… of which we have killed a few over the past couple years as they are not what we call 'robust' devices.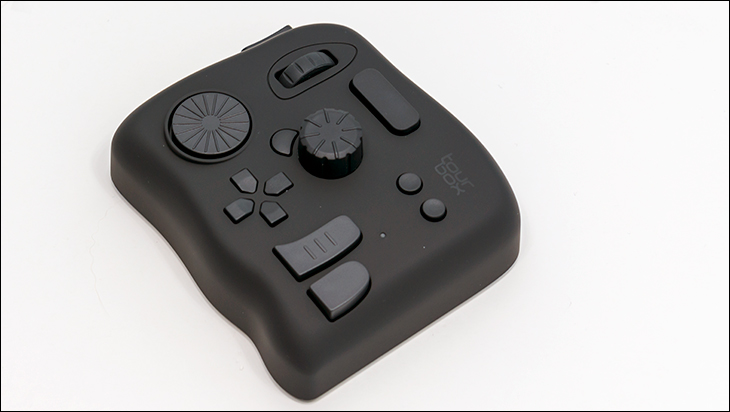 With 15 buttons and two shuttle/jog dial 'wheels', on the surface it does appear that the Shuttle Pro v2 offers more customizable options than the TourBox 2020 and its three 'dial' wheels and 11 obvious buttons. The reality is the TourBox 2020 does not have 11, it actually has 14. Each of the three wheels also have a 'hidden' button underneath them (more on this 'feature' in a moment). Furthermore, the side button can act as a doubler and when pressed in conjunction with another allows for a separate and distinct command… or basically doubling the number of on-board shortcuts/macros/commands that can be done with the TourBox 2020. That is indeed impressive given the compact nature of this device.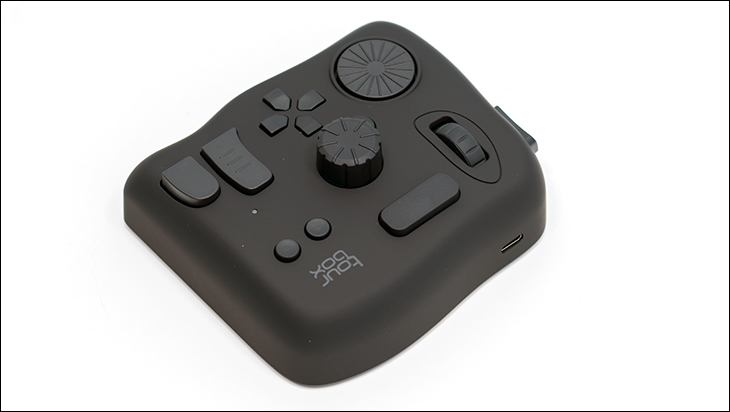 Sadly, two of those buttons should be rarely used. We are referring to the two main jog wheels, and not the 'mouse' looking wheel in the left top corner. These buttons are downright tough to use accurately… as there is no sensitivity adjustment to the wheels covering them. This combined with the necessity of making the wheels be raised up and off the device makes the wheels themselves a bit less than optimal. So much so the bottom left wheel… that should be the 'perfect' jog wheel for video editing is all but useless. It feels flimsy, it is 'tippy' and generally speaking does not instill confidence in its long-term durability outlook. It is also imprecise as all hell. All of which are things that should never be used to describe a work tool. TourBox really would be better off removing these hidden buttons and adding a second pair in the top right corner. That or at the very least changing the tippy dial for a 'race track' surrounding the button. Either would eliminate this annoyance.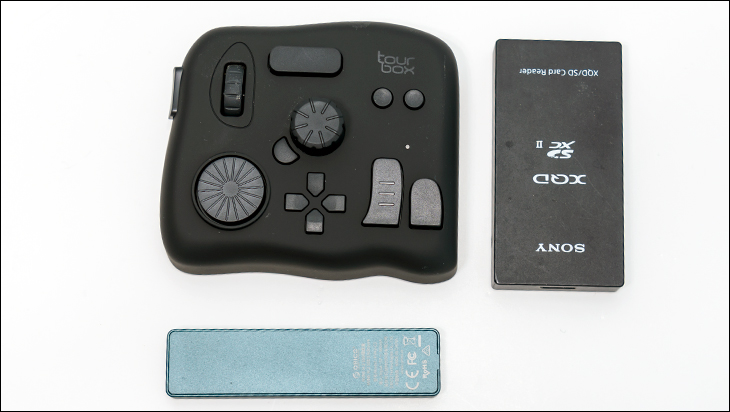 This is the first issue, but not the only issue with the TourBox 2020. Even on just a quick glance you can tell it was modeled after a gaming console controller. Albeit a rather large and heft game controller. One that is 4.6 x 4 x 1.7-inches in size (or 116 x 101 x 44 mm) and tips the scales at about 362gramms (or 12.77 oz)… and is a wired (USB Type-C) and not wireless. To put these numbers in perspective, a Contour Design Shuttle Pro v2 is 4.3 x 7.7 x 0.9 inches / 109 x 196 x 23 mm in size and weighs 300grams (or 10.59oz). So yes, it is one chunky 'game controller'.
Regardless of the increased size, console game controllers are meant to be picked up and held with two hands. A work tool is not. It is meant to be used one handed, and used for extended periods of time while staying put on your desk right next to your keyboard. This brings us to the second quirk. There is no wrist rest and you will be holding your hand up and off your desk for the entirety of your editing work. Potentially for 8-12 hours at a stretch. We would suggest adding in the cost of gel wrist rest to the Total Cost of Ownership before buying the TourBox 2020.
Though to be fair… issue three almost makes issue two moot. If you take a look down at the TourBox 2020 and then think about your left hand it becomes rather obvious that this is a left-hand dominant model meant to be used with your right hand. The dial wheels are just in the wrong position and TourBox actually expects you to either constantly shift your hand position (as seen in their own introduction videos) which nuke efficiency and speed, or use your pinky to spin them. In testing the best solution we found was to offset a wrist wrest, have half our and laying along the side of the TourBox 2020 (allowing our pinky to press the side button), and use our index or ring fingers for the dials… and our thumb for the two bottom right 'paddle' buttons. This means the top right two buttons are all but useless… but with so many button combinations amiable it is not a deal breaker. However, TourBox really need to decide if they want to just focus in on the left-hand dominant user or if they want to be taken seriously by the other 90'ish percent of the population. As it stands, you will be like Daniel-san and constantly "wash on/wash off" with your left hand as you hunt for the button location you want to depress. That is sub-optimal and will kill your editing speed.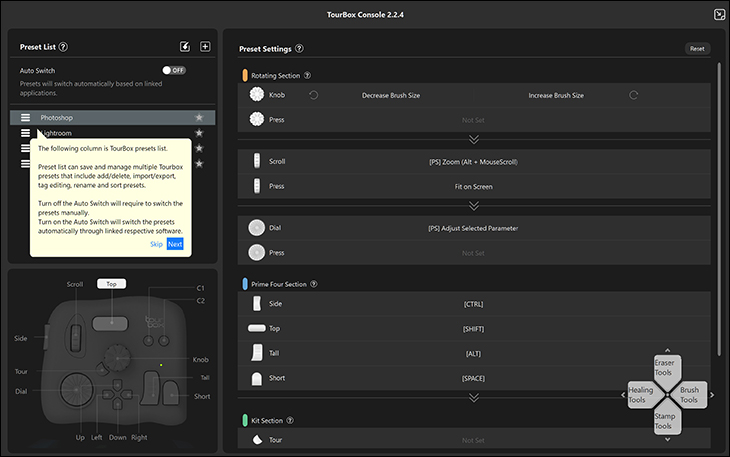 Moving on. The software is both the greatest strength and greatest weakness of the TourBox 2020. It is an extremely easy to use piece of software that makes setting up a custom profile a snap. Mix in the hovering (but closeable) H.U.D that floats in the bottom corner of your screen and it really does work. So much so it is arguably already better than what Contour Design offer with their Shuttle Pro v2. Sadly, it is a work in progress and sub-optimal right now. We say this as these device's software live and die by the pre-configured options they include. Contour Design offer a ton 'right out of the box' that should cover off 99.9 percent of their user-base. TourBox? They include four. Of which two are for Adobe Premier and all four are Adobe products.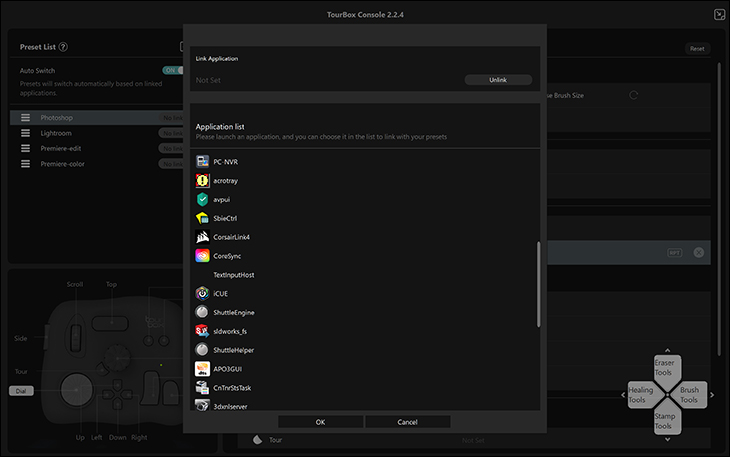 Adobe marketing to the contrary, the world does not revolve around their software. Yes, they are major players and any design team worth their salt should include profiles for each and every Adobe program… but just four profiles?! We understand TourBox is a new company but for the love Pete spend a couple manhours building some more profiles. Furthermore, adding new ones is… quirky. You first have to start the application you want it to work with, alt+tab back to this app, click new profile, scroll down the list of running apps and then select it. Then and only then can you make a profile dedicate to it… and even then you have to make sure "Auto Switch" is turned on so that it will load the proper profile for each software you use on a routine basis. Needless to say, unless you only plan on using three specific Adobe applications, expect to spend a wee bit of time rolling your own. Thankfully, TourBox does host community created profiles, but from a security standpoint that is just a recipe for disaster.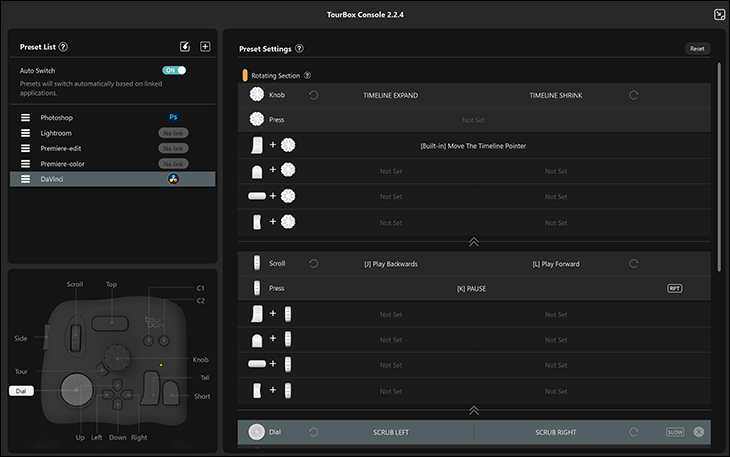 Overall, we truly do believe that TourBox is on to something but it is equally obvious this is an early generation device and design. One that, if they can survive, may indeed become a serious player in multiple marketplaces.