Last updated on December 7, 2023 7:42 pm
It certainly is not in vogue to talk about air-based CPU cooling solutions these days. For a variety of reasons the closed loop, sealed 'All In One' CPU cooling solutions of the market hog the limelight. This is puzzling as while they certainly can outperform air-based models… the differences – outside of the larger models – is rather tough to justify given the massive difference in asking price. For those who are looking for value it really is hard to beat a tried and true 'air' cooler that will never leak, or fail in such a manner that demands you purchase an entirely new cooler 'RIGHT THIS SECOND'. Of all the brands on the market – and it there are veritable ton of options these days – the granddaddy of the marketplace still makes some fantastic models. Models such as the $48(USD) Scythe Mugen 5 revision 2 that we will be looking at today.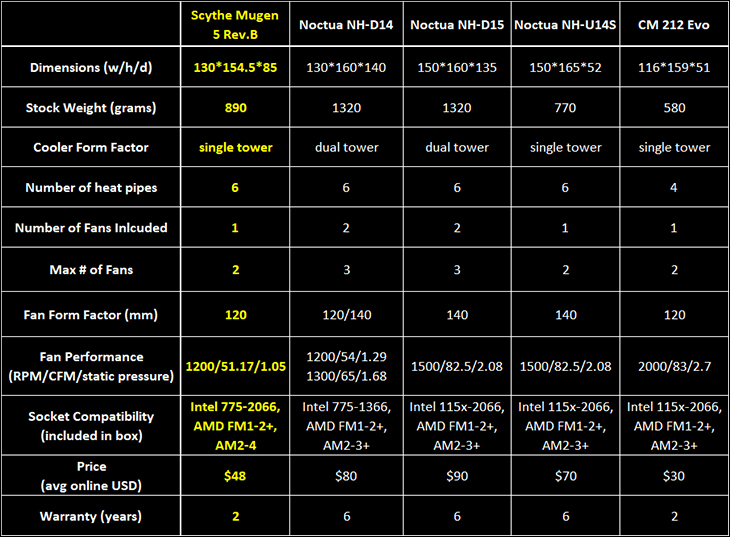 Talk to any experienced PC enthusiast and they most likely will have fond memories of the Scythe Ninja… and will rave about how amazing the all copper version (Ninja CU / Ninja 5th anniversary edition) was for its day. Others will remember the Mugen 2 from way back in 2009. This is because Scythe has been building excellent, and innovative, CPU cooling solutions since late 2002. All this experience has been distilled down to its key essence with the newer Mugen 5 revision b – which is an updated version of the Mugen 5… a cooler which helped put Scythe back on the radar for many PC enthusiasts.
In the coming pages we will go over what Scythe has, and has not, changed with the newer revision b of the Mugen 5 cooler; but suffice to say it does almost live up to its Japanese word, as offers nearly infinite flexibility. Nearly infinite CPU socket compatibility (all the way from Intel socket 775 to AM4 is included in the box). Nearly no installation issues / nearly infinite ease of use and installation. Even nearly infinite 120mm fan compatibility. This Mugen (aka 'Infinite' in English) 5 revision B is a CPU cooling solution that may not be the smallest or largest, may not be the cheapest, but really does live in that sweet spot that we call 'value'.