$419.99
in stock
1 used from $419.99
as of December 7, 2023 9:03 pm
$359.00
in stock
3 used from $127.59
as of December 7, 2023 9:03 pm
$159.99
$169.99
in stock
42 new from $159.99
27 used from $92.83
as of December 7, 2023 9:03 pm
Last updated on December 7, 2023 9:03 pm
Closer Look TL;DR
Even though the MSI X99A Tomahawk lacks built in WiFi abilities this is about the only issue the average consumer will find with this motherboard. Everything from its excellent list of storage options, to its robust power delivery sub-system, to even its good onboard sound solution is sure to please. The fact MSI was able to do all that and still offer this board at such a reasonable price just shows how overpriced the typical X99 is – and how little most manufactures are trying to be affordable.
A Closer Look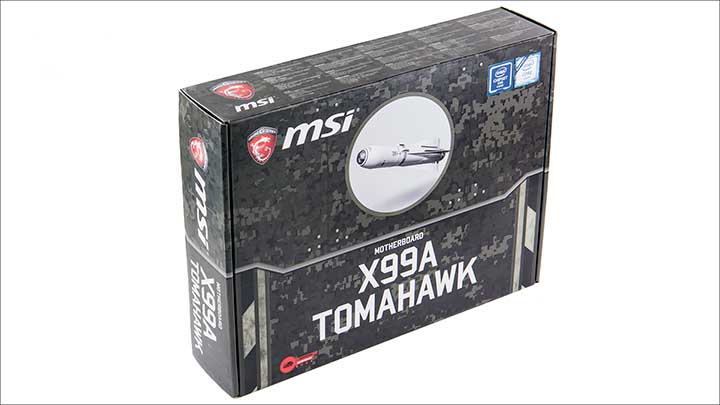 The box the MSI X99A Tomahawk comes in is rather distinctive to say the least. This is partially thanks to the digital camo pattern and partly because of the large Tomahawk cruise missile on the front. The only issue is that there is not a picture of the actual motherboard on the front. Beyond this minor detail the box is attractive and is a sign of things to come.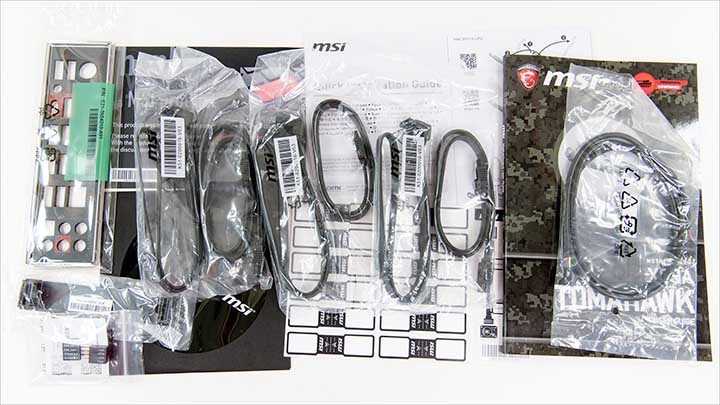 The accessory list is fairly bare bones for an X99 motherboard but does cover all the basics nicely. Expect to find six SATA cables, SLI ribbon cable, LED extension cable (sans LEDS), install manual and a driver DVD.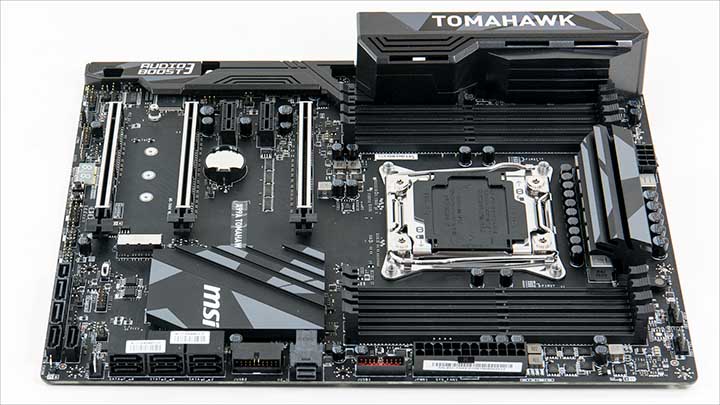 Moving to the motherboard itself you can see that the MSI X99A Tomahawk is one striking looking motherboard. Everything from its custom PCB to its digital camo heatsinks and IO cover combine to make one down right gorgeous looking board. Equally impressive is the sheer number of features this board comes with.
Even on just a quick glance your eye will be drawn to a few key features… and what you will find is sure to please. We will get to these standout features in a moment but for now it is suffice to say that this is one loaded motherboard. Equally important is the actual layout of all these features is darn impressive and nearly every single feature is easy to use… and not just included to tick of a box on a specification list.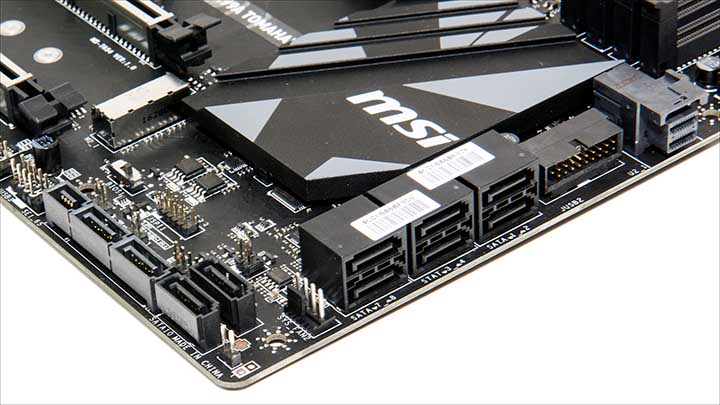 As we are dyed in the wool storage enthusiasts let's start with this part of the motherboard and the treasure trove of goodies it has on tap. First and foremost is this motherboard comes with a full ten SATA 6GB/s ports and while only six are right angle ports we doubt anyone will take issue with this. We say this as in return for getting a total of ten SATA ports with four in a less than optimal orientation consumers will find a SATA-Express port, a x4 PCIe M.2 port, and a U.2 port. Put simply all the basses including 'enthusiast' are covered here. Basically if you have a storage device it will work with this bad boy.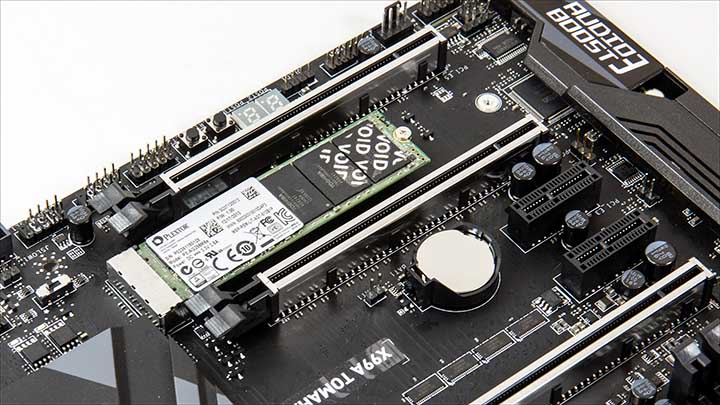 The only minor issue here is that even though it does come with a four lane PCIe (aka NVMe) and SATA AHCI capable M.2 port it will only be a four-lane capable port if you use a 40-lane CPU. If on the other hand you cheap out and get a 28-lane CPU this M.2 port will be limited to x2 PCIe speeds. For most this will not matter as a major reason for opting for socket 2011-v3 is the 40 lane CPUs! On the positive side, the M.2 port is capable of handling everything from tiny M2232 all the way to extra-long M22110 M.2 SSDs. As such as long as you pair it to the right CPU your M.2 SSD will work.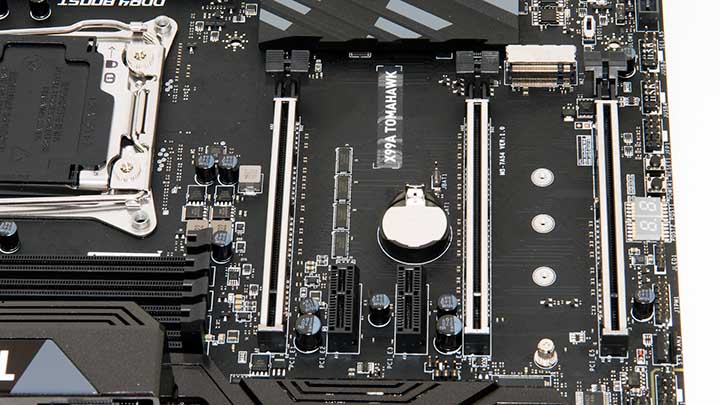 As an added bonus this port also comes clad in what MSI calls their MSI Armor. This metal cladding addition not only makes the M.2 port look rather striking it also purported reduces signal and EMI interference. Whether or not this is all that important remains to be seen but we are of the firm opinion that more protection is always better than less.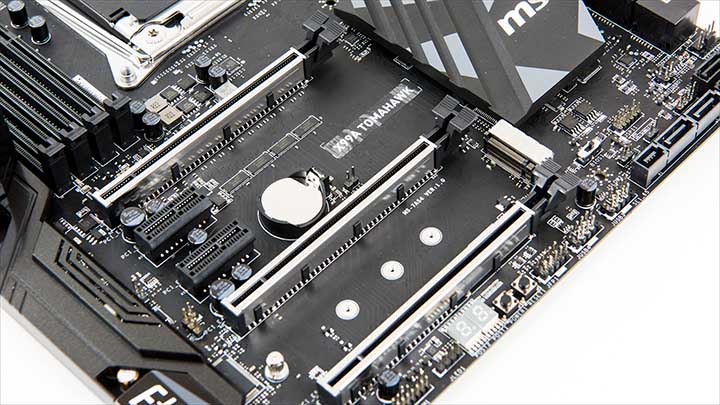 As we are still in the same general vicinity the next mega feature of the MSI X99A Tomahawk is the PCIe ports. As with the M.2 port the three include x16 PCIe slots also get the Armor treatment. Though in this case it means more than just metal shielding. It also means a lot more and robust mounting of the x16 socket itself. So much so that even the heaviest of video card are no match for its load bearing abilities.
As this is a ATX sized motherboard and MSI wanted to make sure that 2-way and 3-way video cards got access to as much air flow as possible it comes as no surprise that there are not four x16 slots. Basically the typical ATX motherboard really only has room for seven PCI/PCIe slots in total.. and since you really want to have at least one x1 PCIe slot between each as an 'air gap' there was no way to cram in the fourth without making the layout less optimal for the average user. As such if 4-way SLI or 4-way CrossFire is important to you then this board will not be right. Though for the majority of consumers we think MSI made the right choice as the top most x16 slot even supports three slot monster video cards!
The other minor issue with the PCIe layout is that in order to offer a M.2 22110 capable slot MSI had to sacrifice a single x1 PCIe slot (between the secondary and tertiary x16 PCIe slots). As such this motherboard only comes with two PCIe x1 slots and both are located between the primary and secondary x16 slots. This means it will be an 'either or' proposition in that you can either have access to a single x1 port (as the topmost is going to be covered by the first video card) or you can have good airflow in 2-way GPU configurations. Luckily nothing says the third x16 slot has to be used only with x16 cards.. and since it is really only going to be a x8 slot (16+16+8) this is not that big a deal unless you have multiple x1 cards you need to install along with a pair of video cards. All in all not that big a deal.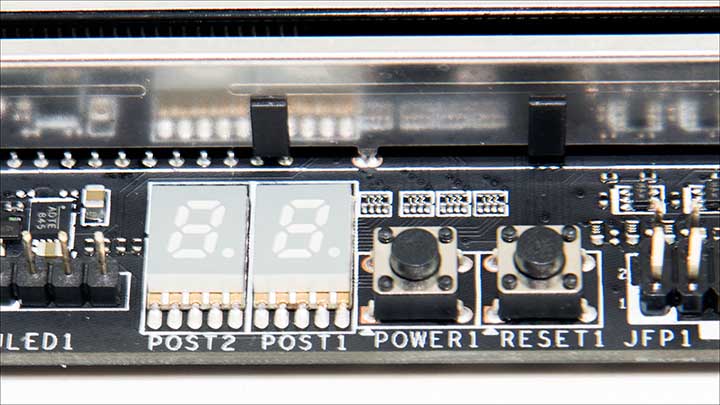 Just below the tertiary x16 PCIe slot you will find the two-digit diagnostic LED panel as well as the small power and reset buttons. The only issue we have with these bonus features is there location. Basically if use the third x16 slot it is going to cover these features… and while not being able to hit the reset button is not that big a deal, not being able to see the diagnostic error code to track down a gremlin is a big deal.
It also -almost – goes without saying that if you use a long card in the third PCIe X16 slot that you are not going to easily use the additional four SATA ports. That is unless you first install 90-degree right angle cables first and then and only then install your card. That really is not that big a deal, and rather just something you need to be made aware of. What may be a big issue is the dual-bios switch will also be covered, but if you have bricked the BIOS it is not that difficult to first pull a card and then throw the switch.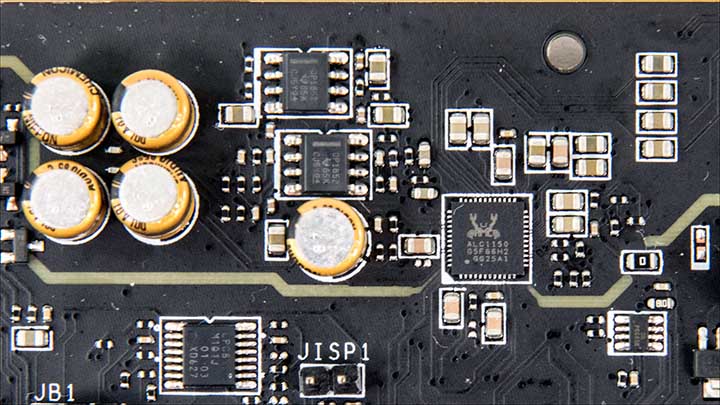 Another star of the show is the integrated sound solution. This is one area MSI has been paying a lot more attention two and the X99A Tomahawk shows their efforts in spades. While it may not have a removable op-amp like some higher priced models, the sound solution this card does have is rather good.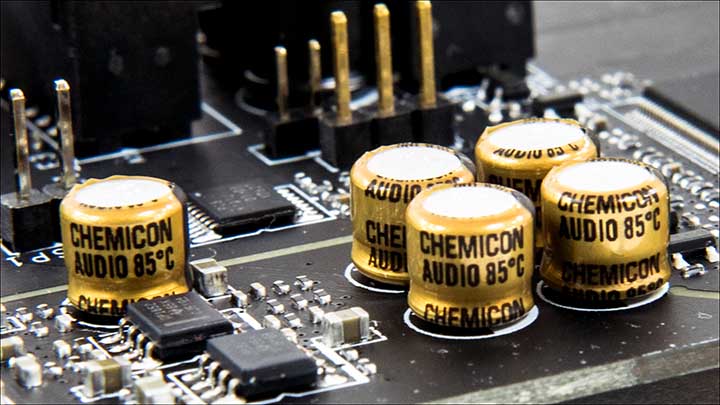 At its heart is a Realtek ALC1150 8-channel audio CODEC, which is one of the best sound controllers available today, especially when combined with Texas Instruments OPA1852 op-amp and Japanese capacitors.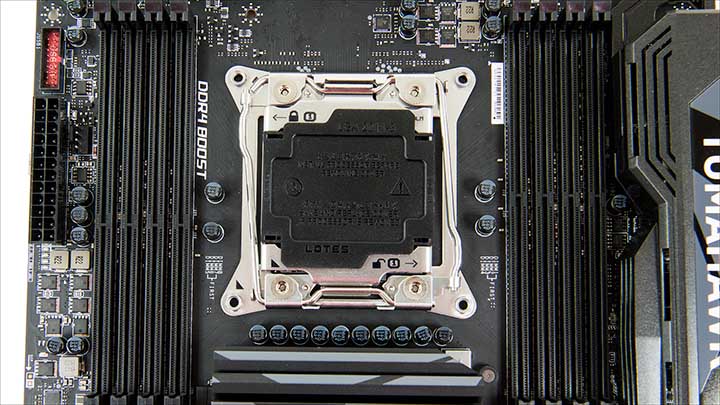 The real star of any X99/LGA2011-v3 motherboard is of course the CPU socket and socket area. Here is where this board really shines. As you can see the area around the CPU is rather spacious by X99 systems. Equally important is while a few capacitors do encroach on the CPU socket area all these caps do comply with Intel's z-height restrictions. What this means is they are little to no concern for the typical user and only LN2 users will worry about it.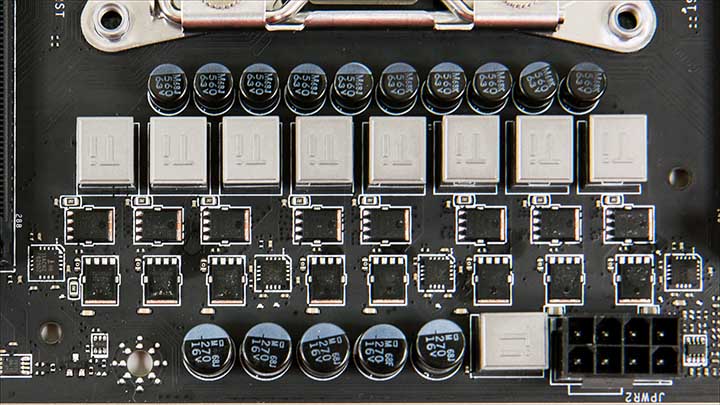 Hidden unearth this heatsink is an 8-phase all digital power delivery system that ensures clean and stable power actually reaches the CPU. To be precise this board makes use of MSI's top of the line Military Class components such as Titanium chokes and low ESR 'Dark' capacitors.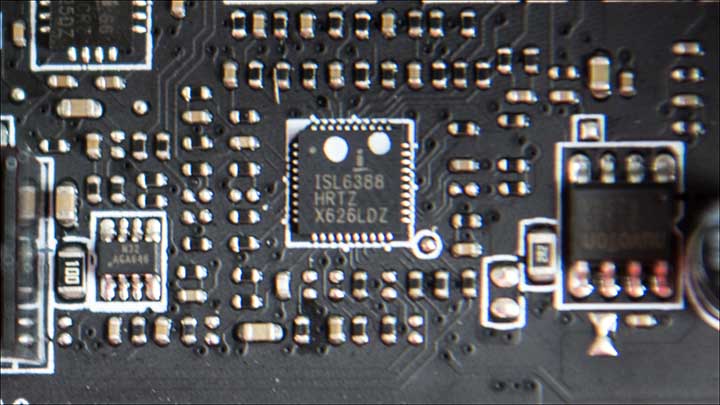 To harness this potential MSI has opted for an ISL6388 6 phase controller. Of course as there are eight phases this means two of the actual six phases are doubled up to further spread the load out. All in all it is a very good power delivery subsystem and well and truly above average for its price range!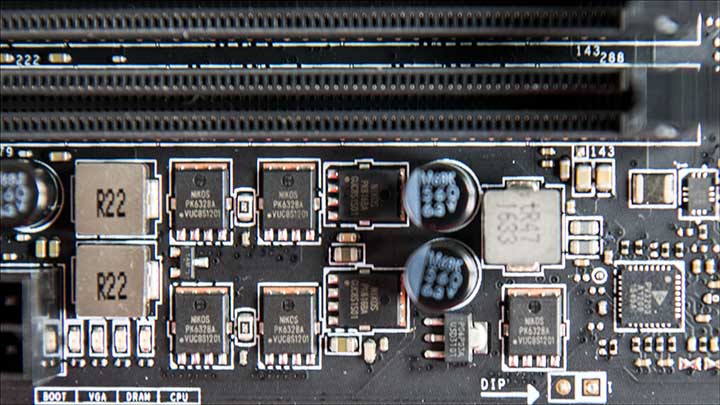 This motherboard has two banks of 4 DIMMS (with up to DDR4-3333 speeds supported) and it should come as no surprise that each bank make use of their own 2-phase power delivery system. We personal prefer dual over single phase for overclocking RAM as it does provide more stability and will allow you to eek out every ounce of performance from your DDR4 sticks.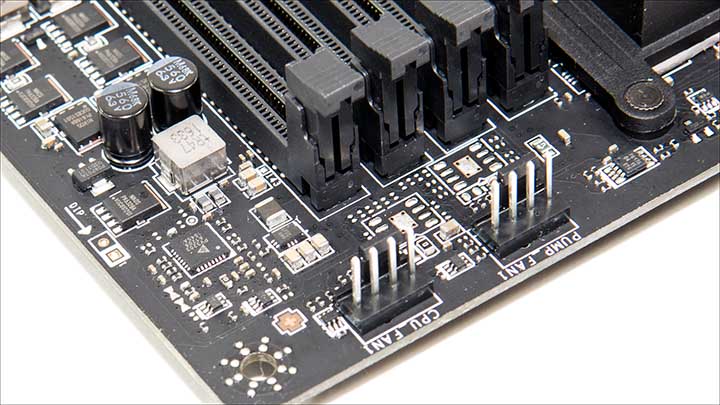 Next to the DIMM bank closest to the 24-pin power connector buyers can expect to find two 4-pin fan headers that are dedicated to CPU cooling. The added header really will come in handy when using an AIO or even just a air cooler that makes use of two fans.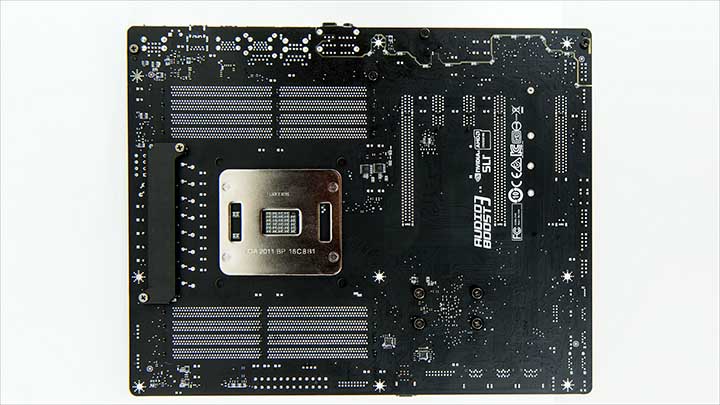 Flipping the motherboard over we can see that MSI has opted for a metal backplate to secure the lone VRM heatsink instead of pushpins. This certainly is a good thing as we loath pushpins on motherboards as makes the motherboard's heatsink 'wobbly' and much less secure. Not so nice to see is that MSI has opted to include a few chips on the back. To be precise you will find a bunch of MOSFET chips for and a pair of ASM1164 controllers. The latter are part of the subsystem that provide the USB 3.1 Gen 1 (aka USB 3.0) abilities of the motherboard.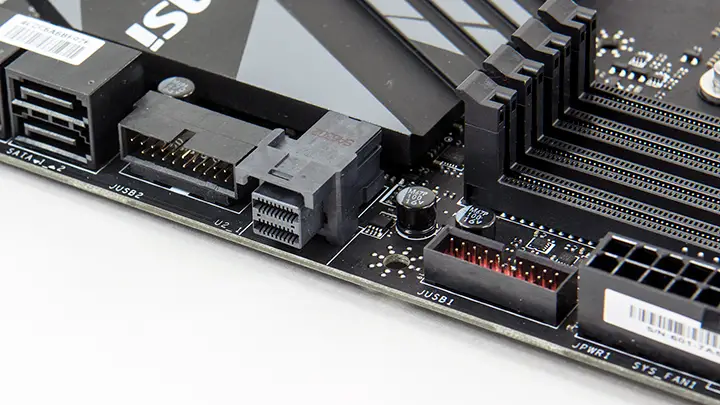 Speaking of USB 3.1 Gen 1 this motherboard comes equipped with not one but two front headers allowing for up to four USB 3.1 G1 ports. Though as with the SATA ports the layout is a touch odd in that one (located next to the 24-pin power connector) is vertical and the other (between the U.2 and SATA ports) is horizontal. On the positive side at least one will be an optimal match for your case and wiring setup!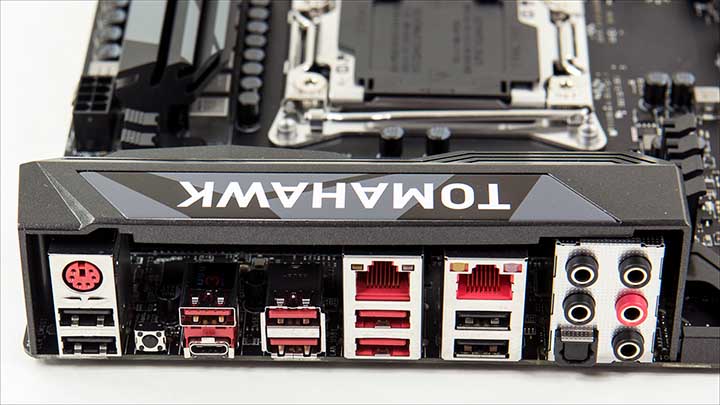 The rear IO panel is extremely good and better than what we have seen on boards costing a lot more than this bad boy. In grand total, you will find a dedicated PS/2 keyboard and mouse port, 4 USB 2.0 ports, 4 USB 3.1 Gen 1 ports, and two USB 3.1 Gen 2 ports (one type A and one Type C) two Intel powered gigabit LAN ports, the five audio jacks, and an optical S/PDIF Out connector. Now that is a potent package!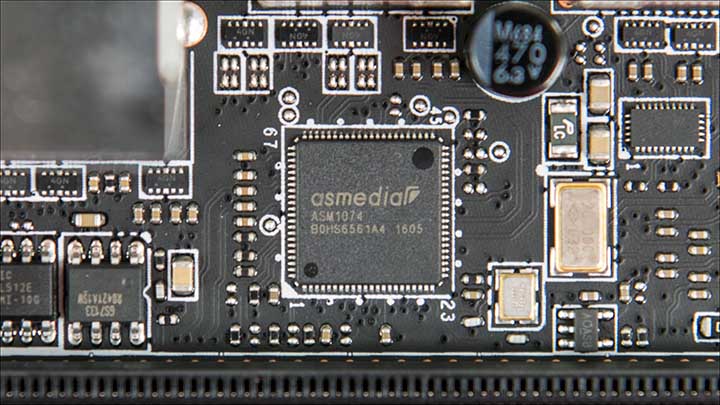 The only minor nit-pick is the USB 3.1 G2 ports are via ASMedia controller and not Intel. The Intel controller does cost more than ASM and the difference are minor enough that the increased cost probably would not have been worth it for most buyers.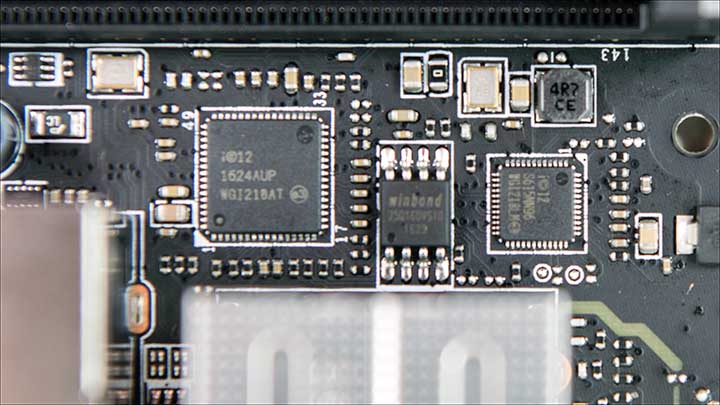 On the positive side both LAN ports are Intel based and not Realtek/Marvell/etc. To be precise MSI has opted for the Intel 218 controllers (one 218AT and one 218LM).