$320.00
in stock
6 new from $316.99
as of December 1, 2023 8:13 pm
$57.90
$87.99
in stock
11 new from $57.90
as of December 1, 2023 8:13 pm
out of stock
as of December 1, 2023 8:13 pm
Last updated on December 1, 2023 8:13 pm
It is probably the worst kept secret in the camera industry, but both Nikon and Canon will be releasing their next generation flagship cameras early next year, and by the middle of the year release new mid-grade cameras as well. Equally well known is that most of these new cameras will use CFast 2.0 instead of CompactFlash for their storage medium. Mix in 4K video cameras becoming rather reasonably priced and the future of semi-professional grade video storage is also CFast 2.0.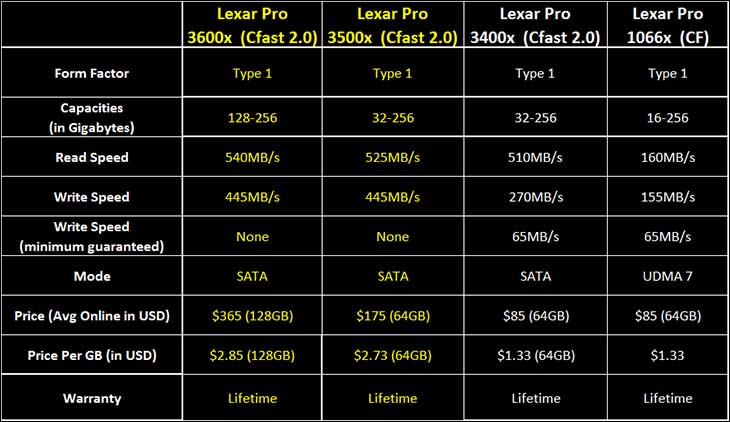 Lexar is fully aware of these facts and in a concerted effort to be able to meet upcoming demands have released two brand new lines. The 3500X and the 3600X. The former is the replacement for the 3400X series (yes this makes the 3500X a second generation CFast 2.0 model) and its intended market is the semi-pro and professional photographer. The latter on the other hand has been optimized for ARRI video cameras and meant for sustained usage loads. Both models will come in sizes ranging from moderate to massive, both will have lifetime warranties and both will be bloody fast.
So with not one, not two, but potentially three models (3400x) to choose from consumers who have not been paying close attention are going to be a bit confused on which model is 'best' for their needs. Today we will be showing what the strengths and weaknesses of these three models are so that you the consumer can decide which is best for your needs – instead of simply rely on 'higher is better' numbering.