$260.52
in stock
63 new from $259.99
5 used from $249.99
as of December 1, 2023 8:02 pm
$507.50
in stock
4 new from $507.50
1 used from $294.02
as of December 1, 2023 8:02 pm
$345.99
$419.00
in stock
66 new from $344.95
8 used from $335.00
as of December 1, 2023 8:02 pm
Last updated on December 1, 2023 8:02 pm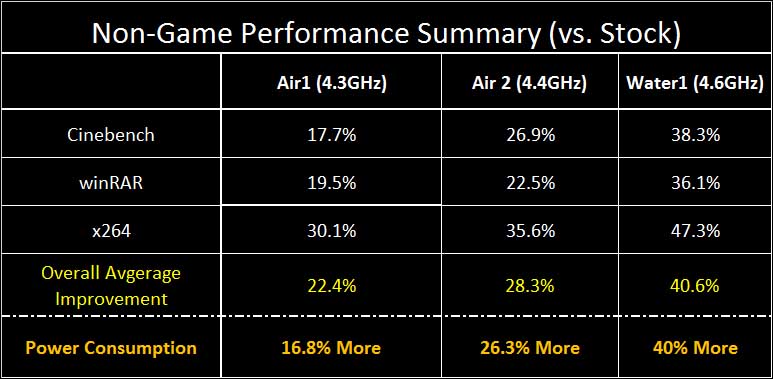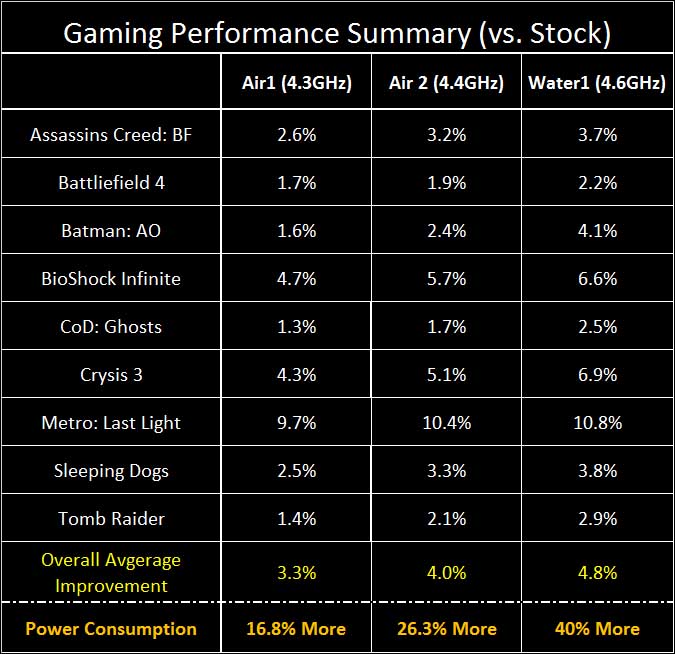 i7 6950x – System Power Consumption

To obtain accurate results we have connected the system to a Power Angle power meter that has in turn been attached to a 1500watt UPS. This ensures only 120volt power is supplied to the PSU and removes an variances that could potential crop up because of brownouts and power spikes.
To minimize power consumption variances introduced by using different cooling solutions at different overclocking levels these tests were carried out using only the Corsair H110i GT. This water based cooling solution proved capable of handling all the load levels and while it does use the most power of the three CPU cooling solutions all fans – and its pump – were running at continuous maximum output.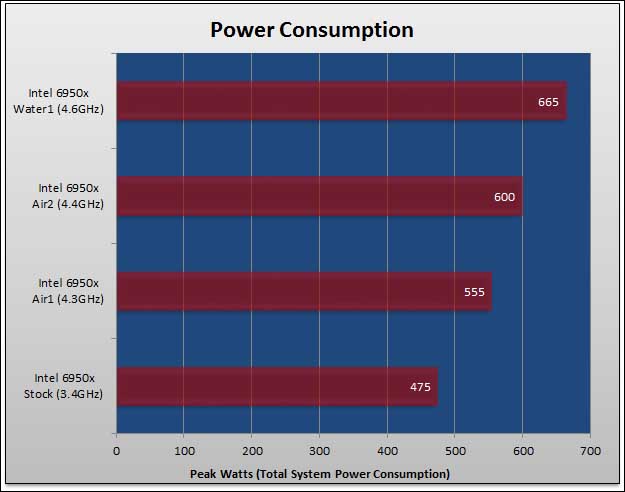 Consumers interested in gaining a bit extra gaming performance really are going to be disappointed with the 6950X in general, as even when overclocked you are not going to gain much over previous 6 and 8 cores models outside of the occasional game. This goes double for single video card configurations where even the additional PCIe lances over Z170 based systems will not really matter all that much.
Conversely, if you use heavily multi-threaded applications to get work done, this new ten core is going to impress. We personally think that most will be more than happy somewhere in the 4.0 – 4.4Ghz range, but for those who really want to push the performance boundaries expect it to take a lot more power and produce a lot more heat than a stock 6950X.
i7 6950x – Closing Statement

As you can see this new ten core 6950X is a very interesting processor. On the one hand at stock settings it is a rather mild manner processor that will not take all that much to keep cool; however, this is because Intel has kept the Turbo Boost ratio low at 34-35X. Obviously this was done on purpose to keep it within the 140TDP specification, but consumers willing to spend this kind of money should invest in good cooling and good motherboard. It is not that ten cores running at 3.4-3.5GHz is 'bad' but even just a moderate level of overclocking can bring noticeable real world improvements. Of course with that being said, scenarios that need 10 core / 20 threads of horsepower at 4-4.2GHz are rather few and far between; however, if you need shear horsepower this processor does have it in spades… if you are willing to unlock its 'hidden' potential via overclocking.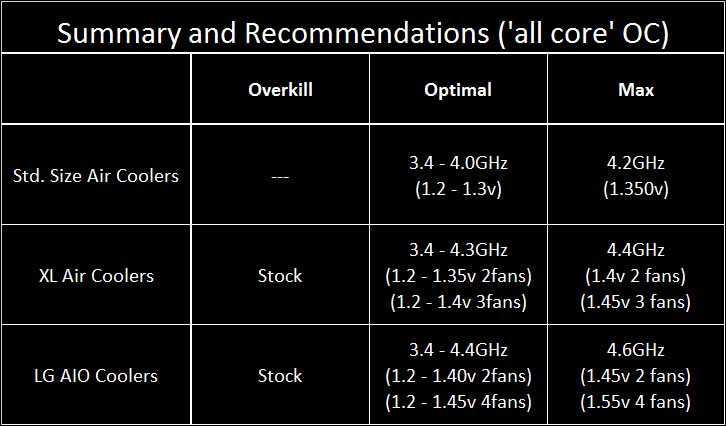 Of course the flipside to overclocking is that consumers will quickly realize that their fairly mild-mannered 6950X processor does turn into a fire breathing dragon of yore. So much so that even moderate overclock of just 800Mhz on all cores (aka 4.2Ghz) can be considered a good limit for moderate sized, but dual fan equipped, air based CPU cooling solutions. We say this as once you break the 4.0GHz barrier you are going to pay for every Mhz with extra voltage and this voltage does quickly add up. Honestly, even at just 4.2GHz consumers will really want to think long and hard about getting a bigger and more expensive CPU cooling solution. Having such an expensive CPU run at just this side of its thermal wall for extended periods of time is not exactly something we would want to do for the life of the system. Remember voltage and heat kills… or at least noticeably reduces the lifespan of the uber-expensive CPU. Put another way we consider 1.3v to be a good safe(ish) hard limit for 'normal' sized air based cooling solutions. You can push this to 1.350, but 1.250 – 1.300 would be the range we personally would be comfortable recommending for long term overclocking.
Now while we did not go over this in this review we did notice that single 140mm bay water based All In Ones like our personal Kraken X41 did fare better; however, the difference is not enough for us to break this class into two groups (single bay AIO and moderate AIR based units). Instead what it did was give a bit more thermal headroom at 1.250 to 1.300 voltage range. You may feel differently, and it would depend on the CPU cooling solution, but we would certainly recommend the NZXT Kraken X41 class of AIOs as a good starting point for overclocking this fire breather if you plan on taking it above 1.2v. Below this level any decent CPU cooling solution should be more than adequate.
Moving on, we once again would strongly recommend that consumers consider upgrading an already expensive air based unit like the D15 to much faster fans – and using three of them. In its stock configuration consumers can expect to gain 100Mhz of added performance before once again brushing against the thermal wall. This could probably be pushed by another 100Mhz or a bit better with faster fans. To put this in firmer voltage terms, as overclocking will vary from CPU to CPU, we consider 1.4v to be a good safe(ish) limit for mega-sized air cooling solutions, and adding three faster fans could push this to 1.450v without having the CPU on the verge of thermal limiting. The downside to this is the end result would not only be a massive CPU cooling solution that weighs a veritable ton, but one that is also downright loud. However, we would feel much more comfortable with a D15 (or older D14) cooling this processor generation than we would cheaper/lighter/entry level CPU cooling solutions, especially in the 1.3-1.4v range.
The last group of course is the largest Closed Loop Cooling solution's manufactures are creating today. Dual 140mm radiator water based coolers really are the most optimal choice consumers have without going into the custom or semi-custom end of the market. Models like the Corsair H110i GT used for this review, the newer H115, the NZXT Kraken X61 are all models that consumers should seriously consider if they are pursuing serious overclocking levels with the new Intel 6-series of 2011-v3 processors. However, even here if consumers really want to push the boundaries and turn things to literally 11 on the MSI Game Boost dial, a custom water loop is the only answer. We did manage to get setting 11 stable with a massive AIO and four extremely powerful 140mm fans, but once again you will be keeping the CPU right at the thermal wall and that is not a place we would recommend. Instead based on our CPU 1.45v would be a good safe hard limit for voltage.
As for a motherboard to use that can do all that, we really do like the MSI X99A Gaming Pro Carbon. Throughout testing this reasonably priced motherboard never let us down, and in many ways stole the show. After all we easily pushed the 6950X well beyond reasonable levels with a simple push of a button. Better still with so many settings to choose from this motherboard would be a good choice for a wide range of scenarios – from mild all the way to wild! As such we would be remiss if we did not take this opportunity to award MSI Carbon Pro Gaming Carbon our Hardcore award.