Last updated on December 1, 2023 2:22 pm
HairWorks – Intro and Testing Method
Introduction
The Witcher series. Even just saying the name usually invokes an instant emotional response in most PC gaming enthusiasts. Some love it, some hate it, very few fall in-between those extremes. With its awe inspiring visuals, deep multi-layered themes, and game play time that is best rated in weeks Witcher 3 continues the grand tradition of being considered either the ultimate time waster or the ultimate waste of time. Yes the Witcher series is controversial, but unlike previous installments, Witcher 3 is not without controversy surrounding features added to the game engine. Literally before it was even released AMD was calling foul on how NVIDIA's "HairWorks" was going to unfairly hobble AMD cards in this highly anticipated game. Such claims are a dime a dozen and most people pay them no mind.
However, one side effect of this seemingly purposeful handicapping of the 'other team' did pique our interest. Unlike the usual shots fired in this 'war', word quickly spread on how NIVIDIA not only cut AMD off at the knees but also previous NVIDIA 7 series owners. The most interesting of these rumors is that a lowly NVIDIA GeForce 960 GTX can outperform a last generation GeForce 780 GTX video card! The rumor then enters the realm of conspiracy theory by stating that NVIDIA has purposely hobbled the previous 7 series via firmware so as to make consumers upgrade again. That to us is dirty pool, and deserves to be investigated.
In order to get to the bottom of this we have taken 6 NVIDIA cards (four 9 series, two 7 series), one AMD card, and created a real world benchmark using Witcher 3. Unlike our typical benchmarks, this one is special in that it not only tests 1080P and 1440P resolutions, but tests both using two different settings. Specifically we created a timed run through that first uses the 'Ultra' setting (with VSNYC off) and then a second test using the same run through with Ultra settings enabled but with HairWorks and VSYNC set to off. This gives us four individual test results instead of the usual just two.
With these results we can instantly see how big a deal HairWorks is and if the rumor is indeed correct. More importantly we can see if NVIDIA is the only video card manufacture that can run 'properly' run The Witcher 3, or if AMD cards can also provide an enjoyable gaming experience.
Testing Methodology
To fully test the abilities of a given video card, we have used a blend of in-game benchmarks and custom recorded real world game benchmarking. For custom game play we have used FRAPS to record the minimum and average frame rates and to do so for a set period of time. All tests were run a minimum of four times and the scores are the average of all four runs.
All games were patched to their latest version. The OS was a fresh clean install of Windows 7 with all latest hotfixes, patches and updates applied. All games were tested at the two of the most popular resolutions of 1080P (1920×1080) and then again at 1440P (2560×1440). This means each game tested was run a minimum of 8 times: 4 @ 1080P and 4 @1440P. Before testing Unigine's Valley benchmark was run for 15 minutes to 'warm up' the video card. This was done to ensure that long term performance and not short term performance is being illustrated.
The games used for testing were:
Witcher 3
For stress testing we used Unigine's Valley benchmark.
Drivers:
GeForce 352.86
AMD Catalyst: 15.4
Main Test System
Processor: Intel i7 5930K
Memory: 16GB GSkill Ripjaws 4 DDR4-3000
Motherboard: Asus Sabertooth X99
Cooling: Noctua U12S
SSD: 1x Seagate 600 Pro 400GB, 2x Intel DC S3700 800GB SSDs.
Power Supply: Corsair AX860i
Monitor: Dell U2714H
OS: Windows 7 Ultimate x64 SP1
Hairworks – Results
Witcher 3 Results
Witcher 3 is an action role-playing video game set in an open world environment, developed by Polish video game developer CD Projekt RED and released on May 2015.
Our test uses a real world timed benchmark that consists of three minutes of game play during the 'Beast of the White Orchard' quest. This section of the game incorporates everything from grass, to water, to hair, to numerous NPCs. An average of four runs was taken.
The settings used in the testing below are either Ultra display settings but with Vsync disabled, at a resolution of 2560×1440 and 1920×1080 ("HW ON"); or Ultra display settings, but with HairWorks off and Vsync disabled, at a resolution of 2560×1440 and 1920×1080 ("HW off").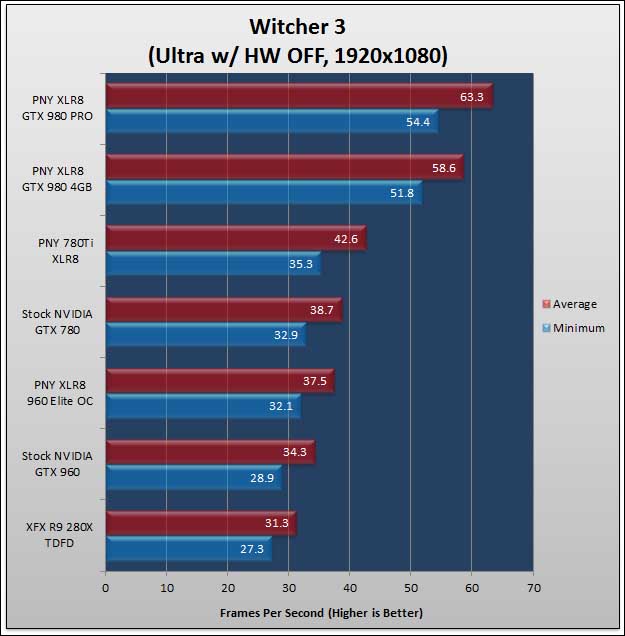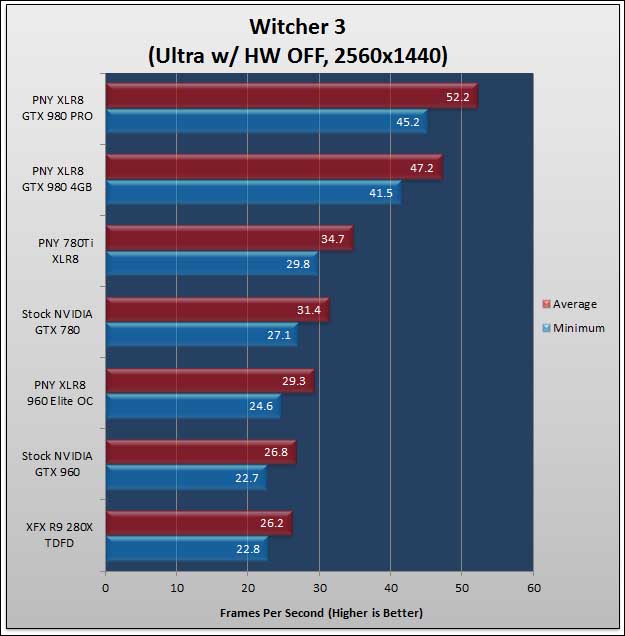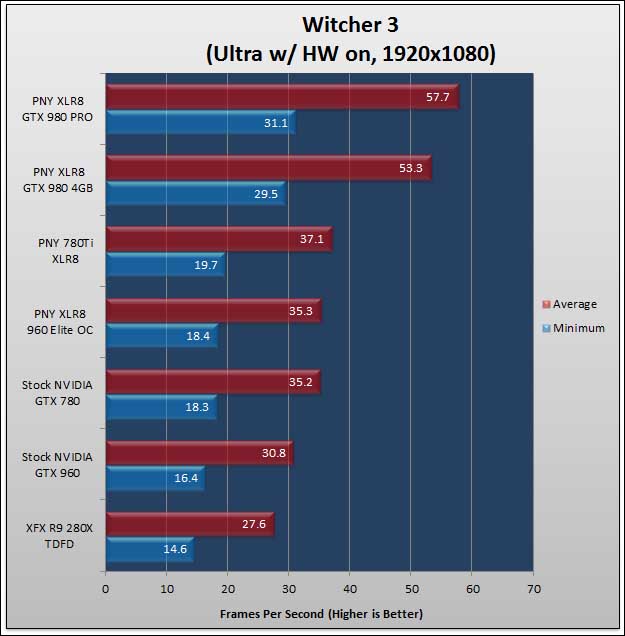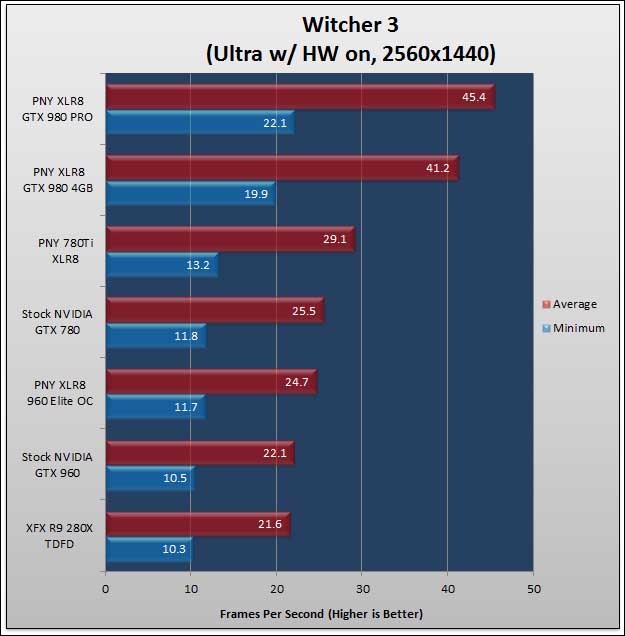 Understanding the Results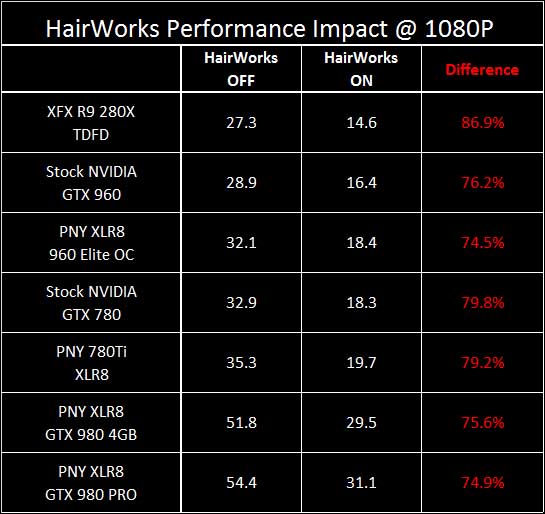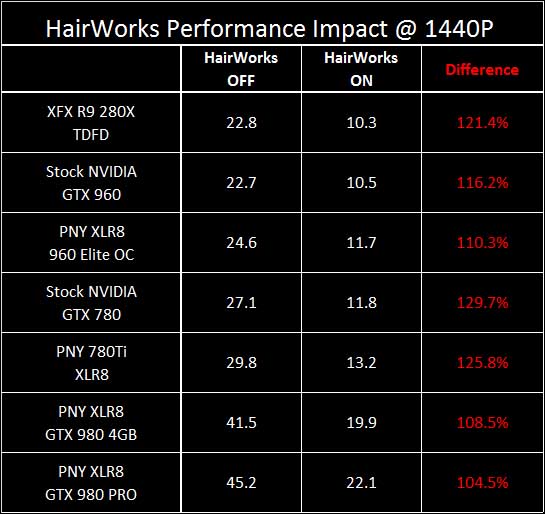 As you can see HairWorks is a bear to run. This one feature turns a fairly hard to properly drive game into one that is all but impossible to run properly with only one video card. If you want to run this feature at any resolution you had better have the cash to run dual – or better still tri – SLI Titan X's or 980Tis. Anything less is going to result in game play that is simply to variable to be truly enjoyable.
So where does this leave consumers and the whole rumor about 960 vs 780? Technically the rumor is (partially) correct. While some people love to say technically correct is the best kind of correct, the fact of the matter is a 960, or 780…or even a 980 will not be enough to run this game with HairWorks on. This is not because of the average frame rates but because the bottom falls out of the minimum frame rate results. At higher resolutions even a highly overclocked GeForce GTX 980 can't even come close to our personal minimum of 30 frames per second. To put that another way turning this one feature on basically guts your minimum frame rates while noticeably reducing the average frame rates as well.
In other words this rumor is a tempest in a teapot and it's not like consumers using 960s will be able to laugh at 780 owners who struggle to get decent frame rates. More importantly the 960 vs 780 conspiracy theory hinges on comparing highly overclocked 960s to stock 780s at only lower resolutions and considering sub 20 frames per second to be 'good enough'. That is a lot of variables that have to align in order for the much cheaper 960 to 'outperform' a GeForce GTX 780 card.
Now would we be overly happy with the state of the marketplace if we only had one GTX 780 and didn't want to upgrade? Probably not, but then again expecting a card that was released two years ago to be able to run the most demanding game released to date with all the eye candy turned on is not very realistic either. Plus its only one feature that makes the 780 turn into a turtle….and that selfsame feature turns all video cards into turtles. If it really bothers people that much, use these results as justification for a new card, or ignore that one small feature all together. In either case we consider this 'rumor' to be firmly planted in conspiracy theory land.
HairWorks – Closing Statement
As you can see the internet rumor on the 960 vs 780 is partially correct. Yes, given the right set of circumstances a highly overclocked GeForce GTX 960 can do ever so slightly better than a stock GeForce GTX 780. That is true, but before everyone gets their pitchforks out, there are a couple huge asterisks that accompany that statement. The first is that this only really happens at 1080P resolutions. Secondly it only is the case when comparing overclocked to stock – i.e. apples and oranges. Lastly, it is not because of firmware or lack of refinement on NVIDIA's behalf. Instead it is because of the efforts NVIDIA poured into the 9-series at the architectural level.
To understand that last caveat consumers need to know some history. Basically when NVIDIA's 7 series and AMD's R9 2xx series were in direct competition AMD threw a curve ball at NVIDIA. Namely, AMD's implementation of tessellation at the hardware level was noticeably superior to NVIDIA's. This was best exemplified by Tomb Raider which for the longest while smacked around NVIDIA cards if the hair effects option was turned on in the game. Without it the differences were small and not worth picking one 'team' over the other.
NVIDIA did overcome some of this handicap via firmware refinements but they knew that they had to do more in their next architecture or fall further behind. To this end they poured a lot of money and effort in improving tessellation abilities of their upcoming Maxwell architecture. This is why even though the 960's core is a 'halved' 980 core it has two thirds the number of Tessellation Units as the 'full core' 780 does (8 vs 12). More importantly NVIDIA has baked in a lot of refinement into their Maxwell's Tessellation Units. So much so that NVIDIA claims Maxwell is about 2-3 times more efficient at tessellation than Kepler.
Mix in new software that stresses these units like nothing before and you have the perfect storm for NVIDIA's PR department. Quite literally by just turning this one feature on in Witcher 3, consumers can expect minimum frame rates to plummet by about 75 percent at 1080P and over 100 percent at 1440P for 9 series cards. That is an unacceptable hit in performance for some fancy looking 'hair'. This is especially when you consider that the difference in older NV generation is even greater – clocking in at upwards of 80-130% difference.
Whether or not NVIDIA knew the impact of HairWorks was going to be this large for their older generations is unknown. It is also unknown how much improvements they can do via firmware to the 7 series – as they would have done it when AMD's tessellation effects were kicking their arses and Maxwell was nothing more than a gleam in their engineers' eyes. We would like to give them the benefit of the doubt on this issue and assume it was unforeseen or at least unavoidable.
We feel giving NIVIDA a pass on this part of the issue is fair, because the Tessellation Unit improvements were talked about long before Maxwell was released, and they are hardware and not software based improvements. Instead of giving into unfounded leaps of logic on NVIDIA purposely handicapping older cards, what we can demand is for improvements in the HairWorks routines which lower the performance impact for all cards. Since the Tessellation Units are more effective in the 9 series, HairWorks will impact older cards harder than newer, but the impact is simply too great right now for all series of cards to be useable outside of very minor niche of consumers.
So what do you do if you own either an AMD R9 2xx series or NVIDIA 7 series cards and have no interest in upgrading? Turn HairWorks off. That's it. That is all that you need do in order to get a very good gaming experience in Witcher 3 – regardless of what flavor and model card you are using. Doing so will net you results that are a lot closer to playable, and in the case of a stock GTX 780 a lot better than what stock GTX 960s can offer you.
So there you have it. NIVIDIA's latest generation is better than their older generation. Purchasing the absolute high end of any generation equates to poor long term value, and NVIDIA need to work on their new HairWorks algorithms. Honestly, the only reason this issue gained such momentum is that Witcher 3 is both a bear to run and the first to turn on and tap into this previously unsuspected performance potential. Hopefully this is the start of a new trend, with every generation offering massive performance gains over its predecessors…even if only in select areas.