$50.99
in stock
2 used from $50.99
as of December 6, 2023 8:34 pm
$129.43
$159.99
in stock
23 new from $119.99
as of December 6, 2023 8:34 pm
$149.98
in stock
1 used from $149.98
as of December 6, 2023 8:34 pm
Last updated on December 6, 2023 8:34 pm
Recently we took a long hard look at an extremely good entry level router and walked away impressed with its overall value. A lot of out positive opinion was based on the fact that finding 4×4 wireless Network Interface Cards is bloody difficult. So much so that in order to get uber-high wireless performance most people have to go the 'dual router' path and literally use a second router as an external wireless NIC! After the review this did however get us wondering about other alternatives. Alternatives that do not rely upon buying two bloody expensive routers just to get sick speeds. Usually this means going the USB route… but that route is fraught with numerous problems and was quickly discarded. After searching we may have found the solution enthusiasts craving high performance wireless transmission speeds will be more interested in than buying two AC2600 routers: the D-Link DAP-1860.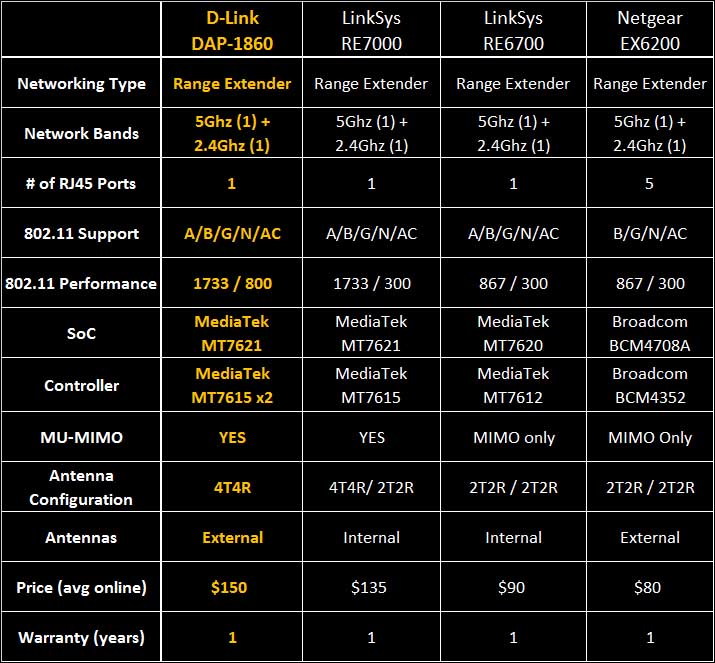 Unlike a full-blown router, the DAP-1860 is meant to be used as a secondary device that is sued improve an existing router's wireless range. As such its setup and configuration has been streamlined with a lot fewer options but this does make it a lot faster and easier to configure. Better still this 'range extender' comes with an integrated 10/100/1000 Ethernet port which allows it to be used as an external wireless NIC! Yes this bad boy can not only extend the range of your existing network but is perfectly happy doing double duty and giving a wired only system wireless abilities.
On the surface this is not all that impressive as there are countless others that do something similar. Heck we even own a Linksys RE7000 for this very reason – and to give our main HTPC access to the internet without unsightly cables snaking from room to room. What does however make the D-LINK DAP-1860 so interesting is that unlike nearly every other 'range extender' on the marketplace this little bad boy is 4T4R capable via its four external antennas. More impressive this 4×4 capability allows this small device to boast speeds of up to 1733Mbits/s on a 802.11AC network and simultaneous speeds of 800Mbits/s on a 802.11N network. Yes, it is a true AC2600 class wireless device… but one that is meant to plug directly into a wall socket. If all that was not enough it only costs a couple more dollars than the typical range extender and can be found online for about $150 (USD).
On paper this little bad boy does seem like the answer for enthusiasts. It has an easier setup and configuration, it costs a heck of a lot less than buying a second AC2600 router, and yet still provides high performance wireless abilities to a rig that otherwise would not be capable of hitting AC2600 levels of performance. Today we are going to see if this promise is actually a reality or if it simply cannot live up to our (admittedly high) expectation.