Last updated on September 22, 2023 9:42 am
There is an old saying in the publishing world that goes something like "you are only as good as your last book" meaning that buyers have short memories. In the external storage corner of the market a more apt aphorism is that you are only as good as your latest model, and if you are updating the capacity options of last year's model without changing much beyond the capacity… you had better knock it out of the park. This is an incredibly tough marketplace that seemingly transforms overnight and turns winners into losers in a blink of an eye and frowns upon 'recyclers'. We are pretty much certain that Crucial is well aware of this guiding principle and the latest edition to the Crucial X8 line is out to trail a path that other manufactures have to follow. Yes, the disrupters of numerous industries are back and have their sights firmly set on the high performance, high capacity corner of external market. To do so they are not releasing a new model, instead they have upgraded the capacity options over the award winning X8 Portable SSD series. Today we will be putting this newly released 2TB capacity variant under the microscope to see if it can still impress like the 1TB did when it was released.
To help make as good a first impression as possible Crucial has once again tapped their first generation NVMe M.2 P1 series to be the rock upon which the 2TB X8 is built. The P1 helped put Crucial on the map when it came to NVMe M.2 drives as it combines 'good enough' performance with 'good enough' QLC NAND, an actually good (if somewhat dated by 2020 standards) two lane (PCIe 3) NVMe controller, a good warranty and then adds in a once ground breaking asking price per GB of capacity. Yes, the P1 was once one of the best value NVMe series going for its day, and still is a contender today. Put another way it may have lost a step or two in its twilight years but it is pretty much overkill for USB 3.1 gen 2 devices… and a much better choice than the newer DRAM-less P2 series.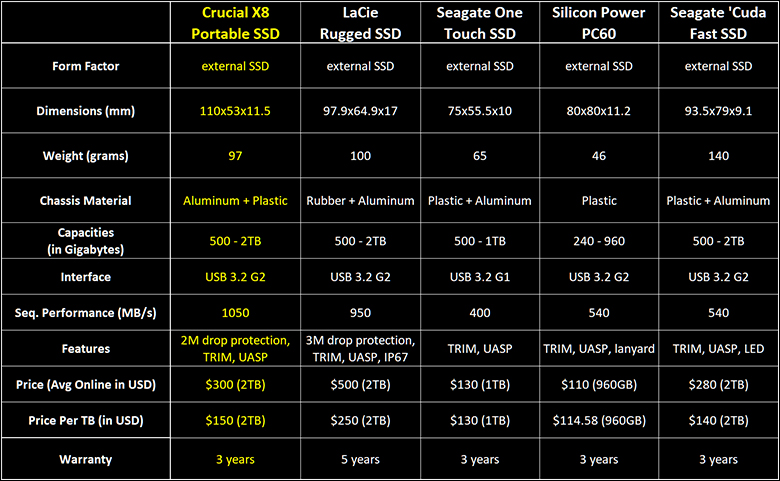 Crucial has also decided to not mess with success and once again tapped ASMedia and their ASM2362 for their X8's NVMe to USB bridge controller… and it still is easily one of the better choices available this side of Intel ThunderBolt 3 'Titan Ridge' controllers. Then they have placed both of these solid choices inside the same mostly metal chassis whose form-factor actually makes sense, and rounded things off by giving it an excellent online asking price of about only $300 (USD) for the 2TB model. To put that price in perspective SATA based models such as the Seagate BarraCuda Fast SSD 2TB will cost about $280 (USD), a Samsung T5 2TB about $290, and the Western Digital My Passport 2TB goes for about $300. All of which are SATA and not NVMe based options. That is how hard Crucial is gunning for market dominance.
On paper it certainly seems like a recipe for success, but like all things in life the devil is in the details. So, let's dig in and see what makes this drive tick. Then and only then can we see if Crucial did indeed hit their rather lofty goals.