$89.99
in stock
10 new from $89.99
2 used from $89.09
as of November 29, 2023 5:52 pm
$82.99
$86.99
in stock
38 new from $82.99
1 used from $96.25
as of November 29, 2023 5:52 pm
$59.99
$99.99
in stock
10 new from $59.50
2 used from $54.99
as of November 29, 2023 5:52 pm
Last updated on November 29, 2023 5:52 pm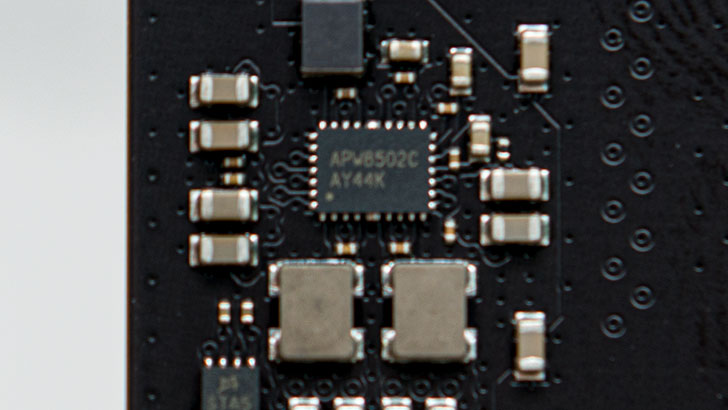 As stated in the primer section, DDR5 does not rely upon the motherboard to get the voltages right. Instead it is each DDR5 stick's job to take the nominal 5V (4.25 to 5.5v is acceptable as far as the onboard PMIC is concerned) and step that down to 1.1v (for example). Right now there are actually not many choices for PMICs and it appears that Crucial uses a couple different options… and it would not surprise us in the least to see different ones used in the same line. This does not matter. All are more than up to the task. In the case of our DDR5-5200 sample kit instead of a Renesas P8911 controller (as seen in the DDR5-4800 kit previously reviewed) these sticks are using Anpec Electronics' APW8502C PWM controller. Another known good controller more than up to the task of handling DDR5 voltage demands.
Moving on.
As we went over in the DDR-4800 review Micron are ultra conservative and do more factory testing than most. They know that most of the RAM ICs they sell as DDR5-4800 could easily pass 'the other guys' DDR5-5200 testing. All they would need to do is up the voltage from 1.1v to 1.2v like most others do. They have not, and probably will never do this… as anything above 1.1 volts is out of specification according to JDEC's DDR5 Memory Specification (JESD79-5B).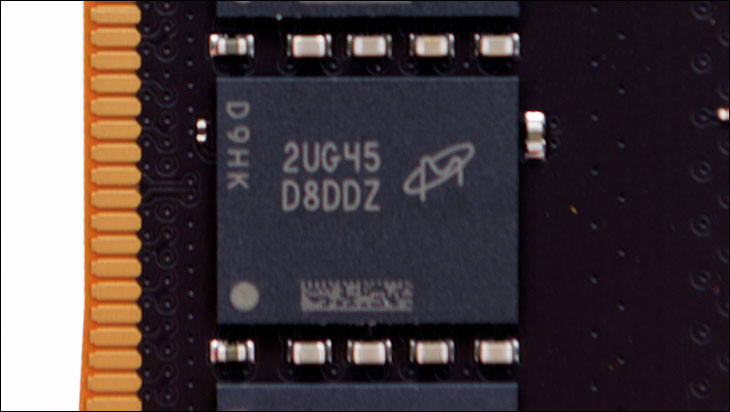 With selling out-of-spec memory under their Crucial brand a no-go, Micron opted for the sensible solution of lowering the timings. For example, the DDR5-4800 kits they offer make use a fairly decent (by DDR5 standards) 40-39-39 timing, whereas the DDR5-45200 kits are sold with 42-42-42 timings. On just a quick glance that does not sound like a good trade-off. The reality is DDR5 needs all the speed it can get and 3 extra clock cycles at a faster speed is well worth the trade-off. Slower timings or not… as it is not an either/or equation. Instead, it is the combination of clock cycle delay and how many cycles per second there are that matters… and higher frequencies can more than offset increases in CAS timings. To be precise instead of latency of 16.66 nanoseconds, Crucial's DDR5-5200 kits have a 16.15ns latency penalty.
This is still larger than DDR4-4000 kits (for example the kit we use is CL18 and thus has a 9ns latency penalty at 4000)… but is getting closer and there is numerous performance improvements baked directly into DDR5. Take just the parallelization DDR5 offers. Talk to any 'ThreadRipper' or HEDT enthusiast and ask them if they would ever want to go back to dual channel memory controllers after using quad-channel… and they will to a wo/man tell you 'hell no!'. DDR5 dual channel configuration is the same as DDR4 quad. So latency is just one part of the equation – but DDR5 is getting better on this front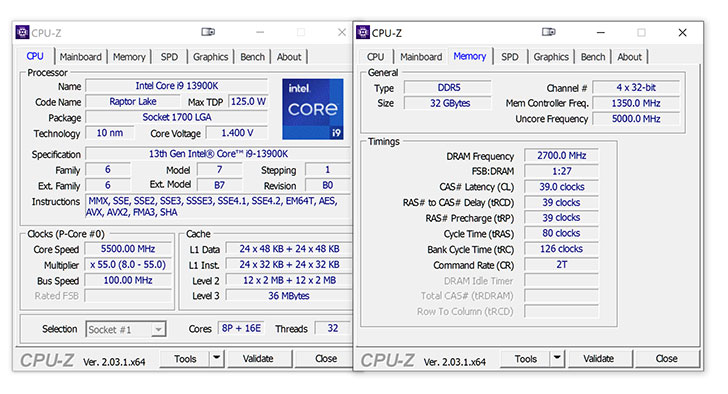 Of course, with all that said, tighter timings at higher frequencies is always preferred. In testing we easily turned this 32GB kit of DDR5-5200 CL42 into a 32GB kit of DDR5-5200 CL40. All at a mere 1.12v. By upping the voltage to a very moderate 1.25v we achieved a long-term stable DDR5-5400… at CL39. Thus turning a 16.15ns latency penalty into a kit with only a 14.44ns latency penalty. If we had been willing to push voltages even higher 5600 was also easily achievable, but all things in life are a series of trade-offs and going to 1.3v (or higher) is contra-indicated if you want long term stable RAM. Especially nekkid kits. Either way, 5400 CL39 is not too shabby for a rather inexpensive kit of RAM. Color us impressed.