Last updated on December 6, 2023 5:32 pm
CUBE Specifications 
Closer Look
A Closer Look
You can see right away that Asus wasn't fooling around when they decided to name this. The device is a quite literally a 4.9×4.9×4.9″ cube, combined with some sleek lines to give it a look that's interesting, yet not distracting below your TV.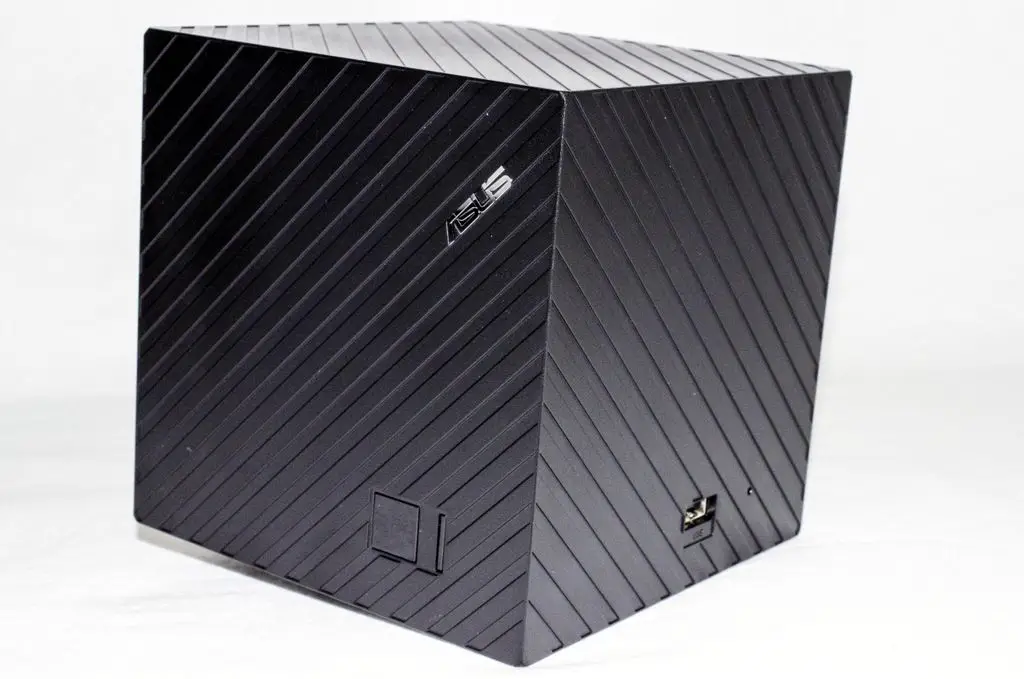 The front of the device brandishes the power indicator and the IR receiver for the included remote, along with a subtle Asus logo at the top right. Asus decided to keep the power indicator at a minimal level of brightness, so it's not distracting with the Cube either on or off.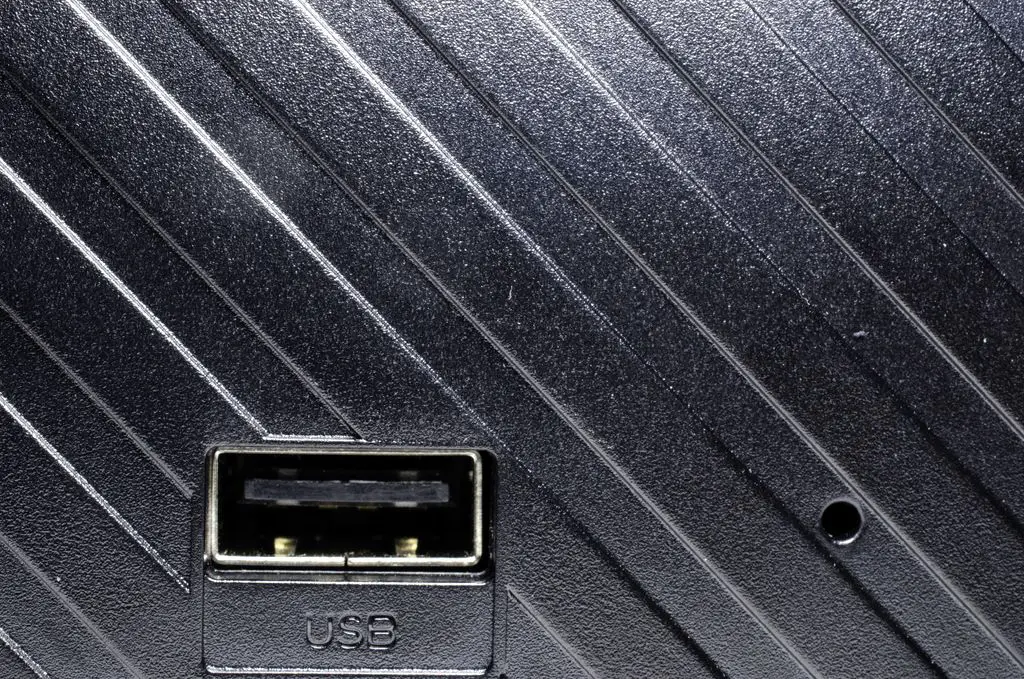 Moving to the right of the Asus Cube we have a single USB 2.0 port along with a very small hole. That's not just any plain hole though, there's a reset button hiding in there. Since the device lacks any sort of physical power switch this is a very simple but useful thing to have.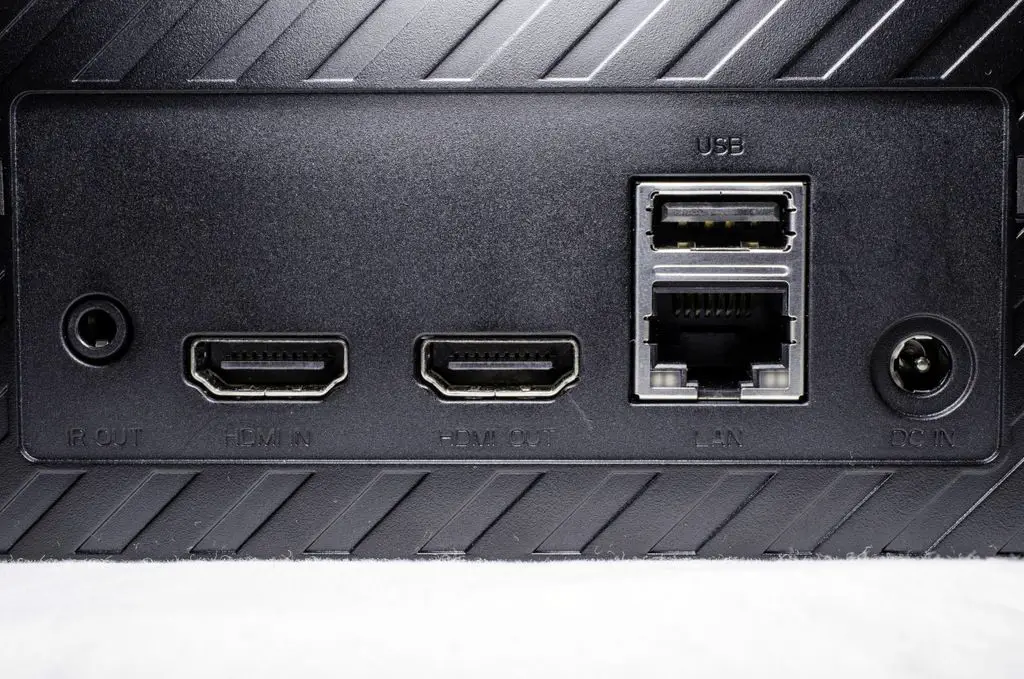 At the rear we see the full line of ports at our disposal. From left to right, we have and IR out port, HDMI in, HDMI out, USB 2.0, 10/100 Ethernet, and DC in. If the Ethernet is not to your liking, there are also wireless capabilities in the form of 802.11n.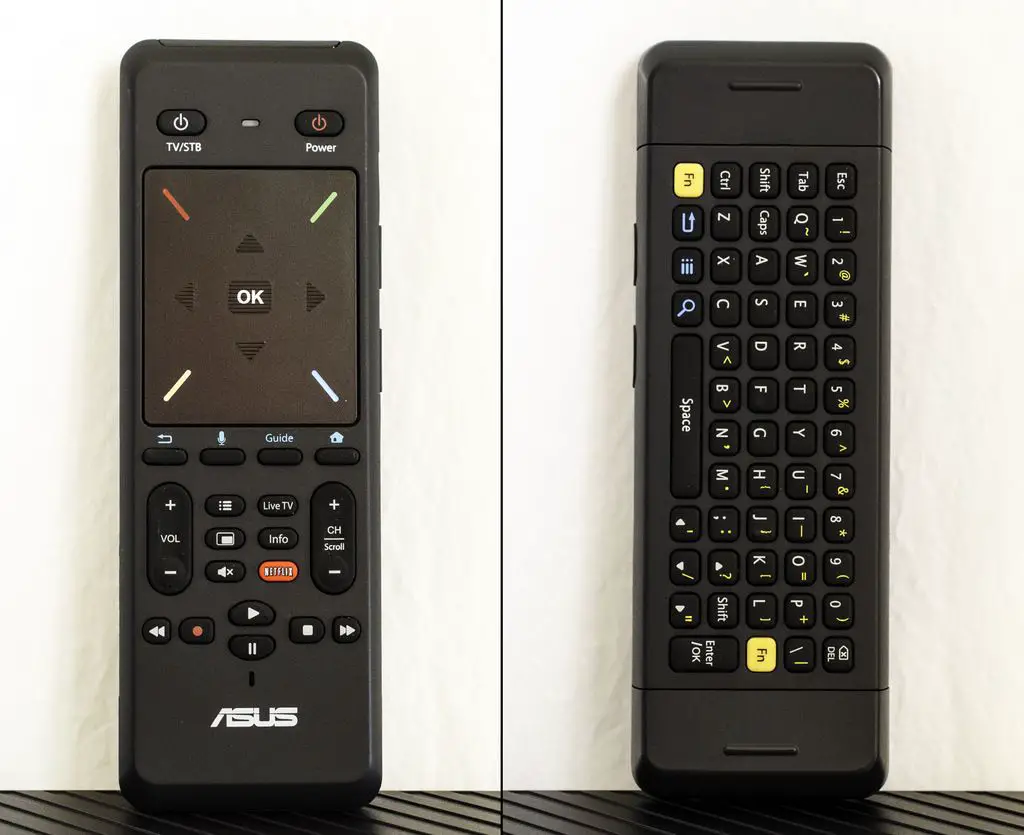 In the accessories department we find the remote, AC adapter, user manual in CD form, a quick start guide, and the IR blaster cable.
The remote is par for the course for Google TV devices. On one side, you have a QWERTY keyboard along with the usual navigation buttons. On the other, you have playback controls, navigation control, a bright red Netflix button, and a touchpad. Along the right side there is a voice command button and a button to enable the cursor for navigation.
The touchpad can be used with the aforementioned side button to have a cursor just like you would on a PC. It works pretty well until you hit the raised arrows, where it gets a tad erratic. The other part of this touchpad is the buttons hidden below it.  The four directional buttons are situated along the edge of the pad so it can be a bit tricky getting them to register a click, but the middle "OK" button is pretty consistent. If all of that was not enough, the remote has an accelerometer built in, so you can use tilt for games and moving objects on screen.
On the keyboard side of things, the buttons are laid out surprisingly well. Hitting incorrect keys with my big thumbs was not a problem while using it for typing. My only wish was that the accelerometer could be used to disable the touchpad automatically when the remote was flipped over, as I found myself hitting it occasionally while typing.