Last updated on December 7, 2023 8:02 pm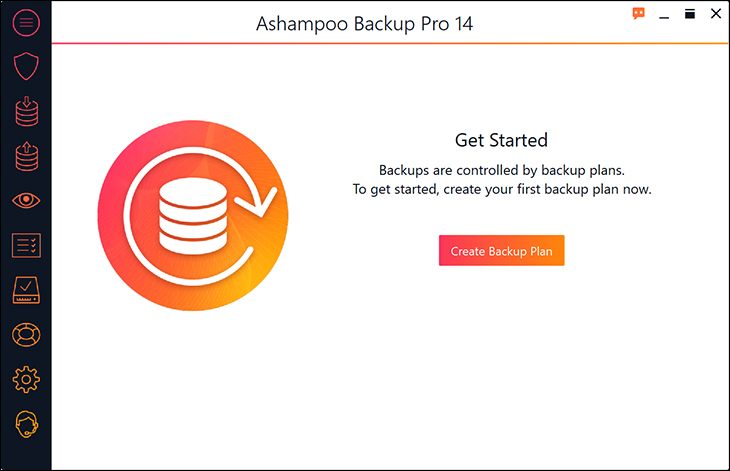 Before we begin, we do need to clear up a wee bit of possible confusion for existing Ashampoo Backup Pro users. There was no version 13 released to the general public. Either v13 was only internally released and scrapped before it got to the distribution stage… or much like with buildings, Ashampoo simply skipped '13' due to its negative connotations. Most likely it is a combination of both. People simply would blame any issues on using the number 13 (aka inviting Mr. Murphy to your backup party) and between version '12' and version '14' Ashampoo has done a lot of under the hood work.
What is known is that there are a lot of improvements baked into the latest version. These improvements run the gamut from a better backup engine, to actually trusty worth backup file integrity checking, to even actually useable cloud storage backup options. If you are getting the impression we were not a fan of Ashampoo Backup Pro 12… you would be correct. It was a rather mediocre solution that was not worth its asking price in 2018. It was not a bad program per say, and not one we 'hated', it simply was best described as mediocre. Mediocre enough to not warrant any emotional investment in it.
Needless to say, we did indeed have lowered expectations for this application. After using this application for a few weeks now we can say that version 14 has positively changed our opinion. This new and vastly improved program actually is worth investigating. What you find may just surprise you. Surprise you enough that maybe Acronis is not the best option (any more) for your needs.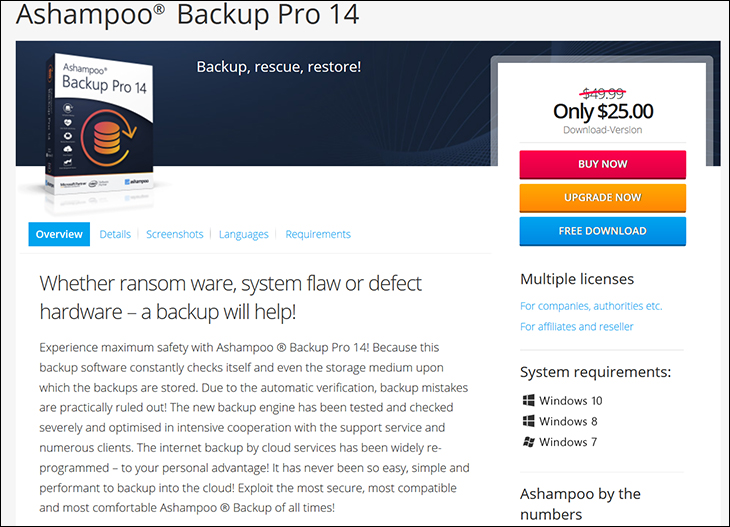 First, is the asking price. Technically speaking this program is 50 USD. Realistically speaking it goes on sale often enough that you can routinely find it for 25 USD. For this price you are not getting a one-year rental. There are no time limits involved. You are buying it and will get lifetime updates to version 14 for your rather minimal investment. Better still, you can upgrade from version 14 to version 15 (assuming they do not skip another number… in which case you can upgrade to version 16) for 20 USD. Also, for a mere 6 dollars you get 2 years of premium support.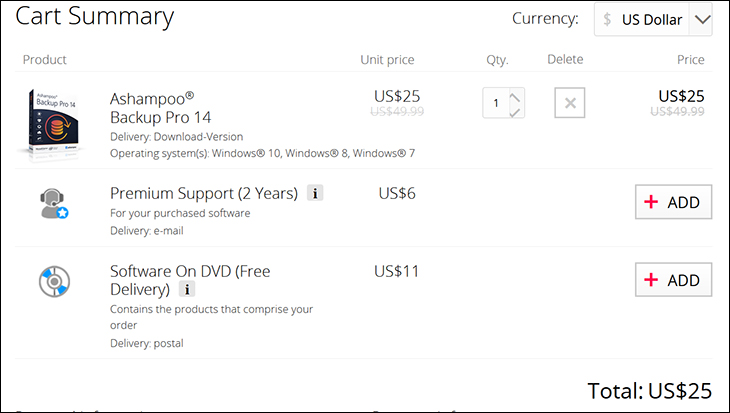 The only downside is… you have to pay a laughably over-priced $11 to get a physical copy sent to you (the 90MB download is free). Equally important is that if you do install the trial version, it will immediately open up your default web browser, and will be given the $25 offer… even if the 'sale' is ended. So realistically, for $25 to $31 you get what Acronis wants $50 for.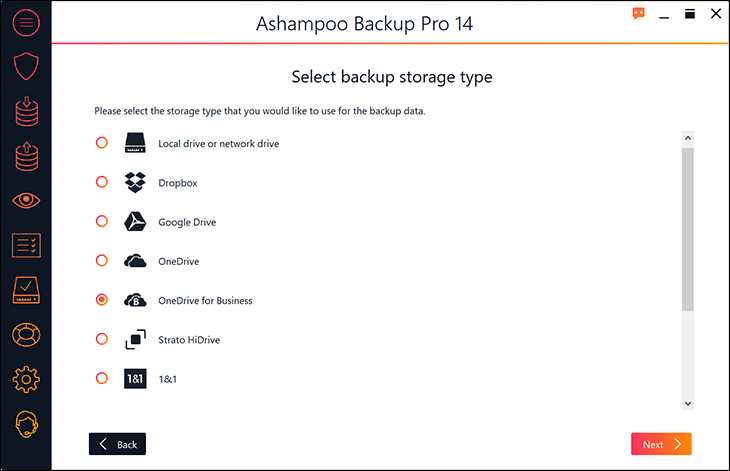 So what do you get for 25-31 dollars? First and foremost is you will get Cloud Storage imaging done… better. It still is not perfect, but it actually is eons better than the workarounds you need to do with Acronis (unless you are using Acronis' own cloud storage solution). This really is a major selling feature in Ashampoo's favor. With nine cloud-based options built right in… actually managing cloud backup's is pretty easy. We would have liked a way to customize the list and add in any others not listed, but as it stands it does make things fast and painless. So much so we really, really like the fact that at the start of creating a backup plan you are given the option to do local, nas, or cloud based storage for the resulting image.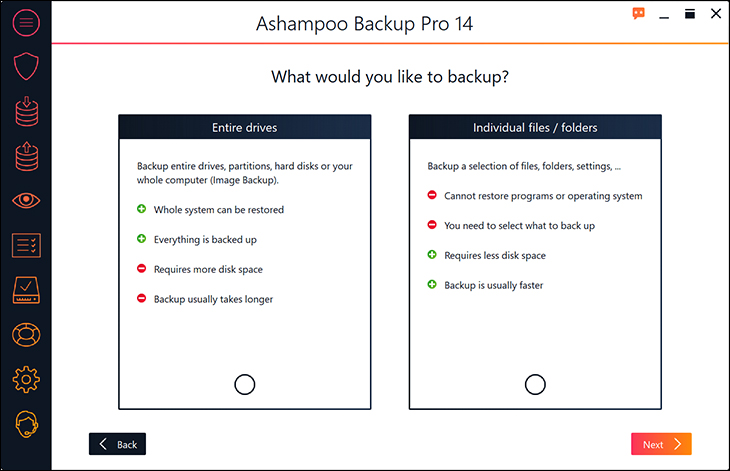 'Fast and painless' actually is a fairly accurate description of Ashampoo Backup Pro 14. It is obvious that Ashampoo has spent a lot of time, effort, and man hours in making every option as easy to understand as it is easy to implement. Even with just bare basic understanding of what you are doing, the clear terms and phrases make the learning curve rather short and gentle.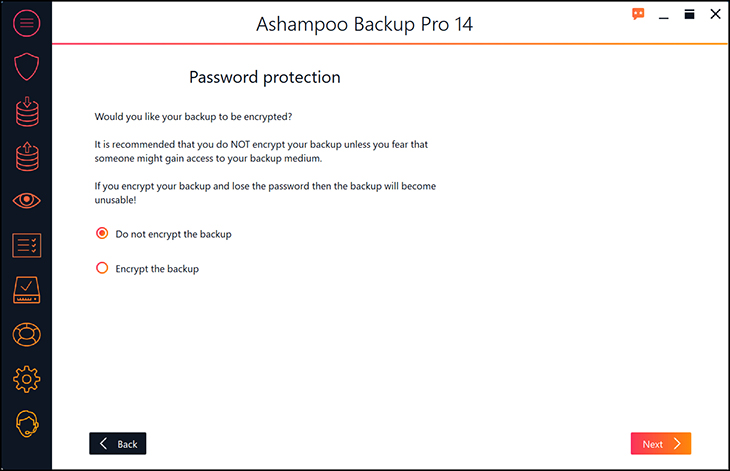 So much so that you can easily implement advanced features, such as 256-bit AES encryption… without really having to understand the how or why you should implement it. The only change we would make is making Cloud backup encryption the default option… as who wants to be part of the next 'the fappening' scandal due to forgetting to tick a box?!
Mix in things such as being able to easily view (and then mount if necessary) backup files (e.g. when looking for that picture that accidentally got nuked… sometime in the past) makes retrieving only specific files without doing a full backup is a snap. In this regard, Ashampoo is at parity with the likes of Acronis. The workflow is however different. Since Ashampoo is using a variation of LZMA (aka 7Zip's improved and optimized version of the tried and true Lempel–Ziv 'LZ77' / 'LZ1' 1977 compression algorithm… aptly dubbed Lempel–Ziv–Markov which was first released back in the 1990s) there are fewer than usual steps required to open, browse, select and then drag n drop a file you want to recover. It is easy, and fast. Albeit, with a few caveats.
The first is that CPU overhead will be higher with the highest compression algorithm used when compared to Acronis at similar compression levels. The next is the file sizes are (in as close to apples to apples as possible) going to be larger than Acronis True Image 2020. While it is only a single digit percentage difference… this does add up when uploading to cloud storage. This combination of higher CPU with larger files is still the weak link in Ashampoo's current abilities. In simplistic terms Ashampoo is a couple generations behind Acronis because they are using an older compression algorithm. If you have a weaker system you will want to keep to the faster but larger file compression options. Conversely, if you have a small Internet bandwidth cap… you may want to set it to max, walk away from the system and understand that the system is going to be slow while it is doing its thing.
In testing, and contrary to what Ashampoo claims, this program can indeed slow your system down. Its background, 'seamless' shadow backups is indeed going to noticeable on weaker/older systems. On more powerful rigs the difference most likely will not be noticeable. This too places it a couple generations behind Acronis.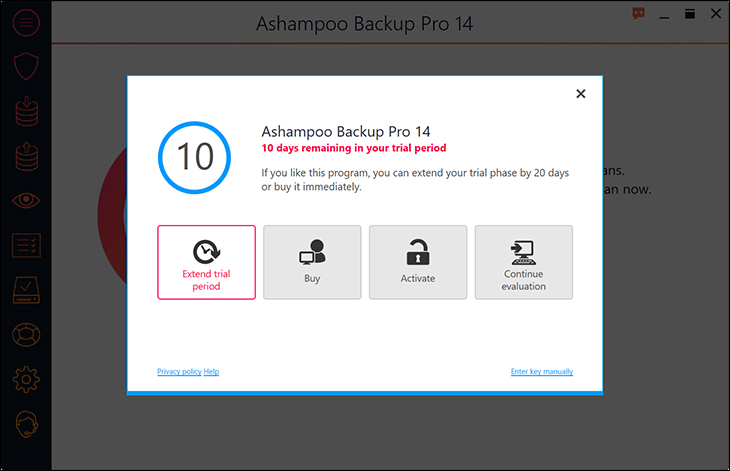 Also a couple few steps behind Acronis (and others), is in the trial period length Ashampoo Backup Pro 14 comes with. With most you get 14-30 days to see if you like it before you have to buy a license code. With Ashampoo you get ten days. That is rather short to really see if you like a program (and if it will negatively and/or noticeably impact your system's performance). It should be 30 days. On the positive side, if you do not want to link an email address to your Ashampoo account… you do not have to. Simply click the 'enter key manually' option in the bottom left corner.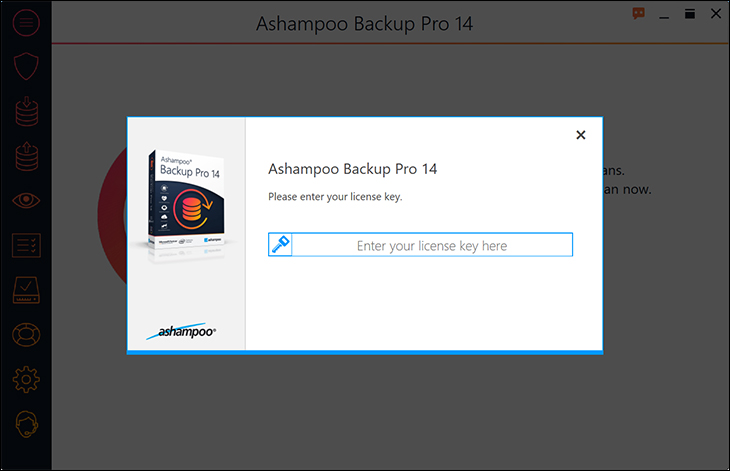 Even better is it will not nag you to link an account if you do use this option. All that is required is an active Internet connection, and in a few seconds, you will be good to go. We do like this option… a lot. So much so we wish other companies would not worry about 'pirates' so much. Pirates will find workarounds, but average users are left with hassles over dealing with said protection. That is a lose-lose proposition as far as we are concerned, so it is nice to see a company taking a more practical approach to their IP protection.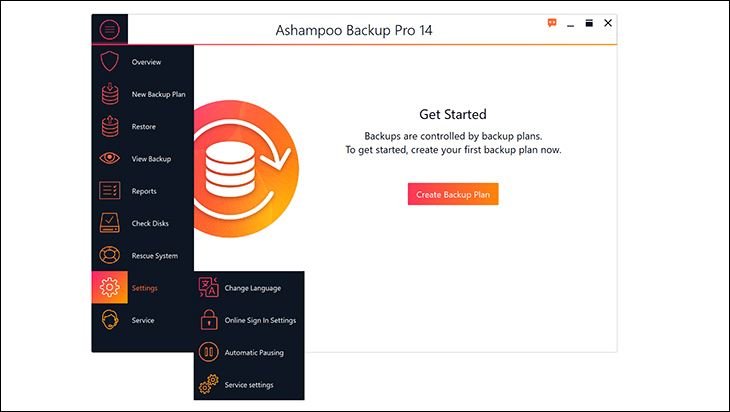 Moving on. When you have activated the program and get to down to using it you will notice a fairly decent UI. On the left is a list of main options, and when you hover your mouse over one an easy to understand English label will appear. If there is more than one option is this top-level menu, a sub-list will also appear. If this seems familiar, it is because it is. This is a UI that works and works well… and why most companies use a variation on this UI theme.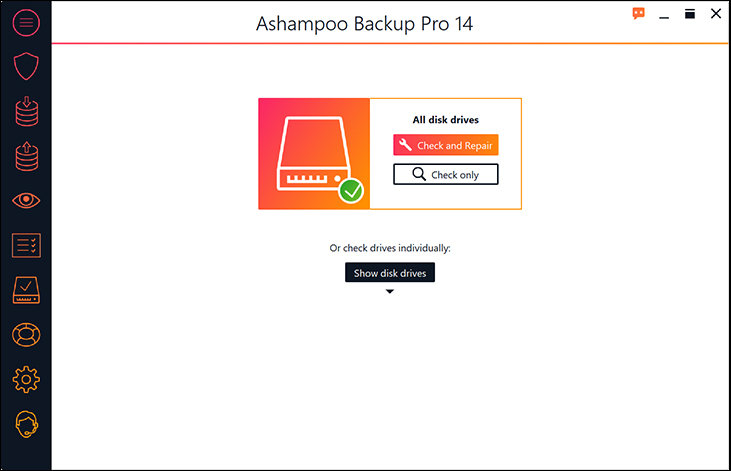 As you can see all the basics we have come to expect are included. With that said, Ashampoo has put a spin on a few things. For example, the Check Disks option is basically a cut-down version of Ashampoo's HDD Control standalone application. It works and it works arguably better than the MS Windows 10 built in option.
The included Rescue Plan option is fairly basic but does get the job done. Stick a USB thumb drive in, select it and it will make a bootable option that will allow you to restore from a previously made Ashampoo Backup Pro image file. In testing it worked and was pretty much as low hassle-factor as you could want.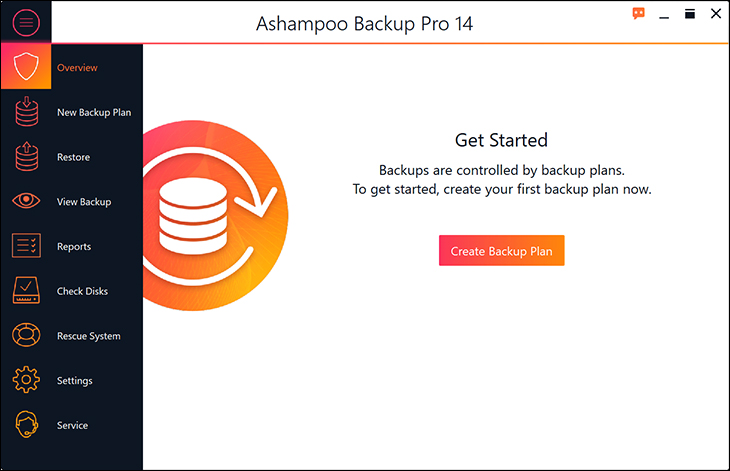 You will however notice no virus protection included. This is one area that you may feel that Acronis is worth the extra cash. We consider it a nice feature, but one that we would not base choosing one imaging software solution over another on. You may feel differently.
Overall Ashampoo spent a lot of time and effort making their imaging solution as easy and user-friendly as possible. That is certainly a good first step. Such a good first step we do think that they are now offering a viable option. One that offers way more than 50-62 percent of what Acronis offers.