$134.99
in stock
7 used from $74.97
as of December 2, 2023 7:56 pm
$281.00
in stock
2 new from $281.00
1 used from $89.95
as of December 2, 2023 7:56 pm
out of stock
as of December 2, 2023 7:56 pm
Last updated on December 2, 2023 7:56 pm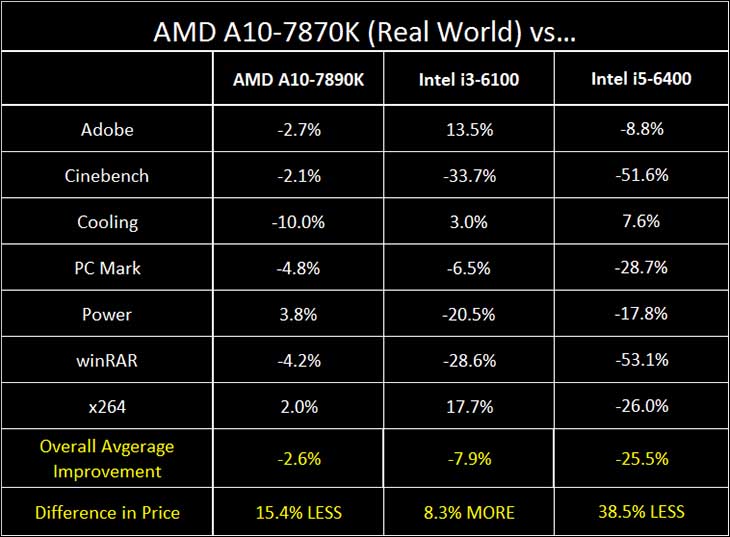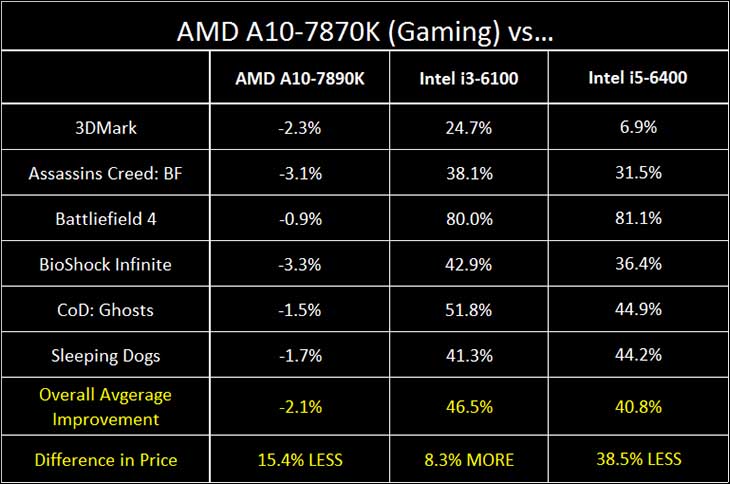 As you can see the A10-7870K is an incredible value. It offers near i5 CPU performance at near i3 price point and offers 7890K video performance.
Closing Statement
While there is no denying the A10-7890K and its Wraith CPU cooling solution is the obviously better performer there is indeed a lot to be said for opting there is a lot to be said for saving a few dollars and opting for the A10-7870K over the A10-7890K. As we saw throughout testing both APUs offer similar levels of overclocking potential, have the exact same 'integrated' video performance, and while the Wraith is better the 'Near Silent' CPU cooler is still pretty darn decent.
As for the differences at stock settings, i.e. 200Mhz on the four CPU processing units, since both are unlocked 'K' processors that really is not much of a difference to say the least. Of course, for those not interested in doing any overclocking the couple extra bucks may indeed be well worth it, and the same is true of anyone who absolute wants the fastest stock speeds – as the 7890K is binned and guaranteed to hit 4.3Ghz. For everyone else looking for an APU the A10-7870K really is the better value. Though the 7890K is not chopped liver, and AMD's APU line-up really is choke full of value, it's just the 7870K at $130 is simply right there in the sweet spot at optimum value.
To be honest this was not all that unexpected as we have always preferred to purchase 'one step down' from any flagship model – be it CPU, GPU, motherboard, etc. – as the flagship model comes with a certain amount of built in status price increase that rarely is worth the added cost. This was true in the 1980s when we first started building systems and to our way of thinking the A10-7870K once again proves our rule of thumb to be generally correct.
Of course the fact that this APU was the flagship model up until the release of the 7890K makes this extra delicious to say the least as consumers are getting the best of both worlds: flagship performance without a flagship asking price! Put another way the A10-7870K may not be the most inexpensive, nor the most expensive in AMD's APU line-up but its overall value really is hard to beat. Performance, value, low noise, ease of overclocking, this APU really does have it all… and then some.