Last updated on December 5, 2023 8:23 pm
BIOSTAR Announces the TB250-BTC PRO: The 12-GPU Ready Crypto Mining Motherboard
Your Supreme Weapon for the Mining Revolution
June 27th, 2017 Taipei, Taiwan – Cryptocurrency mining has once again found revitalized value thanks to skyrocketing cryptocurrency prices now reaching record highs. GPU-based mining has long-been the most cost-effective and most accessible way of entering this field and BIOSTAR has been one of the foundations that helped many enthusiasts as well as investors in creating platforms for this industry. BIOSTAR since the H81A and TB85 series have been favorites by miners for its balance of price and scalability offering support up to six graphics cards for maximum board utilization.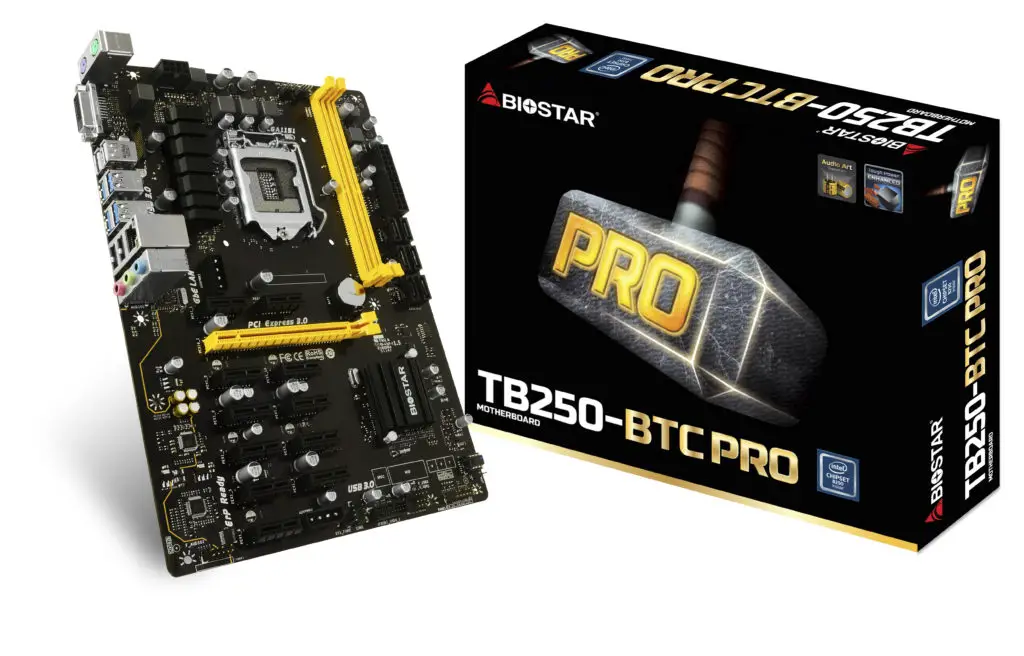 Thanks to years of professional experience in mining backed by feedback from customers as well as internal R&D, BIOSTAR has debuted its most innovative mining platform yet. Making its debut during COMPUTEX 2017, motherboards that support up to 8 graphics cards were showcased by BIOSTAR in its booth receiving positive feedback from the people present. Today BIOSTAR has just up the ante with the announcement of it's the world's first motherboard that can support up to 12 graphics cards simultaneously with the global announcement of the TB250-BTC PRO specialized cryptocurrency mining motherboard.
The World's First 12 GPU Mining Motherboard Now Available
The BIOSTAR TB250-BTC PRO is the only motherboard equipped with 12 native PCI-E slots and supports both AMD and NVIDIA graphics cards for mining. Standard motherboards have an average of 6 PCI-E slots but the BIOSTAR TB250-BTC PRO doubles that allowing up to 12 cards to be used in tandem for twice the speed and twice the board utilization allowing 200% increase in achieving your ROI. The BIOSTAR TB250-BTC PRO is the only one of its kind allowing 12-GPU mining per motherboard making it the most ideal choice for mining enthusiasts to start making money on.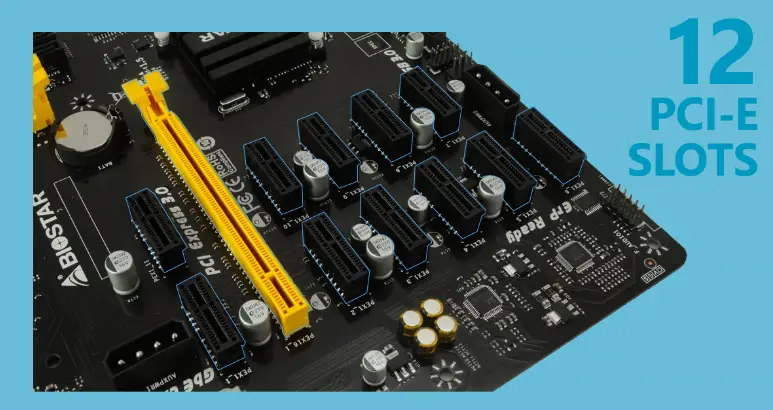 Double Your Earnings, Increase Utilization                                                                                 
BIOSTAR have been taking feedback from mining professionals and have included their ideas into creating these products and with the BIOSTAR TB250-BTC PRO, the universal need to reduce platform cost has been addressed. With a single motherboard earning as much as two machines, a mining rig equipped with a BIOSTAR TB250-BTC PRO and populated with 12-cards is the most cost-effective and smart way to maximize each mining rig's profitability. The chart below shows the savings of using a single motherboard which only requires one set of components rather than two, thus saving up to US$200 in the initial platform cost.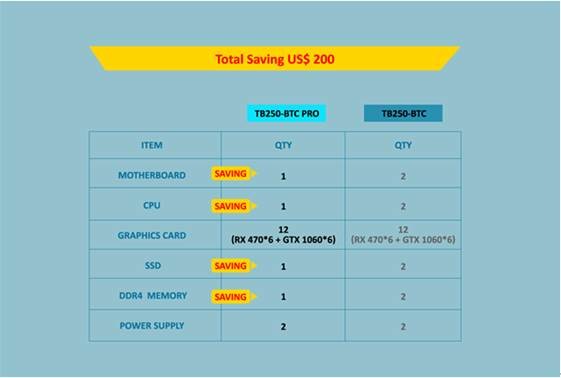 Twice the Speed, Get your ROI 200% Faster
With 12 GPUs working simultaneously on the BIOSTAR TB250-BTC PRO, this allows miners to rapidly gain their ROI faster than conventional setups. Possible rigs include 2-speed machines featuring GPUs from both AMD and NVIDIA allowing combined performance to provide miners with the ability to quickly adjust to the most profiitable virtual currency they want. See chart below for a quick comparison which shows the combined hashrate offered by a single platform powered by the BIOSTAR TB250-BTC PRO versus two rigs running different GPUs. The mining rig running TB250-BTC PRO receives a return of investment (ROI) in only 79 days versus 97 days for the separate systems.

Professional circuit board design for optimal mining stability
Other brands implement tight and compact arrays for their PCI-e slots making them easy to short circuit and affect stability during maintenance as well as other faults like displays not being recognized. The BIOSTAR TB250-BTC PRO uses a matrix arrangment for the PCI-E slots allowing optimal and ample spacing between the slots for effective management as well as layout so each daughter card connection does not interfere with its neighboring slots. This results in more stable signals to and from the board and the devices connected to the slots. BIOSTAR also utilizes their signature PRO Series standards on the TB250-BTC PRO utilizing an all-solid capacitor setup and a rigid power management module, ensuring highly stable power delivery and operation even with 12 cards running simultaneously.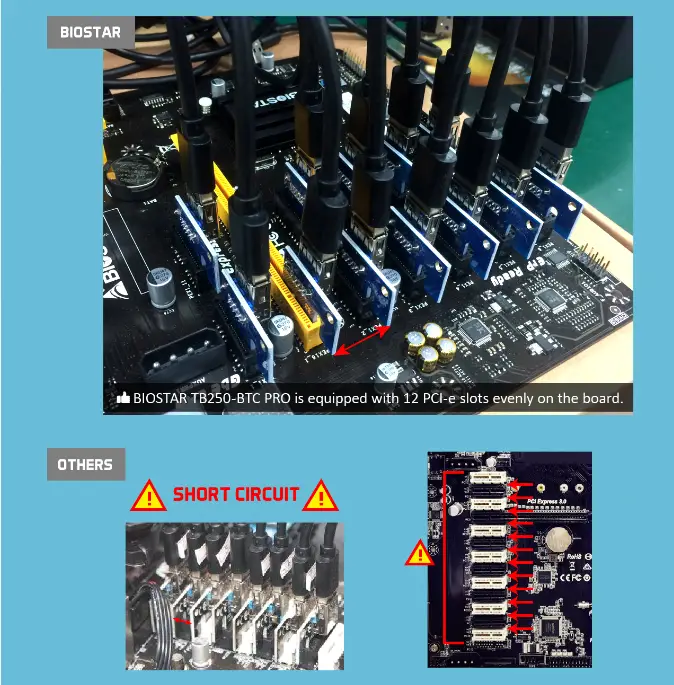 Native PCI-E for Maximum Bandwidth
We all know that the information bandwidth is like the highway, the road wider, can accommodate the more traffic, the more vehicles that won't be hammed and can pass through.
Other manufacturers utilize low-level chipset bridge thus providing a narrow passage to the graphics card being used, affecting overall system performance due to bottlenecking of each graphics card.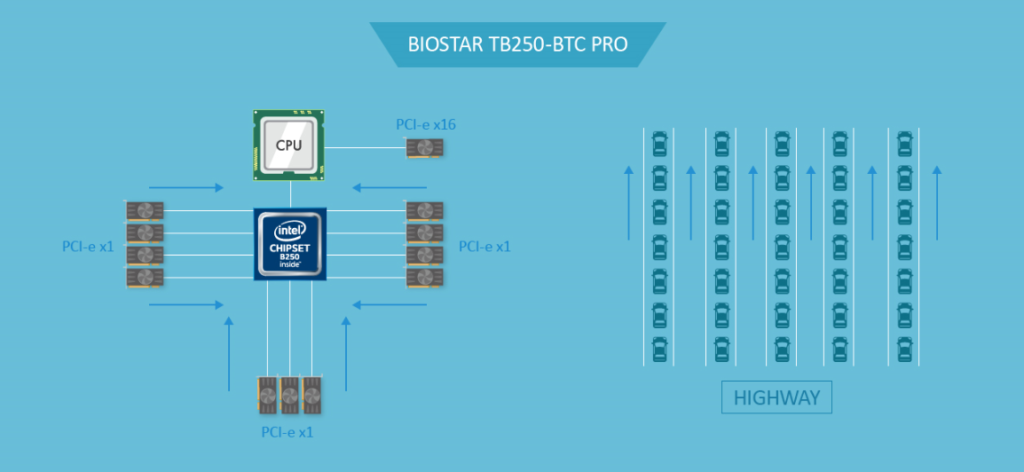 BIOSTAR addresses this by utilizing Intel's B250 chipset allowing more bandwidth to be used and be utilized by the displays, with all 12 PCI-E groups populated. This allows all cards to work at their top-speed without any loss for the most effective setup ever.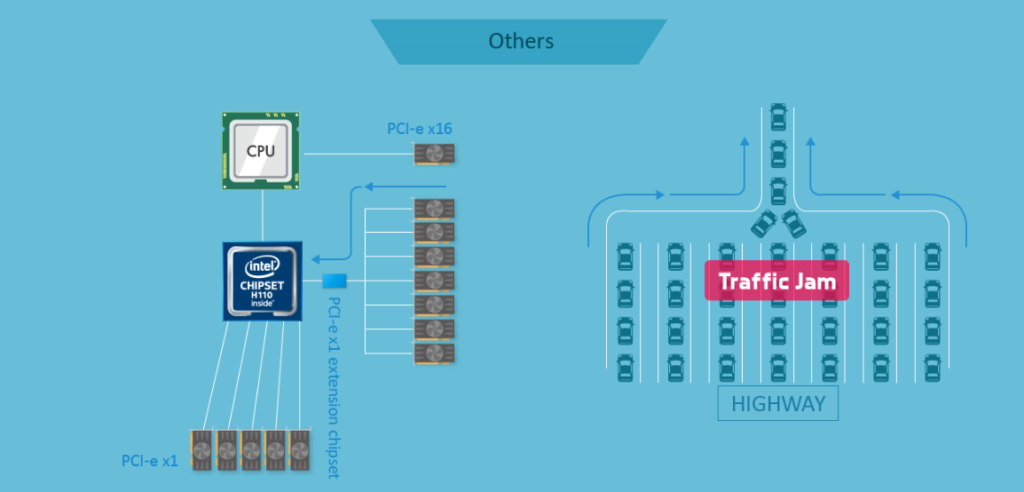 Hybrid Mining Technology, Mine While Everyone Waits
The AMD RX 470 is a rare card nowadays due to demand and its left a lot of miners craving for an alternative.
In mining, time is money and and BIOSTAR addresses this by allowing the development of Hybrid Mining technology which allows the BIOSTAR TB250-BTC PRO to support multiple AMD and NVIDIA graphics cards simultaneously. Start mining with the combined power of whatever graphics cards you have on the most profitable currency you can find and generate income while everyone else waits for their favored card.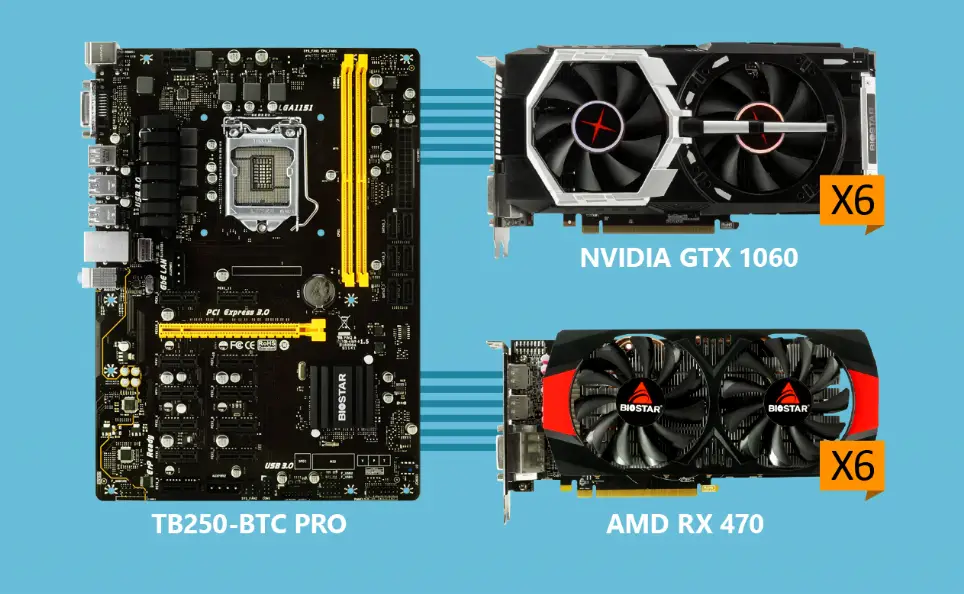 With the boom in cryptocurrency and the promise of large profits, enthusiasts around the world are in a frenzy. The mining boom four years ago was around 100P (1P = 1024T, 1T = 1024G) but that number has ballooned to more than 4000P. That is over 40 times in less than four years. This led to the rise of other cryptocurrency which has helped maintain room for improvement in the mining market. The BIOSTAR TB250-BTC PRO allows those interested to join this lucrative market to instantly become professional miners with its 12-card host system. Act now!

The BIOSTAR TB250-BTC PRO support legacy PS/2 ports for both keyboards and mice for those using KVMs to control multiple machines as well as a DVI display output. Plenty of USB2.0 and USB3.0 ports are present. A full 1Gbps LAN port is available as well as audio input and output ports.
Specifications
MODEL
BIOSTAR TB250-BTC PRO
CHIPSET
Intel B250
CPU SUPPORT
Intel® Core™ i7 LGA 1151 Processor
Intel® Core™ i5 LGA 1151 Processor
Intel® Core™ i3 LGA 1151 Processor
Intel® Pentium® LGA 1151 Processor
Intel® Celeron® LGA 1151 Processor
Maximum CPU TDP (Thermal Design Power) : 95Watt
MEMORY
Support Dual Channel DDR4 2400/ 2133/ 1866 MHz
2 x DDR4 DIMM Memory Slot
Max. Supports up to 32GB Memory
* DDR4 2400 for 7th Generation Intel® Core™ Processor Family
EXPANSION SLOT
1 x PCI-E x16 3.0 Slot
11 x PCI-E x1 3.0 Slot(Note: PEX1_6/7/8/9/10/11 slot are not compatible w/ ATX standard, users need extra connecting kit to install VGA card for crypto mining.)
STORAGE
6 x SATA3 Connector
USB
4 x USB 3.0 Port
1 x USB 3.0 Header
2 x USB 2.0 Port
2 x USB 2.0 Port(only 5V power, up to 1.5A)
2 x USB 2.0 Header
LAN
Realtek RTL8111H – 10/100/1000 Controller
Support Super LAN Surge Protection
INTEGRATED VIDEO
By CPU model
Supports DX12
Supports HDCP
CODEC
Realtek ALC887 8-Channel HD Audio
Support HD Audio
REAR I/O
1 x PS/2 Mouse
1 x PS/2 Keyboard
4 x USB 3.0 Port
2 x USB 2.0 Port
2 x USB 2.0 Port(only 5V power, up to 1.5A)
1 x DVI-D Connector, resolution up to 1920 x 1200 @60Hz
1 x RJ-45 Port
3 x Audio Connector
INTERNAL I/O
1 x USB 3.0 Header
2 x USB 2.0 Header
6 x SATA3 6Gb/s Connector
1 x SATA Power Connector(for rear USB power enhancement)
1 x Front Audio Header
1 x Front Panel Header
1 x CPU Fan Header
2 x System Fan Header
1 x Serial Header
2 x PCI-E 12V 4Pin Connector(Must be installed when using for bitcoin mining.)
H/W MONITORING
CPU / System Temperature Monitoring
CPU / System Fan Monitoring
Smart / Manual CPU Fan Control
System Voltage Monitoring
DIMENSION
ATX Form Factor Dimension: 29.5cm x 21cm ( W x L )
OS SUPPORT
Support Windows 10(x64) for Intel 7th Generation Processor
※Support Windows 7 / 8.1(x64) / 10(x64) for Intel 6th Generation Processor
BUNDLE SOFTWARE
BullGuard
Smart Speed LAN(Windows 7/ 8.1 only)
Intel Rapid Storage Technology
ACCESSORIES
2 x SATA Cable
1 x I/O Shield
1 x DVD Driver
1 x User Manual
FEATURES
Supports 100% Solid capacitor
Supports Charger Booster
Supports BIOS Online Update
For more information on the BIOSTAR TB250-BTC PRO, see official product page here:
http://www.biostar.com.tw/app/en/mb/introduction.php?S_ID=884
Visit the new BIOSTAR website at: http://www.biostar.com.tw
Closer look
[gallery size="large" link="file" ids="6907,6908,6909,6910,6911,6912,6913,6914,6915,6916,6917″ orderby="rand"