$978.94
in stock
3 new from $978.94
2 used from $784.70
as of September 23, 2023 9:52 am
$70.99
in stock
7 new from $69.99
14 used from $44.79
as of September 23, 2023 9:52 am
$1,895.95
in stock
4 new from $1,895.95
as of September 23, 2023 9:52 am
Last updated on September 23, 2023 9:52 am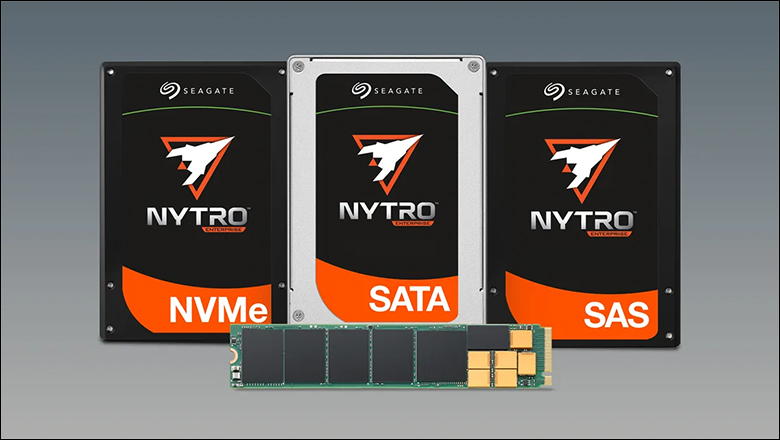 Of all the various models Seagate offers their Nytro series can be the most daunting to understand. First you have three different series to contend with (Nytro 1000, 3000, and 5000), with upwards of three separate and very distinct variants of each… for about eight models (and growing!) to choose from (right now). For each generation. With each generation typically only getting a slight change in model number to distinguish it from its predecessors and each gen seeing refreshes with further minute changes in model numbering. On the surface that sounds like a recipe for a migraine headache at worst and a rather daunting task at best. It really is relatively easy to get lost in the weeds if you have not been paying close attention to the market. To help get a feel for the process that Seagate uses for their naming let us help you by providing a "5000-foot view" of them.
First up is the Nytro 1000 series. This is Seagate's SATA offerings for the Enterprise environment and is geared towards boosting the typical 'value' orientated server's performance. Right now, you only have two models to choose from as SATA is a… "mature" tech with rather clearly delineated limitations to its underlying architecture.
The Nytro 3000 series is their latest SAS based option and is intended to be used in the mainstream server that are typically still SAS based. This is reflected in its reasonable / 'mainstream' asking prices.
The Nytro 5000 series is the latest edition and is NVMe based. Needless to say, it is gear towards those uber performance servers that most only dream of having in their server room, but is also a viable choice for boosting the overall performance of a more mundane server. Just expect it to be a pricey upgrade.

That however, is not a five-thousand-foot view… it is a fifty-thousand-foot view and tells you little about a given model is and meant to do. Drilling down is a bit more complicated if you include the 5000 series and would take an article to do them justice. For the 1000 and 3000 (and 5000 actually) the first digit tells you what its interface and underlying architecture is. 1 is SATA, 2 or 3 is SAS, 5 is NVMe. In the future there probably will be more models as Seagate feels the needs to further diversify their enterprise SSD product portfolio. Until then it is pretty much easy as the first digit can be compared to Intel or AMD's CPU lineup with a higher number meaning more performance… ish. Remember Nytro models are highly specialized devices and using a model not optimized for your needs may actually result in lowered performance (be it speed, longevity, etc. etc.) vs. an optimized lower Nytro model. Either way expect price to go up as the number increases… but overall real-world performance may or may not depending on what you plan on using it for.


Ignoring the 5000 series from this point on, the second digit will tell you what it has been optimized for. A 'one' here means it is the entry level meant solely for low queue depth, read only scenarios where write endurance is not even on your radar (think "web" server where it is rare for a file to be written but is read nearly constantly). A 'three' in Seagate tech speak means 'scaled endurance'… but in laymen's terms means it meant mainly for read oriented scenarios where write performance and write endurance are rarely part of the final equation, but overall capacity is paramount. Think file server where the storage devices will be spending upwards of 90 percent of its time pushing data off the drive and IO requests probably will be very sequential in nature. A five is, your everyman option where you have a highly mixed, highly variable workload where write performance is just as important as read… but not more important. Basically, a five is for companies where they have 'a server' not a file/vmware/sql/mail/etc servers … just a single server that handles it all.
A seven in the second digit location means the drive is all about long term write performance and write endurance. Everything takes a backseat to consistency and reliability as this storage is meant for a server that will be hammered hard with random read/write requests on a darn near constant basis. Think virtualization scenarios. Right now there is no 'nine' model, but who knows what the future will bring. Maybe 3Dxpoint or some other non-NAND solution will be added and be given this digit.

The third digit is the generation it belongs to. The higher the number the later the generation with expectations of it being 'better' than the previous generation of its class but only of its class… as a 1x5x SATA will probably never outperform a 3x3x SAS drive.

The fourth can be consider refreshes or refinements to a given generation. Maybe they changed the NAND or some other low-level tweaks that do not warrant an entirely new third digit being used (for example the 3×30 series used eMLC NAND and the 3×31 used BICS 3 eTLC NAND… and the 3×32 uses faster BICS 4 eTLC). So here differences will be minor to moderate at best… but generally speaking the higher the number the newer it is but a higher fourth digit belonging to a lower third digit will be older tech compared to a lower forth digit with higher third. Yes it is complex, and arguably convoluted, but once you understand the process Seagate uses it is actually pretty easy to pick the model that has been optimized for your specific needs. Start from the left side and work your way to the right. So first pick your interface (first digit), pick your workload (second digit)… and then pick the newest generation (3rd digit) and refresh (4th digit) that is offered. Bam. Done. Buy it and look like a wizard when you explain why that specific model is right to your boss and / or underlings who "noped out" when looking at all the various Nytro options Seagate offers.