Last updated on September 30, 2023 10:52 am
With the RTX 3000-series and its 8nm node fabrication process proving to be a match made in heaven it should come as no surprise that NVIDIA continues to fill out their line-up with offerings for even more varied market demographics. One of the latest editions, at the time of this review, is the RTX 3060 Ti and there is already a veritable ton of models being released for hungry Christmas gamer gift givers. All of which put their own unique spin on what a RTX 3060 Ti should be. To help show exactly what manufactures have done to the 'Founders Edition' formula we reached out to MSI and obtained a short-term loan (with figurative first born son as collateral) of their $470 USD ($660 CAD) MSI GeForce RTX 3060 Ti Gaming X Trio video card.
This particular RTX 3060 Ti may indeed start with the same PCIe 4.0 based 'Ampere' GA104-200 core (with its 4864 shader units, 38 RT cores and 152 Tensor cores) and 256-bit bus with 8GB of 14Gbps GDDR6 RAM combination, but that is about the only things it shares in common with the typical RTX 3060Ti. The most obvious change is in the dimensions… as MSI has bestowed upon this card their three slot Tri Frozr 2 custom cooling solution that makes use of three 'Torx Fan 4.0' 95mm fans, six precision machined 'Core Pipe' heatpipes, advanced 3D modeled cooling fins, and a surface area that is approximately 43 square inches. Needless to say, this cooling solution can handle both overclocking enthusiasts demands and Silent PC aficionados demands with aplomb.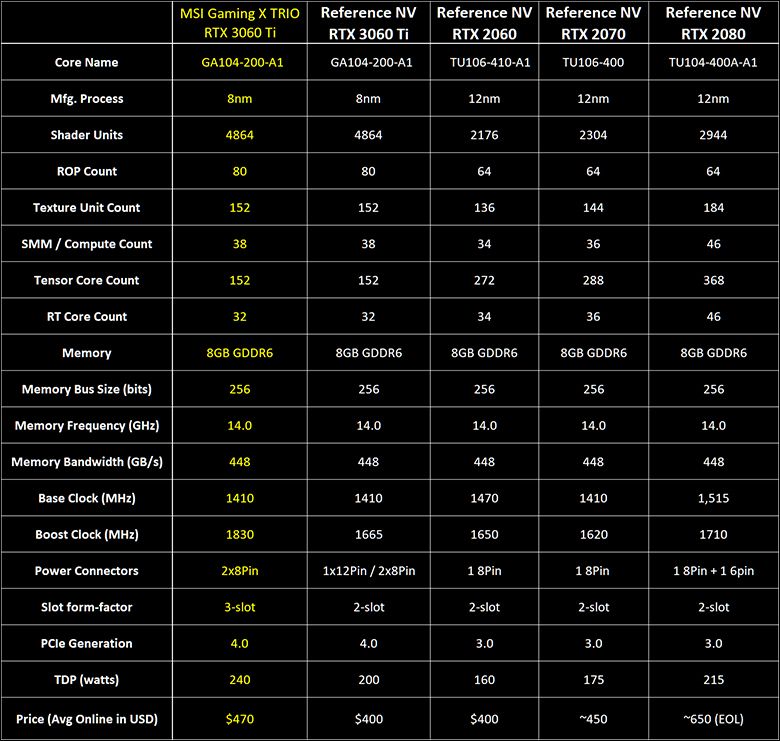 Make no mistake. This is not a one trick pony. MSI has spent a lot of time and effort on other areas that are equally important to buyers. For ease of use / increased user-friendliness MSI dropped the 12-pin connector and went with the tried-and-true dual 8pin configuration. Sure 12-pin equipped PSUs will eventually replace 8-pins but right now not every PSU has this cutting edge connector, yet any good PSU will come with 8-pin PCIe cables… and 375 watts total power is way more than what the GA104-200 should demand, even when overclocked heavily.
On the overclocking front MSI has boosted the core from a default boost from 1665Mhz to 1830Mhz – or a full 9 percent. However, that does not tell the full story as MSI has also bumped up the default power limit from 200 to 240 watts. As we all know, 'boost' ratings are a mere suggestion with modern GPU's. They can and will routinely go higher if fed a healthy diet of clean, stable power. How high they go depends on how much power they are 'allowed' to pull (while still staying inside thermal limits). With good cooling (which this card has offers in spades), the higher the power limit… the faster the card will be in the real-world.
Mix in multiple RGB LED clusters for customized lighting and effects and the MSI GeForce RTX 3060 Ti Gaming X Trio should indeed be one of the best variants going. Of course, with an asking price that is a whopping 15 percent over MSRP of a Nvidia Founder's Edition 3060 Ti,  will set buyers back… it has to be the best of what the GA104-200 ampere core can offer. Anything less and it will be a failure. A failure that will be relegated to 'halo' status where MSI may be able to boast about what an amazing card they have created but will not be able to boast about what an amazing seller it is.
Needless to say, the number question anyone interested in this card will have is simple: is it worth its large increase in asking price. Yes, this is not the most expensive RTX 3060 Ti to grace store shelves, but it still is a large ask from potential buyers. Put another way, yes premium performance costs, but is the results large enough to be worth the expense? Let's find out.