$102.53
in stock
8 new from $79.00
1 used from $39.98
as of September 22, 2023 10:13 am
$39.98
$49.99
in stock
1 used from $39.98
as of September 22, 2023 10:13 am
$128.70
in stock
6 new from $128.70
as of September 22, 2023 10:13 am
Last updated on September 22, 2023 10:13 am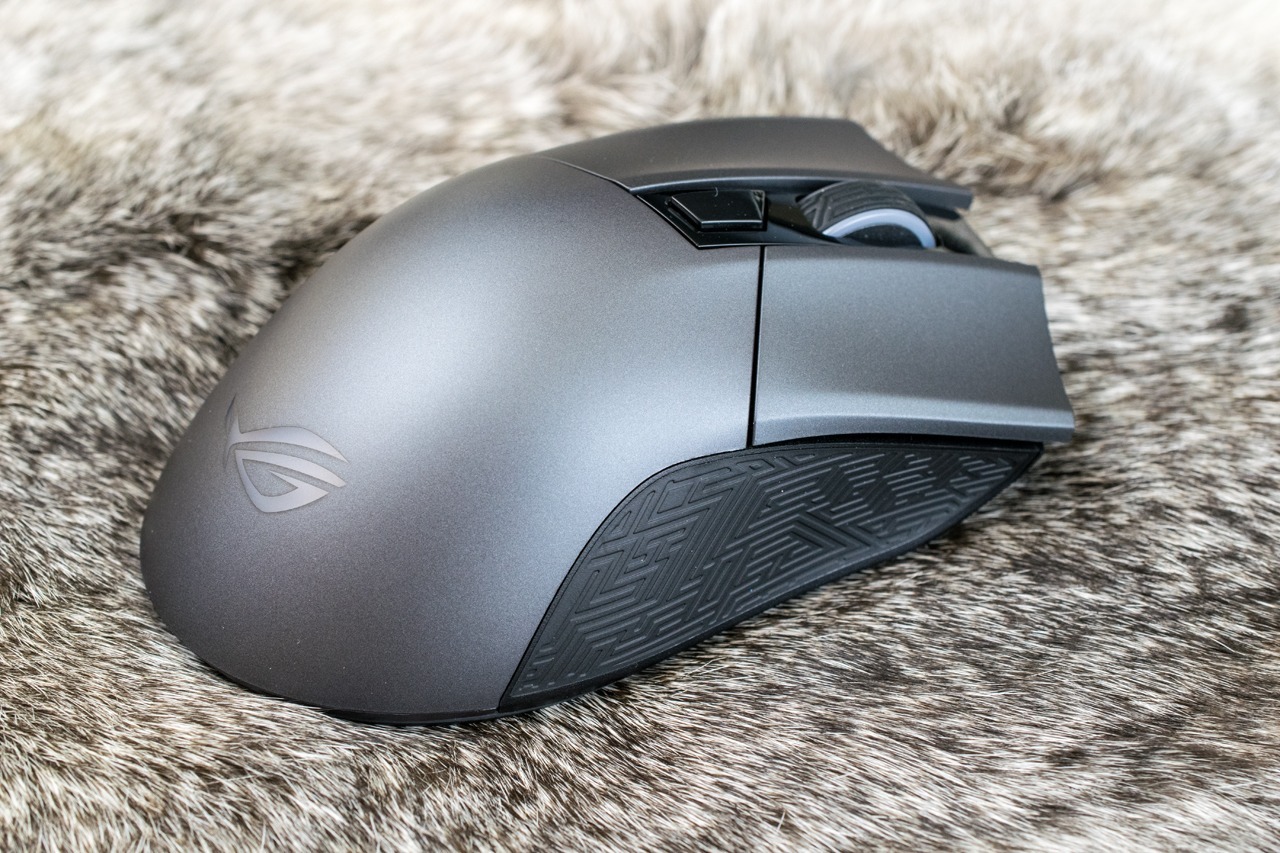 Upon first glance you will notice that the ROG Gladius II Origin is a fairly large right-handed only design. This leads to a great feel in the hand, no matter what grip type you use, but alienates left-handed use. (If you're looking for an ambidextrous design, ROG offers the Pugio mouse instead.) The grey finish is smooth throughout, with Mayan-inspired rubber side grips and scroll wheel. The side grips feel nice out of the box, but I have a feeling that those will be the first things to deteriorate with prolonged use. Located behind the scroll wheel is the DPI switch button which gives the ability to quickly change between two custom DPI settings.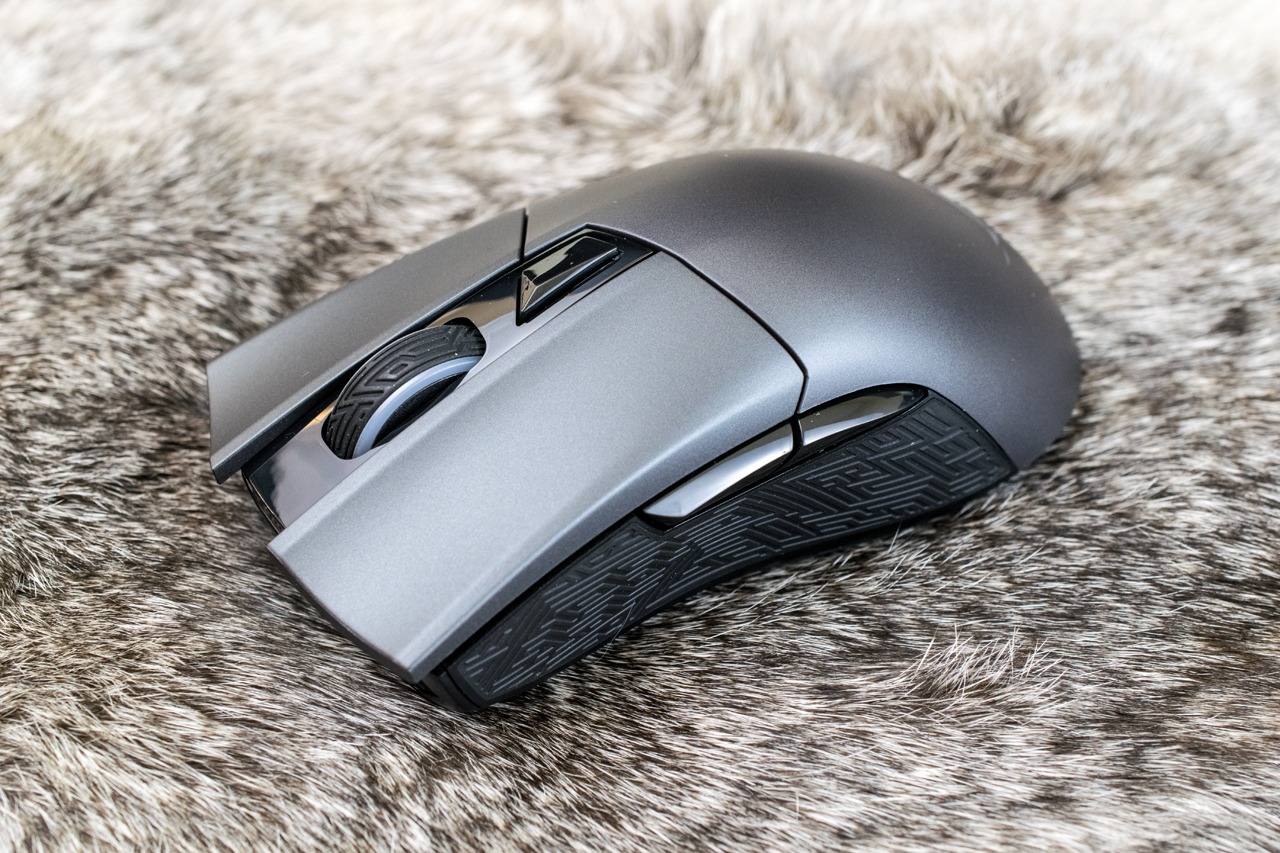 Moving to the left side of the ROG Gladius II Origin you have a pair of thumb buttons at your disposal. These are definitely nothing special on a mouse, but they do have a different shape to them than most other mice. The idea is that you slide to lift up on the buttons as a more natural transition from the grip rather than lifting your thumb to press the button. I wasn't a huge fan of the thumb buttons' design myself, however it wasn't hard to get used to using. You also get a picture of the separated left/right mouse buttons, which have a very crisp feel to them upon actuation.
As a note: You may be wondering what is the difference between the ROG Gladius II Origin and the ROG Gladius II? The DPI target button that would be sitting in the middle of the left grip of the ROG Gladius II is missing on the Origin model. It's just a temporary switch DPI switch that reverts back once you let go of the button. The ROG Gladius II Origin seems to shave 10 Canadian pesos off of the price of the ROG Gladius II, so that button is your deciding factor.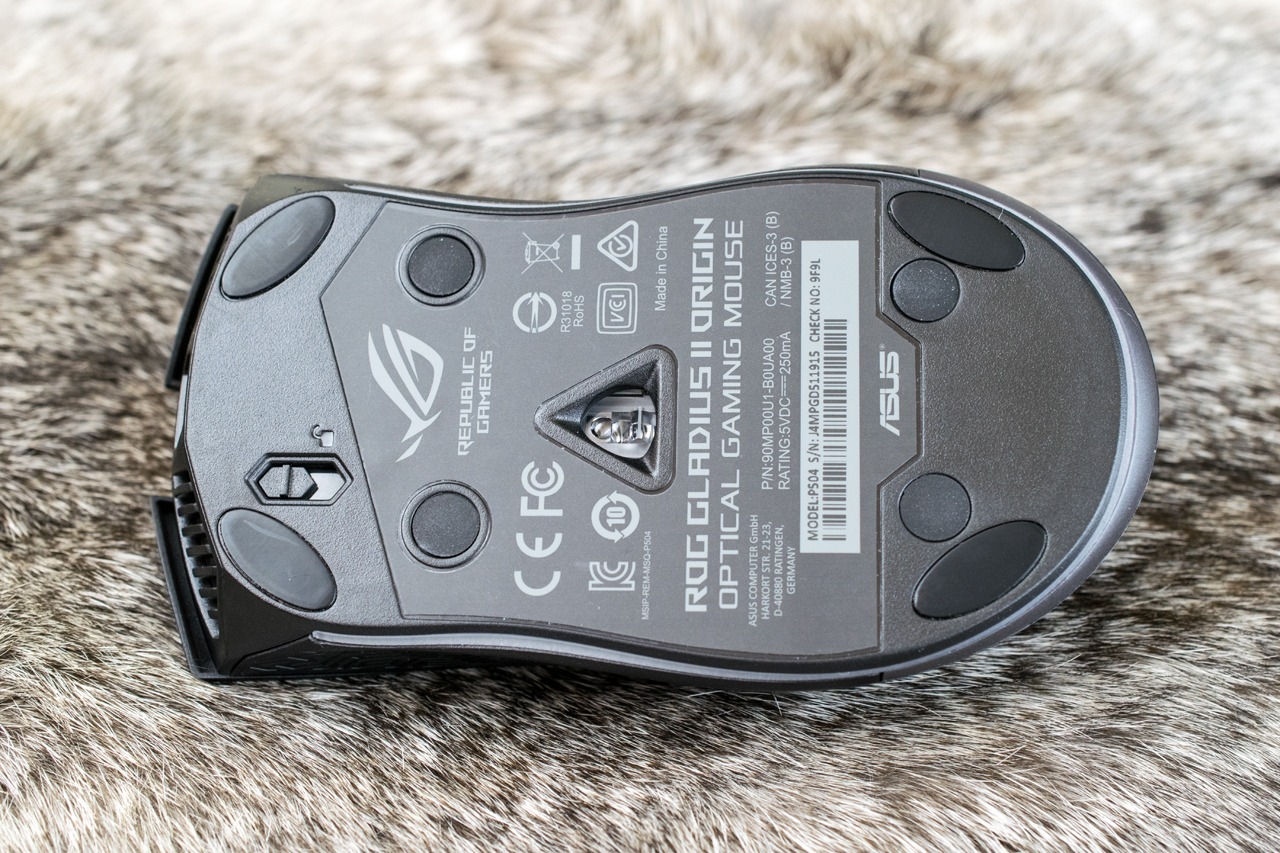 Moving to the underside of the mouse there is the USB cable release latch, four covered screw holes for mouse disassembly and switch replacement, the PixArt PMW3360 optical sensor, and four fairly small feet that the mouse glides on. Despite the large size of the mouse it tends to work well with the minimal pad coverage. A good sign is that the lighting along the bottom edge nearly wraps the whole way around the mouse.