$38.93
in stock
7 new from $38.93
as of September 29, 2023 10:23 am
Last updated on September 29, 2023 10:23 am
Over the years Arctic has made quite the name for themselves and we doubt that there are many PC builders who do not know the name. Up until recently however their name was known for creating some of the best non-exotic, and widely available, Thermal Interface Material options. Yes, knowledgeable builders knew about their Alpine series of (truly) value-orientated CPU coolers. Sure, many a Silent PC enthusiast also knew (and used whenever air cooling was called for) their Accelero GPU card coolers. Beyond those niches, it was not until the release of their Freezer line that the mainstream buying public really twigged to the idea that Arctic was more than just 'that TIM company'. With the release of their Freezer 35 series, Artic hopes to further cement the expanded recognition the Freezer 34 series helped build.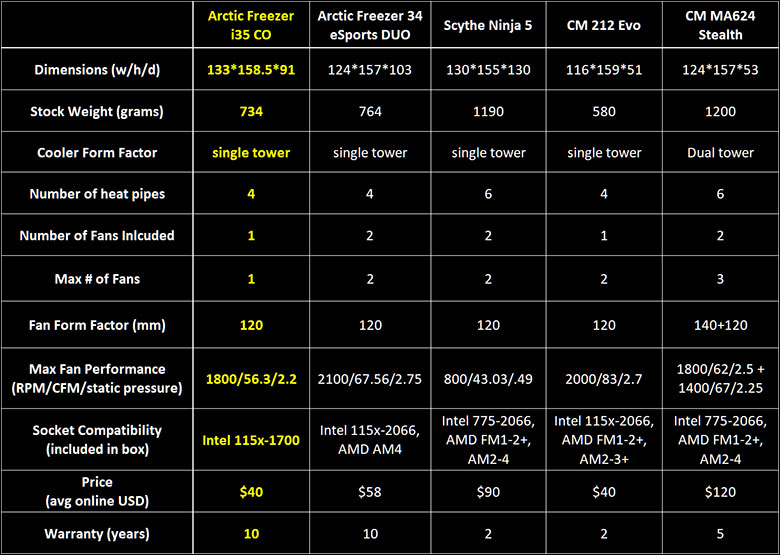 When it came time to refresh their mega-hit Freezer 34 series Arctic's design team had a rather complex problem to solve. On the one hand they had to create not only an improved but noticeably improved air-based CPU cooling solution… on the other they could not radically change the design. After much thought, their solution was to make the Freezer 35 series an evolution of the Freezer34 series and not a revolutionary model. With this in mind, and much like the Freezer 34 series, the entire Freezer 35 series relies upon four 6mm 'U' shaped heatpipes in a direct contact / 'direct touch' base configuration (i.e. the heatpipes come in direct contact with the CPU's IHS). Just like its predecessor, the Freezer 35 series prioritizes ease of installation over sheer performance. Also like its predecessor the '35 makes use of a dense fin array that is big, but not so big as to overhang the DIMM slots. This trend continues as said fin array is cooled by Arctic's world famous 'P' (for pressure) 120mm fan… just like the Freezer 34 before it. Even the asking price has not changed all that much at $40 for Freezer i35 CO variant we will be looking at today versus $38 for the base model Freezer 34 or $58 for the Freezer 34 Sport DUO.
If all that sounds like Artic is trying to pull a fast one and simply slapped a paint job, or LED enabled fan on their existing model to 'create' a new 'variant'… you would be wrong. The Freezer 35 series is packed with tangible, evolutionary improvements. The least of which is they kept the MSRP in the same ballpark as its predecessor. Albeit at the expense of only including Intel or AMD mounting hardware – and thus the 'I' or 'A' in the model name. Not both. Needless to say, that tiny little 'I' or 'A' will make or break your entire build day if you do not pay attention when purchasing this cooling solution.
The non-controversial improvements include the fact that that while the fin array is similar it is not the same. It now boasts both an improved design as well as much greater surface area… thanks to it being almost as large as the Freezer 34 Duo models but with only one fan attached. While the fan is still P120 based Arctic has finally started to offer it in basically all the variants they make, including the Constant Operation double ball bearing P120 version – and thus the 'CO' in this particular model's name. Even the base has been (slightly) improved and now promises to be both better performing and easier to install.
With these obvious improvements the performance should indeed be better. We have little doubt on that front. No, the only question is… is it better enough for buyers (especially professional system builders) to have to either track down I or A models… or keep twice the stock on hand? With such fierce competition in this corner of the market intangibles like the hassle-factor can indeed make or break a model. So, let's put this cooler under the microscope and see if Arctic has indeed done what they set out to do and make a justifiably better mousetrap.