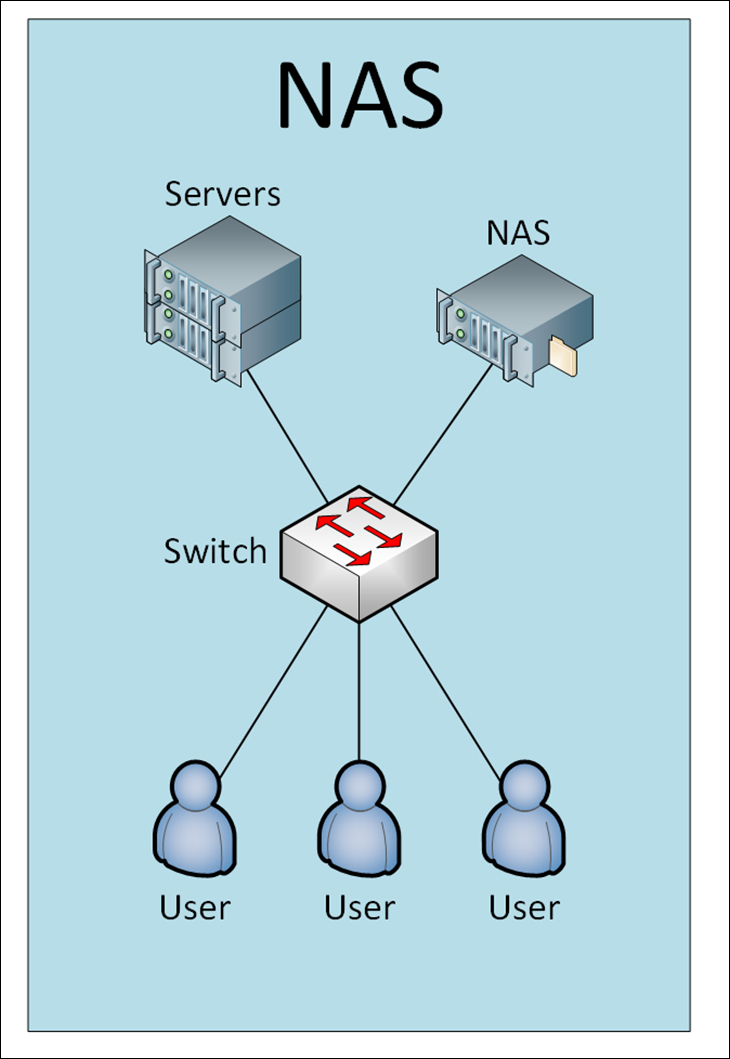 (image courtesy of peacefulnetworks.com)
As the name suggests Network Attached Storage is not directly attached to any computer. It is a computer… a 'server' if you will. It a standalone storage device that is network enabled and is meant to be connected (and accessed) via your wired or wireless network. Be it a 'home network' (LAN) or Wide Area Network, or even the 'Internet'. As it is a standalone storage device it is a more complex device than DAS (Direct Attach Storage). One with its own CPU, RAM, storage, power supply, and Operating System. As such a NAS can be connected to and servicing the needs of more than one system at a time. To access a NAS you have to first map the NAS in your computer's Operating System, but after that it is available any time you want. All that is required is a working network connection and permission to access it.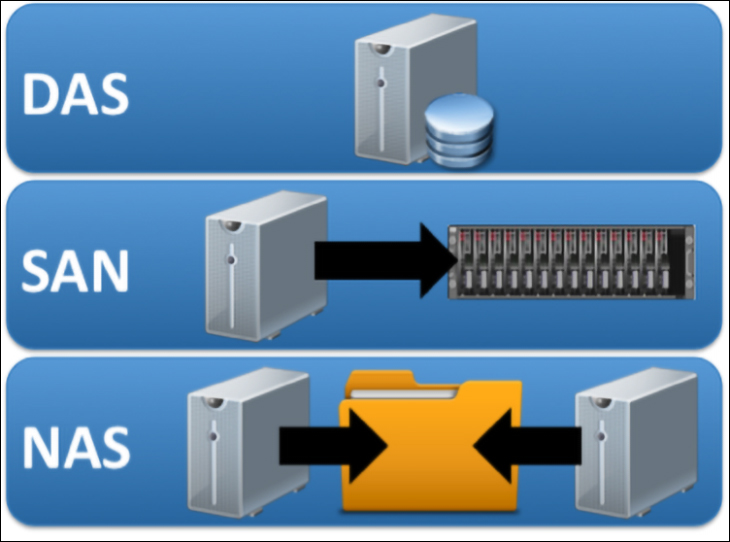 (image courtesy of abdullrhmanfarram.wordpress.com)
Consumer grade Direct Attach Storage is usually much simpler, cheaper, and lower power storage devices. One where you connect it to standalone computing device (usually USB, ThunderBolt, or eSATA) and the standalone device does most of the heavy computational lifting. They are meant to be used on one system at a time and are seen by the host system as just another part of the computer. In simplest terms DAS devices are simple devices that are intended to add secondary storage to one system; whereas a NAS is a standalone system that can add secondary storage to multiple devices at the same time.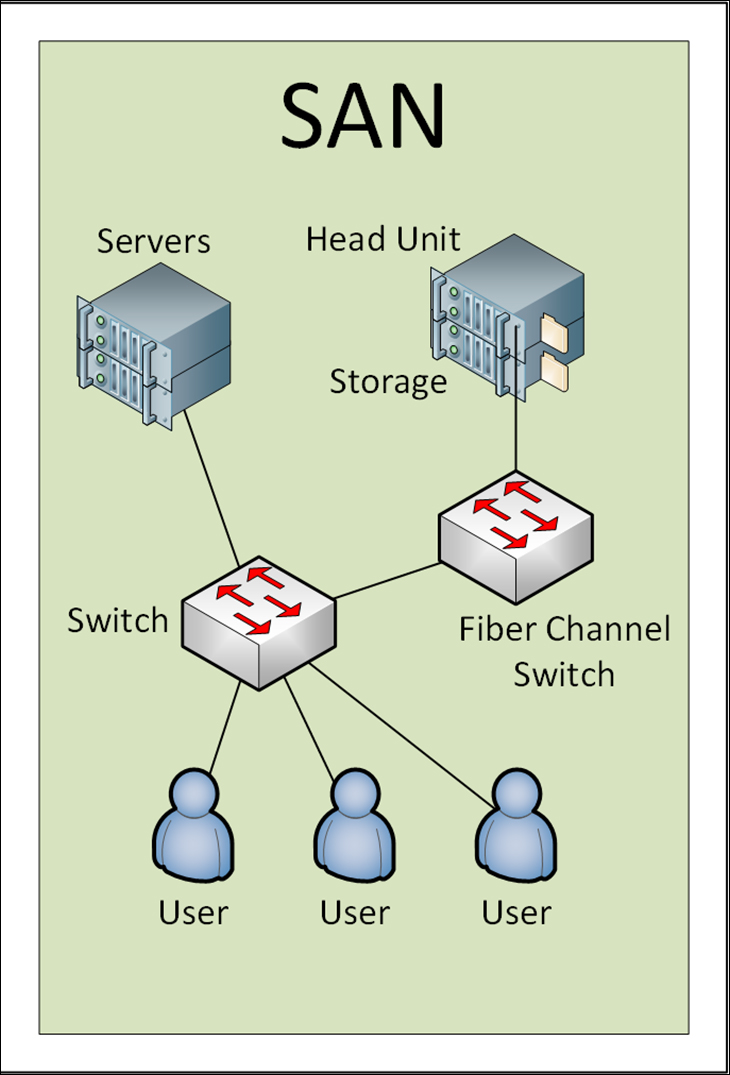 (image courtesy of peacefulnetworks.com)
While not really germane in a discussion on home environment storage, a third option is a SAN. Storage Attached Devices which is high performance network storage that combines some of the benefits of DAS with some of the benefits of NAS. They are usually attached via Fiber but can be via iSCSI and Ethernet. Extremely fast, extremely expensive… and they work at the block level not file level. As such you as a home user can (usually) ignore it.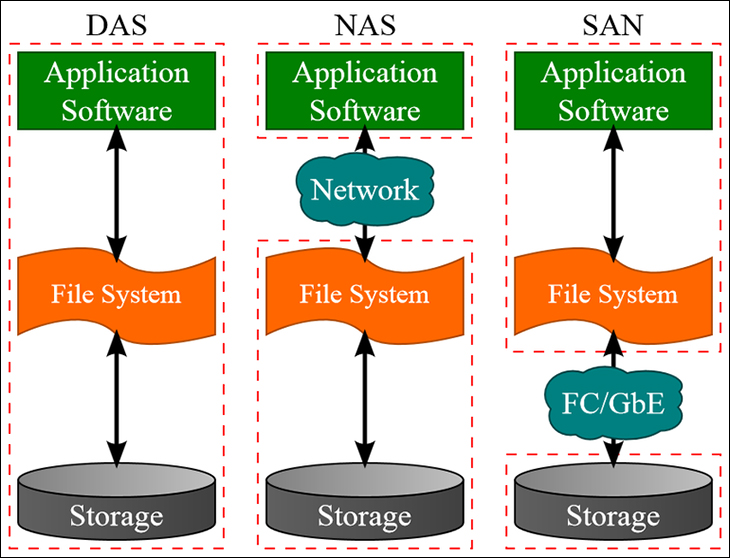 (image courtesy of abdullrhmanfarram.wordpress.com)
So why choose a more expensive NAS over a cheap DAS? It all boils down to ease of use, durability, and ease of access. If you have only one system, or only want to access the data on the drives one at a time, a cheap DAS is hard to beat. If however you want your data to be available all the time or on multiple systems at the same time.. NAS is the only optimal option for home users. While some DAS enclosures offer RAID for added data security… a Redundant Array of Independent/Inexpensive Disks is only part of the equation. Data security starts long before the data even reaches the storage and long after. It requires end to end protection, monitoring, and multiple levels of error correction. Things such as bit-flipping, bit-rot, virus scanning, even drive failure all are mitigated by a proper NAS. It also offers improved physical security from blunt force trauma… something all but the heaviest of DAS devices cannot offer (and we have yet to see an experienced enthusiast who has not bumped or dropped an external storage device which resulted in catastrophic failure – if you are the unicorn… give it a few more years Mr. Murphy will visit you at some point).
Compared to a DAS, once you setup and configure a NAS it is basically hands off. You rarely have to worry about plugging in cables, finding the new drive in your file manager, and can access it on all your systems at the same time. That is a lot to like and with the exception of price not much to dislike. With that said, price should not be a major barrier to entry. As we will go over later in the review a high-performance NAS does not have to be expensive. It can actually cost you less than a good DAS will set you back… as 'internal' hard disk drives usually cost less than external storage, the Operating Systems of choice are all free, and you probably already have enough used pc components to make a NAS already.